The Braves are hitting like the 1927 Yankees - really
Tim Nwachukwu / Getty Images
For nearly a century, comparisons to the 1927 New York Yankees' lineup have typically been made in jest. "Such and such a team is not exactly the '27 Yankees." Something along those lines.
Well, the 2023 Atlanta Braves' lineup is closing in on a claim to be better, at least by some measures, than that vaunted collection of hitters.
Having already clinched a bye to the division series and all but secured the No. 1 seed in the National League, the Braves still have something to play for in the final days of the regular season; they can make a case for having the best lineup in AL and NL history.
Consider slugging percentage. No NL or AL team has ever slugged .500 for a season. The Braves are slugging .501 as a team entering play Wednesday. Only 21 players who qualify for the batting title are slugging .500 or better this season. Five of them are Braves, and three of them are in the top nine. The next closest team by slugging percentage is the Texas Rangers (.457). There are 11 clubs slugging below .400.
It's a level of team dominance similar to the 1927 Yankees, who featured the only two players - Babe Ruth and Lou Gehrig - to hit more than 30 home runs that season. Fourteen players slugged over .500 in 1927 and four were Yankees, topped by the astronomical marks by Ruth (.772) and Gehrig (.765).
The Braves might not have Ruth or Gehrig, but Ronald Acuña Jr. and Matt Olson form a rare duo in their own right. The Braves are a true outlier in terms of mashing the baseball, and it doesn't stop at slugging percentage.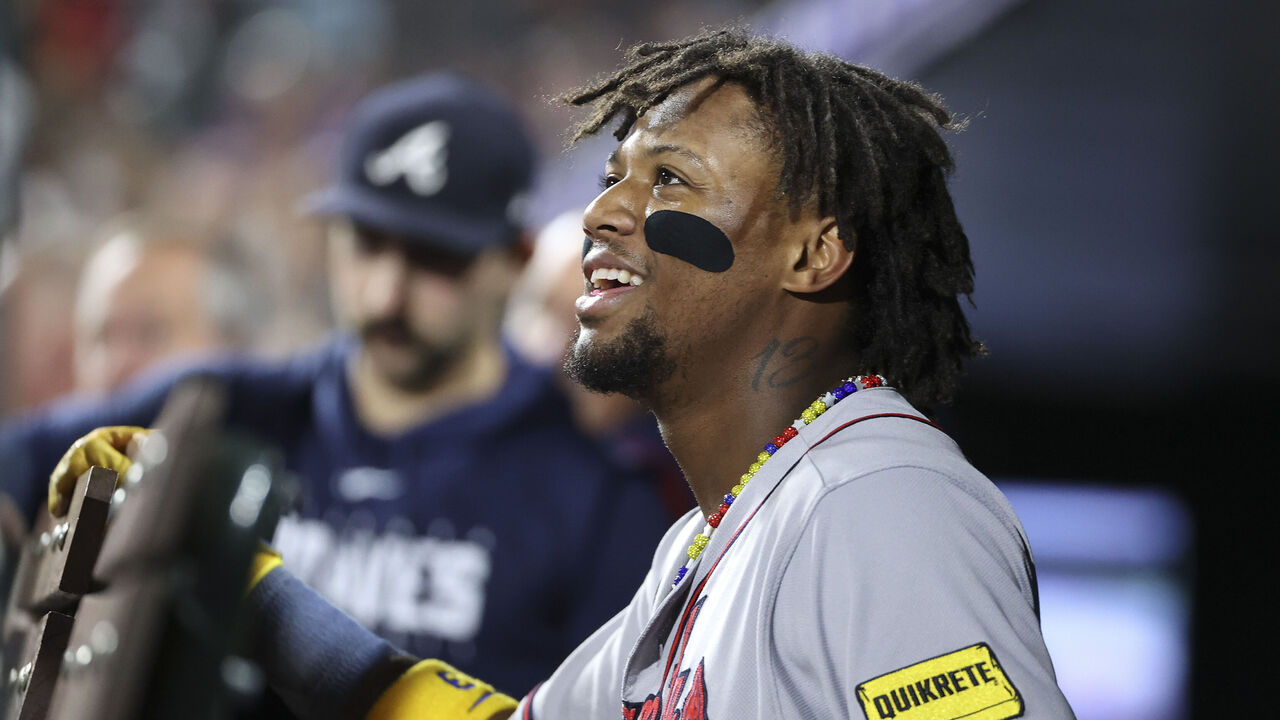 The Braves have also hit the third most home runs in a season in major-league history, becoming the third team to exceed 300 in Tuesday's win over the Cubs. The other two to cross that threshold, the 2019 Twins (307) and Yankees (306), were hitting an allegedly juiced baseball.
Of course, slugging and home run totals don't adjust for the ballparks or eras in which teams played. It's difficult to compare eras given the differences in training, nutrition, pitching quality, etc. One method through which to compare relative dominance is to adjust for run-scoring and ballpark conditions via weighted runs created plus (wRC+) and OPS+.
By wRC+, entering play Wednesday, the Braves (124.6) only rank lower than the 1927 Yankees (125.1).
And by OPS+, only the 1927 (127) and 1931 Yankees (125) rank ahead of the Braves (124) among modern-era AL and NL clubs, with Atlanta moving ahead of the 2017 Houston Astros and 1930 Yankees following Tuesday's action.
The 1927 Yankees earned the nickname "Murderers' Row" because of the formidable depth of their lineup, and these Braves are also a nightmare to deal with.
Acuña, Olson, Marcell Ozuna, Austin Riley, and Ozzie Albies have each hit at least 30 home runs, posted a wRC+ of 119 or better, and either collected 90 RBIs or scored 90 runs this season.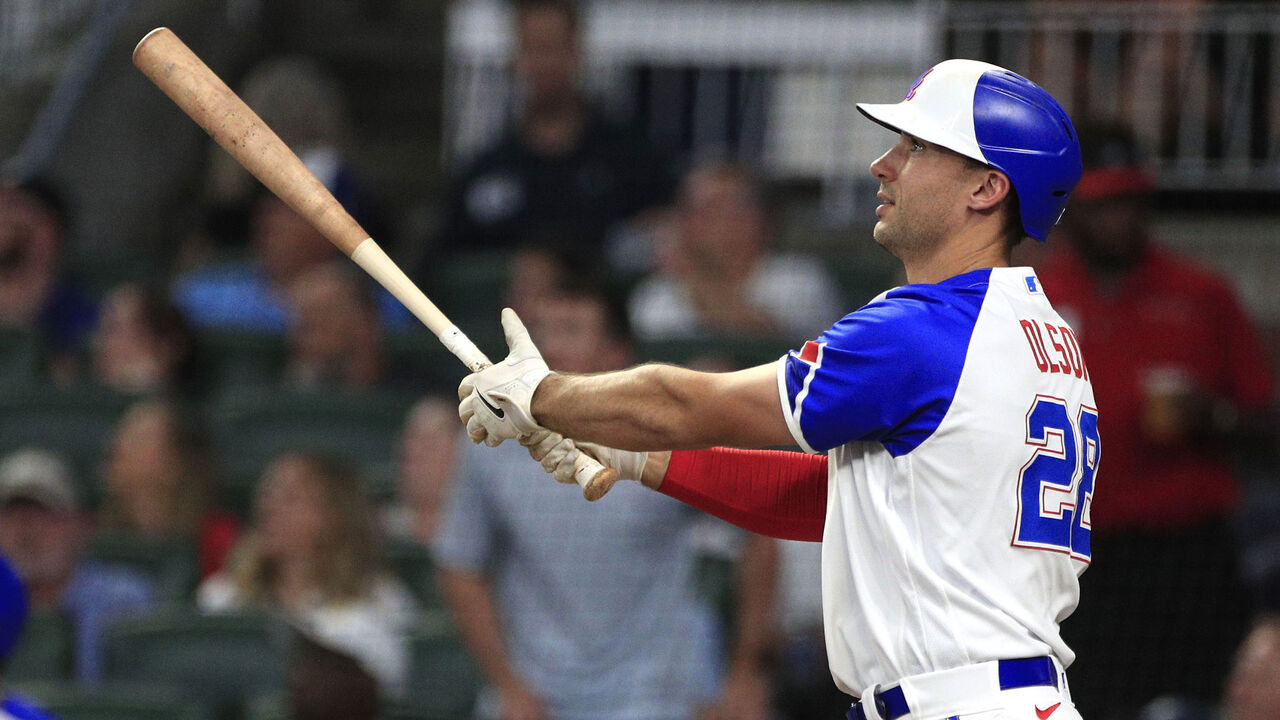 The club's regular No. 9 hitter, Michael Harris II, needs two more home runs to have a 20-20 season and holds a 113 wRC+.
One interesting element about the Braves is that many players are holdovers from last season when they were good but not elite, posting a 111 wRC+ and .443 slugging percentage as a team. In 2021, the Braves produced a league-average wRC+ of 99 when they won the World Series. The only significant addition for this season was catcher Sean Murphy.
What's happened is that just about everyone in the lineup has improved.
Acuña returned to his former playing strength, particularly in his lower body, a year further removed from his 2021 ACL surgery.
Acuña and Harris are among the hitters with the biggest decline in strikeout rate this season; Acuna is down an MLB-best 12.2 percentage points, and Harris is down 5.1 points, which is fifth among all players. As a team, the Braves cut their strikeout rate by four percentage points from a year ago - 24.6% to 20.6% - while reducing their pop-up rate and increasing their homer-to-fly ball ratio.
Olson, now 29, was already a great player, but he cut his strikeouts, increased his walks, and produced a career-best exit velocity en route to setting the franchise home run record, which stands at 53.
Albies had a bounce-back season after 2022 was cut short by a broken foot and broken finger. Murphy is one of the league's better offensive threats at catcher (132 wRC+). And Riley is authoring a third straight season of at least 30 homers, 90 RBIs, and a 127 wRC+ or better at age 26. Since 2021, only Aaron Judge, Olson, Shohei Ohtani, Kyle Schwarber, and Pete Alonso have hit more home runs than Riley.
The Braves strike out at the fifth-lowest rate in the majors. Of the clubs who strike out less, two are weak-hitting (Cleveland, .381 slugging, and Washington, .394), and another is in the middle of the pack (Arizona, .414).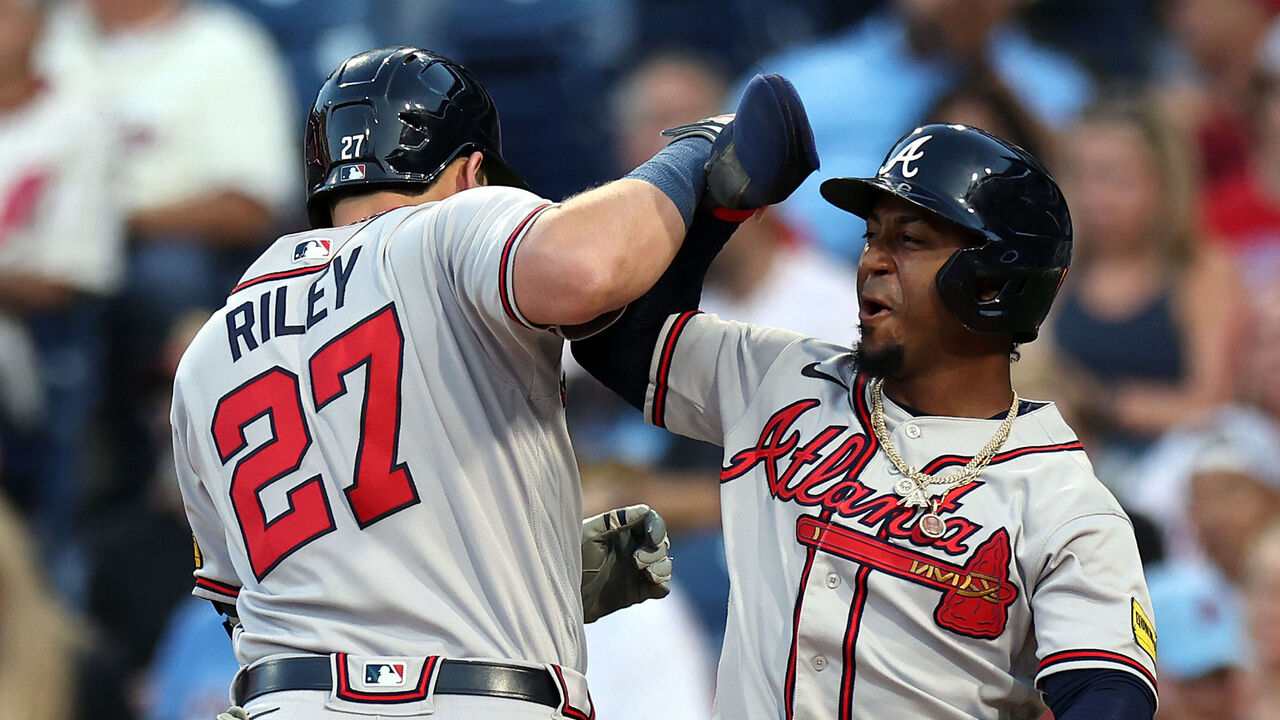 The Yankees won their second World Series title in 1927, four years after their first in 1923. They'd go on to win eight of the next 15. The 1930 and 1931 Yankees were also historically elite offensive teams.
While the days of such dynasties are likely over in this time of 30 franchises, free agency, and expanded playoffs, the Braves aren't likely to be going anywhere anytime soon; their position players are younger (27.5 years) than the average team.
Maybe the Braves are just getting started. Maybe they'll slug their way to another championship this October. What we know for sure is that what they've done this regular season is historically rare. Baseball might not have seen a lineup with so much quality in nearly a century.
Travis Sawchik is theScore's senior baseball writer.