Guerrero's struggles, Angels' antics, and 7 more observations
Starting Lineup is a bi-weekly collection of reporting, observations, and insights from the Major League Baseball beat.
Leading off …
That Davis Schneider (2.0) has a better bWAR than Vladimir Guerrero Jr. (1.1) this late in the season must be concerning for the Blue Jays.
While Schneider is a great diamond-in-the-rough story, Guerrero was expected (perhaps unfairly) to be on a trajectory like Bryce Harper or Mike Trout - or Vlad Sr. - with his bat.
After all, since 1960, only four other players in their age-22 seasons produced a better OPS+ mark than Guerrero's 167 in 2021: Harper (198), Boog Powell (176), Juan Soto (175), and Trout (169). No one hit more home runs (48) in their age-22 season in that same span, either.
But Guerrero's in a rut since finishing second in MVP voting to Shohei Ohtani in '21. Frustrations regarding his performance, especially with men on base, have been bubbling up among fans. His batting average, slugging mark, and many advanced metrics are in decline for a second straight season. And because he's not adding value with his glove or on the bases, his bat must be good - really good - to make him a difference-maker at first base.
While he's still a good hitter, as evidenced by his 114 OPS+, his performance slump is a bit of a mystery.
His strikeout rate is actually down, sitting at a career-low 14.4%. His contact rate on pitches in the zone and his whiff rate are at or near career-best levels. His overall ground ball and fly ball distributions are within his career range, as is his rate of pulled balls.
He's not struggling against breaking balls in any way that jumps out according to FanGraphs' value by pitch.
His average exit velocity is 92.7 mph, right near his career average, and it ranks in the 93rd percentile of batters.
Perhaps part of the mystery resides here, as his average exit velocity is down from an otherworldly 95.1 mph in 2021, which ranked in the 99th percentile. Vlad Jr. was essentially Aaron Judge with better contact skills in 2021.
It seems difficult to believe those skills just vanished.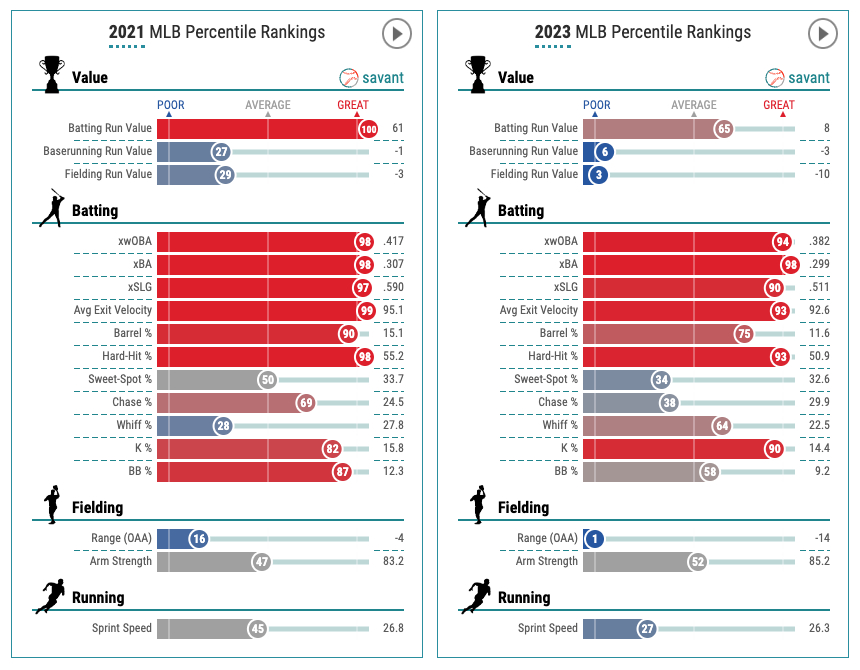 Guerrero's biggest issue is his struggle to hit one particular pitch: fastballs. And that might explain why he's doing less damage off the bat.
He's declined from 40 runs above average against the pitch and a .468 wOBA against fastball types in 2021 to only 2.5 runs above average against fastballs and a .348 wOBA this season, according to FanGraphs.
In 2021, he hit 26 home runs off fastballs. This year, he's hit only nine. He pulled 20 fastballs for home runs in the last two seasons, versus three this year.
Moreover, his overall percentage of fastballs hit to the pull field is at its lowest rate in three years. And the number of line drives and fly balls he's hit to his pull side is down. To put it plainly: Guerrero isn't getting around on the fastball like he was only two years ago.
One explanation here is likely pitchers, who are adjusting. Hurlers are elevating their four-seam fastballs to Guerrero this year, with the pitch coming in at an average of 2.87 feet off the ground compared to 2.77 feet in 2021.
But they've also left slightly more four-seam fastballs in the heart of the zone. In fact, Vlad Jr. has a negative average launch angle against those pitches (minus-7.4 degrees) when hit to his pull side, after posting plus marks in 2021 (plus-3) and 2022 (plus-2.5).
Ideally, Guerrero would launch balls in the air to his pull side like Mookie Betts, but too often he's not damaging center-cut fastballs.
It could be a timing issue, it could be some sort of hesitancy in the box, or could be a change in his approach that hasn't been as effective. It could also be those adjustments made by pitchers. But at age 24, his bat shouldn't be regressing if he's healthy.
The good news is that there's a recent historical comp for a player who offered an MVP-level age-22 season and then slowed down a bit - especially against fastballs - yet rebounded to previous form: Harper.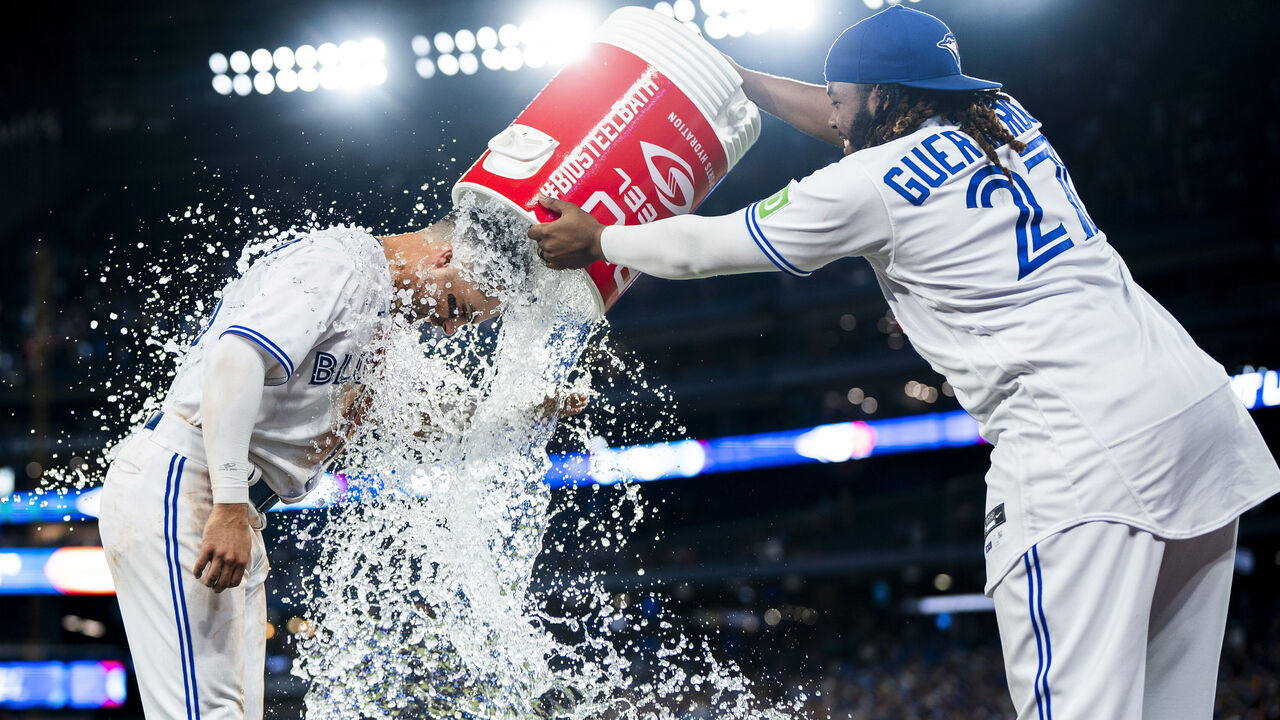 Harper went from 45 runs above average on fastballs during his 10-WAR season in 2015 to only seven runs above average against fastballs in 2016, when his batting average fell by 100 points, his homers were cut in half, and his WAR cratered. He rebounded, though. And plenty of other lesser talents have learned to better get the ball into the air to their pull sides.
So, it can happen. And Guerrero is young enough and talented enough to get back to where he was with the proper adjustments. But what his post-2021 performance has done is cloud what kind of investment Toronto - or any club if he becomes a free agent after the 2025 season - might want to make in his future.
No. 2: Does the game need an Angels rule?
The Angels demonstrated how not to operate at the trade deadline when they tried to bolster their roster despite having playoff odds below 20%. They surrendered their No. 2 and No. 3 prospects to acquire pitcher Lucas Giolito and other reinforcements.
The Angels quickly (and not shockingly) fell out of the race in August, and then waived Giolito, Matt Moore, and Reynaldo López - two of whom they traded for a month earlier. All three were claimed by Cleveland on Aug. 31.
Three other Angels were waived, including Hunter Renfroe, who was scooped up by the Reds. The only player not claimed was Randal Grichuk, who was reportedly placed on waivers again this week.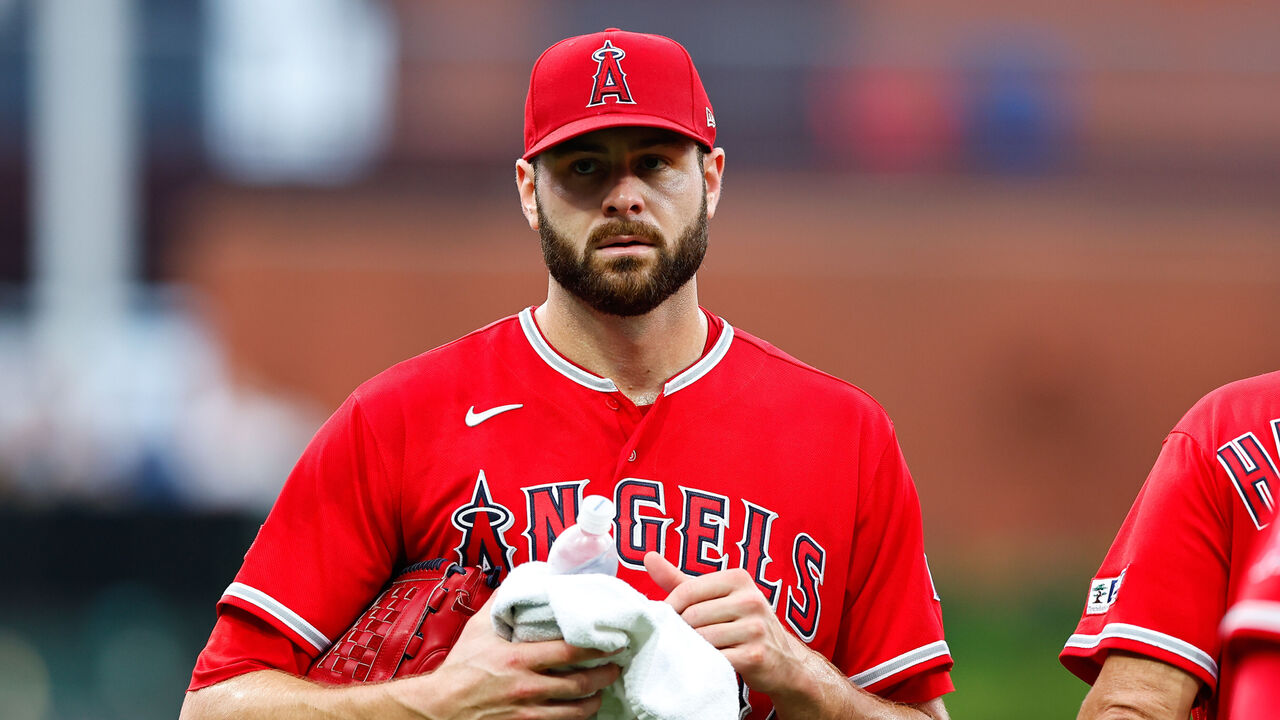 L.A. made these moves to try and get under the luxury-tax threshold of $233 million, which would give it (among other benefits) a better compensatory draft pick should Ohtani leave in free agency (a second-rounder instead of a fourth). The club is believed to be close to the mark.
Yes, the Angels might now be operating rationally compared to the deadline, but those waiver moves don't seem great for the game's overall health, especially when cost-free movement of players could swing postseason races.
It was almost like watching an erratic fantasy team owner. Perhaps certain MLB players should be undroppable like they are in some fantasy leagues. In real baseball, there's no limit on who can be waived and what that could do to a postseason chase. It's an issue worth considering for MLB and the MLBPA.
No. 3: Astros' schedule advantage
The Astros are in a tight race for the AL West crown, with the winner almost certainly receiving one of two byes directly to the division series. Not only do the Astros enjoy one of the deepest and hottest lineups going right now, but they have the third-easiest remaining schedule (.443 remaining opponents' winning percentage). Nine of Houston's 21 remaining games are against Oakland and Kansas City. Fellow AL West hopefuls Seattle (.525) and Texas (.495) have more difficult paths.
Among contenders, only the Twins have an easier path with the 29th-easiest remaining schedule entering play Thursday. But the Twins appear to be too far behind the AL West teams to make a push for the No. 2 seed.
Contenders like the Cubs, Reds, and Brewers also enjoy some of the softest remaining schedules.
No. 4: Baseball's unluckiest team
Meet the Padres.
San Diego is remarkably nine games under .500 and 19.5 games out of first place in the NL West despite holding a plus-64 run differential. The club's posted the best ERA in the NL, and has an above-average lineup (105 wRC+). What it hasn't done well is sequence its run scoring this year. The Padres are 0-11 in extra-inning games. Bad luck? Or lacking a clutch gene?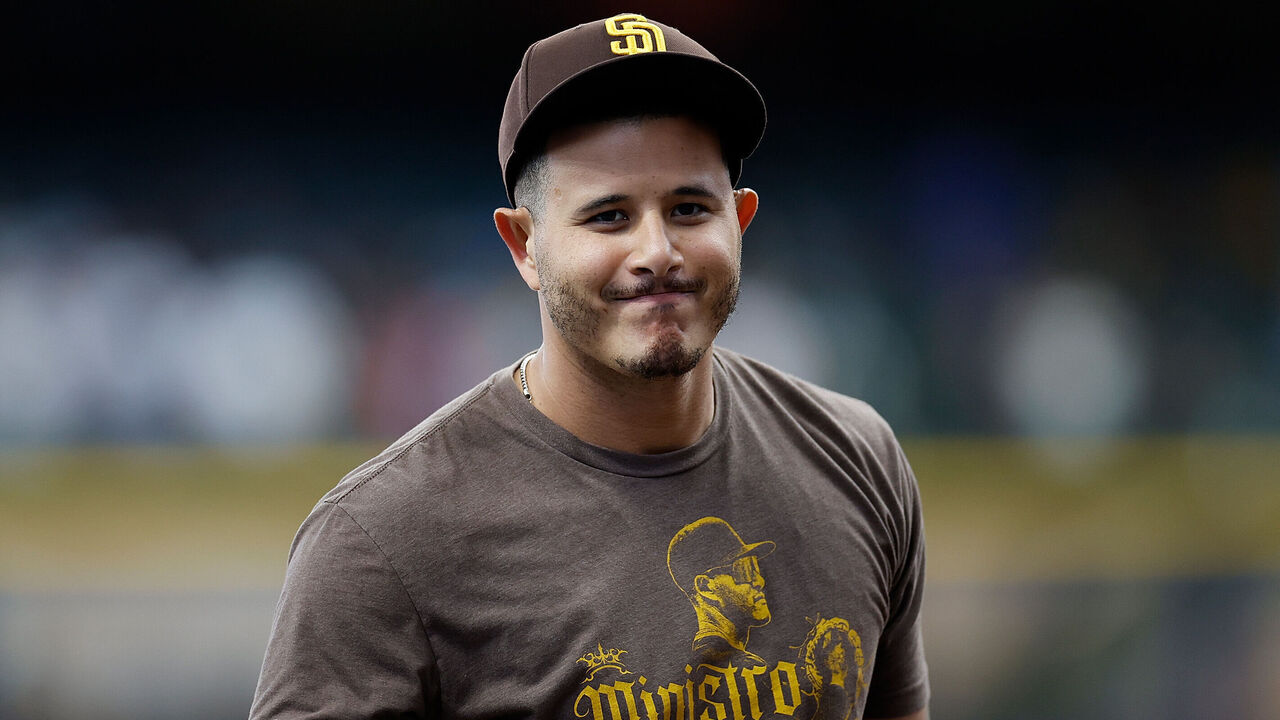 They're the unluckiest team since Cleveland's 2006 squad, which went 78-84 but had a plus-88 run differential.
No. 5: Phillies are dangerous … again
There are four teams with eight or more players who've posted OPS+ marks of 100 or better and who've accumulated 300 more plate appearances this year: the Rays, Braves, Dodgers, and Phillies. More than other sports, MLB is about avoiding weak links. And while the Phillies aren't going to win the NL East, their lineup combined with starting pitchers Zack Wheeler, Aaron Nola, and Cristopher Sánchez again make them an October threat.
No. 6: Embattled scouts
An unfortunate consequence of the data age: more and more teams are questioning their pro scouts' value. The Nationals cut ties with a number of scouts this week, according to Ken Rosenthal of The Athletic.
In recent years, clubs like the Astros and Brewers have greatly reduced their professional scouting departments.
On the pro scouting side - and increasingly on the amateur side, it seems - the belief is a lot of scouting work can be done by data analysis and video. While scouting roles may be changing, I believe there will always be value in the human element of evaluation, even if scouting priorities continue to shift.
Teams don't need scouts to help them decipher a player's pitch movement or velocity, but perhaps better scouting insight into a player's baseball makeup and work ethic can still provide an edge when looking for players who are most likely to get the maximum out of their gifts, and who the best fit is in a clubhouse.
No. 7: Attendance gains holding
Through Wednesday's games, MLB attendance remains up significantly (8.8%) compared to the same number of games last season. The increase has held steady throughout the year following a nearly constant decline since 2007.
While there are certainly a number of factors at play, the new rules have worked. Now, can MLB build off this, or is the spike something of a one-time novelty boost with the pitch clock?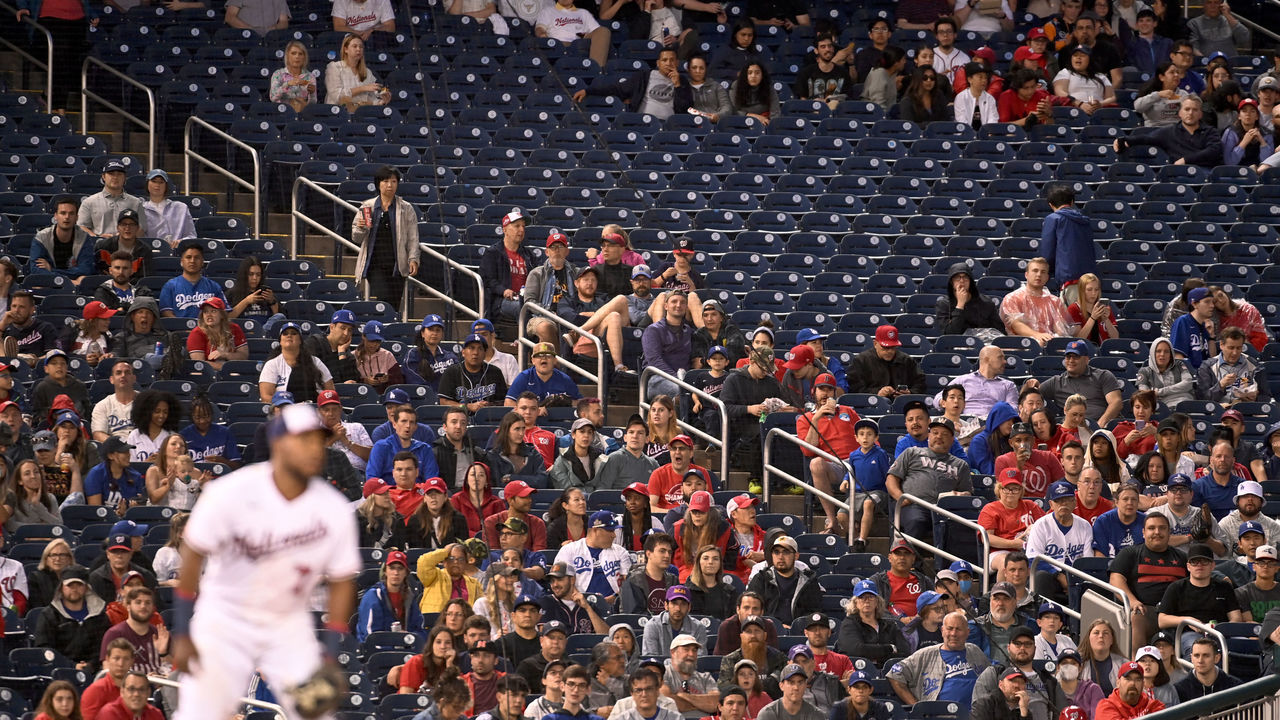 No. 8: Acuña's Jr.'s latest feat
It's hard to believe now that there was some concern about whether Ronald Acuña Jr.'s power would return in fantasy and real life this spring after he hit 15 home runs in 533 plate appearances last year.
Well, it's no longer a worry: Acuña's already hit 34 homers this season, en route to the first 30-homer, 60-steal season in MLB history.
In fact, No. 32 was the hardest-hit ball in the majors this year at 121 mph off the bat.
Again, it's a reminder to be patient with players returning from significant injury. Acuña's demonstrated he's now clear of his 2021 ACL tear and subsequent surgery.
No. 9: Who's NL MVP?
In many years, Acuña would be a lock for NL MVP, but Betts and Freddie Freeman are also authoring outstanding seasons. Entering play Thursday, Betts' superior defense, slight WAR edge, and slightly better offensive efficiency made him the likely favorite. But that's complicated now as he left Thursday's game on crutches after fouling a ball of his left foot. X-rays were negative, so the Dodgers hope it's only a short-term issue.
Stat of the week
3 home runs in 5 games | At only 20 years old, prospect Jasson Domínguez became the first Yankee to pull off the feat since Mickey Mantle in 1952, according to ESPN Stats & Info.
He said it
"I felt butt naked, stranded on an island in the middle of the ocean." - Tampa Bay pitcher Zach Eflin after his most recent start.
You don't see that every day
Jose Altuve homered four times in a span of four innings across the Astros' games Monday and Tuesday. That's only happened one other time in MLB history - way back in 1884.
Altuve's posted the best two wRC+ marks of his career the last two seasons, putting to rest any doubt about the quality of hitter he is following the Astros' sign-stealing scandal. It'll remain a blemish on his resume, but Altuve is one of the great hitters of this generation.
Travis Sawchik is theScore's senior baseball writer.