MLB Playoff Power Rankings: Assessing each team's World Series chances
Julian Catalfo / theScore
Welcome to our playoff edition of the MLB Power Rankings where we look at why each team could win the World Series and what could hold them back.
1. Atlanta Braves
Why they could win it all: Any team with baseball's most potent offense should be feared in October. The ability to hit home runs in a variety of different situations is an extremely important asset to have in the postseason. The Braves had one of the most prolific power seasons by a team in MLB history in 2023. With the likes of Ronald Acuña Jr., Matt Olson, and Ozzie Albies leading the way, opposing pitchers will have to be at their absolute best.
Biggest weakness: Question marks in the rotation. Both Max Fried and Charlie Morton are dealing with finger injuries, with Morton already ruled out for the NLDS. Fried is expected to return for the division series, but there is certainly some reason to be concerned about how effective he can be. Spencer Strider will need to be in top form in order for the Braves to be at their best. The right-hander showcased his trademark dominance for large stretches of the regular season but also struggled at times, leading to a surprisingly inflated ERA.
2. Baltimore Orioles
Why they could win it all: They've surprised all year. After finishing with just 83 wins in 2022, the Orioles, who were projected to win 74 games before the season by Baseball Prospectus, did better than anyone thought they would. With young stars Adley Rutschman and Gunnar Henderson leading the charge, the Orioles impressed en route to their first AL East title since 2014. Beyond Rutschman and Henderson, manager Brandon Hyde should feel secure about talented bats like Anthony Santander and Austin Hays, among others, to be up to the challenge of postseason baseball.
Biggest weakness: Pitching. The loss of All-Star closer Félix Bautista is a huge blow. Without Bautista, the bullpen doesn't look nearly as formidable, as other relievers will be thrust into higher-pressure situations. In the starting rotation, Hyde will likely line up Kyle Bradish and Grayson Rodriguez for the first two games of the ALDS. Bradish put together a career season in 2023, while Rodriguez lived up to his potential in the second half after being sent down in May. It wouldn't be shocking if Baltimore's pitchers continue to get the job done, but it could be an obstacle to a deep run in October.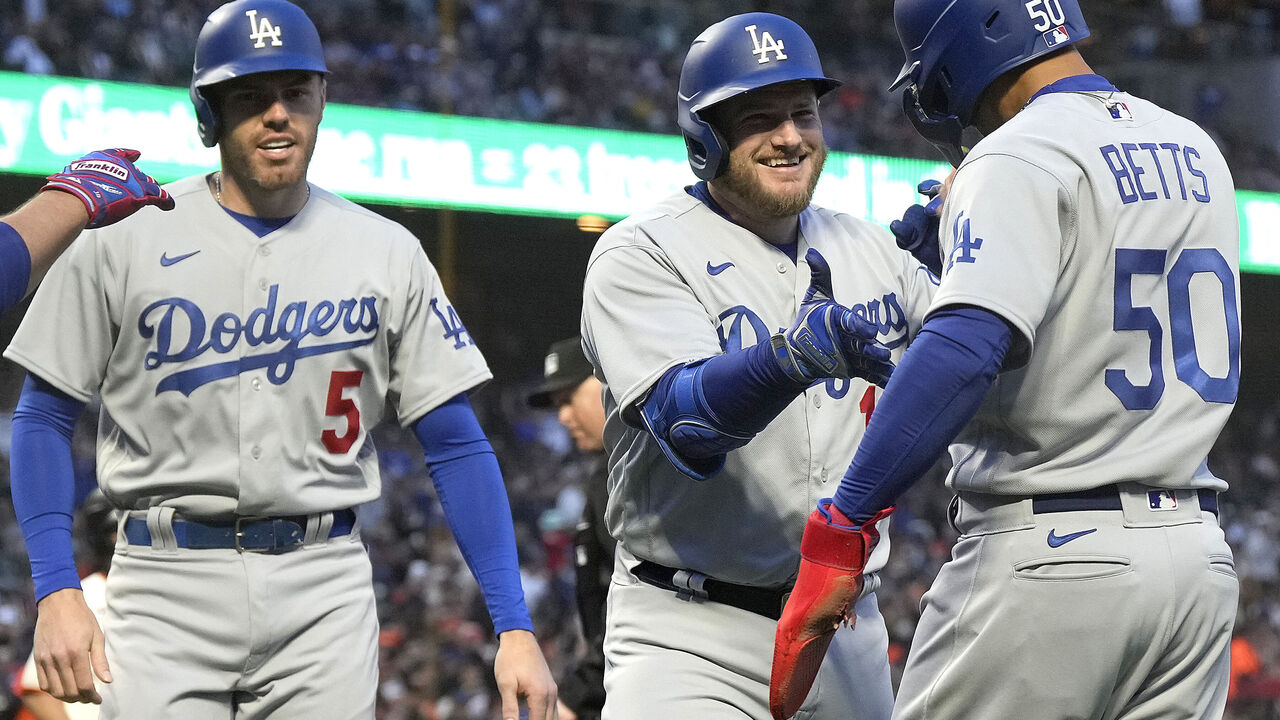 3. Los Angeles Dodgers
Why they could win it all: Freddie Freeman and Mookie Betts. The dynamic duo atop the lineup has helped carry the Dodgers despite some offseason departures and a number of key injuries to the pitching staff. Freeman and Betts are good enough to swing a short series on their own. Veteran slugger J.D. Martinez could also emerge as a difference-maker. Martinez owns a .987 OPS with nine home runs and 30 RBIs across 109 career postseason at-bats. The 36-year-old hit more than 30 homers for the first time since 2019 and hit .344 in his last playoff run as a member of the Red Sox in 2021.
Biggest weakness: Inexperience in the starting rotation. The Dodgers have turned to a number of rookie pitchers with key injuries to Dustin May, Tony Gonsolin, and Walker Buehler, as well as the placement of Julio Urías on administrative leave. Bobby Miller is expected to start one of the first two games of the NLDS. Beyond Miller and Clayton Kershaw, Dave Roberts will have to dig deep to squeeze enough out of the rotation to allow the lineup and bullpen a chance to win games.
4. Tampa Bay Rays
Why they could win it all: A versatile pitching staff from top to bottom. Even with injuries to ace Shane McClanahan, Jeffrey Springs, and Drew Rasmussen, the Rays still ranked highly in a number of pitching categories. Manager Kevin Cash will likely line up his pitching staff to have Tyler Glasnow and Zach Eflin start the first two games of the wild-card series. After an uncharacteristically uneven first few months, the Rays' bullpen found its form down the stretch. Expect Cash to be aggressive as always in using his bullpen and trying to win the matchup game against the opposition.
Biggest weakness: Inexperienced lineup. Outside of Yandy Díaz and Randy Arozarena, the Rays' lineup isn't overflowing with proven playoff performers. Tampa received strong contributions from the likes of Josh Lowe, Isaac Paredes, and Harold Ramírez during the regular season and will need more of the same to win a first postseason series since 2020.
5. Philadelphia Phillies
Why they could win it all: Winning DNA. The Phillies are one of the most dangerous teams in the postseason. After last year's stirring run to Game 6 of the World Series from the final wild-card spot, it would be foolish to doubt Philadelphia. Even without one of last October's heroes in Rhys Hoskins, the Phillies are still loaded with offensive dynamos. They are also set up nicely atop the rotation with the dependable duo of Aaron Nola and Zack Wheeler.
Biggest weakness: Bullpen depth. The Phillies are in good shape at the end of games with José Alvarado and Craig Kimbrel coming off strong regular-season performances. Beyond that, there are question marks for manager Rob Thomson. Gregory Soto's first season in Philadelphia has been bumpy, to say the least, as the left-hander posted a 4.62 ERA. The Phillies will need him, Seranthony Domínguez, and others to step up under the bright lights to provide support and a bridge to Alvarado and Kimbrel.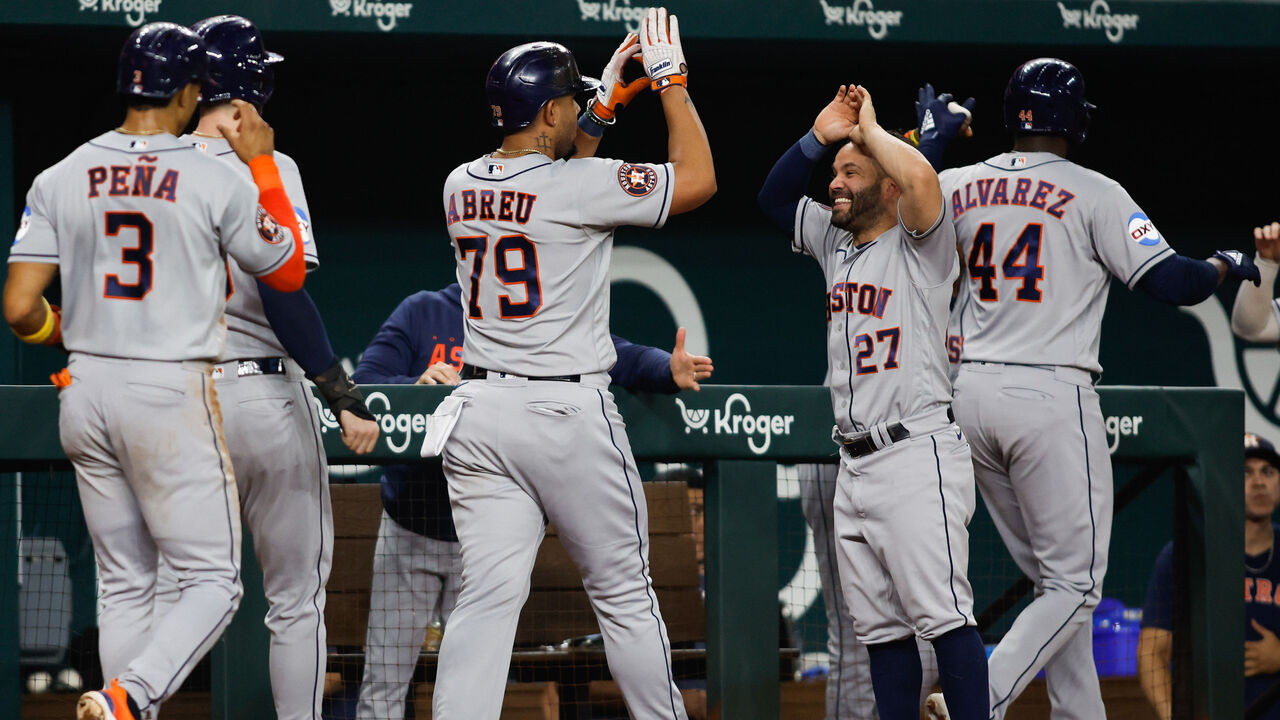 6. Houston Astros
Why they could win it all: An extended track record of rising to the occasion in October. Yes, the Astros had a disjointed and underwhelming regular season. Based on that, it would be reasonable to doubt Houston's chances of making another run to a staggering seventh straight ALCS. However, betting against the likes of Altuve, Álvarez, and Bregman seems like a bad idea. Until someone rises up and knocks the defending World Series champions off their perch, they deserve the benefit of the doubt in the postseason.
Biggest weakness: Question marks in the rotation. Manager Dusty Baker has had to navigate injuries to major 2022 contributors in Luis Garcia and Lance McCullers Jr. The Astros can still lean on veterans Justin Verlander and Framber Valdez, but there are concerns surrounding Valdez, who posted a 4.55 ERA in his final 15 regular-season starts. Beyond the two veterans, the Astros will need strong contributions from rookie J.P. France and right-hander José Urquidy.
7. Milwaukee Brewers
Why they could win it all: A strong pitching staff, despite Brandon Woodruff's injury. The Brewers will be without Woodruff for at least the wild-card series after the right-hander was diagnosed with a shoulder ailment. Manager Craig Counsell can still feel secure with former Cy Young Corbin Burnes and Freddy Peralta atop the rotation. The big wild card will be what veteran southpaw Wade Miley can provide. The 36-year-old enjoyed a solid regular season, posting a 3.14 ERA in 23 starts.
Biggest weakness: Can they score enough? The Brewers had a below-average offense in terms of hitting home runs, scoring runs, and wRC+. Counsell's lineup has plenty of talented players, but the regular-season track record speaks for itself. The Brewers will need to find a way to do more damage in the batter's box, or their run in the postseason could be short.
8. Texas Rangers
Why they could win it all: A potent offense. They struggled through bouts of inconsistency in the second half of the season, but the Rangers are still well-equipped to put up crooked numbers in October. Texas finished the regular season third in runs, OPS, and home runs. Meanwhile, Corey Seager, Marcus Semien, and Adolis García combined for 101 homers and 303 RBIs.
Biggest weakness: The bullpen. The Rangers' second-half swoon can largely be traced to the struggles of their relievers. Even after acquiring veteran closer Aroldis Chapman, manager Bruce Bochy still had trouble turning to any relievers with the confidence that they could get the job done consistently. The Rangers converted just 30 of 63 save opportunities on the season and were 26th in bullpen ERA (5.10) in the second half. It could be a bumpy ride in late and close situations.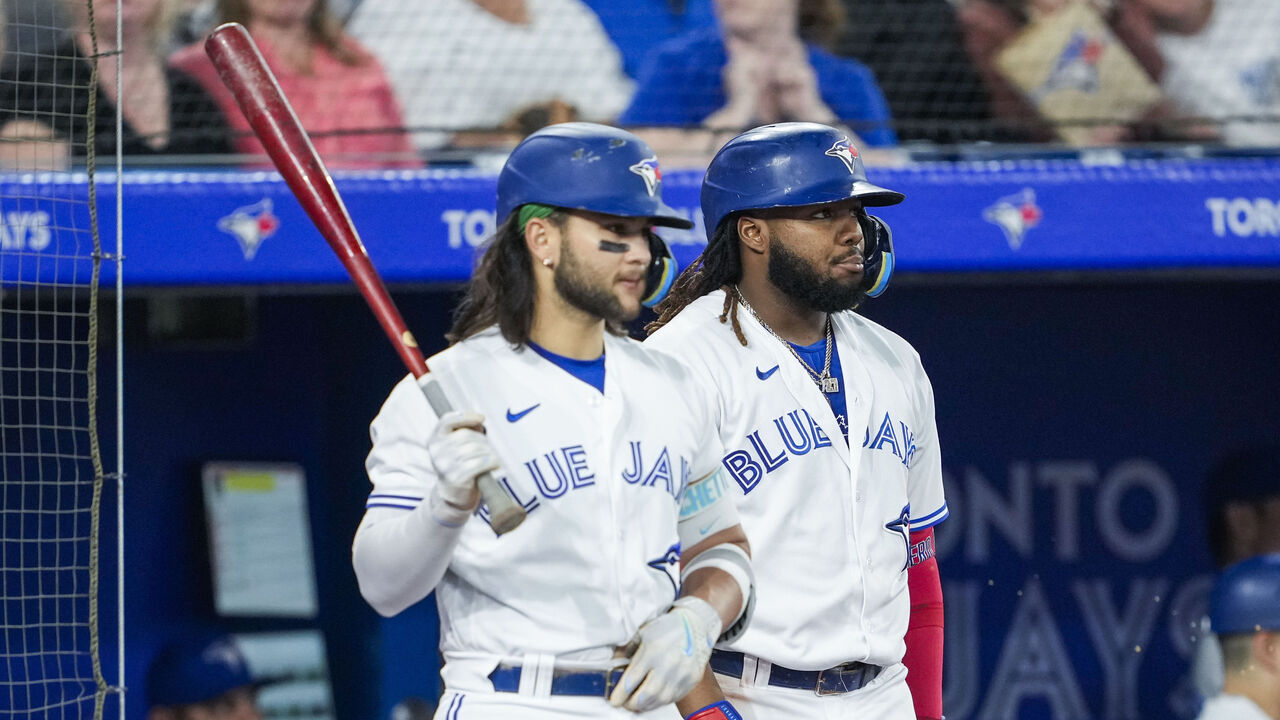 9. Toronto Blue Jays
Why they could win it all: Pitching and defense. Blue Jays general manager Ross Atkins prioritized run prevention in the offseason, and it paid dividends in 2023. The Blue Jays were among the league leaders in ERA and also ranked very highly in defensive runs saved with offseason additions like Kevin Kiermaier and Daulton Varsho leading the way. The old adage says pitching and defense wins championships, and the Blue Jays are certainly well-equipped in both areas.
Biggest weakness: Offensive inconsistency. After ranking among the league leaders in a number of major offensive categories over the past two seasons, the Blue Jays slipped in 2023. Toronto struggled to hit home runs and ran into issues hitting with runners in scoring position for long stretches during the regular season. Home runs are always the great equalizer, especially when runs are at a premium in October. The Blue Jays will need to find more power if they hope to win a playoff series for the first time since 2016.
10. Minnesota Twins
Why they could win it all: A suddenly impossible bullpen. Many times, postseason success boils down to hitting enough home runs and having a reliable bullpen to hold down leads late in games. The Twins are looking pretty strong in the latter. Closer Jhoan Duran is one of baseball's most electric hurlers. Twins manager Rocco Baldelli also has a slew of quality arms, with Louie Varland, Caleb Thielbar, Griffin Jax, Brock Stewart, and Emilio Págan all emerging at times during the regular season. One potential X-factor to keep an eye on is Chris Paddack. The right-hander returned at the end of the regular season in a bullpen role after recovering from Tommy John surgery. Paddack is throwing harder than he ever has and can still count on his strong changeup.
Biggest weakness: Injuries to key contributors. Carlos Correa, Byron Buxton, and Royce Lewis missed extended periods of time at the end of the regular season. Even if some or all of them are in the lineup for Game 1, it's fair to wonder how close to 100% they will be and how that might impact Minnesota's quest to win its first postseason series since the 2002 ALDS.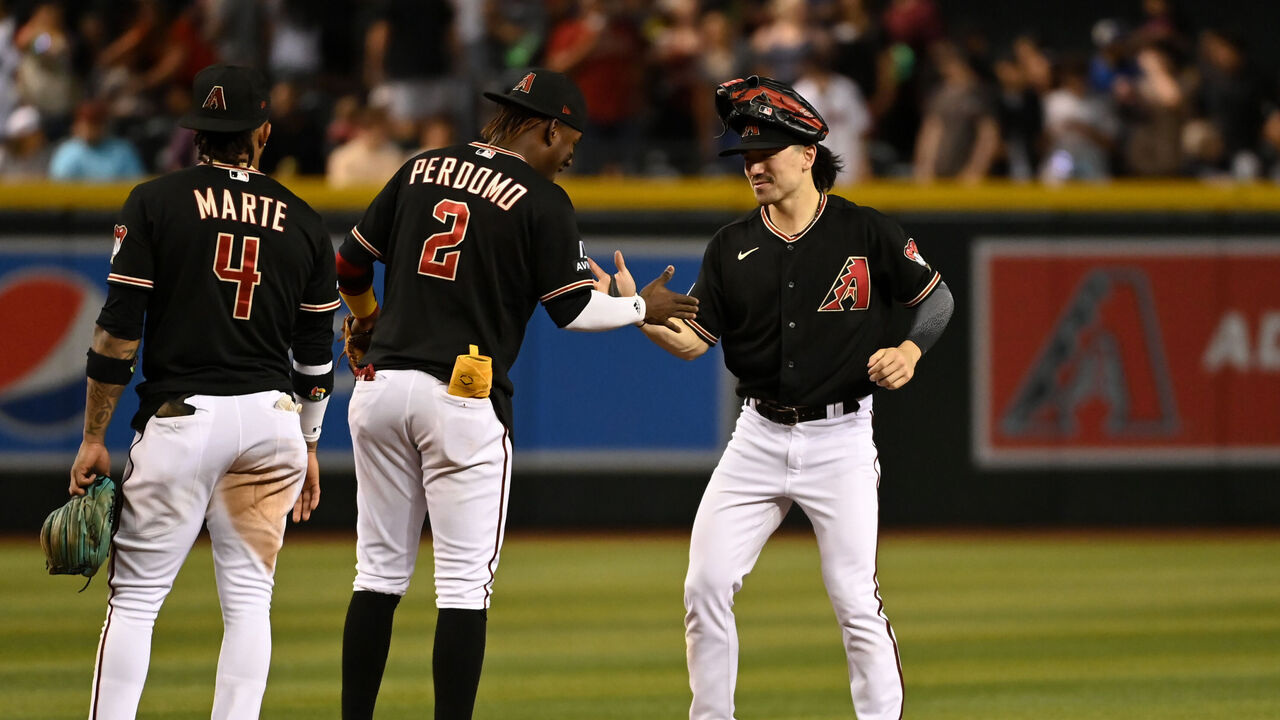 11. Arizona Diamondbacks
Why they could win it all: The three-headed monster. Opposing pitchers will need to find a way to slow down Arizona's dynamic offensive trio of NL Rookie of the Year favorite Corbin Carroll, second baseman Ketel Marte, and first baseman Christian Walker. Those three are the engine of Arizona's offense and are capable of pushing the D-Backs deep into October if they can get hot.
Biggest weakness: Starting pitching depth. Diamondbacks manager Torey Lovullo can feel secure with the top of the rotation in Zac Gallen and Merrill Kelly. Beyond that, however, there are major question marks. Rookie right-hander Brandon Pfaadt lines up to start behind Gallen and Kelly, but aside from that, there aren't many obvious candidates.
12. Miami Marlins
Why they could win it all: A surprisingly deep offense. NL batting champion Luis Arraez leads the charge, and Marlins manager Skip Schumaker should feel good about the likes of Jorge Soler, Josh Bell, Jazz Chisholm Jr., and Jake Burger hitting behind Arraez in the order. The Marlins had a great finish to the regular season to qualify for the postseason and could ride that momentum to a surprise run in October.
Biggest weakness: A lack of impactful starting pitching. Injuries to reigning NL Cy Young winner Sandy Alcantara and electric rookie Eury Pérez have left the Marlins in a precarious position entering the postseason. Talented left-hander Jesús Luzardo will likely draw the Game 1 assignment, but Schumaker and the Marlins will be hoping one or more of Edward Cabrera, Braxton Garrett, and Johnny Cueto emerge as postseason heroes.