Marlins' Luis Arraez following the right road map to reach .400
Katelyn Mulcahy / Getty Images
The chance that Luis Arraez hits .400 or better this season is incredibly unlikely. After all, no major-league hitter has done so since Ted Williams hit .406 in 1941.
The only qualified batters to hit .390 or better in the last five decades are George Brett (.390) in 1980 and Tony Gwynn (.394) in the strike-shortened 1994 season. Only 10 qualified batters have hit at least .370 since 1980.
It's only June, but Arraez has baseball's attention because after two more hits on Tuesday night he carries a .401 batting average into play Wednesday. Even though the season is only about 40% complete, it's still rare to own such an average at this point in the season, per MLB.com's Sarah Langs.
Batting .400 for a full season is a feat right there with the 56-game hitting streak as one of the most unlikely marks to be revisited, more so now thanks to the modern game's strikeout environment.
When Williams hit .406, the MLB strikeout rate was 9.1%. This year, it's 22.7%, just off the record 23% rates of recent years.
In fact, if one adjusts for the game's strikeout and batting average environments, and Arraez finishes the campaign with a .401 mark while qualifying for the batting title, it'd be the best relative batting performance (161) in the history of American and National League play, according to FanGraphs's AVG+ metric.
The would-be next best? Nap Lajoie (154 AVG+) in 1910.
While no player is likely to reach .400 this season, and many doubt it'll ever happen again, Arraez is showing us what it'd take to pursue that mark.
For starters, a .400 average hitter can't strike out much.
Of the 13 combined AL and NL player seasons to produce campaigns of .400 or better since 1901, the highest strikeout rate was Rogers Hornsby's 7.1% in 1922.
In the 1920s, strikeout rates below 10% were common. Today, they're incredibly rare. There have been only 51 qualified batting seasons with strikeout rates below 10% over the last decade. Ideally, the rate needs to be less than 5% for a .400 average.
Arraez is doing just that. He's a true outlier in making contact at a time when it's never been more difficult.
If his 4.7% strikeout rate holds, it'd be the lowest this decade and tied for the fifth lowest this century. When adjusted for the league-average strikeout rate, it'd stand as the 15th-lowest adjusted rate since at least 1921.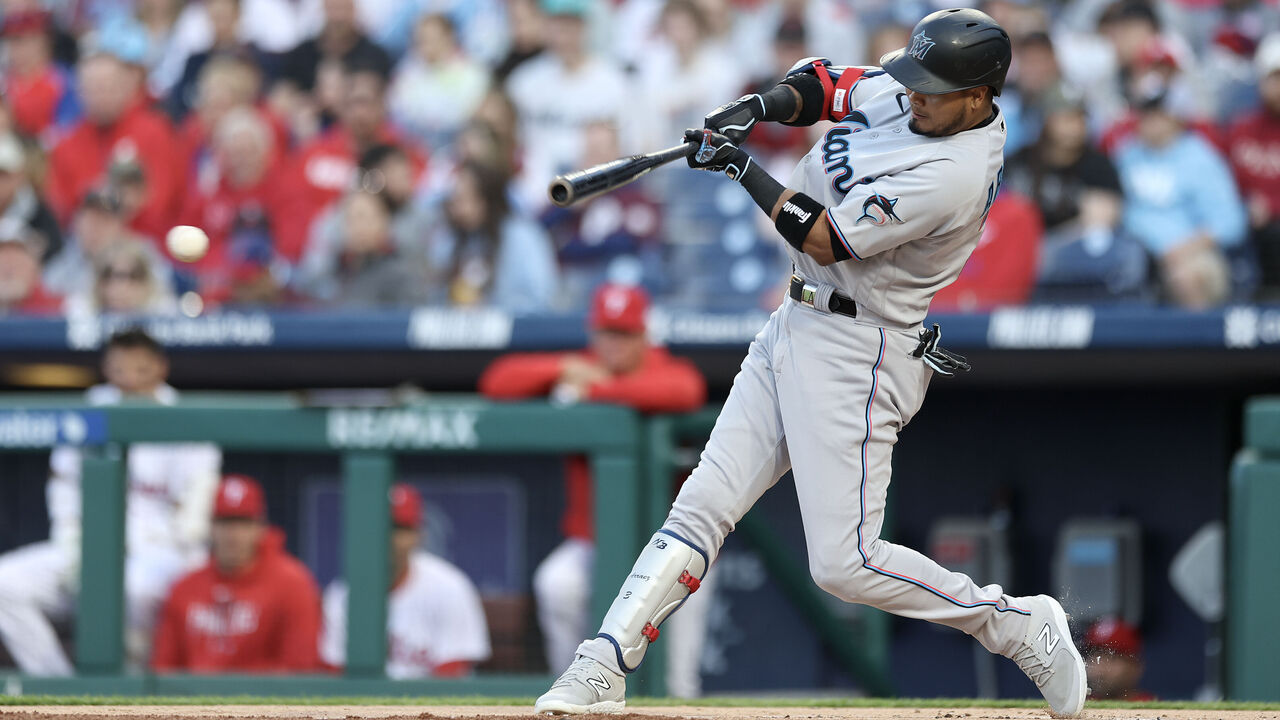 Putting the ball in play at an extremely rare rate is the foundation. The ball must go into play often for a player to have a chance at the mark.
The next piece of the puzzle is about where the ball is put in play.
Batting .400 doesn't require an elite hard-hit rate. Arraez ranks in the second percentile of hard-hit rate and the seventh percentile of max exit velocity. But what a Baseball Savant page doesn't include is an ideal batted-ball distribution.
What a high batting average mostly requires is to "hit 'em where they ain't," as the 5-foot-4 Willie Keeler, a .341 lifetime hitter, explained to the Brooklyn Eagle in 1903. Arraez possesses that trait in spades.
He hasn't yet hit an infield pop-up this year, a batted-ball type that'll generally yield something close to a .000 batting average.
Arraez has also cut his fly-ball rate to well below the major-league average. While fly balls are generally good for optimal offensive outcomes, they're not if you're a low-power bat like Arraez, and they're not great if a batter is trying to hit .400 (unless you're Ted Williams).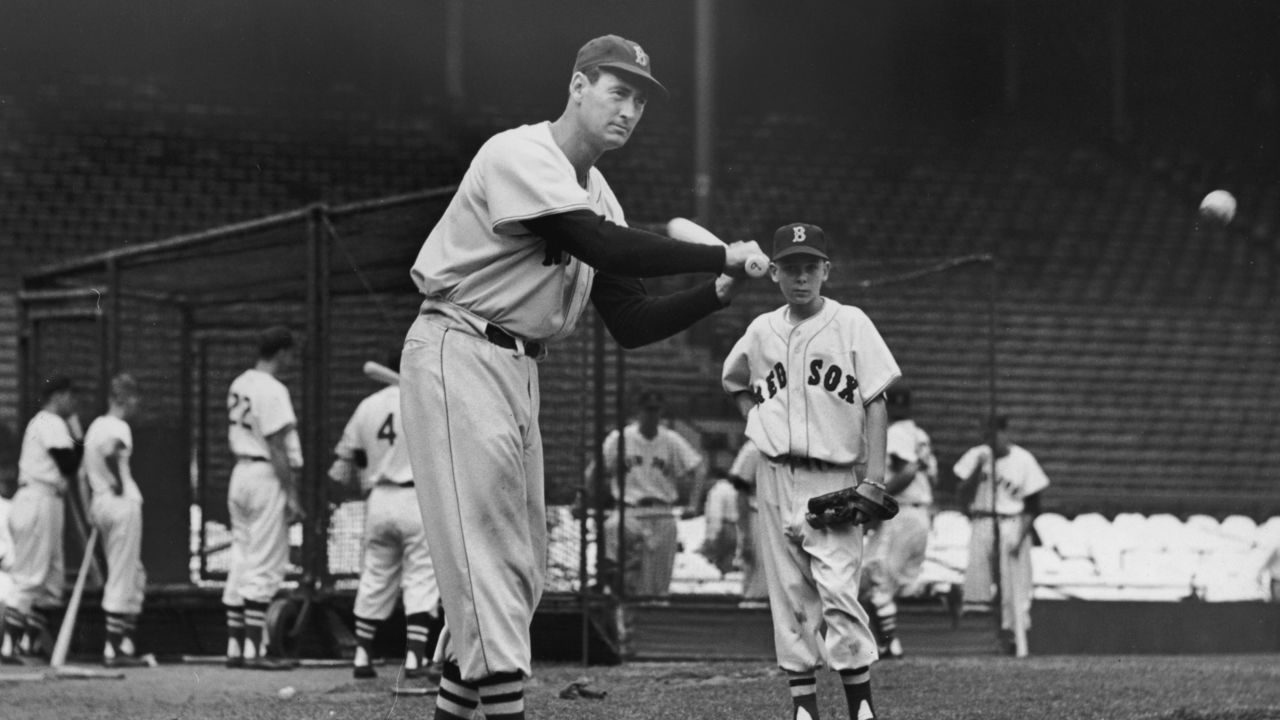 For Arraez, everything is low and hard. He owns the eighth-highest line-drive rate in the majors this year, according to FanGraphs, and the 10th-lowest fly-ball rate.
MLB batters are hitting .227 on fly balls this year and .242 on grounders. Batters are hitting .708 on line drives.
Spraying the ball around the field is also helpful for high-average hitters.
Most ground balls are hit to the pull side: 54% rate in 2021, 54.7% last season, and 55.5% this season.
But Arraez doesn't pull ground balls. Out of 223 hitters this year, he possesses the 19rd-lowest ground-ball pull rate (42.9%). He also ranks 14th lowest in pulled line drives (30.5%, compared to the MLB average of 40%).
Defenses are hard-pressed to optimize their positioning against such an even distribution of batted balls. This year, Arraez has hit 24.6% of his batted balls to his pull side, 54.7% to center, and 20.7% to the opposite field.
Compare that to Tony Gwynn's 1994 campaign when he hit 22.8% of batted balls to his pull side, 56% to center, and 21.3% to the opposite field.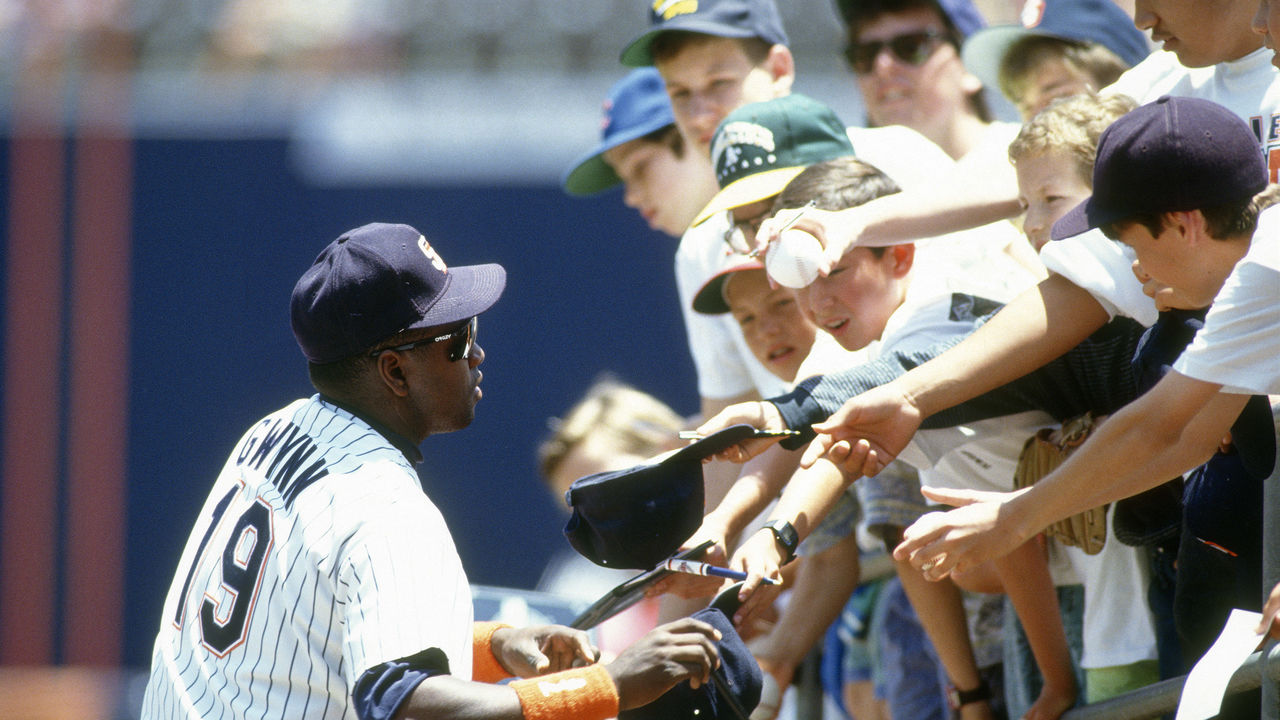 In 1993, when Toronto's John Olerud held a .400 average until Aug. 2 - the longest .400 chase in the last 30 years - Olerud had a 24.5%-55.4%-20.1% distribution for the season. (We don't have batted-ball distribution data for seasons prior to 1988.)
For comparison, the average major-league hitter in 2023 has pulled 30% of batted balls and hit 18% the opposite way.
Ideally, Arraez could bolster his average with a few more home runs. When Williams hit .406, he hit 37 home runs - 37 batted balls that no one could defend.
Ideally, Arraez would also leg out a few more infield hits in his quest to .400. He features a below-average infield hit rate and modest speed.
But in an effort to hit .400, he's doing everything else required: striking out at historically low rates, finding a launch-angle sweet spot that produces line drives, and spraying the ball all over the park.
And in chasing down .400, some batted-ball luck doesn't hurt either.
While no one has hit .400 in the last 81 seasons, five players have posted full-season BABIPs of .400 or better since then: Yoan Moncada in 2019, Jose Hernandez in 2002, Manny Ramirez in 2000, Rod Carew in 1977, and Roberto Clemente in 1967. (Michael Conforto also accomplished it in the COVID-shortened 2020 year.)
Add in some batted-ball luck to an extremely low strikeout rate, elite contact skills, and ideal batted-ball distribution, and reaching .400 is theoretically possible.
The path is narrow, but it's been done before, so it's not impossible. Arraez has found the road map; we'll see if he can reach the destination.
Travis Sawchik is theScore's senior baseball writer.