How these Cardinals teammates defied aging curves to become MVP contenders
Jim McIsaac / Getty Images
PITTSBURGH - In a late August game in Cincinnati last season, Nolan Arenado singled to left field and had a few moments to stand around with Joey Votto at first base. He had a question he wanted to ask: What had gotten into Votto, then the Reds' nearly 38-year-old first baseman?
Votto's power output had dwindled for years, but he was on his way to smashing 36 home runs last season. Arenado noted his exit velocities had spiked, too.
"I was like, 'Dude, what's going on? You're hitting the ball ridiculously hard,'" Arenado recalled during the last series of this regular season at PNC Park. "He was hitting 117-mph bullets last year, and he was 37."
What did Votto say?
"'I'm swinging faster. That's what I've been focusing on,'" Arenado said of his response.
Arenado was curious, too, because he knew he was now on the wrong side of 30. He'd seen other players drop off in performance soon after reaching his age.
"I've seen guys in the game as they've gotten older try to stick with the same thing," he said. "They don't move the same, but they train the same. Their numbers go down. I've seen it. I don't want to be that guy."
And he wasn't happy with his own performance.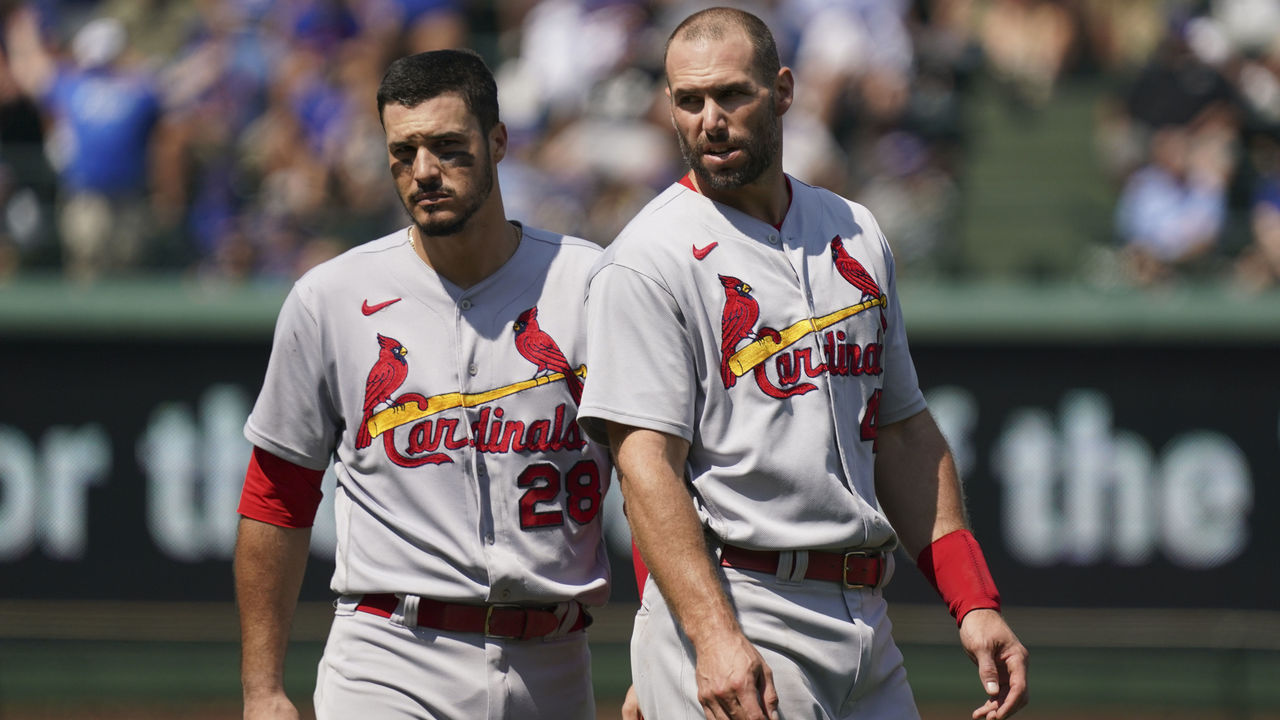 Almost all major-league position players would be happy with his 2021 stat line, which included 34 home runs and 105 runs driven in. Arenado wasn't. The St. Louis Cardinals' third baseman isn't like most players, of course. From 2015-19 in Colorado, his age-24 to age-28 seasons, he finished in the top eight in NL MVP voting in five consecutive years. Offensively and defensively, he was a superstar.
But last year, in his first year in St. Louis, while his baseball-card totals looked good, Arenado felt his performance wasn't up to par. He hit a modest .255, after hitting .253 in the pandemic-shortened 2020. He hit .295 in his first seven years. His OPS, while still an above-average .807 in 2021, was down 90 points from his first seven seasons.
Something else was different, too, of course: "Busch," Arenado told theScore. "It's not Coors."
"I knew I had to hit the ball harder and swing the bat faster. I had to find a way to do it. … I'm like, well, if (Votto's) doing that. And Goldy (Paul Goldschmidt) is hitting the ball as hard as he ever did and he's 34-ish, I'm 31, then there's no reason why I cannot get better."
So he did.
What's remarkable about Arenado's MVP-level season and that of his teammate and friend Goldschmidt is that they're playing at career-best levels at a time when, according to aging models, they shouldn't be. And what's also remarkable is that players with such robust resumes keep searching for ways to improve. They don't think they've figured it all out.
Their process explains in part why the Cardinals are back in the playoffs, and why Arenado (7.9 WAR) and Goldschmidt (7.8) rank first and second among position players on Baseball Reference's NL WAR leaderboard. They're second and third - Arenado 7.3, Goldschmidt 7.1 - behind San Diego's Manny Machado (7.4), according to FanGraphs' version of the metric.
For Arenado, it began with an offseason quest.
"I had a lot of questions about my performance," he said. "I wasn't happy with it. I had a lot of questions about my body. Is my body not moving as well? Is that why I'm not performing well? Or am I not performing because it's a mental thing? A mixture of both?
"I searched for answers."
Arenado began with his question to Votto, one of the game's most accomplished stars. But he was open to learning from players who developed in the game's new environment, like teammate Lars Nootbaar, a rookie in 2021.
Knowing he was looking to swing faster, Nootbaar suggested Arenado reach out to Driveline Baseball, where his friend John Soteropulos worked as a hitting coach. While Driveline was first known for velocity-building programs for pitchers, they've used the same under- and over-loading training concepts - working with heavier and lighter training implements, whether they be balls or bats - to also build bat speed.
Nootbaar added bat speed and exit velocity while training there. He had Soteropulous run some analysis on Arenado, and found Arenado had fallen slightly below MLB's average bat speed of just over 71 mph, to around 70 mph.
"I'm close enough to him where I can kind of suggest some stuff, and he will take it or leave it," Nootbaar said. "I just said, 'Hey, my buddy did a deep dive on what you did (this season)' … (Arenado's) always looking to get better. That's who he is and his nature. He jumped at the opportunity."
After the season ended, Arenado's quest truly began with a trip to Driveline in suburban Seattle, where he picked up a weighted-bat routine. He swings heavier and lighter bats to build strength and quickness. While an uncommon practice in baseball, Olympic athletes have employed such practices for decades.
He picked up other routines designed to improve his movement patterns, too.
Before Game 161 on Tuesday, in a tunnel from the clubhouse to the batting cage, Arenado was seen holding a medicine ball at shoulder level, almost like it was a bat in his preloaded position. He then pivoted as if he were swinging, and slammed the ball into the cinderblock wall of the corridor.
This season, Arenado said his bat speed averaged about 72.5 mph. One mph of bat speed is estimated to equal 1.2 mph of exit velocity off the bat.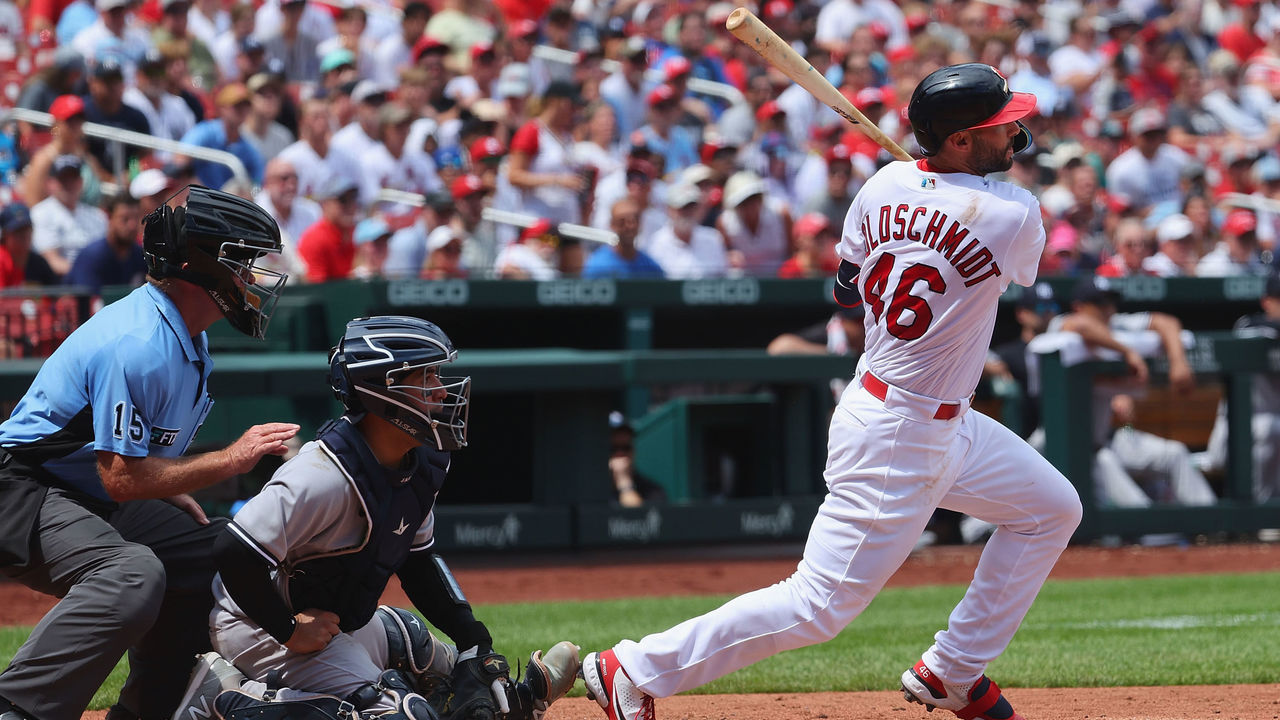 While he wasn't quite up to the game's top level, the 80-mph bat speed owned by Shohei Ohtani, he was above average.
"He's a joke. He's different," Arenado said of Ohtani, another player who's worked at Driveline. "But I've improved by two miles per hour. Our goal is to get to 75, 76. I really believe I can get there."
His 2022 wRC+ (151), which adjusts for ballparks and run environment, is the best of his career.
In December, he and Goldschmidt also traveled to Marucci's bat-fitting lab in Baton Rouge, Louisiana, to learn what type of bat - weight, length, and handle characteristics - would maximize their exit velocities and performance.
Such customization has long existed in golf for clubs. TrackMan, the camera-and-radar system that's a staple in baseball-player development now, began as golf technology.
Arenado learned something from the force plates in the Marucci lab, which measure how an athlete interacts with the ground. He learned he lacked force and balance with his back leg. As counterintuitive as it might seem, a swing begins with how a hitter interacts with the ground.
"I had to learn how to do that," Arenado said. "If you watch the best players in the game, Albert (Pujols), he uses the ground so well. Goldy. Mookie. Mike Trout. The best players in the game are using the ground."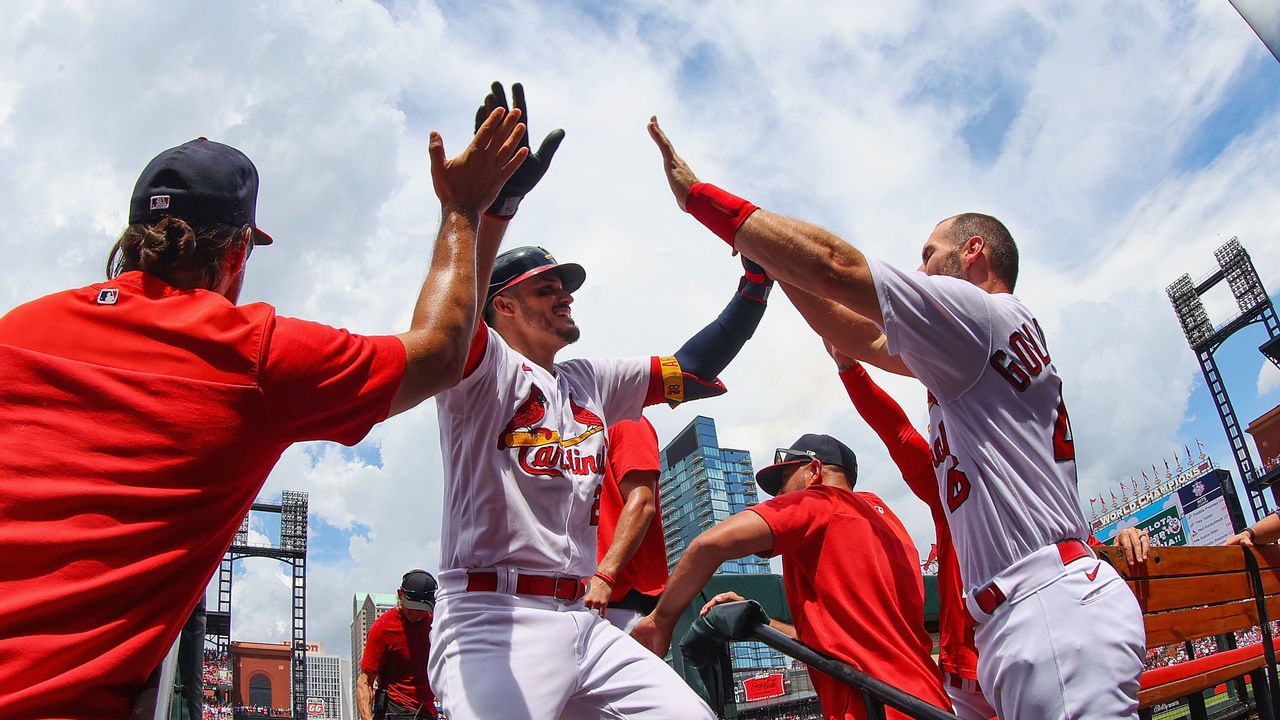 He began to work on stability, holding poses that forced his back leg to be in stronger, more balanced positions. "Stuff that I was not really good at, or I never really did," he said. "As the offseason went along, I got bigger and better and stronger. I was able to do it and hold poses. I think it's really helped translate to this season."
This season, Arenado produced a career-best maximum exit velocity of 111.4 mph and an average launch angle of 21.7 degrees. He raised his batting average nearly 40 points, to .293, in line with his career average.
On the Marucci campus, Goldschmidt picked up a new bat.
Goldschmidt is something of a bat nerd. As The Athletic's Ken Rosenthal wrote this year, last spring Goldschmidt had the exit velocity measured for all 60 or so of the bats he planned to use for the season, dividing the bats with the best readings into a group he planned to use for games and the others for batting practice. He took it to another level in the offseason.
After more than 6,000 major-league plate appearances with his old bat, an Old Hickory TC-1 - a model that helped him hit 280 home runs and make six All-Star appearances - Goldschmidt experimented with and adopted, as Derrick Goold reported for the St. Louis Post-Dispatch, an individualized bat model developed by Marucci. It featured an oversized knob, something of a counterweight, designed to improve his bat speed and control.
And as Arenado borrowed some training edges from golf, so did Goldschmidt, who believes the sport might in ways be ahead of baseball to train swing speed and ball-striking quality. He had a biomechanical assessment this winter to learn where he might be able to hone his movement patterns and found his hip mobility could be improved. He adjusted his offseason training regimen to include new workouts.
"I always try to train as best I can," Goldschmidt said. "Instead of, 'Oh, this worked for me five years ago. Let's not change.' What can I improve?"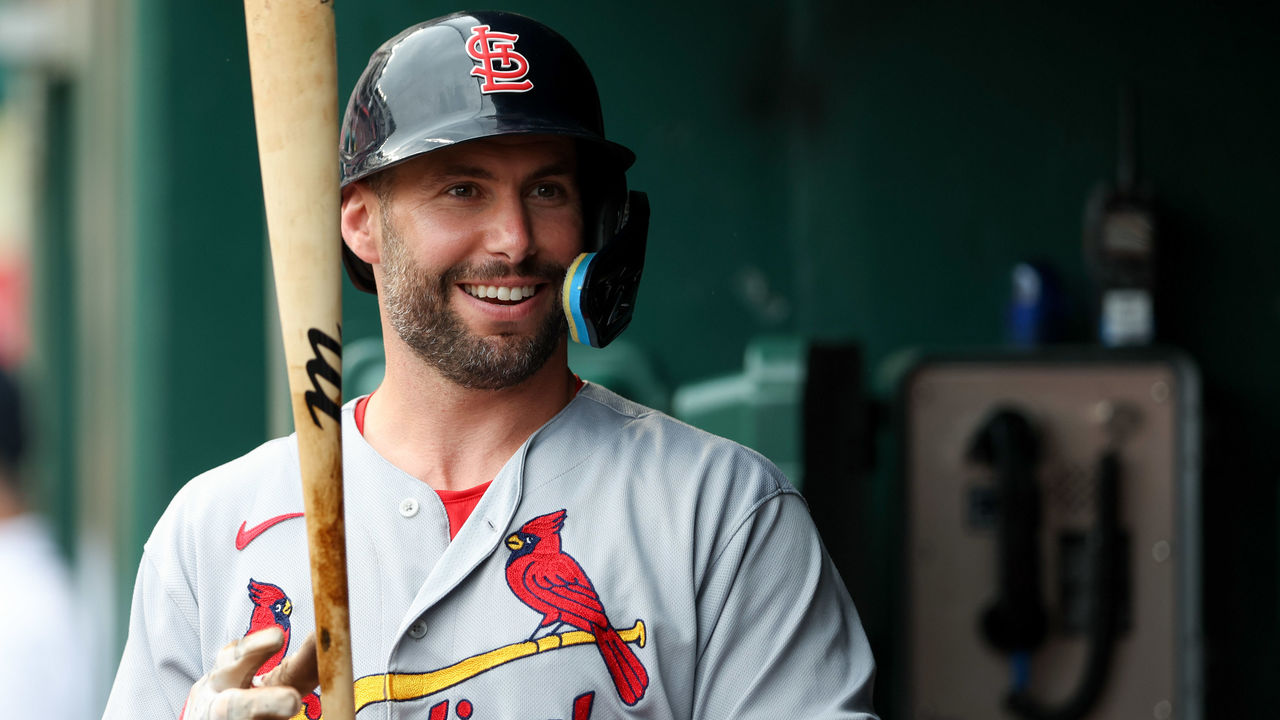 Goldschmidt produced the best wRC+ of his career (177) this year, his second-most WAR, and eclipsed his career marks in batting average, on-base, and slugging - all after turning 35 in September.
How does he explain beating the age curve?
"Just trying to learn and adapt," Goldschmidt said. "Trying new things in the box, in the cage, mindset approach. Learning from different guys. Every year trying to get better. The game has changed a lot in the last 10 years. I can't imagine another time when the game has changed that much.
"It's been cool to go through that. But I think you've had to adapt. … If I hadn't adapted, I wouldn't have had the success I have had."
Goldschmidt said he wasn't paying attention to WAR leaderboards and whether he or Arenado pulled ahead.
"The truth is, all those stats are in the past," Goldschmidt said. "It's just taking it day by day."
Arenado smiled. He said he knew he inched ahead by a fraction of a point.
No matter who's named NL MVP, they both had seasons worthy of consideration. And they each arrived at their level of performance the same way: by being curious, and by not believing they had all the answers.
Travis Sawchik is theScore's senior baseball writer.