'Holy shit': MLBers share their pinch-me moments
TORONTO - Sixteen years later, Justin Verlander still lights up thinking about the moment.
It was 2006, in Oakland. Verlander, only 23, was cutting his teeth in the majors, trying to live out his dream. He was on the mound at the Coliseum when future Hall of Famer Frank Thomas stepped into the box.
That was it: the first true pinch-me moment of Verlander's incredible career, which is destined for Cooperstown.
"I wore No. 35 because of Frank Thomas," Verlander told theScore earlier this season. "I loved the 'Big Hurt' when I was a kid. So a full-circle moment for me was facing him in the big leagues my rookie year.
"I punched him out on 103-mph fastball - the hardest pitch I ever threw in my career," Verlander added. "He struck out looking. I'll never forget. He looked over to the radar gun after and mouthed, 'Wow.' That was pretty cool."
Like Verlander, almost every player has a pinch-me moment in his career, when he realizes the dream of being a major leaguer is actually a reality. We spoke to a number of players throughout the season about their moments, and what they remember. Here are their stories: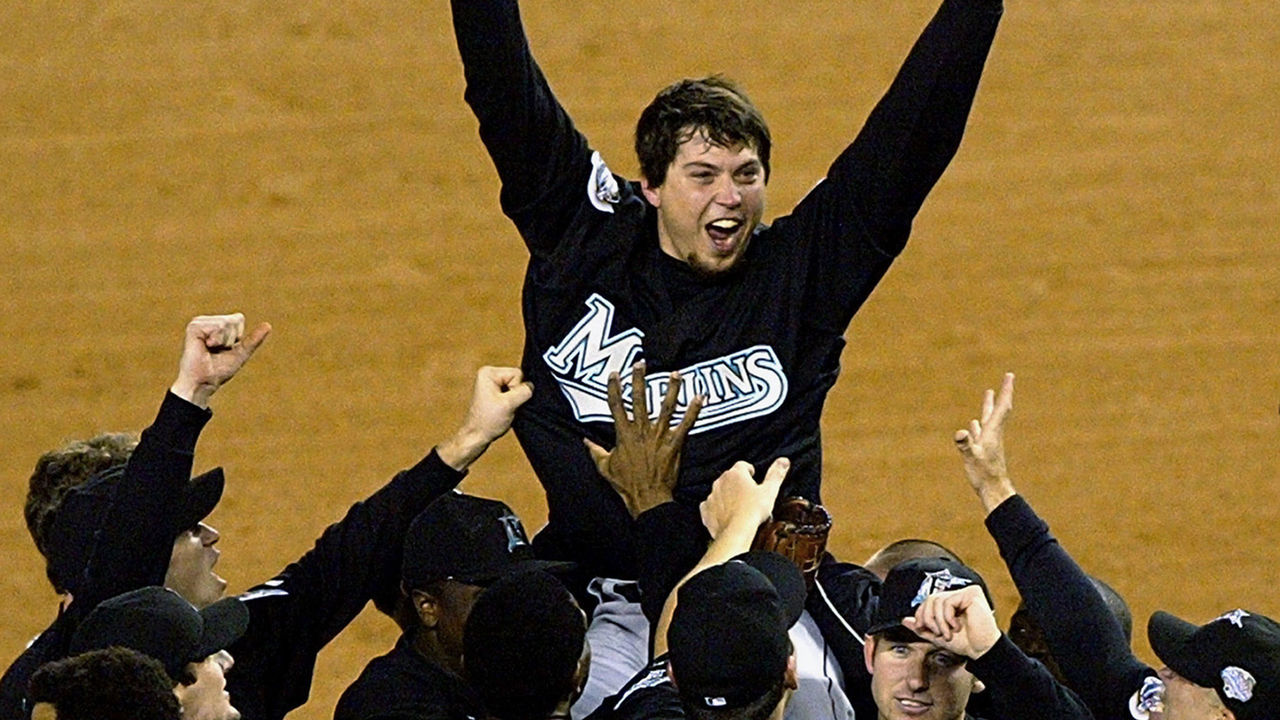 Nick Castellanos, Phillies: When I homered off Josh Beckett at Dodger Stadium (in 2014). Being a Marlins fan growing up, I went to the games that he pitched against the Yankees in the World Series. I had Josh Beckett newspaper clippings that my dad put up all around the house. It was pretty cool being able to do that - a full-circle moment. For 10 years of my life, every time I went to the pool-table room, we saw a whole bunch of Marlins clippings - a lot of them were with Josh Beckett, him jumping up and down when he made the tag to make the last out.
It was my second at-bat against him. My first at-bat he struck me out with three fastballs. I think it was just like, "Oh shit, that's Josh Beckett." I don't even think I was really ready to hit. The at-bat was over before I knew it. I remember being in the corner of the dugout so mad at myself. I remember saying, "There's no way he's getting another fastball by me." (Second at-bat) I swing at a first-pitch fastball and hit it out.
Bo Bichette, Blue Jays: My first game in Dodger Stadium was against Clayton Kershaw. That day was honestly the first time I had butterflies in the major leagues. I think I was probably 20 games into my career at that point. My dad always taught me growing up that I'm not facing the pitcher, I'm facing the baseball. That's kind of the approach I've taken all the time and it was the same when I went there. But I would say that I knew just being in L.A., against a great team, and facing a historical pitcher, that was just the first time that I felt like I was on a national stage.
(Editor's note: Bichette homered off Kershaw twice in that game. He led off and hit the second pitch he saw over the fence.)
Gerrit Cole, Yankees: It would be hard to say that there was a bigger pinch-me moment than my first game, which was against my brother-in-law (Brandon Crawford). I struck the first guy out on three pitches. And then, we went to Anaheim right after, so I (was) pitching in front of my friends and family. Albert Pujols hits a jack off me. That eight-day span, I was just constantly pinching myself.
Cedric Mullins, Orioles: I wasn't quite in the bigs yet, but I was right around the corner. It was in spring training and I had a pinch-hit at-bat against Craig Kimbrel. I grew up in Georgia and watched him a lot. I was walking up to the plate and I didn't quite realize that it was him. Then, I saw him go into his pose, and I was like, "Holy shit, this is Kimbrel." In my mind, I'm remembering back to what it was like watching him (growing up). I know he's got a really good fastball. I got into a 1-0 count and then hit an opposite-field home run. That's when I thought, "You know, I could maybe do this, I might have a shot."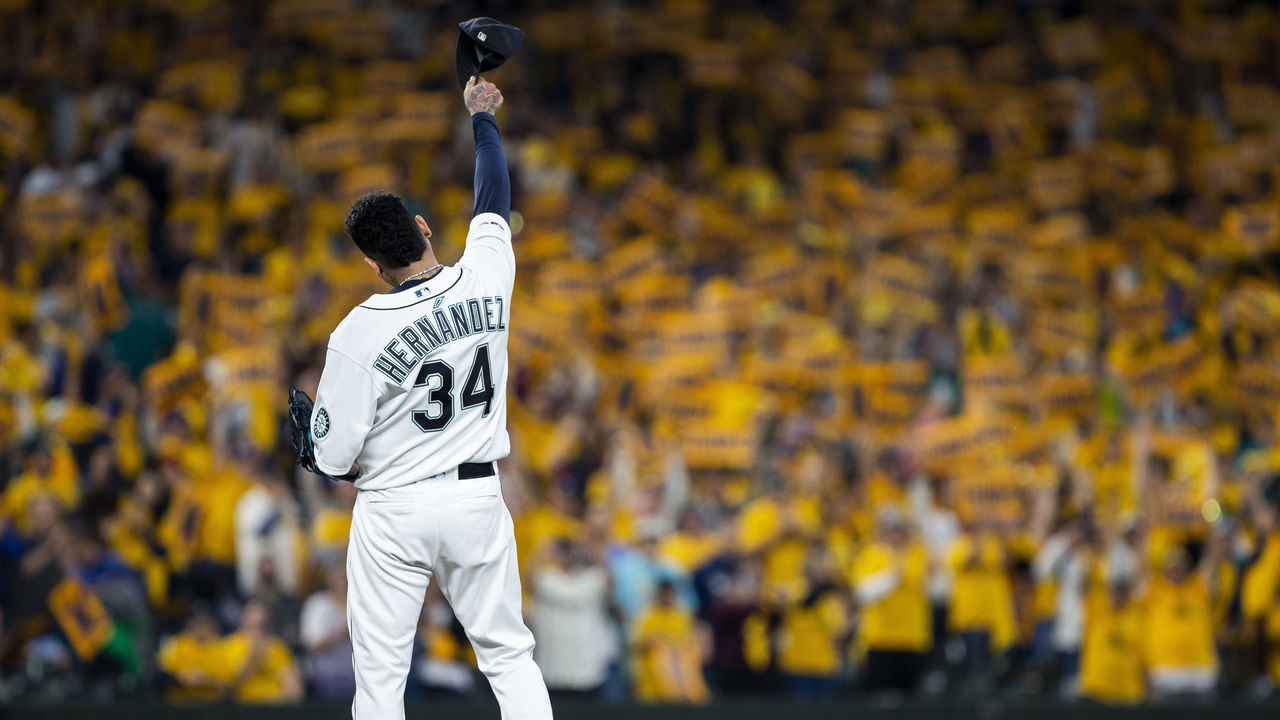 George Springer, Blue Jays: My moment was my rookie year when I was facing Felix Hernandez for the first time. This was when he was King Felix. I got in the box, I looked out, and it was like, "Shit, that's Felix Hernandez." You got the crowd chanting "K!" and all that stuff. I would say that was probably the moment I realized this is where I am. And hopefully I can stay.
Nestor Cortes, Yankees: In 2019, I faced Miguel Cabrera in spring training. I grew up a huge Marlins fan. My first encounter with Major League Baseball was 2003, watching that World Series run, idolizing every player on that team. So actually having to face him on the same level was pretty cool. It was like, "Wow, this is incredible." It brought me back to when I was a kid, and I think I enjoy and have such a passion for baseball because of that '03 team. I can go up and down that roster and remember every single name.
Lance McCullers Jr., Astros: My baseball hero growing up was Robinson Cano. I'm from Tampa, and I grew up going to at least 10 Yankee spring training games a year. I was hanging out by the bullpen, yelling for balls, things of that nature. Cano was on his rise with the Yankees when I was getting into middle school. So when I got to face him in the majors ... he's probably the only guy I've never been mad at for hitting a homer off of me.
Adam Wainwright, Cardinals: Facing all the guys I grew up loving: Andruw Jones, Chipper Jones. Being in camp with them (with the Braves) and then being on the other side was totally surreal. Just knowing how many hours I spent studying them as a kid. The first time I pitched against the Braves, I did well. I came out of the bullpen and pitched a couple scoreless innings. I struck out Andruw, but I didn't strike out Chipper. I did end up getting him eventually.
Another one was facing Ken Griffey Jr. for the first time. That was a real big moment for me. I had all of his baseball cards. The '89 Donruss card was the best card ever.
Jordan Romano, Blue Jays: It was probably my third or fourth appearance. When I got to the majors I was super-walking on eggshells. I mean, you feel like you don't belong. We're facing the Angels and Mike Trout gets up there. I end up punching him out. He got into the box, and this guy's pretty big, I've been watching him for years, MVP and all that. When I got him I was thinking, "You know what, if I can get him, I might be alright." That was probably my coolest moment early on. I was like "Wow, I'm in the big leagues and I just faced Mike Trout and I struck him out."
Anthony Rizzo, Yankees: Johan Santana, in New York, playing the Mets. I got three hits off him including a home run. The week before, they held me down an extra day (in the minors) when they were playing the Mets because they didn't want me to face Santana. They kept me down an extra day so I could face a righty my first game. So eventually facing him and having a good game gave me confidence.
Trevor Story, Red Sox: There's a couple of different moments. My debut for sure, hitting two home runs off Zack Greinke. You never think you're going to do anything like that. I was like, "Man, this is very special" to do it off one of the greatest pitchers of our time.
I also remember (what) CarGo (Carlos Gonzalez) told me in spring training right before I made the team, he kind of sat me down in the dugout and was like, "You're going to be a star in this league. Just keep working hard, keep being yourself, and know we have your back always." After that, I was like, "If CarGo is saying that, it must mean something." That gave me a lot of confidence and I guess the swagger to go out there and do it.
Liam Hendriks, White Sox: It was just before the All-Star Game in 2019 in Los Angeles. Some of the other pitchers came over and asked me how I held grips and stuff like that. I'm like, "This is not normal." I had been a very mediocre middle reliever for my entire career and this isn't what I ever anticipated. I want to remain in that awe, that dumbfoundedness ... the excitement of getting a chance every day to go out there and do it rather than kind of letting it be commonplace, letting myself get complacent. I'm excited every time I run onto the field because I want to make sure I never lose that rush.
Marcus Stroman, Cubs: Punching out Derek Jeter. It was in his last year. I think it was in September. It's like, the whole crowd was standing up for all of his at-bats and I punched him out on a backdoor sinker. So I have (that image) in a frame. Just growing up in New York, I'd say that was really cool.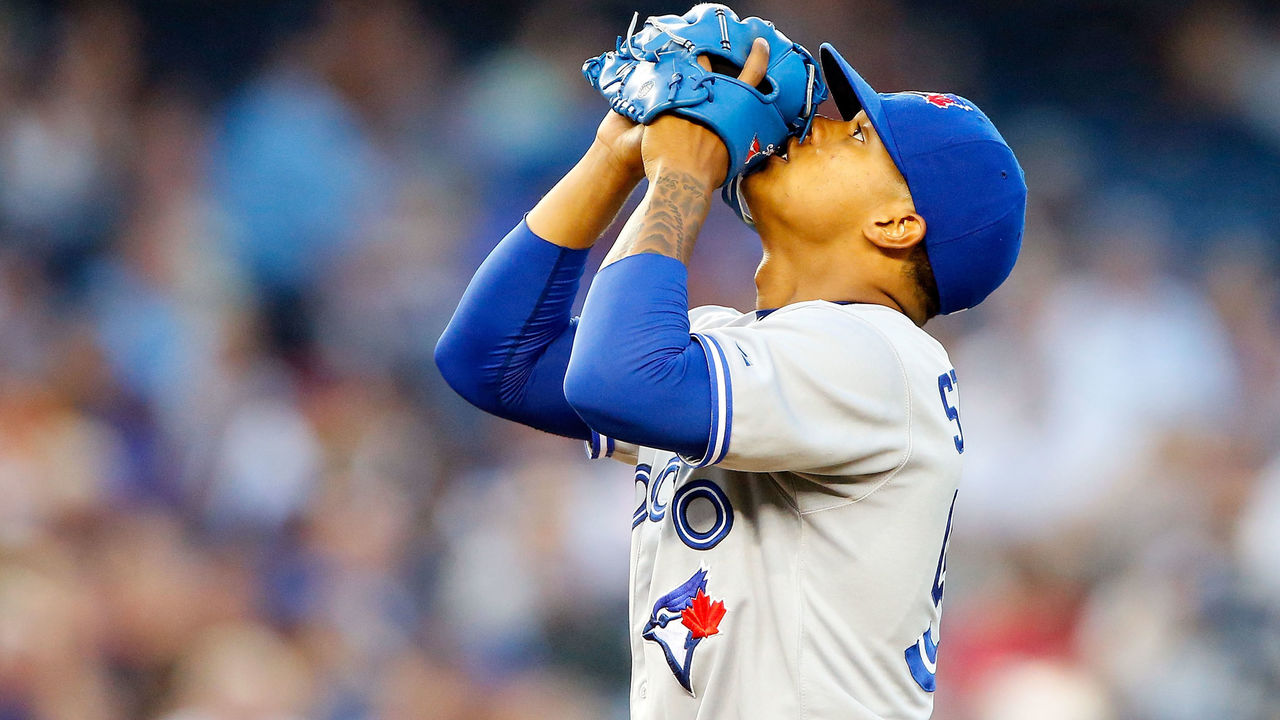 Giancarlo Stanton, Yankees: The first time playing at Dodger Stadium. I grew to love the game going to that stadium and sitting in the outfield. Going with friends, going in my Little League jersey after playing a game. Then, having those same friends coming to see me play at that stadium.
David Ross, Cubs: I got to catch Hideo Nomo in my first start in the big leagues. He did really well. We won the game. I didn't get any hits, which turned out to be a trend in my career. But it was a very special moment. Nomo gave me his glove.
Whit Merrifield, Blue Jays: I can't remember how early it was, but we were playing in Minnesota. I get on first base and Joe Mauer says, "Hey Whit, I love watching you hit." If Joe Mauer says he likes watching me hit, then maybe I can do this. That was the moment.