Inside the Orioles' 4-step plan that's hastened their return to relevance
Mark Blinch / Getty Images
The joke answer, "The year after I die," finished fourth, selected by 13.1% of respondents. It was sandwiched between 2023 (16%) and 2026 (5.6%).
The most popular answer tabbed the Orioles as three years away from contention (2024, 45.7%). Only 0.5% of respondents selected 2022.
Pessimism was understandable coming off a season of 110 losses - Baltimore's third 100-loss season in four years. From 2017-21, the Orioles lost an MLB-high 450 games, 25 more than the next-worst club, the Detroit Tigers. Baltimore's winning percentage in those four seasons was .326, barely above the statistical definition of replacement level (.320).
Projection systems and pundits also were down on the O's, selecting the team for another last-place finish. ESPN predicted that if everything went right, the Orioles would win 70 games in 2022.
But something unexpected happened this summer: The Orioles are playing meaningful baseball.
Last Wednesday night in Cleveland, as the pregame rendition of "The Star-Spangled Banner" reached its final stanza, a surprisingly large contingent of traveling Orioles fans belted out a collective "O!" The one-syllable emphasis is a Baltimore tradition for the anthem, which was written by Maryland's own Francis Scott Key after observing the British bombardment of Fort McHenry in 1814.
An hour-and-a-half after the first pitch, Gunnar Henderson, at the plate for the second time in his first major-league game, smashed a pivotal home run over the right-center fence. His first MLB hit propelled the Orioles to their 68th win of the year. Henderson, 21, is the third top-rated, homegrown position-player prospect developed by the new management regime who's reached the majors this year.
Rutschman, 24, was Baseball America's No. 1 overall prospect in the preseason, and Henderson was its No. 1 prospect at the time of his callup. Baltimore's top three picks from the 2019 draft - Rustchman, Henderson, and Kyle Stowers, 24 - have all reached the majors this year.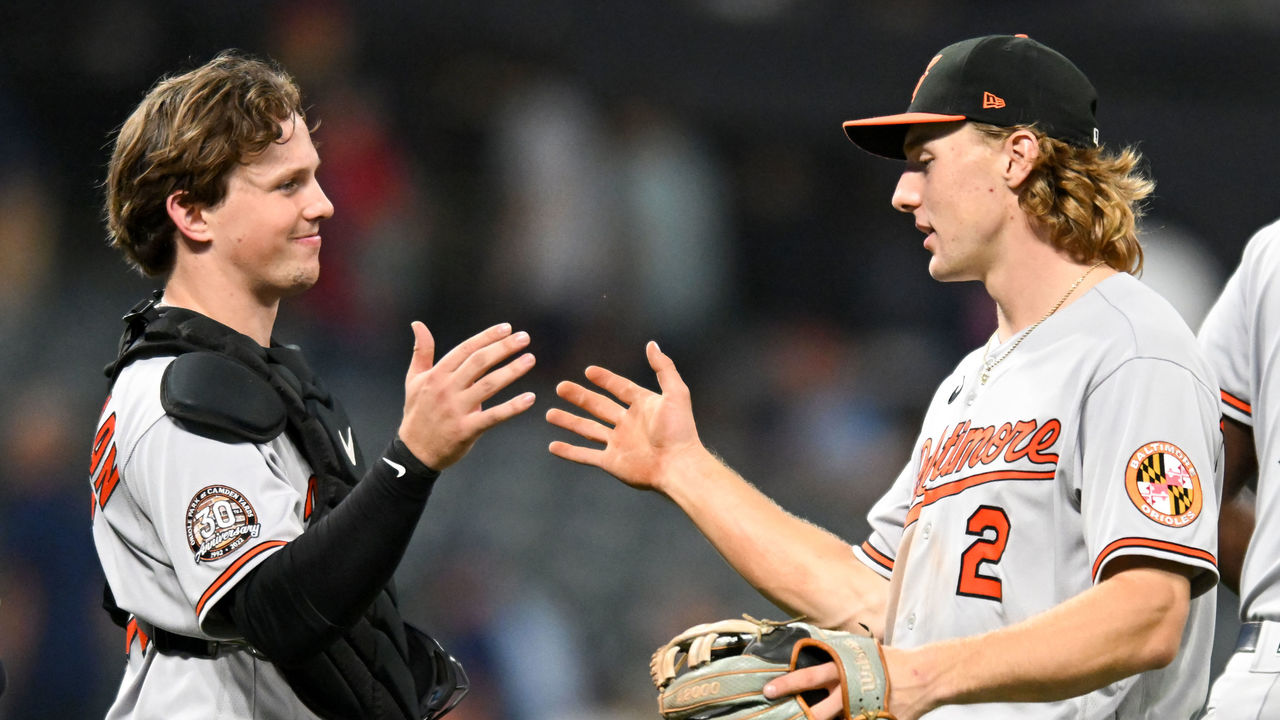 If the Orioles' .529 winning percentage holds through the end of the season, they'll enjoy the fourth-greatest turnaround among AL and NL teams since 1920, trailing only the 1999 Arizona Diamondbacks, 1946 Boston Red Sox, and the 1936 Boston Braves. It would eclipse Baltimore's last great rebound between 1988 and 1989, when it was the last of four clubs on that list to increase their winning percentage by 20 percentage points from one season to the next.
Orioles general manager Mike Elias, who started in the role just before Thanksgiving 2018, told theScore last week that their rebuild project is "on a scale that hadn't been seen since the Astros' one in 2012."
The northern Virginia native would know. He came from Houston, where he served as amateur scouting director and later as assistant GM between 2011 and 2018. The Astros, then widely dubbed the "Disastros," had their first winning season under former GM Jeffrey Luhnow in 2015, the fourth full year of that rebuild. The Orioles are on track to do the same in their fourth year under Elias. In year six, the Astros won the World Series, albeit a title now tainted by a sign-stealing scandal that cost Luhnow his job.
Just how did the Orioles accelerate such a massive rebuild?
Step 1: Avoid hidden costs
These Orioles have used past mistakes to accelerate their ETA.
The new regime didn't arrive simply toting a proven modern blueprint for rebuilding a baseball club - they'd helped design it. They lived the successes and failures in Houston.
Astros management had analytics acumen, but it also innovated in player development. The team experimented with all sorts of technology and training ideas. These Orioles have adopted many of the best practices without having to endure the failed experiments.
"It helped us avoid dead ends," Elias said, and he offered an example.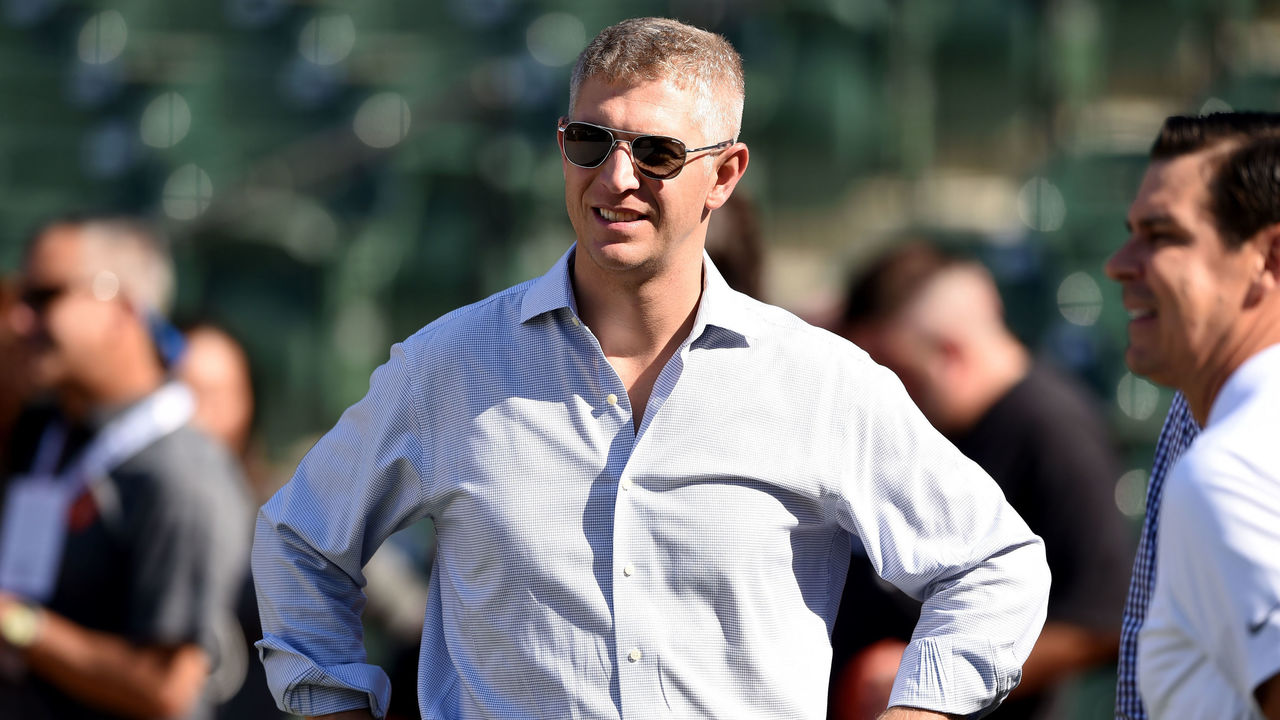 "In Houston, there was a lot of excitement with bat and body sensors when they started rolling out in the middle of the 2010s. Being the fervently tech-oriented operation that we were, we gobbled those up. We had to do testing to see which of those devices, which brands, were more accurate. And once you've decided on the brand technology you're going to embrace, how, if at all, are you going to exploit the data that is collected? And does it really mean what you think it does?
"We went through some really painful trial and error with that in Houston that led to arguments, that led to walking things back. I feel like we were able to skip a lot of that here."
Assistant GM and analytics chief Sig Mejdal said he's probably made more mistakes than any analyst in baseball. That's partly because he's been in the game for 18 years. The former NASA data scientist began as a hopeful job seeker in the New Orleans Marriott hotel lobby at the 2003 winter meetings after reading "Moneyball." He eventually landed a job as an analyst in St. Louis and later became an integral part of the front office in Houston. He was one of Elias' first hires in Baltimore.
Mistakes can be a good thing, Mejdal says, so long as one learns from them - and so long as too many wayward ideas don't go "into production," he says.
In 2008, Mejdal suggested a radical change in methodology for scouting college players. He devised a plan to have St. Louis scouts move away from grading college prospects with the major-league 20-80 scale. The Cardinals began using a 1-10 scale to rank college players against one another because Cardinals scouts appeared too bullish on college prospects.
What Mejdal didn't consider, however, was the cost of switching.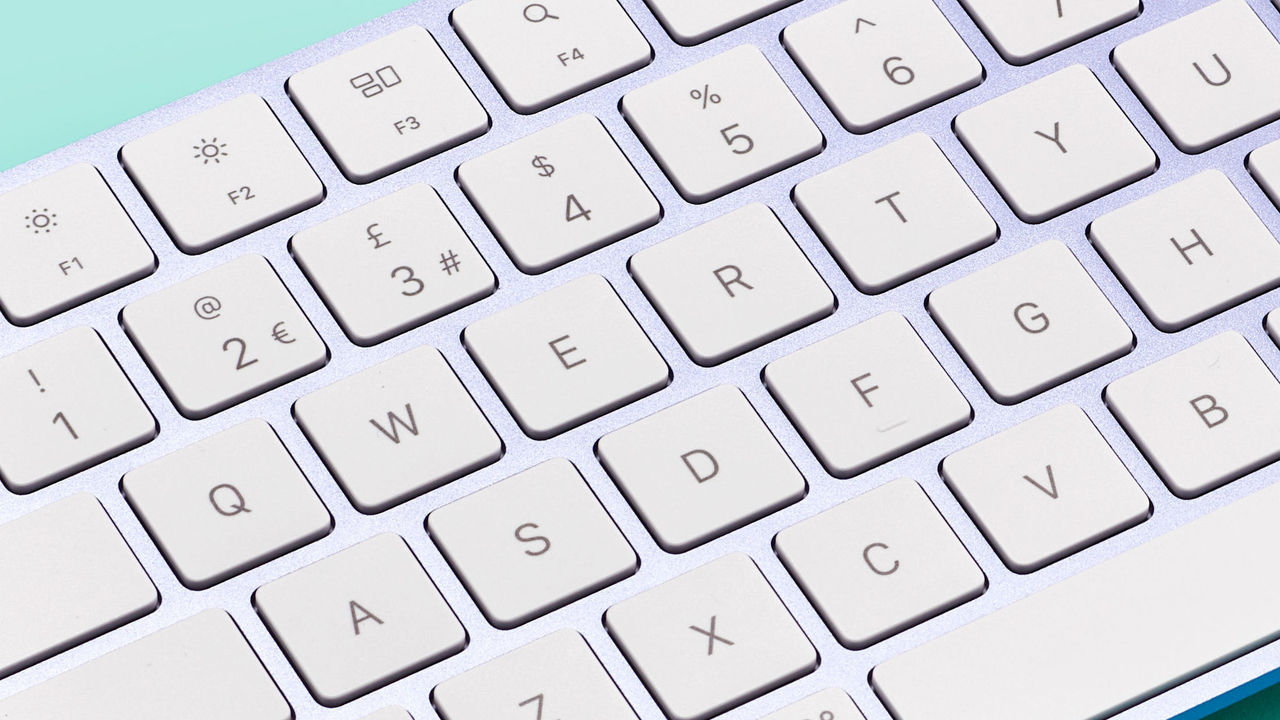 He made an analogy to the QWERTY keyboard, which became the standard when it was sold to Remington and Sons in the 1870s for use in their typewriters. More efficient layouts have been invented since, like the Dvorak keyboard, but because the QWERTY keyboard is so pervasive, training and transition costs would be too great for English-speaking manufacturers to switch.
"While there might be better scales with which to evaluate an amateur player than a major-league 20-80 scale, the changing costs are giant," Mejdal said. "I was probably typing this idea out on a QWERTY keyboard and it never occurred to me that this is a bad idea. We tried it for a year in St. Louis. … The poor scouts might still be scarred from it."
Step 2: Omar's coming
Three hours before first pitch last week at Progressive Field, Orioles catcher Adley Rutschman sat between teammates on a black pleather sectional couch in the middle of the visiting clubhouse.
His teammates were watching the big-screen television, amused by a rerun of "American Ninja Warrior." The rookie catcher was focused on images of heat maps of Guardians hitters, the strengths and weaknesses of opponents revealing themselves in data-density charts. He works with coaches and analysts every series to create game plans for pitch calling.
Seeking an informational edge extends from before games to during them, when Orioles pitchers, hitters, and coaches have access to a wealth of scouting information through the club's in-house proprietary database named Omar. It's technically an acronym (Orioles Management Analytics Repository), but it was created as a nod to the character from the Baltimore-based HBO hit "The Wire." Video, scouting reports, and players' own underlying performance data are all housed there.
Such tools are commonplace in baseball's big-data era. But just a few years ago, when Orioles reliever Keegan Akin was climbing through the system, nothing like that existed in Baltimore.
"In 2016, I remember it was frowned upon to look at Trackman (data)," he said. "I remember actually learning from Dean Kremer in 2018 in Double-A when he came over from the Dodgers. They were big into it. So was Dean. It was (a) foreign language here. No one had a clue what he meant."
More than 15 years after "Moneyball" was published, the Orioles did not have their own organizational database. And at a time when there were more than 400 analysts in the game, Elias said the Orioles had none.
"We really didn't have (a proprietary database) when we came in, which is something I think was probably not just table stakes in 2018, but was probably table stakes for a baseball team in 2008," Elias said. "So that was the first thing on the to-do list. I'm a believer that until you have that, you don't really have anything. We got on that right away."
Building the digital infrastructure was key for Elias and Mejdal. The only developer on staff, Di Zou, became instrumental in creating it.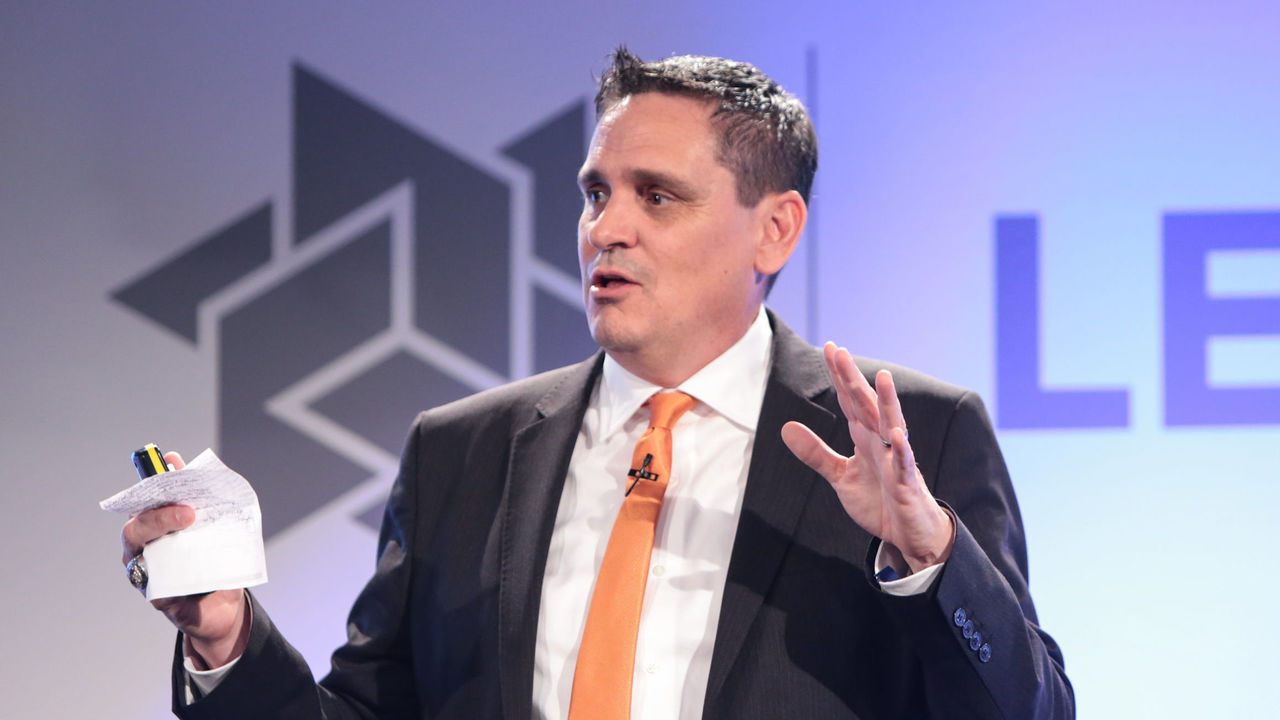 "If you're looking for ways to improve upon convention, you're going to have to put those ideas through a test and you need an analytics department to do that type of quantitative work," Mejdal said. "Without that, you simply are relying on convention, or guessing. And I don't want to guess. Mike Elias doesn't want to guess. (Baltimore owner) John Angelos doesn't want to guess. We had to create an analytics department right away."
They now boast 12 analysts with two more coming.
Step 3: Practice ugly
Less than two hours before first pitch Wednesday, the Orioles emerged from the visiting dugout tunnel and took their places on the field for pregame work. They engaged in new kinds of practices.
One drill necessitated placing a screen behind first base and in front of the dugout to shield bystanders, including team officials and media. A couple of Orioles coaches began slamming one-hop liners toward the first basemen who were alternating. They were working on the tough scoop catches and low liners that first basemen often face. This was not a leisurely warmup.
The Orioles have improved their defensive efficiency - the number of batted balls in play converted to outs - from 68.3% last year, which ranked 28th, to 69.0% this year (21st). Last season, the Orioles ranked 24th in defensive runs saved with minus-30. This season, they are eighth with plus-39.
Perhaps that pregame infield work is helping. What seems clear is the little things are adding up.
The Orioles are also making hitting work more game-like in some ways and less game-like in others.
Batters are hitting off more high-velocity and breaking-ball machines, much like the San Francisco Giants began doing last year. Orioles coaches also added constraints to make hitting practice more difficult, including weighted bats, facing pitches at unusual angles, and using plyo balls - sand-filled balls with a malleable, PVC membrane that give hitters feedback on their quality of contact.
These training concepts were alien to most players, including Rutschman.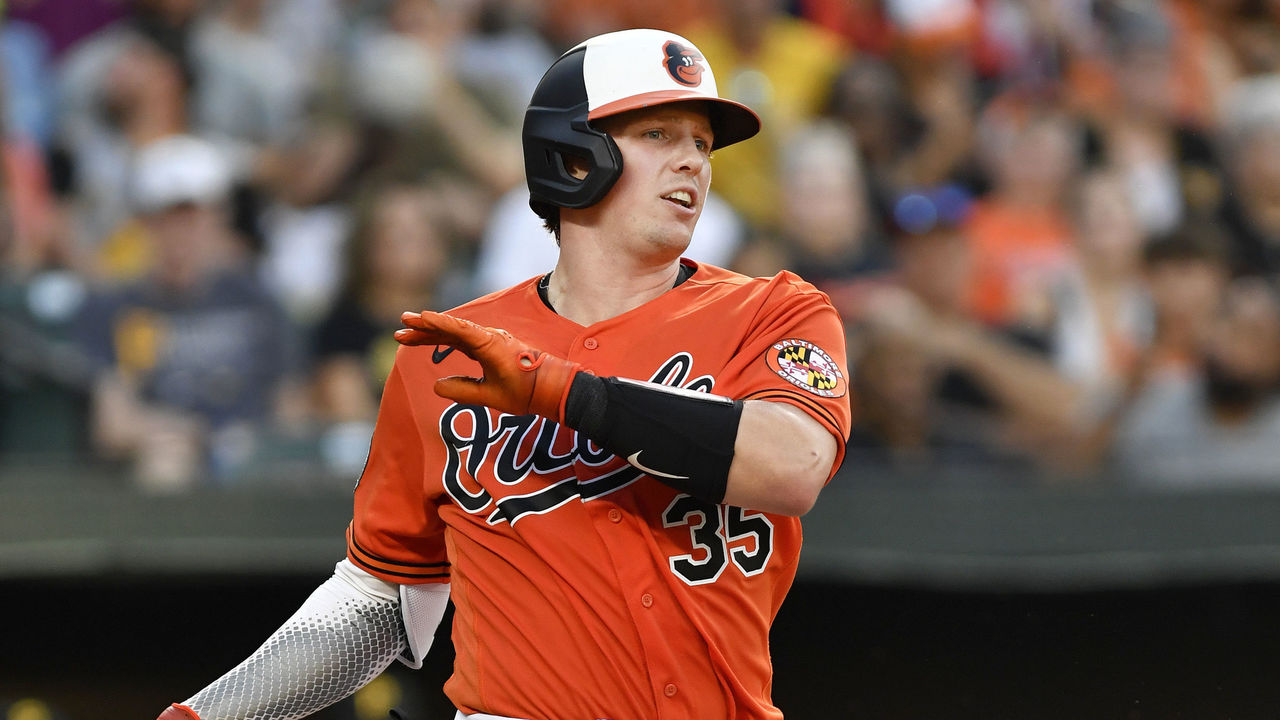 "If you came to a random spring training batting practice this year, and you were an outside fan and you saw that half of our balls weren't leaving the infield, you would say, 'Wow, this team is not very good,'" Rutschman said. "But that's just part of the concept where we make things difficult in practice so hopefully the game is easier."
Offensively, the Orioles as a hitting group have moved from well below average a year ago (91 wRC+) to nearer league average (98). They've also cut their strikeout rate by more than a full percentage point to 23%, an improvement of six spots in the MLB ranking.
New additions such as Rutschman are making a difference, but so too are holdovers.
Anthony Santander is the club's second-best offensive performer after Rutschman by wRC+ (127). He owns the fourth-greatest improvement in walk rate (3.4 percentage points) among hitters with at least 350 plate appearances in each of the last two seasons. Santander also ranks 15th in the biggest reduction of strikeout rate, lowering it by 5 percentage points.
Santander said his breakout begins with staying on the field.
After an injury-riddled 2021 campaign, he remade his body this offseason at the House of Athlete in Weston, Florida, known for its work with NFL and college football players. Santander adopted a 45-minute routine he practices before every game that involves exercises designed to engage his body from his "feet to his shoulders," he says.
"They laid out how they wanted to reconstruct my entire body, becoming more flexible, changing the way I eat," Santander said via an interpreter. "I used to eat 20 to 30 ounces of steak on any given night. That's changed. I'm eating more salads."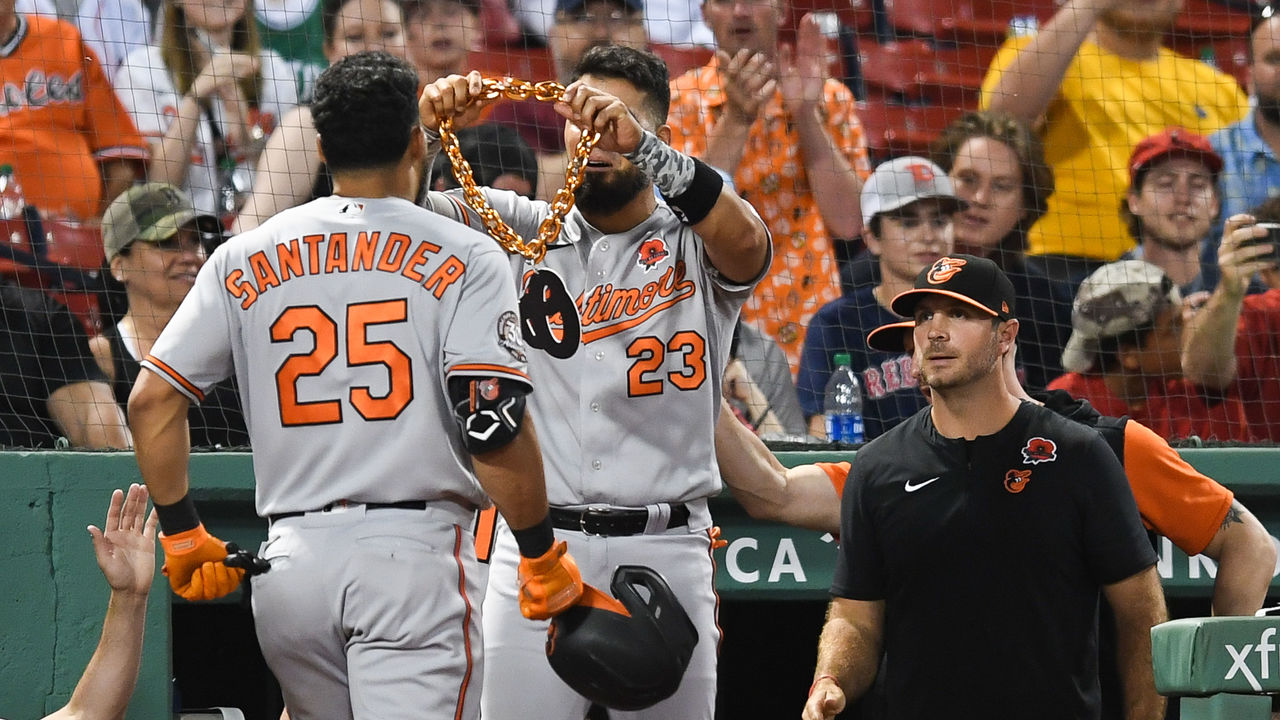 While he changed his body, Santander said the Orioles' new training practices helped change his swing decisions.
He believes there's one particular new practice that's key. A fastball machine and a breaking-ball machine sit side by side in a batting cage. The machines share nearly the same release point. A coach holds a ball in each hand, concealing which machine he drops the ball into. Hitters don't know which type of pitch they'll get, just like in a game.
"Ever since they started revamping the organization from the minors up to the majors, there's been such a drastic change all throughout," Santander said.
Matt Blood, the director of player development, oversees this paradigm shift.
"We're really big on representative, difficult practice," Blood said.
Blood was another early hire for Elias. He had previously led Team USA's under-18 program, scouted for the Cardinals, and then led the Texas Rangers' development effort. At the end of the 2018 season, the Orioles might have been a fixer-upper that needed a total gutting. Blood offered a different construction analogy.
"When I got here it was more, 'Here is a (concrete) slab, a foundation, now go and build it,'" Blood said. "But the people you are building it with all agree on the type of structure that should be built."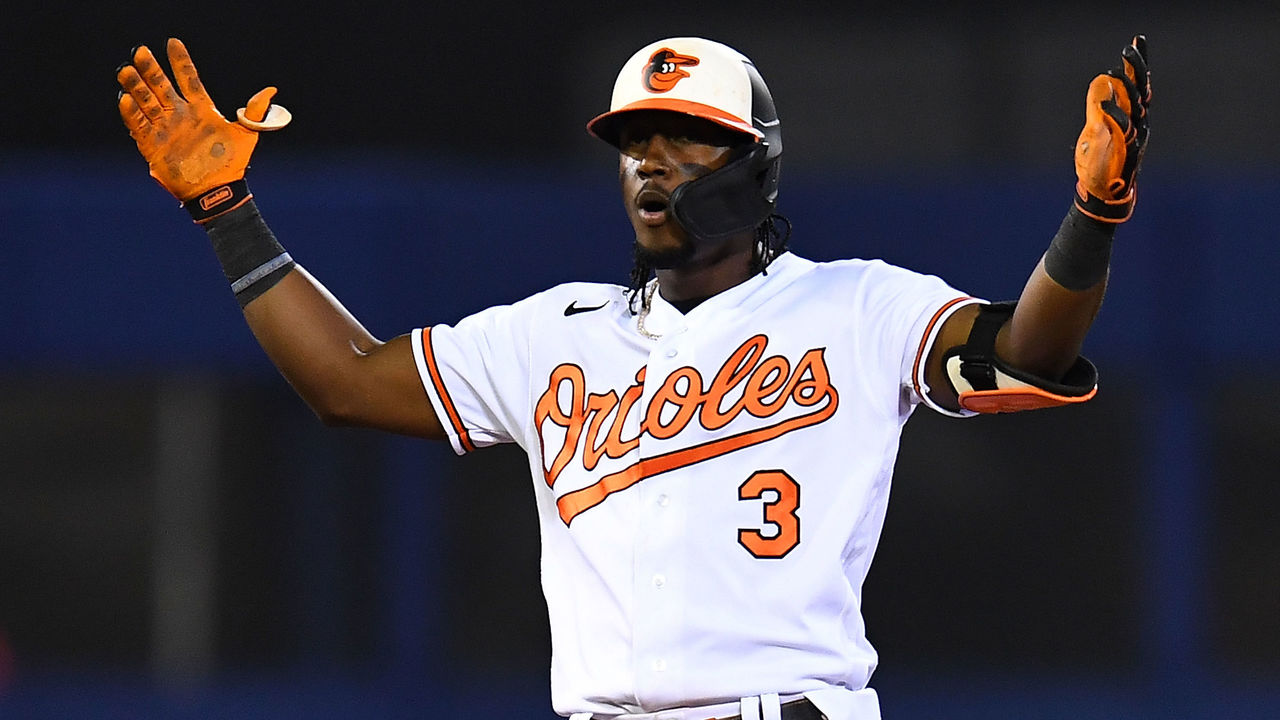 That final part is key. Yes, the Orioles need to add a pitching lab, high-speed cameras, and all the modern gadgetry that most teams employ today, but the people are paramount, Blood said. The tech is worthless without the right operators, analysts, and data-infrastructure builders. With Baltimore, he's helped hire 65 new coaches and development personnel, replacing more than 80% of the previous staff since 2019 and adding new positions.
Right after building an analytics department and database, Elias wanted to build cohesion in player development.
"It's important that in the competitive environment that baseball is today that the organization be operating in unison," Elias said. "We've been able to put together a very cohesive organization that is working in concert, and that cooperates with one another, and that just wasn't the case before."
And that requires something more than computer science acumen, Mejdal says.
"Matt had a very good database of modern coaches," Mejdal said. "The work he has done in setting up this development system … you can't do that with a formula. You need experts, energetic experts, working with the players every day."
Rather than begin with a top-down ecosystem, Blood didn't immediately name coordinators. Rather, he had coaches collaborate and work together to create practices that would be adopted throughout the system.
"We were looking for pretty specific character traits in our hiring process," Blood said. "We look for humility. We look for a growth mindset. We look for intrinsic motivation to collaborate with others."
For instance, major-league pitching coach Chris Holt communicates nearly every day with minor-league pitching coaches at every affiliate. Messages are consistent.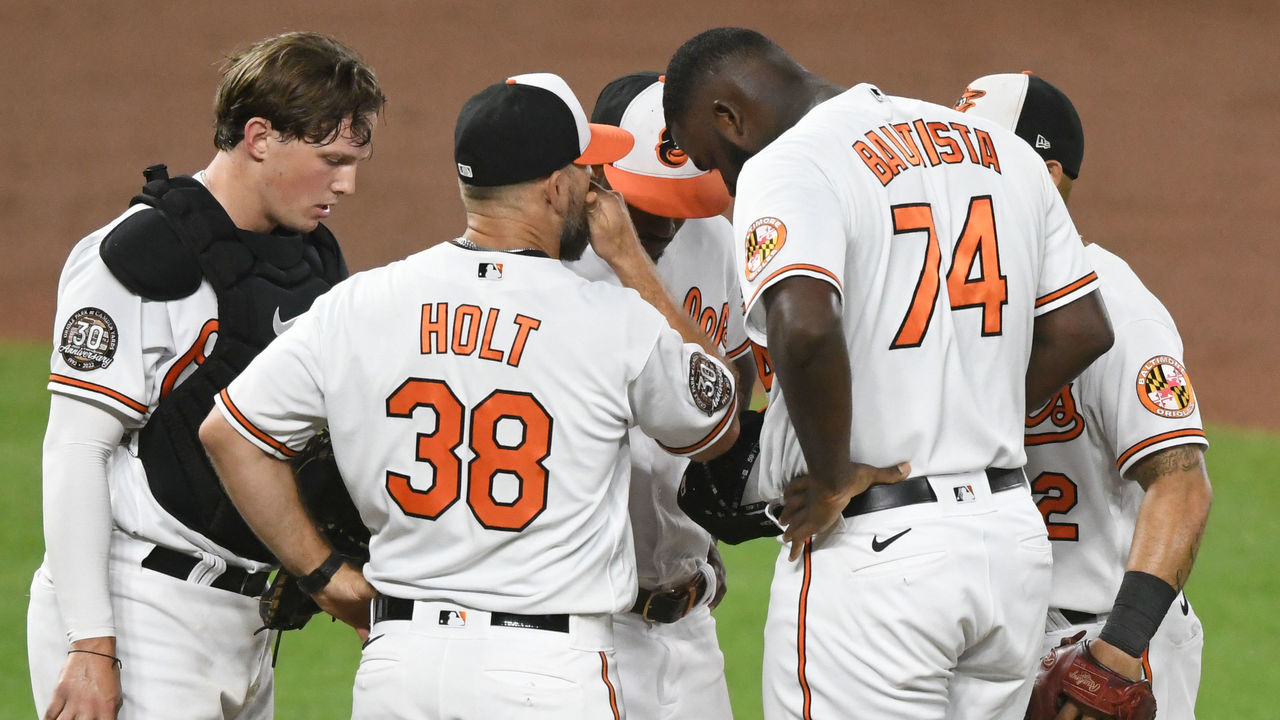 "Everyone is on board and pulling in the same direction," Holt said. "It certainly contributed to things happening in a much more timely fashion here than perhaps it takes in other places where it takes longer to develop.
"The timeline has been shortened here."
Investments in player development are producing immediate results on the pitching side, too.
Among pitchers to have thrown at least 50 innings in each of the last two seasons, Keegan Akin owns the fifth-greatest ERA improvement (down 3.77 runs). His teammate Dean Kremer is first (down 4.31).
"It keeps the young guys more involved," Akin said. "It's almost like a challenge, 'Let's see if my exit velocity and launch angle improve' … 'How can I shape my pitches?'"
There's also some good fortune involved. The Orioles did not teach closer Felix Bautista his splitter, which helped him become one of the top strikeout artists in the minor leagues. He learned the pitch in the winter of 2015-16 from former big leaguer Ramon Martinez, who runs a development facility with his Hall of Fame brother, Pedro, in Santo Domingo, Dominican Republic.
"I grew up knowing them," Bautista said via an interpreter. "He would always help me with my pitching mechanics."
But it wasn't until he worked with the Orioles' pitching coaches, who employed high-speed cameras this spring and spin-tracking feedback, that he refined his two-seam fastball grip. His two-seamer started to find the zone more often than his four-seamer, so it became his primary pitch. He cut his walk rate in half.
He credits Orioles manager Brandon Hyde with believing in him in leverage situations earlier this year and building his confidence. Orioles executives rave about Hyde's work in creating a culture this year. He called upon Bautista for a six-out save Tuesday a day after the Orioles had lost both ends of a doubleheader.
Step 4: Don't miss
There's rarely total agreement in an organization regarding any draft selection, and there were differing opinions within the Baltimore front office about whom to select with the No. 1 overall pick in 2019.
Was it better to select a high school player because the club seemed so far away from contending? Prep shortstop Bobby Witt Jr., who went second to the Kansas City Royals that year, was a legitimate option.
Frst-round catchers also have a spotty record, in part due to the physical demands of the position.
But ultimately, Elias said Rutschman, who was in college at Oregon State, began the 2019 draft process atop the Orioles' draft board and was in the same spot when it came time to make their selection. They appear to have chosen wisely.
"If we did something other than him, it would have been strange," Mejdal said.
Rutschman is making a significant impact this year. The switch-hitter is quickly emerging as the club's best hitter (136 wRC+) and arguably its best defender. On the date of his call-up, May 21, the Orioles were 16-25. Since then, they are 57-40 (73-65 overall).
The Orioles lost their staff ace, 2019 All-Star John Means, to injury in his second start, yet they find themselves with a shot at a playoff berth having pieced together a competent major-league rotation.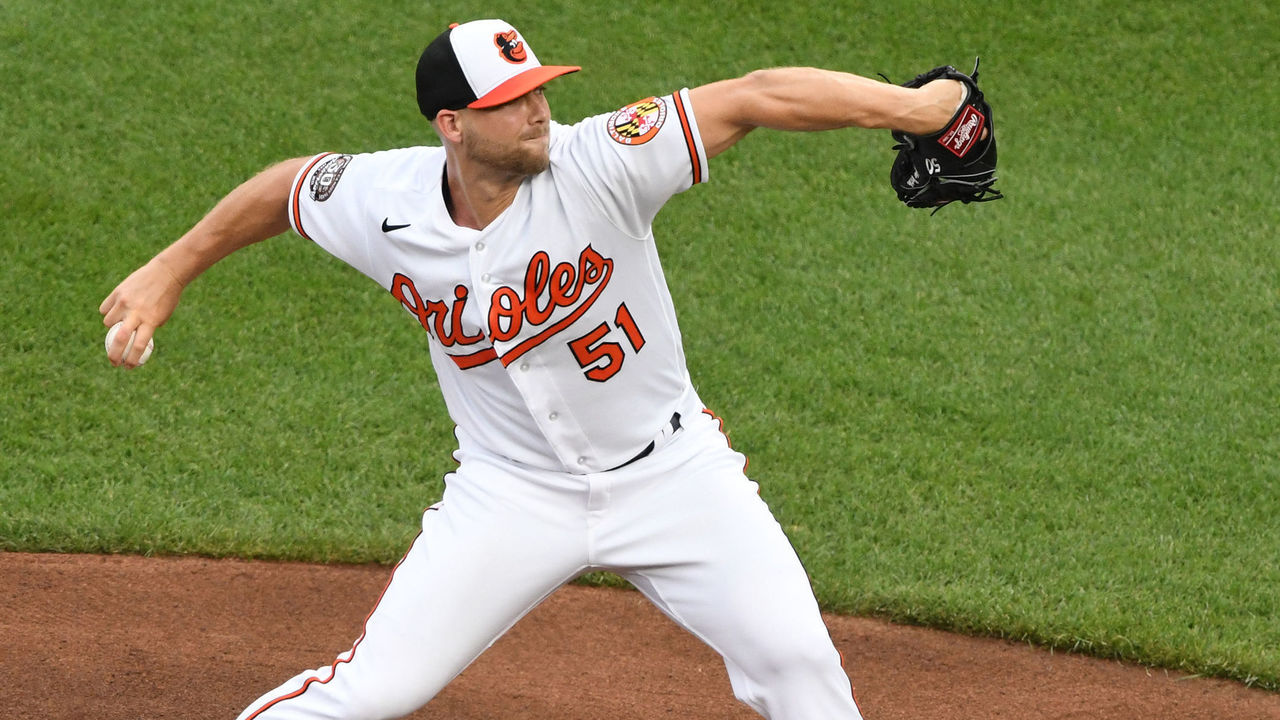 On June 7, the Orioles selected struggling 29-year-old right-handed pitcher Austin Voth off waivers from Washington. He's become a rotation fixture. Jordan Lyles, a modest free-agent signing, has accumulated nearly 2.0 WAR.
Rival scouts first noticed the bullpen's improvement, as in the case of reliever Cionel Perez, a waiver claim from the Reds last November who's posted a 1.48 ERA this season.
"You have all these different cylinders that are hitting at the same time. You have player acquisition in the draft, but also with waiver claims and trades," Blood said. "Also with coaches helping these players get the most out of their abilities, and you have in-game decision making, pitch calling, all these things that are helping the team incrementally have success.
"That's how you see a timeline get sped up."
Front office officials generally have a luxury suite where they can watch home games. But after a rain delay on Aug. 9, a Tuesday night, Elias and Mejdal made their way to the box seats near home plate to watch the rest of Baltimore's game against AL East rivals the Toronto Blue Jays.
Open seating was declared after the 78-minute delay, allowing any of the initial 11,000 attendees who were still at the game to move down to better spots.
"The remaining fans were all crowded behind home plate. It was an unusual, rowdy bunch," Mejdal said. "Maybe they had an extra beer or two during the break. It was just a wonderful atmosphere.
"What I didn't really appreciate before I got here are these fans, and just the reverence and importance they put on baseball, and the baseball players, and toward this ballpark. It sounds corny, but it's a privilege to be in the middle of a group that's trying to give them the best team we can, that they deserve."
This accelerated rebuild means so much to fans starved for a winner. Baltimore has not hosted a World Series game since 1983 or witnessed a playoff series victory since 2014.
And this rebuild means more for club officials, too.
For Elias, it's not just his first attempt at leading a baseball operations group; he grew up down the road in Alexandria, Virginia.
For the people who came with him from Houston, it's a chance to show that the player development and data-based breakthroughs there were real and not delegitimized by the Astros' later sign-stealing scandal.
Late that damp August night, in the bottom of the eighth, Rougned Odor, who signed a one-year deal prior to the lockout, ripped a fly ball to right field. Mejdal and Elias and hundreds around them rose from their seats. The ball went over the wall, giving the Orioles a 6-5 lead over the Jays. Bautista secured the save in the next half-inning.
It was becoming harder to believe the Orioles' ETA was three years away. They looked like they were already here.
Travis Sawchik is theScore's senior baseball writer.
Comments
✕
Inside the Orioles' 4-step plan that's hastened their return to relevance
  Got something to say? Leave a comment below!