The ageless Verlander is doing it again - but now with an evolved approach
Bob Levey / Getty Images Sport / Getty
Justin Verlander turned 39 in February. He entered the season as the ninth-oldest player in the majors; on the mound, he's younger than only Rich Hill and Adam Wainwright.
Verlander's also returning from Tommy John surgery. He suffered a torn UCL in his first start of the shortened 2020 season.
Moreover, there were questions about how Verlander, who long lived at the top of the strike zone with a high-spin, four-seam fastball, would respond to MLB's crackdown on the sticky stuff. Less spin means less movement, and with a fastball, it means less rise. He missed the initial policing last year, and this season his average fastball rpm sits at a Statcast-era low (2,400 rpm), down about 200 rpms from its peak in 2018 (2,618 rpm) and from 2019 (2,577) - when Verlander won his second and most recent Cy Young Award.
In other words, there was a lot of uncertainty around the veteran entering the season.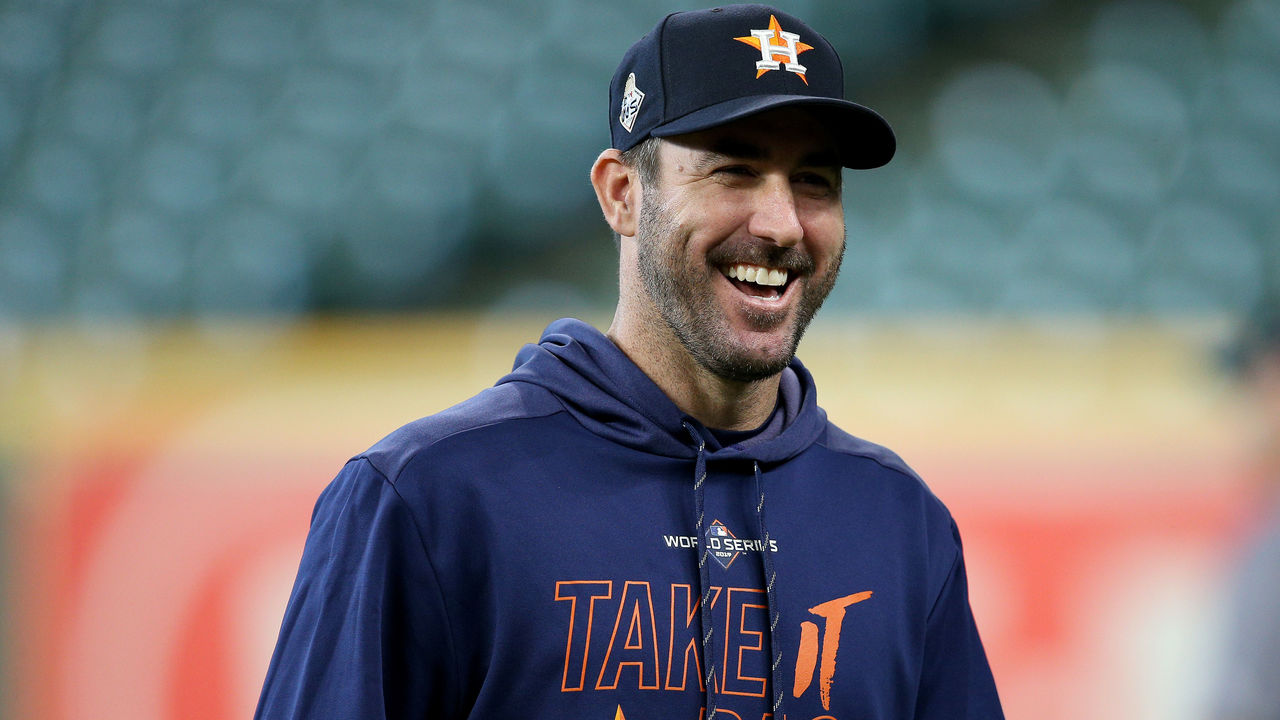 He's responded by pitching like he's still in his prime.
Sixteen seasons into his career, Verlander is maintaining an elite level of performance.
Entering his start Saturday for the first-place Houston Astros, Verlander is second in the majors in ERA (1.38), trailing only New York Yankees breakout lefty Nestor Cortes (1.35). He's on track for a 4-plus WAR season if he maintains his present pace (1.2 WAR). While he'll be hard-pressed to duplicate the best pitching year from a 39-year-old - Phil Niekro's 1978 campaign (8.6 WAR) - Verlander's on track for a top-10 all-time performance by an age-39 pitcher.
Moreover, MLB.com writer polling this week has Verlander as the favorite for the American League Cy Young Award. Verlander also leads AL pitchers in gScore, a metric tracked by theScore features editor Guy Spurrier that ranks starting pitchers by a variety of categories to evaluate their total contributions:
The oldest pitcher to win a Cy Young was Roger Clemens, age 42, in 2004.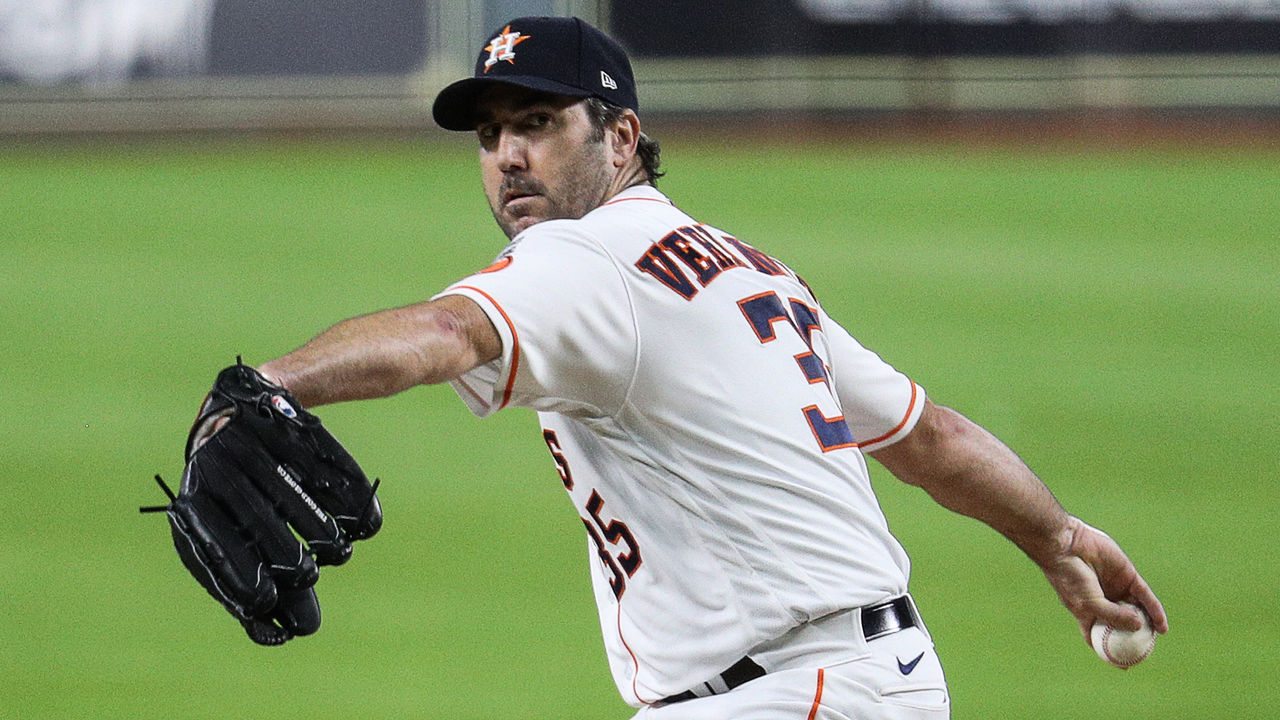 What's interesting about Verlander's 2022 is that he keeps evolving.
While his fastball still sits at 95 mph, and while it's still an above-average offering, its spin rate is down. As a result, it's not quite the dominant swing-and-miss weapon it was in the past.
His swinging-strike rate on his fastball is down to 9.7% this season - about the league average - from 16% in 2019.
But the pitch is still working: Verlander's elevating the fastball more than ever. The average height at which it crosses the plate is three feet - the highest elevation since Statcast began tracking pitches in 2015. He's raising the eye levels on hitters with his fastball, then dropping darting curveballs and sliders.
Verlander's locating his curveball higher, too, playing it off his elevated fastball to great effect. He's also throwing more curveballs and has become more of a breaking-ball pitcher.
He's getting whiffs and called strikes with the curve at a greater rate than in his Cy Young seasons; batters are making contact with the pitch at a career-low rate.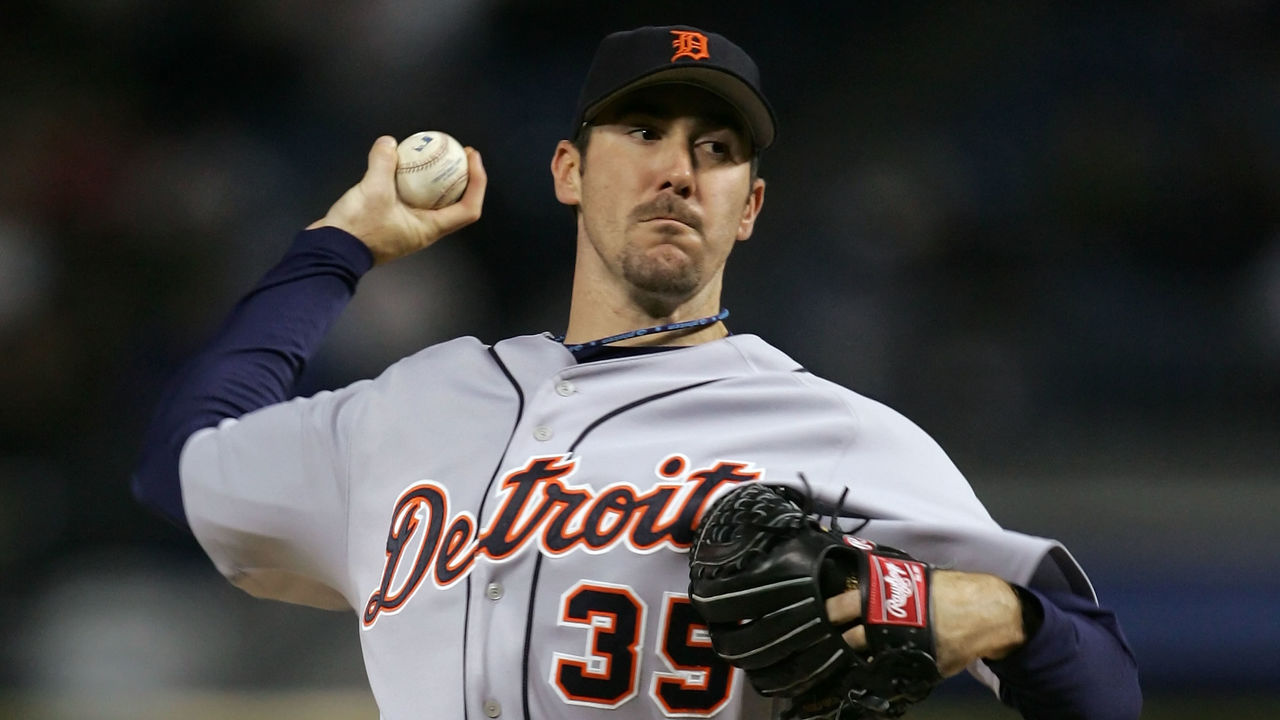 Verlander's curveball has been a staple of his pitch mix since he made his debut as a top prospect in 2005 after being drafted No. 2 out of Old Dominion in 2004.
But it's the slider, which he's throwing at a career-high 31% rate - and which he's honed over the years, especially since the 2017 trade to the Astros - that is giving his late-stage career new life.
Verlander debuted before the pitch-tracking era began in 2007 with PITCHf/x. With the Astros, Edgertronic high-speed camera footage showed Verlander how to optimize his slider grip in 2017. Since then, it grades as the 12th-best slider in the majors, according to FanGraphs.
While his strikeout rate is slightly down, he's also limiting opponents to 1.7 walks per nine innings and is allowing only 8.5% of fly balls to travel for home runs.
Yes, he's probably not going to strand 94% of batters all season. Yes, he's probably going to sustain some regression to the mean. His FIP suggests he's performing at a true-talent level of a pitcher who should own an ERA closer to three than one. Yes, he's probably going to surrender a few more long balls.
But Verlander is still great at 39, remarkably rust-free coming off Tommy John, and still effective - even with less spin on his fastball.
While it helped that Verlander had a full year and a half to rehab from surgery, his start to the campaign is still remarkable.
The Astros' decision to quickly re-sign Verlander in December prior to the lockout hinted at their strong conviction in the veteran. He signed a one-year, $25-million deal with a player option for next season. It's looking like a great deal for the club: a Cy Young contender at a discount.
Verlander remains an ageless wonder.
Travis Sawchik is theScore's senior baseball writer.
Comments
✕
The ageless Verlander is doing it again - but now with an evolved approach
  Got something to say? Leave a comment below!