The Outliers: 4 players with wonky stats and what they mean
Photo illustration by Nick Roy/theScore
We're roughly one-quarter of the way into the MLB season, which means a lot of the statistics are reaching a large enough sample to be illustrative of successes or failures.
Here's a list of players with outlier statistics and whether their performance will continue.
Taylor Ward, Angels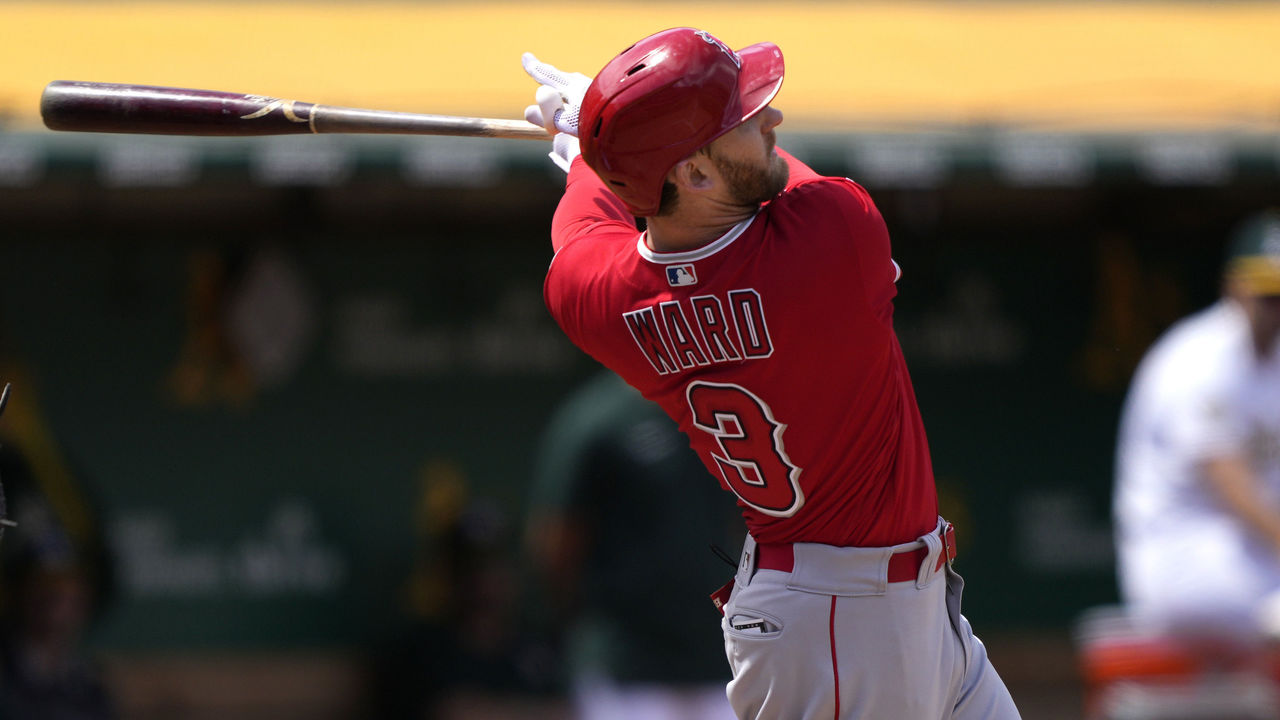 Wonky stat: 249 wRC+ (1st in MLB)
To say the 28-year-old Ward is enjoying a breakout would be a massive understatement. Not only does he lead all of baseball in wRC+, the most reliable statistic in measuring a hitter's performance, but he also leads in AVG, OBP, and SLG.
Entering this season, the outfielder didn't have much of a major-league track record. Over 159 career games spanning back to 2018, Ward had posted a .230/.305/.388 slash line. That equated to a 90 wRC+, or 10% worse than the league average.
So what's changed? Well, most importantly, he's walking more. One-third of his career walks have come this year alone. That usually indicates a hitter is being more selective, and Ward has definitely changed his approach. Instead of swinging at 27.2% of pitches outside the zone between 2018-21, Ward is now offering at merely 18.6%. That puts his chase rate in the 99th percentile among all major leaguers, according to Baseball Savant.
As a result, he's seen a 4.4 percentage point bump in contact rate and a four point dip in whiff rate. Additionally, when he does expand the zone, he's making contact on those pitches 67.2% of the time as opposed to 56.5% previously.
Pitchers have already begun adjusting, as Ward is seeing only 39.6% of pitches in the zone now in the month of May. To his credit, though, his approach has stayed identical. He's still swinging at 17% of those offerings, and, on pitches below the zone, he's still making good enough contact on them to post expected batting averages above .300.
Can this continue? 🔥
Yes. He almost certainly won't finish the season atop the league leaderboard in wRC+, and he probably won't even beat his teammates Mike Trout or Shohei Ohtani. But Ward has shown a genuine change, and it's working.
Nestor Cortes Jr., Yankees
Wonky stat: 1.35 ERA (1st in AL)
With all due respect to Cortes, if anyone out there had the former 36th-round pick on pace to win the Junior Circuit's ERA title, we're going to need to see the receipts.
"Nasty" Nestor has arguably put himself in a position to be the AL Cy Young front-runner after spending the last four years bouncing between teams. Entering this season, he had a 4.66 ERA over 172 career frames. Now, it looks like he's trying to double his career innings in a single season.
So what's changed? The lefty started showing these changes last year, keeping his strikeout rate at an impressive 27.5% while reducing his walk rate to 6.7% over 93 innings. That's the same strikeout-minus-walk rate that Charlie Morton and Nathan Eovaldi posted last year, albeit over larger workloads.
Somehow, though, Cortes has elevated beyond even that. What was so impressive about his sudden success last year was that he kept his strikeout rate at a very good level while cutting his walk rate, which gave him problems early in his career. Now, he's kept the walks low and elevated his K rate to 32.5%, sixth among qualified starters so far this year. And Cortes is doing it with a fastball that ranks in the fourth percentile by velocity.
Interestingly, he isn't inducing weak contact especially well. He's in the 61st percentile in barrel rate, 44th in exit velocity, and 47th in hard-hit rate. But his increased reliance on an 86-mph cutter - Cortes now throws it 40.5% of the time after not even using it until 2020 - seems to create enough deception between his fastball to keep hitters off balance. Even further, he's staying ahead of hitters with impressive command, throwing a first-pitch strike 69.5% of the time - third in baseball.
Can this continue? 👍
For a guy who throws a fastball that even Jered Weaver might scoff at, it's hard not to root for the success to continue. However, there's a reason why breakouts like this are so rare, especially in the modern, velocity-obsessed game. Ideally, Cortes will continue to be deceptive, and the fact that he doesn't throw as hard as other guys means he's able to stay healthier. However, are we really getting 150-plus innings of this?
Marcus Semien, Rangers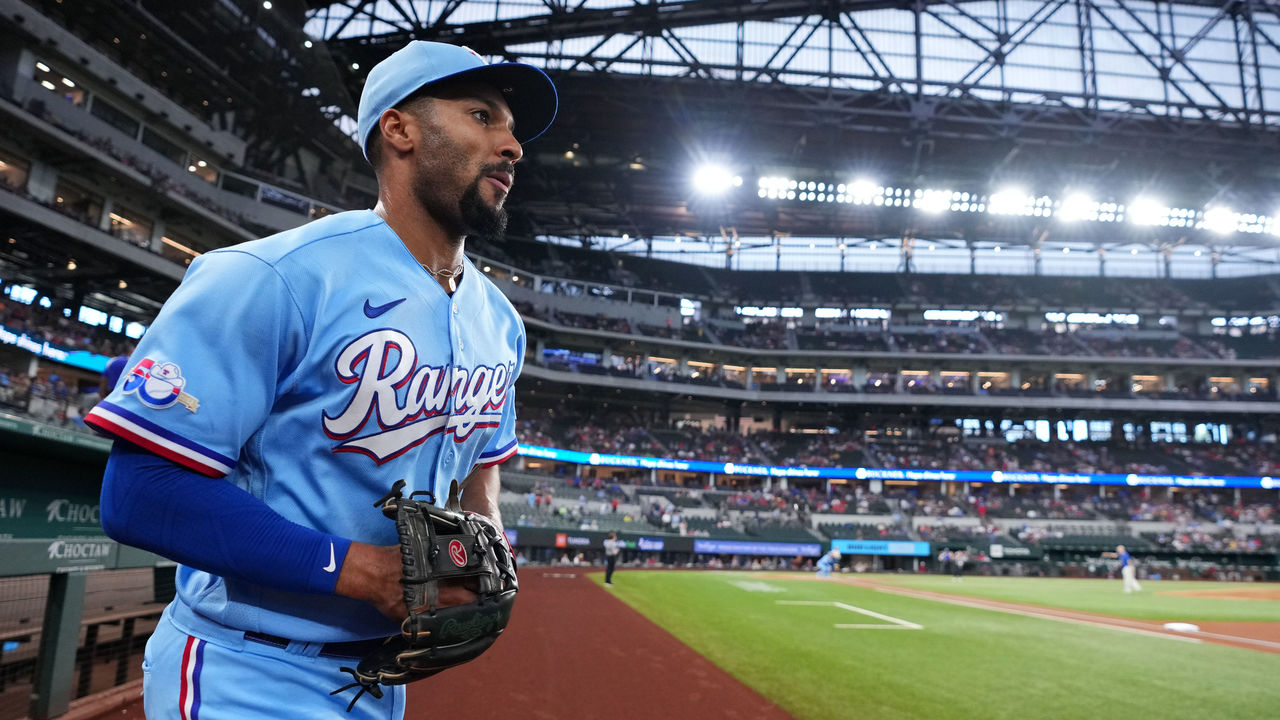 Wonky stat: 40 wRC+ (2nd-last in MLB)
Semien has been terrible in pretty much every conceivable way. He's looking completely lost at the plate while also not helping his team defensively, costing 8.6 runs on offense and 0.5 on defense, according to FanGraphs. This is coming on the heels of one of the best seasons by a second baseman in recent memory, which earned Semien a massive seven-year, $175-million contract from the Rangers.
So what's changed? Surprisingly, some of the underlying numbers don't look that bad. He's walking less, but he's also striking out less. So, while he isn't being as selective, Semien isn't really racking up Ks, either.
His contact rate is still a respectable 78.9%, barely below his career norm of 79.6%. But the big problem here is that he's swinging a lot more, both on pitches inside and outside the zone. The former Silver Slugger and Gold Glove winner is swinging at 78.6% of pitches in the zone (a year-over-year increase of seven percentage points), but also 34.4% of pitches outside the zone (up 8.6 points). In total, Semien is swinging at more than half of the pitches he sees now (53%) versus his career average of 44.3%. That's typically the swing rate of a slap hitter, not a slugger who hit 45 homers last year.
So, it's really no wonder that the quality of contact has taken a nosedive, given that he's expanding the zone at a rate he hasn't since his first 21 games in the big leagues with the Chicago White Sox back in 2013. As a result, he ranks dead last with a .184 expected batting average and .239 expected wOBA and second last with a .290 expected slugging.
It's also worth noting that hitting ahead of Vladimir Guerrero Jr. last year likely helped Semien, but not as much as you'd think. He's still seeing roughly the same amount of pitches inside the zone as he did in 2021, and now he's hitting in front of Corey Seager, who's performing just fine after a relatively quiet start. So lineup protection isn't the easy answer one might expect.
Can this continue? 👎
There's no chance this keeps up. Semien might never be as good as he was last year when he finished third in MVP voting. But it seems like he's trying to live up to his nine-figure deal in every single plate appearance lately. He'll have to readjust his approach to increase his quality of contact. Otherwise, Baseball Savant including 2015 Grady Sizemore - the final year of the once-promising speedster's career - in Semien's "similar batters" section might be more than just ominous.
Zack Greinke, Royals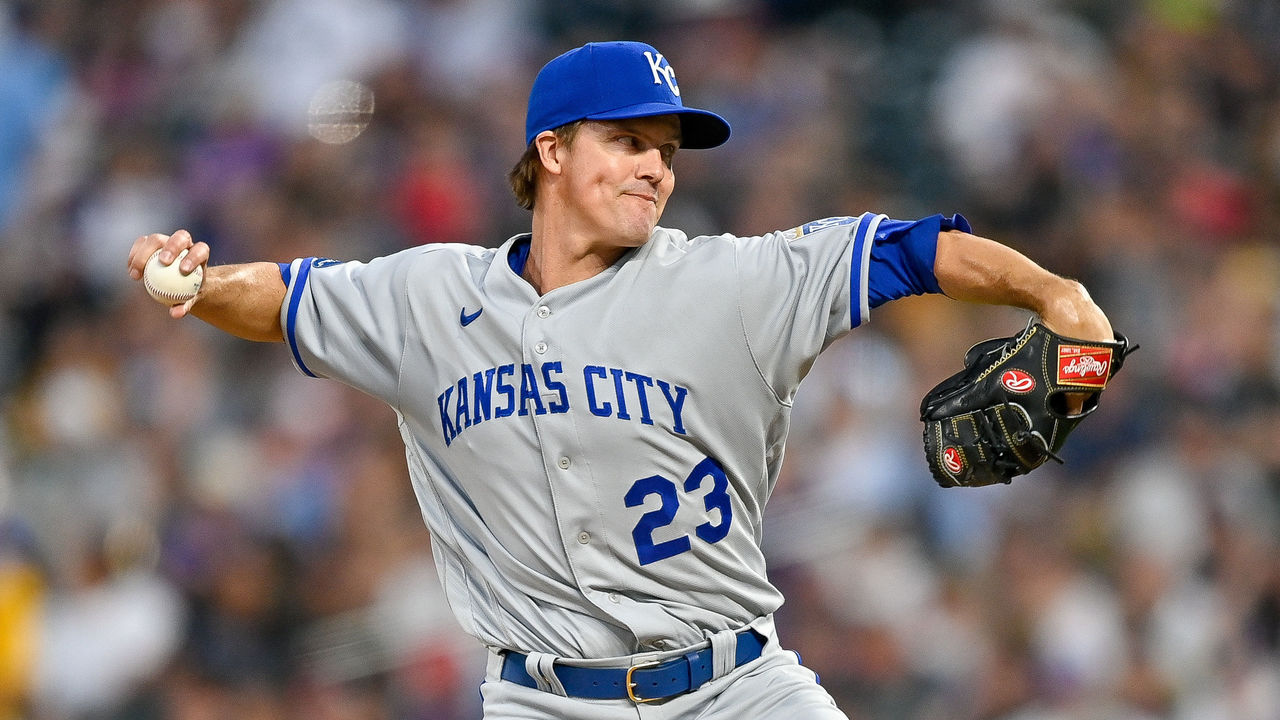 Wonky stat: 9.8% strikeout rate (last in MLB)
It's been a decade since a qualified starting pitcher had a strikeout rate in the single digits (Henderson Alvarez, 9.8% in 2012). Even Mark Buehrle, perhaps the last pitch-to-contact God, never posted K rates below 10%.
But Greinke isn't just not missing bats - he's succeeding without missing bats. He's walking barely anyone and not giving up that many homers, either.
So what's changed? A lot of people are going to point to his velocity dip. His 88-mph fastball sits in the fifth percentile in the majors. However, that's been happening for a few years now, and Greinke never really featured blow-you-away velocity. Here are his average fastball velocity and percentile ranks since 2015, when he finished as NL Cy Young runner-up:
| Year | Velocity | Percentile |
| --- | --- | --- |
| 2015 | 92.3 | 46th |
| 2016 | 91.9 | 36th |
| 2017 | 90.8 | 24th |
| 2018 | 89.5 | 13th |
| 2019 | 89.9 | 12th |
| 2020 | 88 | 5th |
| 2021 | 89 | 8th |
| 2022 | 88.8 | 5th |
So, Greinke has been dealing with incredibly similar velocities over the past two years. Here's how those years panned out versus what's happening this season:
| Year | K% | BB% | HR/9 | ERA | FIP |
| --- | --- | --- | --- | --- | --- |
| 2020 | 24.5% | 3.3% | 0.81 | 4.03 | 2.80 |
| 2021 | 17.2% | 5.2% | 1.58 | 4.16 | 4.71 |
| 2022 | 9.8% | 2.2% | 0.41 | 3.48 | 3.27 |
What's changed, then, might not actually be entirely up to Greinke. Last year, he was a pretty similar pitcher by velocity. But he was getting more strikeouts, giving up more walks, and surrendering way more homers, which hurt both his ERA and FIP. Interestingly, though, league-wide HR/9 has dropped from 1.26 last year to 0.99 this year thanks at least in part to the deadened ball. But that doesn't account for Greinke's incredible ability to suppress dingers far beyond what the ball seems to be causing.
In lieu of missing bats, he's missing barrels. Some analytics indicate that hitters have almost all the say regarding quality of contact, but it seems to be a factor pitchers can also influence. Atlanta Braves ace Max Fried has made a career out of avoiding barrels with elite chase rates, ho-hum velocity, and strikeout numbers.
He's throwing his off-speed stuff less than his breaking balls now, and he seems to be finishing his slider in the strike zone more often as well. Other than that, Greinke's relying on his defense - which ranks sixth in the majors, according to FanGraphs - to get outs for him, and it's working.
Can this continue? 🤷
It's hard to say. Eventually, the 38-year-old will be finished. But for now, he's found a way to suppress hard contact without walking anyone. The lack of strikeouts almost doesn't matter if you can do those two things.
Comments
✕
The Outliers: 4 players with wonky stats and what they mean
  Got something to say? Leave a comment below!