Vlad Jr.'s breakout season, as seen from the dugout
Getty Images / Photo illustration by Nick Roy / theScore
Entering 2019, it was no stretch to forecast Vladimir Guerrero Jr. being in the American League MVP chase this fall. He was the No. 1 overall prospect in baseball, and he would likely be a clear favorite for MVP now if not for Shohei Ohtani's historic season. Guerrero had the rarest of pedigree as a Hall of Famer's son, and he'd received the rarest of scouting grades from Baseball America, topping the scale for both hitting (80) and power (80). He'd hit .400 in half a season at Double-A. The anticipation for his debut was so great that his first major-league batting-practice session was broadcast on live TV in Canada.
Not every player steps into stardom immediately, of course. Even Mike Trout struggled initially.
Guerrero got off to a bit of a subdued start. He graded out as slightly above league average in his first two seasons and he was dogged by questions about his fitness level and his best defensive position. For some context, though, he was 20 and 21 years old, ages when most pro batters are still in A-ball or college.
This season, he has lived up to the potential of his prospect rankings, contending for a Triple Crown and helping the Blue Jays compete for a playoff spot. He's become just the ninth player age 22 or younger to hit 40 homers in a season, joining Eddie Mathews (who did it twice), Joe DiMaggio, Johnny Bench, Juan Gonzalez, Bryce Harper, Alex Rodriguez, Met Ott, and Ronald Acuna Jr. He needs two more to surpass the 47 Mathews hit in 1953, which stands as the age-group standard.
This is a story of how Guerrero fulfilled his promise this season; how he improved his physical condition and preparation to show the baseball world what's possible when he unlocks and maximizes his gifts. It's told through the words of some of those in the Toronto Blue Jays organization who have witnessed his rise from up close: interpreter Hector Lebron, coach John Schneider (who came up through the minor leagues along with Guerrero), teammate Santiago Espinal, and hitting coach Guillermo Martinez. Their observations were collected in conversations in July and September.
Guerrero's breakout began before the season. It's a best-shape-of-his-life story that produced results on the field. What did that process look like?
Lebron: Everything started last year at the end of last season. He started putting it together … He knew he was capable of being there with (Fernando) Tatis, Acuna, (Juan) Soto. He's the same breed. What happened? He'd say, "The difference between those guys and me is they work very hard. They are consistent. And I didn't do it last year." Mentally, he grew up a lot.
In the offseason, that was a key to all his success. He lost like 48 pounds. We all know that. … He cut out the sweets at night. On the road, I'm in connecting rooms with him. We make sure he gets his protein shake instead of eating pizza with a Coke at midnight. He eats right after the game, whatever they have (in the clubhouse). Once he goes to the room, I give him a protein shake instead of (junk food), in case he gets hungry. He goes to sleep with that. Before it was pizza, cheesecake, brownies, french fries. We all know that is bad at 1 a.m. before going to sleep.
Espinal: I don't even know what he was eating. I can tell you all the types of workouts because the trainer he was using (in the offseason) used to train me. He already had a plan for him. Vlad has his own plan, too. As soon as (Guerrero) got to the Dominican Republic (last winter) he focused on one thing: losing weight, getting in better shape, being the best player he can be this season. Everything he did, every drill he did, translated to the game.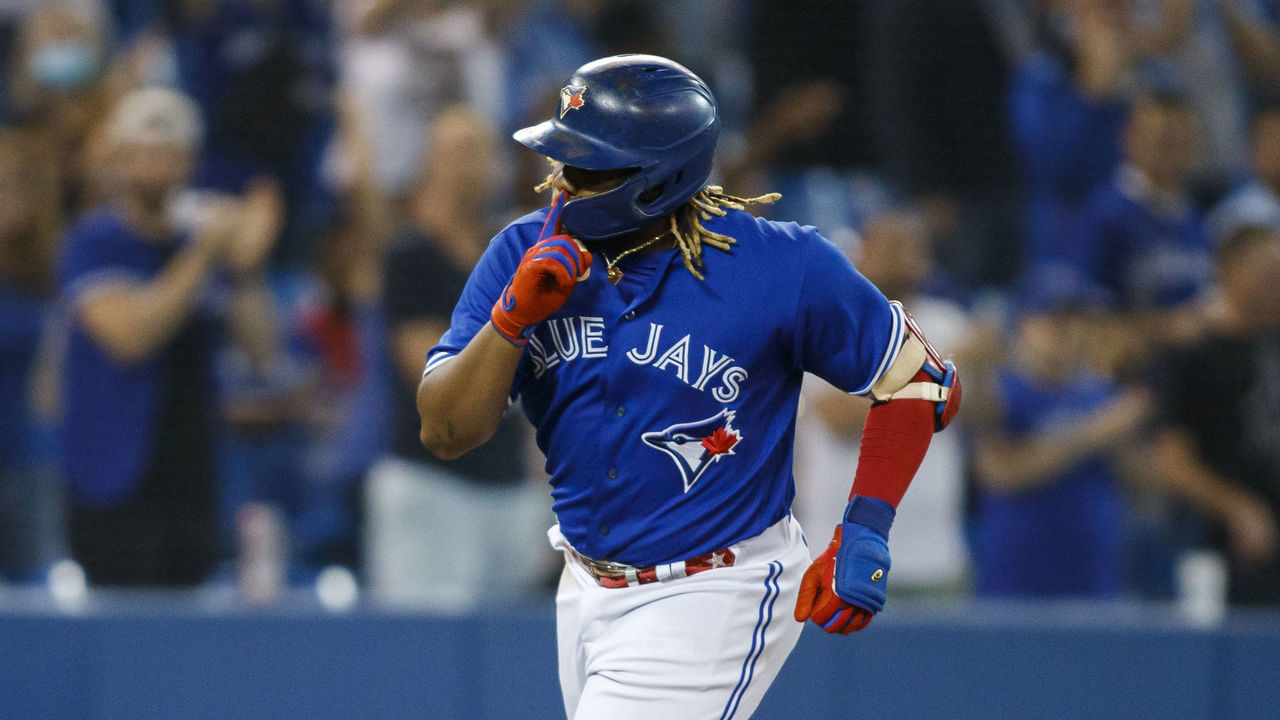 Martinez: He had similar (swing) movement last season, but he was not as quick, not as powerful, not as efficient. He learned that the hard way. Everyone goes through those moments in life where we learn from failure. He needed to go through that to understand how to be the hitter he wants to be for the next 10, 15 years, to maintain that focus, his training in the offseason.
I think a lot of people in his life, people that care about him (gave him advice). He's only 22. You gotta think back to when you are 22 years old. … Ultimately the one who takes charge over your life is yourself. At the end of the day, he's the one who decided when he gained that weight it was a mistake. Now that he's having success, he deserves all the credit.
No one has ever questioned Guerrero's batting eye, raw power, or bat-to-ball skills, but those in Dunedin, Florida, this spring said Guerrero arrived with a new routine and work ethic.
Martinez: In spring training he came back this year, and it's night and day what he's doing. I tend to focus not so much on the games but the preparation part. When he came to spring training, his routine was great. He was actually like, "Hey, let's stay after practice." After long days, we would hit after practice. That part, I've never seen. That part of focus and hard work, I didn't see that intensity (in 2019 and 2020). I saw that in spring training, a big change, and thought he was going to have a monster year. He kept that all year long. It's very consistent … the routine with the tee work, understanding the type of pitcher, the type of (pitch) movements the pitcher has. Just making sure he is adjusting his swing based upon the pitcher's (arsenal).
He doesn't make hitting complex, but he does adjust his routine based upon the type of pitcher he is facing.
Schneider: He's always been very gifted physically. We talked at length in the minors about routines and consistency, whether it's in the cage, BP, or defense. Off-the-field stuff. I think you just kind of see the culmination of everything we have seen in the last five years. He's a total pro. He's so prepared for every game physically and mentally.
Guerrero is not big into analytics or watching too much video, but the Blue Jays have noticed his in-game awareness and feel.
Lebron (on his use of video and analytics): That doesn't mean he doesn't study. He does. He does it before he goes home: "What did (the next day's starting pitcher) throw me the last time he faced me." But he doesn't like to sit there at the computer. He's not looking to see if he throws his changeup 80% of the time. No no. He says that drives him crazy. … He's very smart. Very, very smart. He remembers everything. He watches everything. He sits in that corner (of the dugout) and watches everything to every hitter. Where is the pitcher missing? What was working that night?
Martinez: Even when he went through that dry spell (in the second half), he wasn't trying to do too much. It's just one of those things. … He has better awareness over his swing and what he's feeling that day. He will make small adjustments to his practice based on his feelings. It's not something where he's doing high-velocity (pitching machine) and then curveball (pitching machine) every day. … Good hitters, I feel like they start seeing the symptoms of issues before they are exploited. Before that happens, he's attacking them.
Arriving with so much hype in 2019, Guerrero might have struggled with some of the early pressure, but the Blue Jays have seen him do a better job of handling noise and expectations even as he chases a Triple Crown. For instance, he's become more patient at the plate, reducing his out-of-zone swings from 29% as a rookie to 23% this season.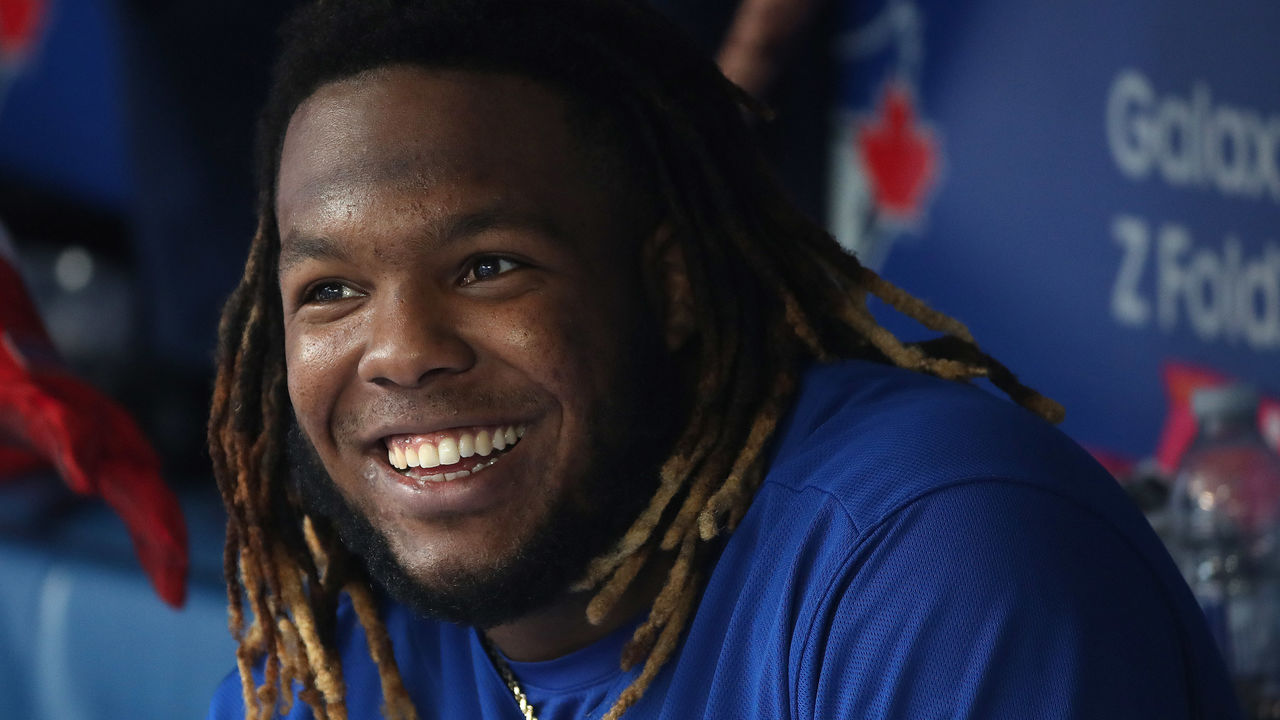 Martinez: We don't talk about homers, Triple Crowns. We talk about preparing for the day and not trying to do too much. If you start chasing those things, you put more pressure on yourself.
He consistently gets to a good strong hitting position, which allows him to produce that powerful swing he has. The fact that he has bat speed, a good eye, and great bat-to-ball skills is what separates him.
Lebron: Compared to his rookie year, he's been very patient. That's the difference between 2019 and this season. I'm not going to count 2020. When everyone had very high expectations in 2019, when he was the No. 1 prospect when everyone was very hyped for 2019, (he pressed). Now he trusts the rest of the guys. He doesn't feel like he has to do everything himself.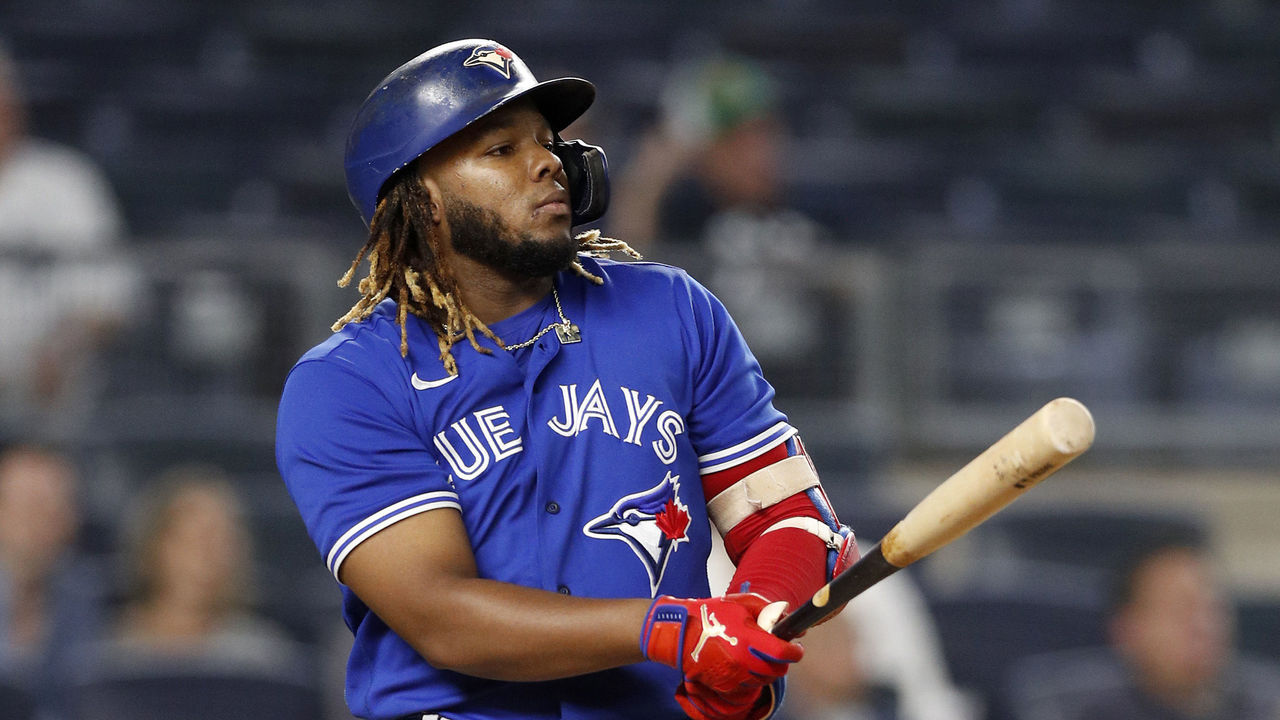 The most memorable moment of the season? It might have come on June 14, when the Jays were paying a visit to the Boston Red Sox.
Lebron: It's the homer he hit at Fenway off (Matt) Barnes with two strikes. That's difficult to do: at Fenway, full capacity, everyone on their feet, loud, two strikes. That's very hard. The funny thing is, I was actually sitting right with him. He tapped me on the shoulder and looked at me. He says, "You know what? If (Marcus) Semien and Bo (Bichette) don't get on base, I'm going to hit a homer off this guy." He put on his helmet and walked away. "You'll see."
When we went to the All-Star Game, I was with him. Vlad went to say hi to (Barnes) and all the guys from Boston. When he went up to Barnes, (Barnes) went, "Wow." Barnes told him: "The funny thing about that (homer) was, I think that was the best I felt this season. My fastball was great. My curve, my slider was unbelievable. And you still hit it. I have to give it to you."
Schneider: I was in the dugout (for the ninth inning versus Barnes). It was the fourth game of the series and he had hit homers in all three games in the series already. "Is he going to do it here?" And he did it. The whole dugout went crazy. There have been a lot of "are you kidding me?" moments. Two outs, Vladdy versus their closer, and he goes deep? It's just not easy to do what he's doing. So that was one of those times. "Are you kidding me?" He loves the big moments. He doesn't shy away from them.
Espinal: It's not one thing, but in the dugout, he'll say, "This pitcher is going to do this and this pitcher is going to do that." And as soon as he walks to the plate, he hits a home run.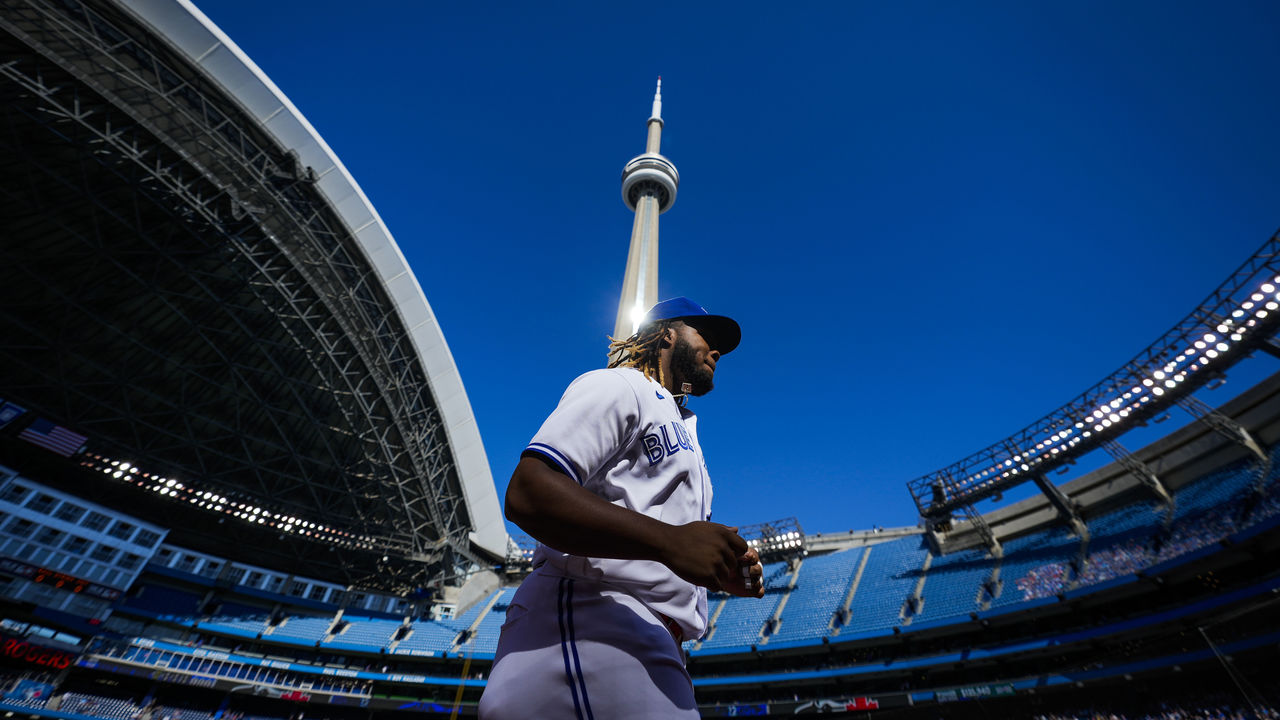 Guerrero scuffled - by his standards - briefly in the second half, hitting .267 in August. He's hit .300 or better in four of six months this season. His wRC+ is above average every month in 2021, with a low mark of 111 in August (meaning he was still 11% better than a league-average hitter). How did he recover so quickly and get back to MVP form?
Martinez: I wouldn't say an adjustment. I would just say his consistency with his preparation is what helped him get off the cold spell that he had. I think everyone goes up and down through the course of the season. Obviously, he's been up for most of the season. But eventually - he's a human being, right? - eventually, there will be a time where guys go south.
One thing that didn't change is his work ethic, his preparation. If he maintains that, that's how hitters tend to get out of those dry spells. He's been able to maintain that work ethic and focus and the way he has prepared the whole season. That's something he has not done before in the past. In 2019, he depended a lot on his talent. In 2020 he did a little better. This year is night-and-day different.
Schneider: I think the last step in his development was understanding how a pitcher was going to attack him, be ready for him and make adjustments as he goes. … It's basically the best version of him I've ever seen, including (2018) at Double-A when he was killing it. It's been a lot of highlight-reel moments.
Espinal: If he continues this path, to be consistent mentally, consistent with his (swing), I don't know when he will reach his peak. At 25? That's scary.
Travis Sawchik is theScore's senior baseball writer.
Comments
✕
Vlad Jr.'s breakout season, as seen from the dugout
  Got something to say? Leave a comment below!