An oral history of 2021's no-hitters from the catchers' perspective
It's the year of the no-hitter in Major League Baseball.
With a month of the regular season still to be played, eight no-hitters have already been thrown: seven by individual hurlers and one combined effort by the Chicago Cubs. (Madison Bumgarner threw one in a seven-inning game, but that doesn't count in MLB's record book.)
The eight no-nos set a modern record and tie the all-time mark set in 1884.
While no-hitters are becoming more common because of the increase in strikeouts - 16% of the 326 no-hitters thrown all time have taken place since 2010, which accounts for 8% of MLB seasons - this is still a year like no other.
There's usually a common scene upon the completion of any no-hitter: the catcher runs out to bear-hug the pitcher, and they're quickly swarmed by teammates. While pitchers rightfully enjoy the adulation and baseball immortality that comes with throwing a no-hitter - the 300 individual no-hitters have been thrown by 192 pitchers - we sought out an alternative viewpoint for some of this season's no-hitters: the catchers.
After all, catchers are the ones calling and framing pitches, looking for weaknesses in a batter's swing, and analyzing video and data. They must play strategist and psychologist; they may have to help calm nerves.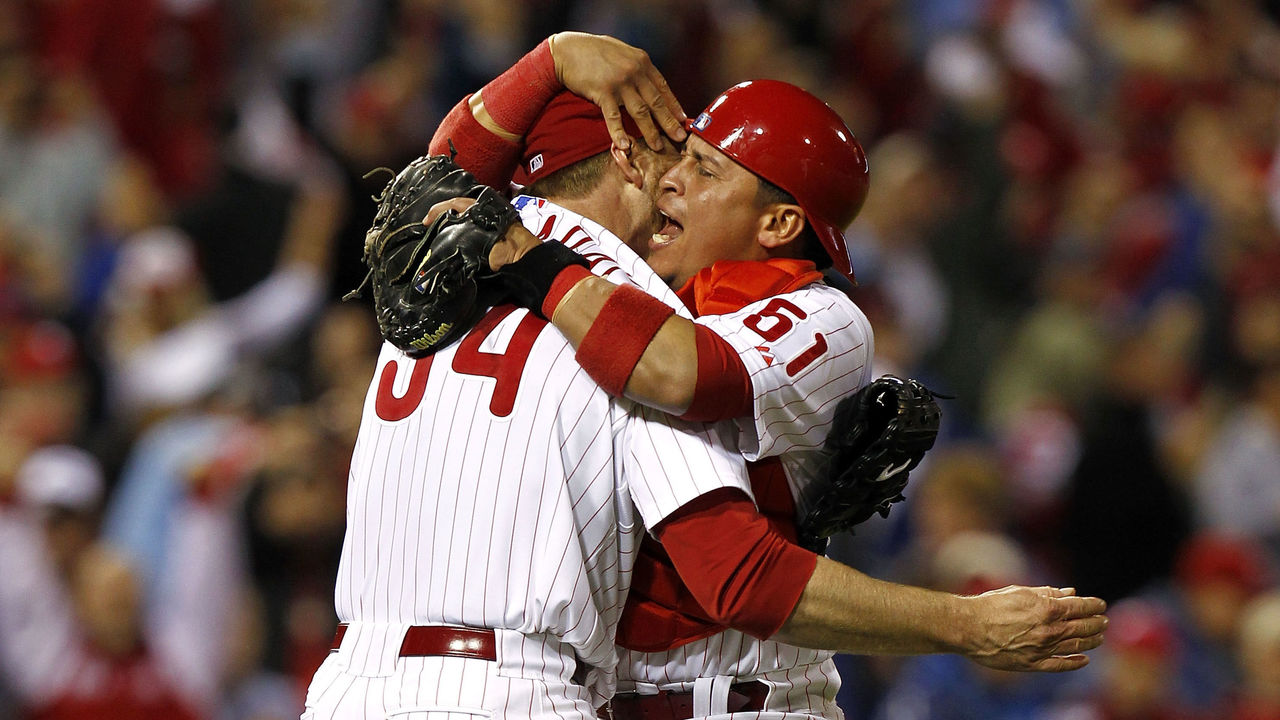 The following is the story of four of this season's no-hitters told through the eyes and through the words of those who caught them: Arizona's Daulton Varsho, Detroit's Eric Haase, San Diego's Victor Caratini, and the Yankees' Kyle Higashioka. The interviews were collected throughout the season.
They caught different types of pitchers: Varsho caught a rookie making his first career start (Tyler Gilbert, Aug. 14 vs. San Diego), Higashioka was battery mates with a veteran Cy Young Award winner (Corey Kluber, May 19 vs. Texas), Caratini was paired with one of the breakout pitchers of this season (Joe Musgrove, April 9 vs. Texas), and Haase caught a pitcher who's been slightly better than league average for his short career (Spencer Turnbull, May 18 vs. Seattle). They caught different kinds of pitchers with different kinds of stuff but they each guided them to history.
The ancient Chinese general and philosopher Sun Tzu mused that all battles are won before they are fought. Perhaps not all no-hitters are the product of adroit planning but preparation can't hurt. The catcher and pitching coach usually meet with that day's starting pitcher a few hours before taking the field to go over the opponent scouting reports and their approach. What happened before the first pitch on these no-hitter days? How did catchers prepare? What did they see?
Varsho: We were together at the alternative site for three-and-a-half weeks (last season). I was at Triple-A with (Gilbert) earlier this season. I caught him six or seven times in that span. … I just trusted how he normally pitched. Through the minor leagues, he got guys out for a reason. He got to the big leagues for a reason. He's able to get lefties and righties out with his fastball and his cutter.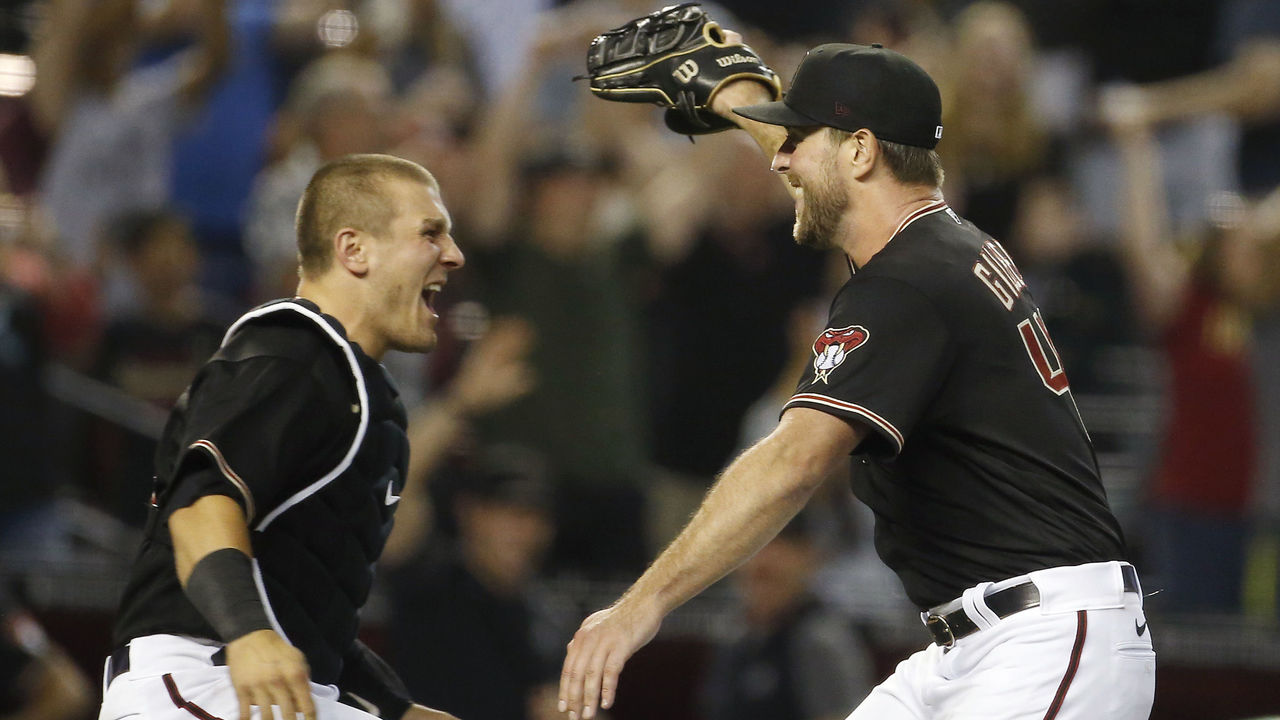 Haase: In the (pregame) meeting with Spencer we said, "You fit well versus this lineup, execute your pitches, and you're going to be in a good spot." … (The Mariners) are in the other division, so we don't see them very much. With Seattle, everything we'd want to know from a catcher standout is preloaded on our iPads. I look for certain guys' takes, this guy beat us in this situation, things like that. Then it just comes down to what the pitcher is featuring that day. Can it coincide with the scouting report? If not, be creative. … As the game goes on, we get further and further away from the scouting report. It comes down to execution. You're not going to trick the same guys over and over again. … Like Spencer said, his bullpen wasn't the best. I've seen him be a lot sharper than that.
Caratini (via interpreter): I have my routines. It's usually the day before a game or series, or a couple of days out when I start looking at stuff and it's also the day-of looking: I'm looking at video, looking at stuff, staying prepared … (In our meeting) it wasn't complicated. We do what we always do. We talk about how we are going to attack hitters. Try to keep it simple.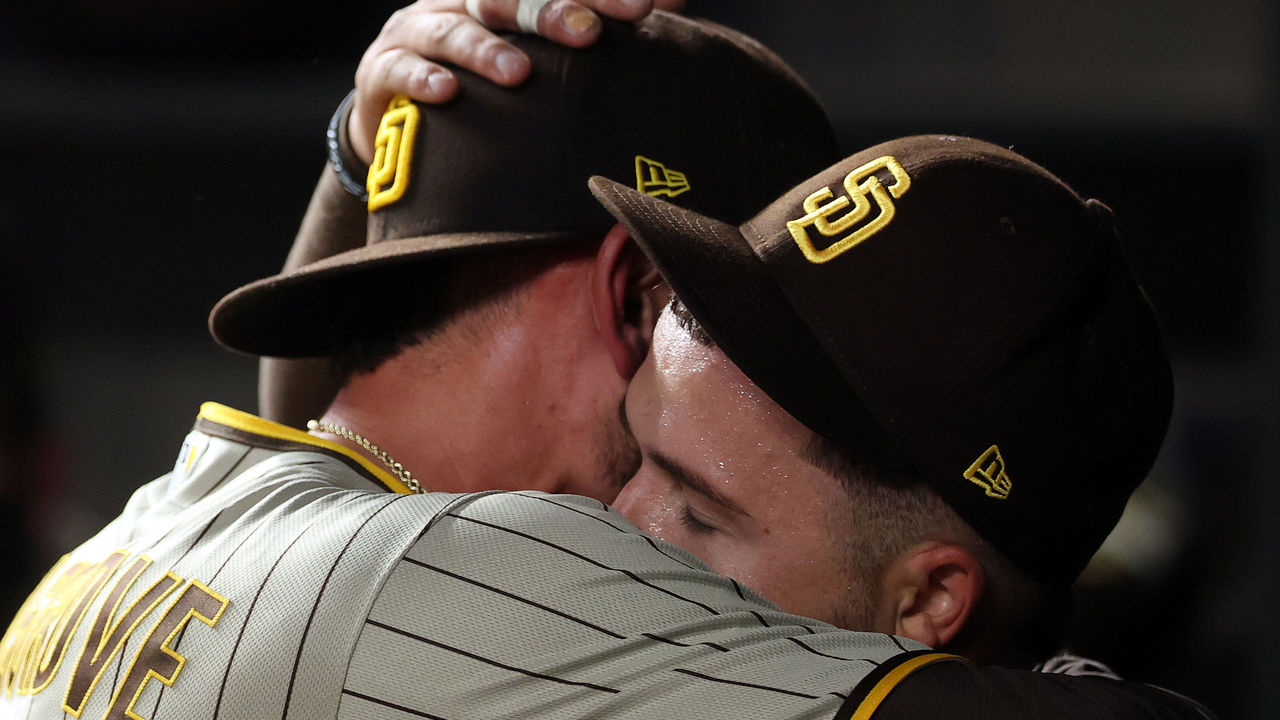 What did you remember from early in the start? Was the pitcher's stuff sharp? Did you see or overhear something of interest?
Varsho: First inning, he walked Tommy Pham. You could see a little bit of the jitters. And there should be jitters. You're making your first start, and it's against one of the best teams in the big leagues. So I knew that his jitters were a little high after that first walk. But I knew he could control it, and he got the three outs. That double play really helped in the first inning, when (Adam) Frazier hit it to first base … To slow him down and show what he had, that was pretty special.
Haase: I think it was after the first inning. He had a one-two-three first. That's fairly common. One of the (fans near the dugout) looks up and says, "Hey, you are going to throw a no-hitter." As the game went on, "OK he might do this." Those guys stuck around the entire game and were giving him a bunch of stuff later. It was great.
Higashioka: (Kluber) started off the game really well. It's what I've seen before from him, so I wasn't really surprised. … For him, all four pitches are in the mix at all times. It's just something that worked out where we didn't use the changeup much early in the game, so there were a lot more opportunities later to surprise guys with it.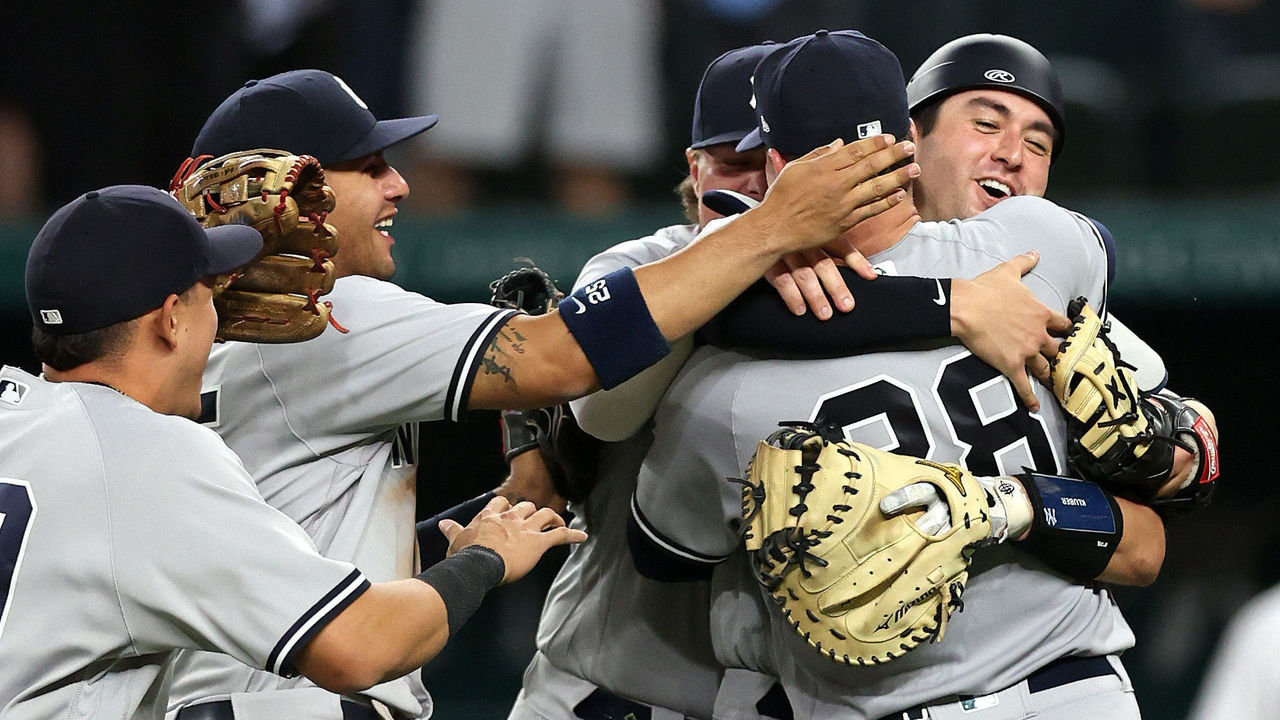 When did you start thinking about the potential for a no-hitter?
Caratini: It was in the fifth when I really started thinking about it. You could tell he really was sharp and had good stuff. But at the same time, I was trying to not really think about it. I was just trying to go hitter by hitter. … In the sixth inning or so, is when I started thinking about (the pitch count). It was his second start of the year. Had to consider his pitch count a little bit. So just trying to pick the right pitch against the right hitter is what I was thinking. …
I don't think I had too much pressure. I wasn't putting too much pressure on myself. (Editor's note: Caratini caught Alec Mills' no-hitter in 2020.) I was trying to treat it like a normal game and get him through this start, a quality start, and get deep into the game. That's what I was thinking. I wasn't really feeling pressure until the last out.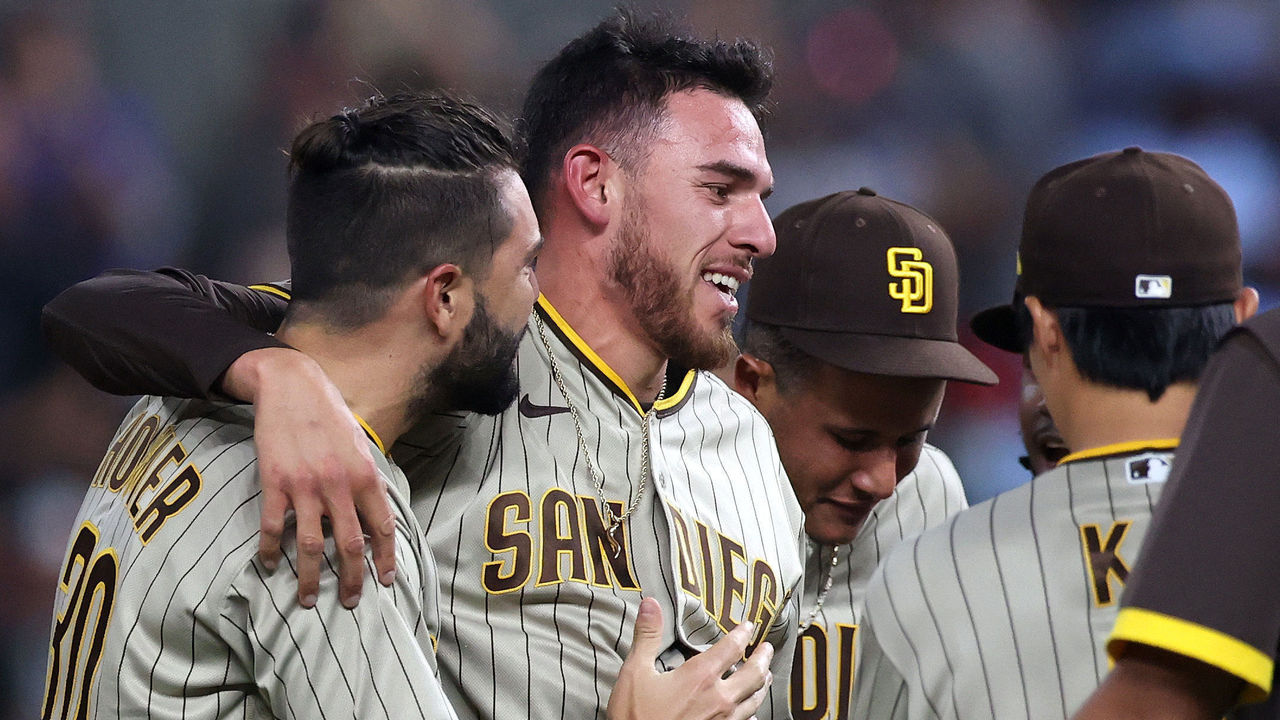 Higashioka: After the fifth inning, I kind of realized that he had (a no-hitter going). When you're that early in the game, you still have to be aggressive and go after guys. I don't think we were winning yet. … Later, once it got, seventh, eighth, that's when we shifted to, "OK, let's go for it." Never giving in, kind of treating it like there's a runner on third every batter.
Haase: A guy like Spencer, he has a really good sinker. We got a lot of early contact happening by itself, and when he was striking out guys it was fairly quick. He wasn't really going deep into counts. Starting in that second and third inning, he started to get into a good groove. Other than Candy (Jeimer Candelario) making that spectacular play at third base, everything kind of fell into line. He was executing pitches. …
Normally in the fifth or sixth inning, I'm always peeking up there (at the pitch count) but other than the one walk to (Jarred) Kelenic, I was thinking, "We're doing really well. We are conserving energy. We might start to be able to go for strikeouts in certain situations or end up walking a guy." We don't have to really have to challenge people anymore (since it's not a perfect game). Kinda stay on gas. Going into the eighth, he was still at 90 pitches. ... "OK, we have a chance to really to do this."
Varsho: When the eighth inning rolled around I was like, "Alright, they have three guys who put some real good swings on him already in the game." It was a one-two-three inning and they all swung at the first pitch. It was three barrels but they went right at people. It was lucky … At that point you know it's out there, it's obtainable to get to that no-hitter. You are still trusting what he has done all game to get guys out. The fastball and cutter were working. Just keep using it and abusing it until that final out."
As the game progressed and the prospect of a no-hitter increased, what was the dialogue like between innings? Traditional superstitious practice is to not approach a pitcher in the midst of a no-hitter, but is the catcher exempt?
Higashioka: Between innings, I was extremely nervous. When you're sitting there not doing anything, just thinking about it, I was getting pretty nervous. Once I got out on the field each inning it was, "OK, keep trusting in what I'm seeing behind the plate." The nervousness dissipated as soon as I was out on the field. It was just in between innings that it was really a struggle … I managed to mutter (to Kluber), "Let's keep being aggressive and go after these guys," but that's all I got in. I think he expected me to keep talking to him but as far as the other players go, I don't think anyone was bothering him.
Haase: Most of the time, I kind of leave Spencer alone, regardless. He's a guy who's really on his routine. He goes into the tunnel (between innings). He does his breathing, whips a couple of weighted balls, goes right back out there. He likes to stay loose. So unless there's a glaring issue, I kind of let him do his own thing. I think he's really gotten to trust me back there. Those conversations between innings aren't as important.
Varsho: (Bullpen coach) Mike Fetters did a very good job in the dugout to get his mind off the game. Talking about random things. Get the nervous energy out after every inning. I let Mike do his work. He was filling in for Matt Herges, our pitching coach at that point. … Being able to come down and your first night as head pitching coach (a no-hitter happens), that is pretty cool.
What was an important sequence late in the game?
Haase: The way you drew it up (in the ninth) was 1-2-3, (Mitch) Haniger is going to be the fourth guy. If we cannot face him that would be great. So we walk Jose Marmolejos (in the ninth) to turn the lineup back over to Haniger. ... Sinker down and in. (Haniger) took it for a strike. Second pitch, I want to say it was a swinging strike. After that, 0-2, "Dude, give me your best heater up and we'll go from there." (Turnbull) was able to throw it by him and it's history.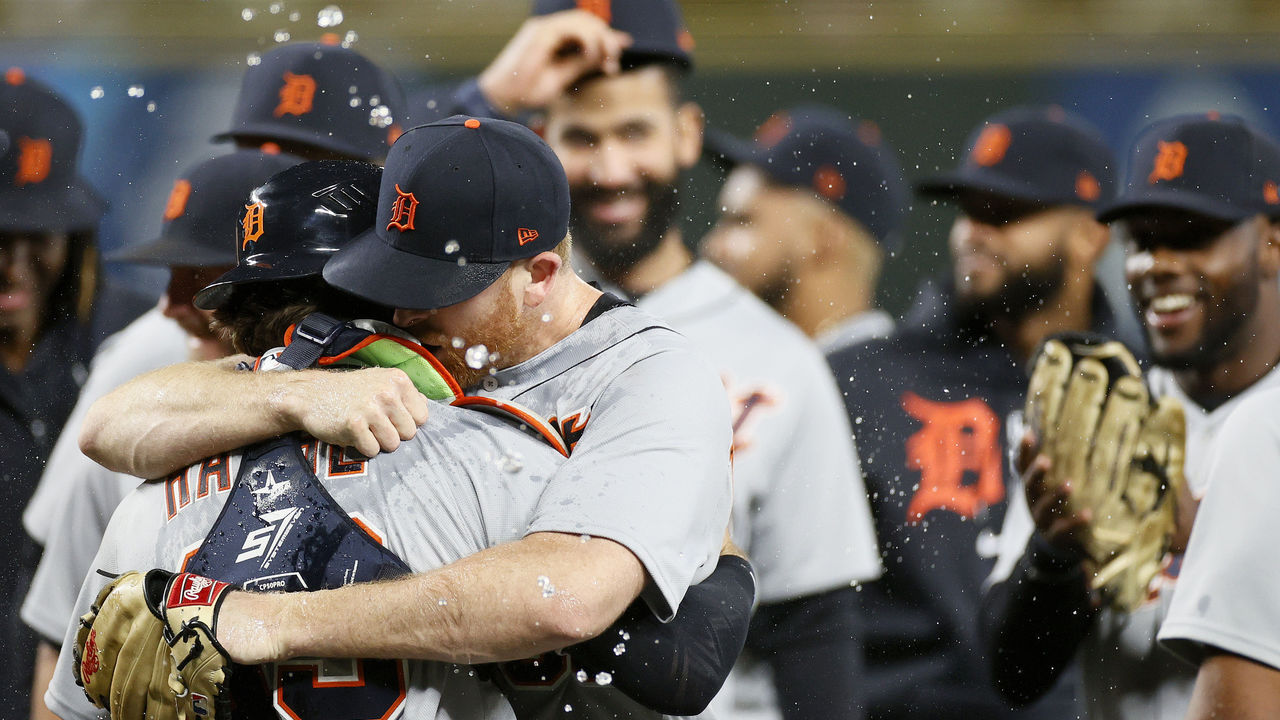 Varsho: It was the (Trent) Grisham at-bat to begin the ninth. Just knowing if he threw his cutter over the plate it was going to work. … (Grisham) fouled off a couple pitches that were pretty good. Tyler threw a cutter in the zone and just trusted that. He was either going to take it, swing at it, or put it in play. He took it and it was strike three.
Higashioka: I think the third at-bat versus (Joey) Gallo. We struck him out on a backdoor curveball. That was one of the pitches he really had going for him, the backdoor curveball. When we needed it, for him to paint it on the outside corner, it was unhittable. … Usually, I guess, if you are going for a strikeout you typically throw something that starts on the plate and breaks off. It was another example of him being one step ahead of a guy. We got two strikes, went 2-2, kind of got passive, and he drops in this perfect backdoor curveball right on the outside corner. Gallo just stared at it and couldn't do anything about it. That was my favorite sequence of the night.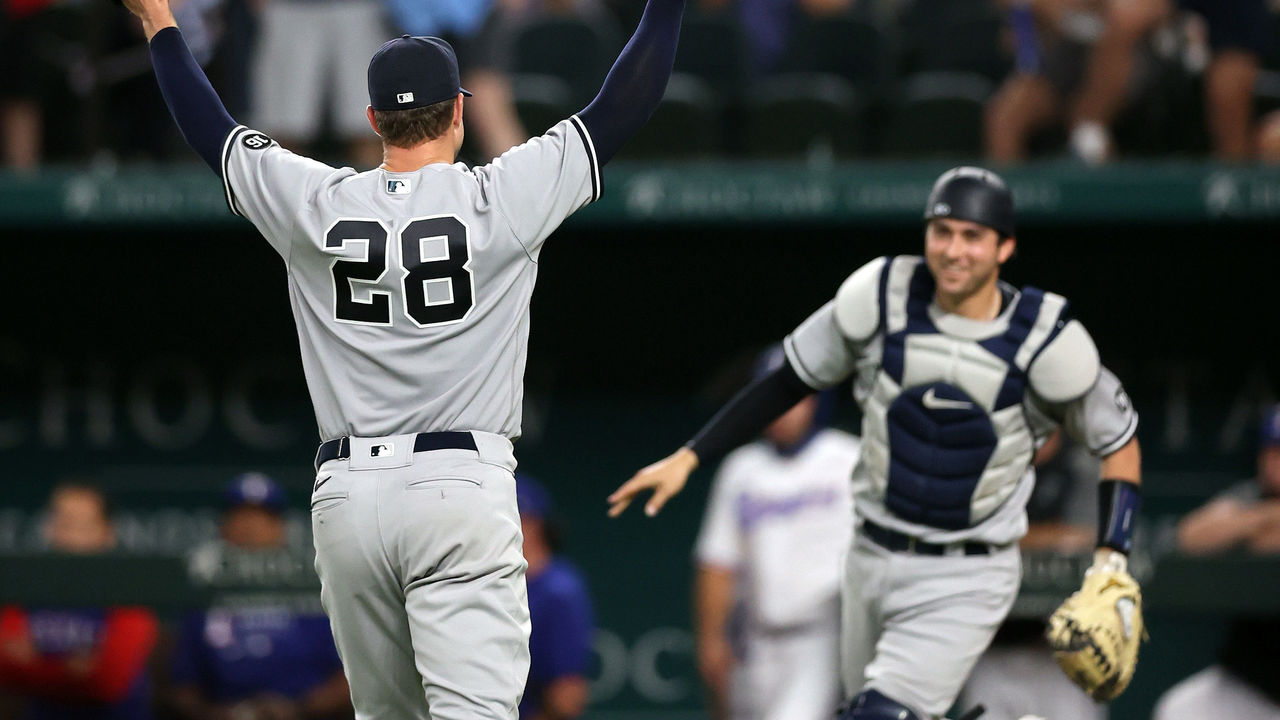 How many times were you shaken off?
Higashioka: (Kluber) actually did not shake me at all. I don't think he's a guy who shakes much.
Caratini: I think we were on the same page the entire game, just one or two pitches the entire game where we weren't. But I think that's why we threw a no-hitter.
Haase: When I'm out there putting down certain calls, he trusts me so he can go ahead and focus on trying to execute.
How did you celebrate? What was the postgame scene like?
Varsho: I ran out and gave him a huge hug. I came at him fast. It was just a special moment. It's going to be a thing I think about at the end of the year, just be able to relive that moment in my head and take it all in. Right now, it's still kind of a shock … In the clubhouse, we both were put in laundry carts (and showered with beer). It was a fun night. My sister was there. His whole family was there. In this lifestyle, to have his whole family there, that's such a cool thing. …
I just know he was ecstatic that it was me. We were both in Triple-A together this year, we're just grinding, we were minor leaguers, and you're able to get up and do something like that in the big leagues? It's a cool feeling. He felt the same, that it was sick that it was both of us. … I have four game-used balls. I am going to have Tyler sign one, stencil it with the date and what happened.
Higashioka: (Kluber) was actually really excited. He was yelling and I don't know if he was saying anything. He was really excited. Definitely the most emotion I have seen from him, but rightfully so. .. (In the clubhouse), they put us each in a laundry cart and showered us with beer.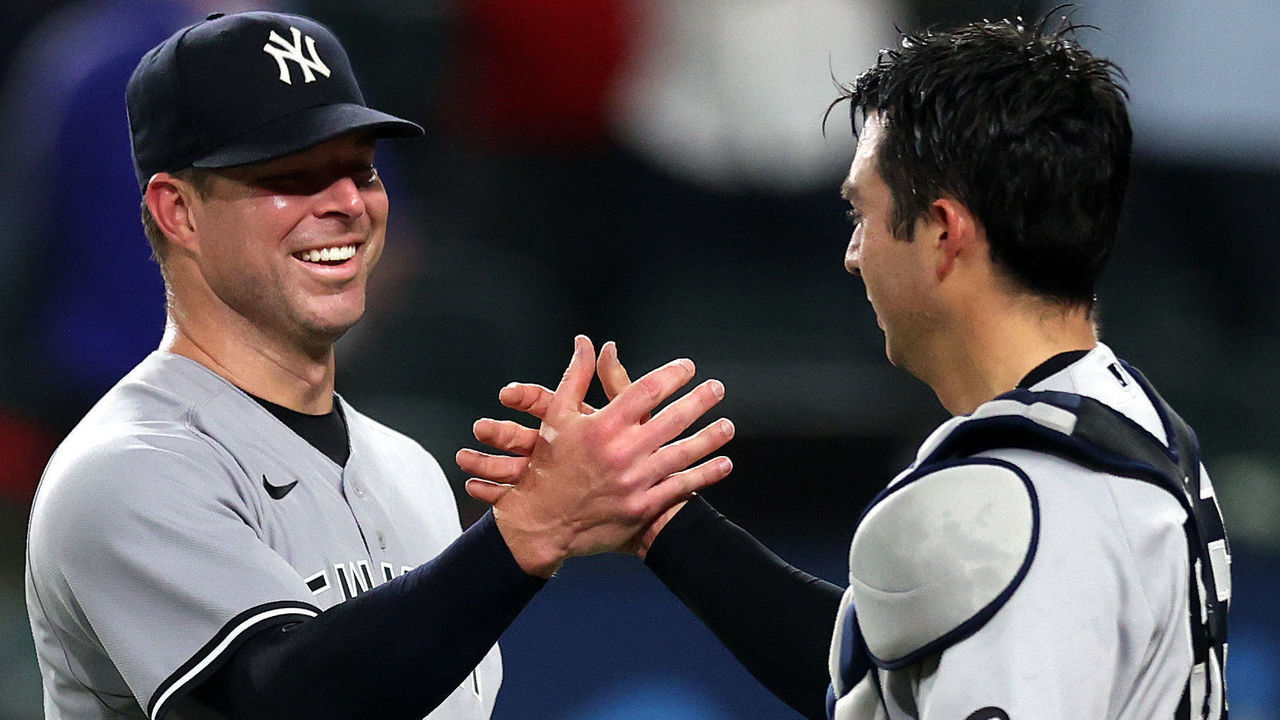 Haase: We are on the road, we are on the west coast. I woke up to getting blown up by friends and family, coaches along the way. (Cleveland coach) Sandy Alomar, who I did all my work with for the last eight, nine years (texted). It kinda felt like it happened the day after. A day earlier, before the game, my wife was texting, she was going to bed before the game started, that she got the kids down. …
(After the game) we stayed in the clubhouse for a while, so long I ended up ordering food. We were bouncing around, media (interviews), throwing alcohol at each other in the clubhouse. I just remember saying, "What just happened?" I don't even remember the next game. … (Turnbull) was ecstatic. He kept saying, "We did it! We did it! How awesome is this?" We made history, especially Tigers history.
Travis Sawchik is theScore's senior baseball writer.
Comments
✕
An oral history of 2021's no-hitters from the catchers' perspective
  Got something to say? Leave a comment below!