Ranking the top 25 MLB stars under 25
Major League Baseball is in a golden age of young talent. So we decided to draft the top 25 players under 25. Players are ranked on how their careers are projected to go over the next decade. Only players who've made their MLB debut were considered:
25. Jarred Kelenic, Mariners (age 21)
Kelenic has been heralded as the Seattle Mariners' savior, and it's easy to see why. The dynamic left-handed hitter is capable of beating a team in any number of ways. He's in Triple-A right now after struggling to hit in his first taste of the majors, but Kelenic will be back in the bigs before long.
24. Trevor Rogers, Marlins (23)
Rogers looks like the favorite to take home NL Rookie of the Year honors in 2021. The left-hander's 1.87 ERA through 14 starts is fourth-best in all of baseball. He's also top 20 in WHIP, opponents' batting average, and strikeouts.
23. Ian Anderson, Braves (23)
Anderson's six-outing rookie campaign and subsequent playoff performance last season shot him up the charts of MLB's rising stars, and he's continued his success this year. His 3.58 ERA is the best among Braves pitchers to make at least 10 starts, and his 1.5 fWAR and .224 opposing batting average are tops among Atlanta's qualified starters.
22. Casey Mize, Tigers (24)
Mize is a victim of the sky-high expectations that go along with being the first overall draft pick. His MLB tenure has been a mixed bag that includes a 4.43 ERA and 7.5 strikeouts per nine innings over his first 105 2/3 innings, but he's rattled off quality starts in eight of his last nine outings and seems to be finding his groove.
21. Trent Grisham, Padres (24)
Buried behind fellow San Diego Padres superstars Fernando Tatis Jr. and Manny Machado, Grisham doesn't get his share of the spotlight, but he's been quietly excellent. A regular leadoff hitter for San Diego during the past two seasons, Grisham gets on base at a better rate than Nick Castellanos, slugs better than Charlie Blackmon, and has a higher wRC+ than Kris Bryant.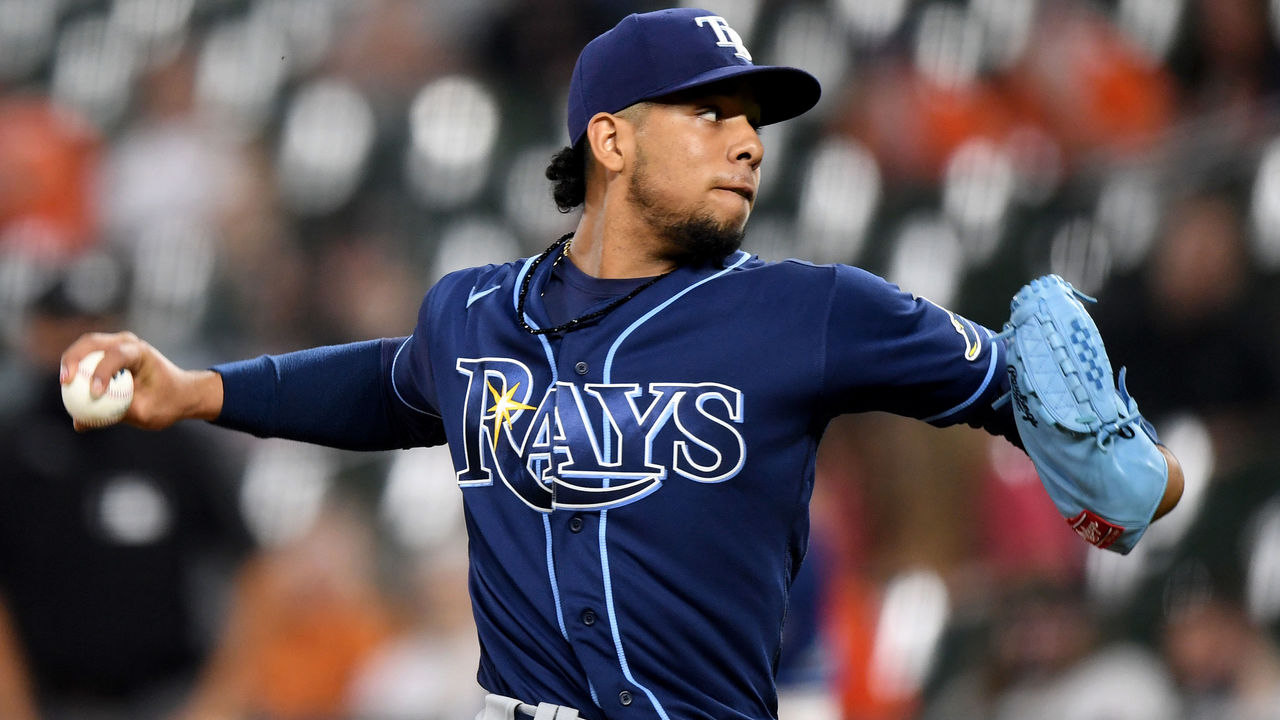 20. Luis Patino, Rays (21)
The crown jewel of the blockbuster that sent Blake Snell to the Padres, Patino is among the truly elite pitching prospects when it comes to strikeout ability. The right-hander amassed 279 strikeouts compared to 80 walks over 234 innings during his minor-league career. The swing-and-miss stuff has shown up at the major-league level, too, but the young stud is still ironing out some command issues.
19. Cristian Javier, Astros (24)
The rise of several homegrown starting pitchers has helped the Houston Astros mitigate the losses of Justin Verlander and Gerrit Cole. Javier, who owns a career 3.24 ERA, 1.02 WHIP, and 9.9 K/9 since debuting in 2020, might be the best of the group and is the youngest.
18. Austin Riley, Braves (24)
After two good, but not great, campaigns with the Braves, Riley has established himself as one of the league's best young talents. The 24-year-old is the NL's top-hitting third baseman by batting average and OPS, and he ranks among MLB's top 10 players at the hot corner in homers, runs, isolated power, and fWAR.
17. Gleyber Torres, Yankees (24)
He's gotten off to a slow start this year, so it might be easy to forget just how good Torres is. After all, this is a player who was a two-time All-Star before he turned 23. Torres remains an important part of the New York Yankees' present and future.
16. Dylan Carlson, Cardinals (22)
Carlson hasn't quite lived up to the hype he built during his torrid run through the minors, but he's shown improvement across the board in 2021 with a better walk rate and fewer strikeouts. His .347 OBP this season leads all St. Louis Cardinals hitters with at least 150 plate appearances, entrenching Carlson as a top-of-the-order bat.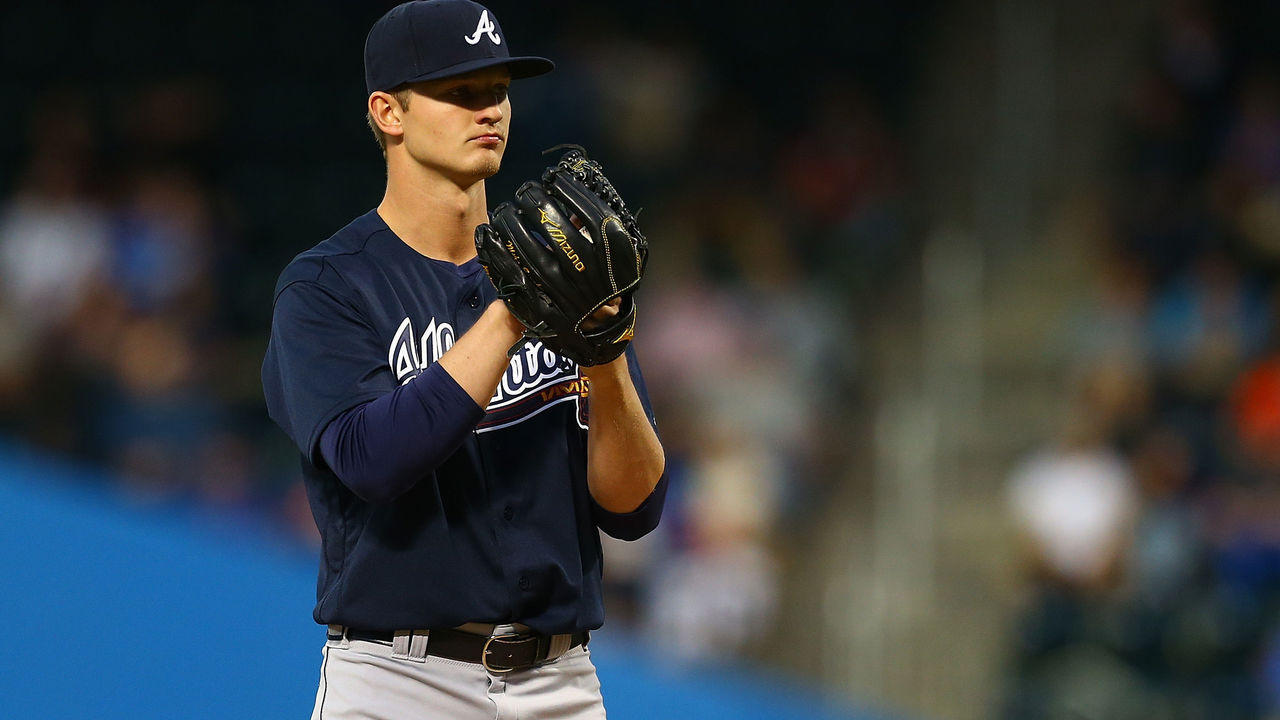 15. Mike Soroka, Braves (23)
Soroka hasn't pitched since rupturing his Achilles last summer. But before the injury, the 23-year-old was breaking out as an anchor of the Braves' rotation. He owns a 2.86 ERA over 27 career starts.
14. Kyle Tucker, Astros (24)
Tucker's emergence allowed Houston to move on from George Springer. The outfielder's slashing .268/.324/.513 with 26 homers, 96 RBIs, and 4.0 fWAR over his last 144 games dating back to 2019. He's already gone deep 13 times in 64 contests during his first full campaign in 2021.
13. Luis Robert, White Sox (23)
Robert was off to a fantastic start in 2021 before a hip injury derailed his campaign, but there's no overlooking his work thus far. In 81 big-league games, the 2020 AL Rookie of the Year runner-up owns a .765 OPS with 12 homers, 39 RBIs, and 13 steals. He also plays Gold Glove-caliber defense in center field.
12. Ozzie Albies, Braves (24)
Albies is still only 24 despite playing in his fifth MLB season. He's one of baseball's best defensive second basemen and has already been worth 12.5 fWAR.
11. Julio Urias, Dodgers (24)
Since 1984, only 11 pitchers have made their debut before turning 20. Of those, just Urias, Felix Hernandez, Dwight Gooden, and Jose Rijo tossed more than 40 innings before their 20th birthday. Now, he plays an integral starting role for a Los Angeles Dodgers club looking to repeat as champions.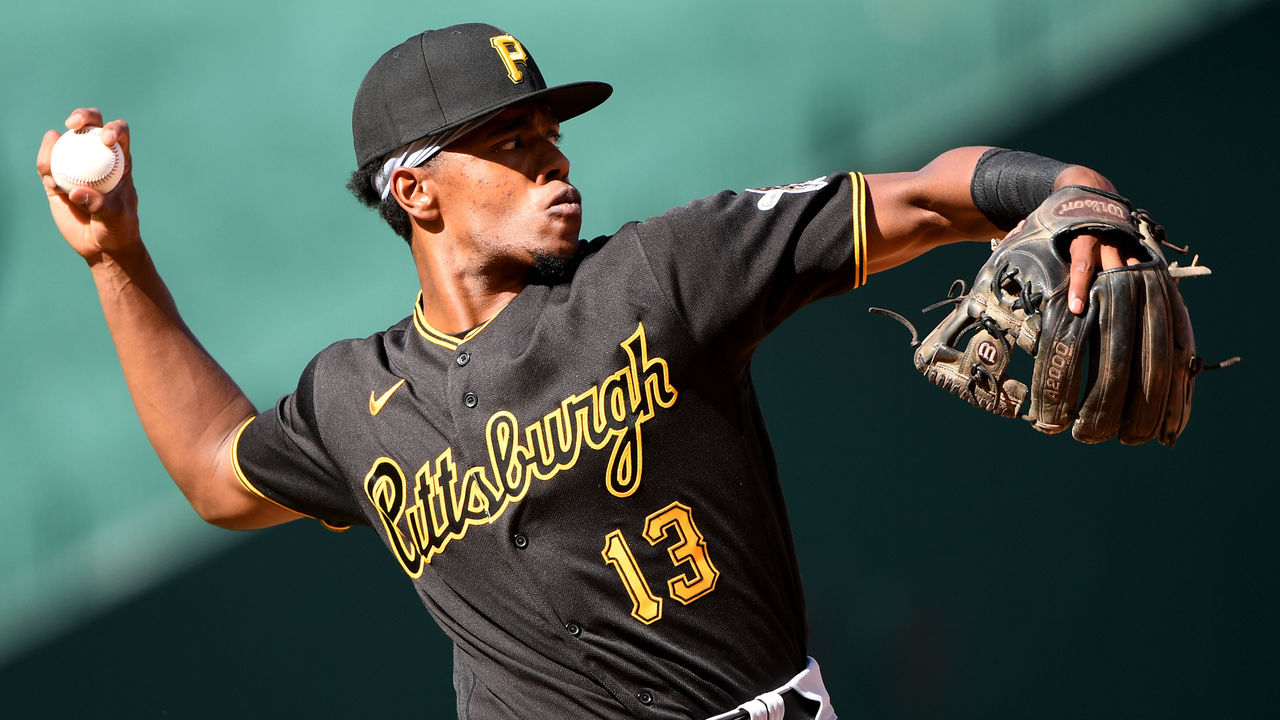 10. Ke'Bryan Hayes, Pirates (24)
Hayes is unequivocally the face of the Pittsburgh Pirates as they enter a rebuilding period. The third baseman has been a dynamo through his first 38 games, hitting .341/.409/.630 with eight homers and 26 runs scored. That would be 34 home runs and 117 runs over an entire season, which is almost identical to what Albert Pujols managed as a 22-year-old sophomore in 2002 when he finished runner-up for the NL MVP.
9. Yordan Alvarez, Astros (23)
The 2019 AL Rookie of the Year is back on track after playing only two games in 2020 due to injuries. He's slashing .302/.356/.509 this season for a potent Astros offense. The young slugger owns 37 round-trippers with 117 RBIs and a .986 OPS over 144 career games.
8. Jazz Chisholm, Marlins (23)
Chisholm has stood out during his sophomore campaign, ranking in the top 10 among NL second basemen in homers, RBIs, steals, wRC+, and fWAR while missing 23 games due to injuries. The Bahamian loves to hit the fastball, crushing homers off 100-mph offerings from Jacob deGrom and Jose Alvarado earlier this season.
7. Bo Bichette, Blue Jays (23)
Bichette may stand in the shadow of his megastar teammate, but the 23-year-old has done nothing but hit since his debut in 2019. He set a Toronto Blue Jays record with an 11-game hit streak to open his career and became the first player in MLB history to notch 15 extra-base hits in his first 15 games.
6. Eloy Jimenez, White Sox (24)
After he completely owned every level of the minors, the Chicago White Sox called up Jimenez in 2019. And though the outfielder has missed all of 2021 so far, you'd be hard-pressed to find a better pure slugger to build a team around, as he's mashed 45 dingers through his first 177 games. The only players ever to hit more homers through their first two years while playing fewer than 200 games are Aaron Judge (56) and Mark McGwire (52).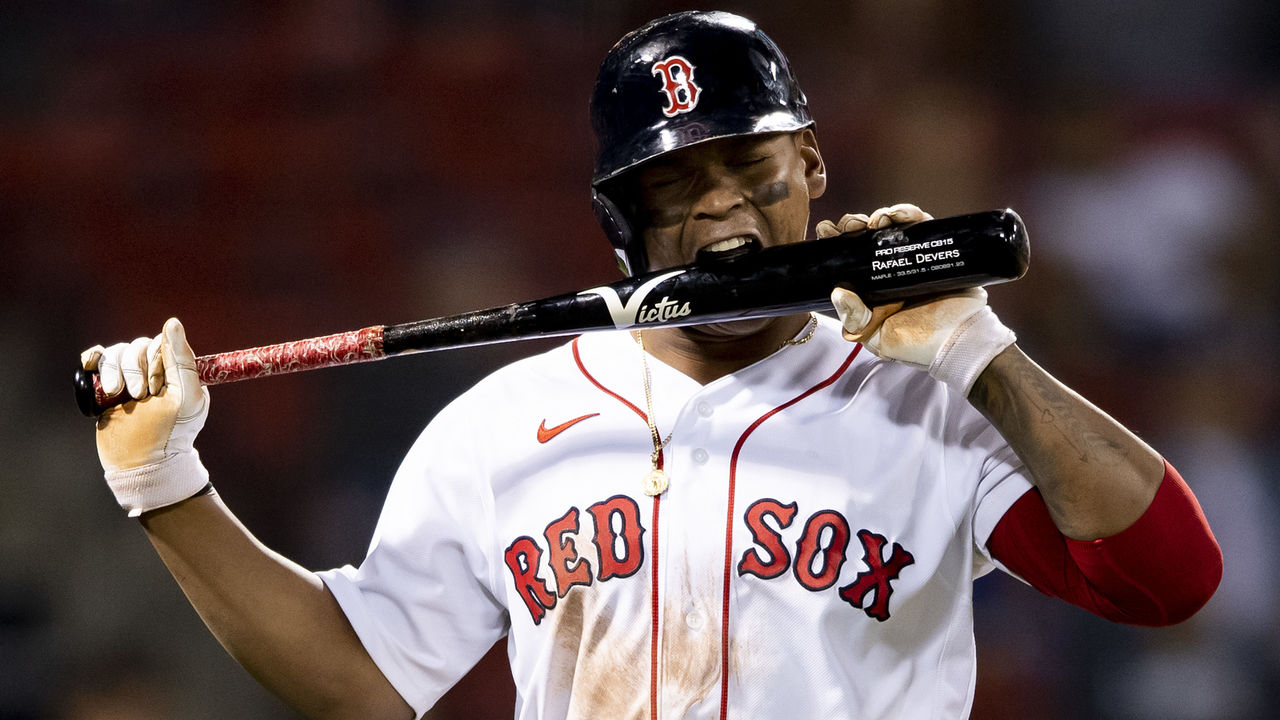 5. Rafael Devers, Red Sox (24)
It's almost hard to fathom that Devers is still only 24 years old, but when you become an elite major-leaguer at 20, people stop viewing you as the young up-and-comer. Since his sophomore slump in 2018, he's proven to be an elite hitter, racking up 59 homers and a 130 wRC+ over 278 games. That makes Devers and Alex Bregman the only third basemen over that span with more than 50 homers and at least a 130 wRC+.
4. Vladimir Guerrero Jr., Blue Jays (22)
Vladdy's been the best hitter in baseball this season, and it's not close. He leads the majors in almost every significant offensive category, including the Triple Crown race in the AL. What's even more impressive is that he's struck out (45) just four more times than he's walked (41). Based only on 2021, Guerrero would be the top player on this list, but those to come have been stars since entering the league, while it took him a few years to figure it out.
3. Ronald Acuna Jr., Braves (23)
Acuna has achieved so much already that it's easy to forget he's only 23. The Venezuelan sensation has won NL Rookie of the Year and two Silver Sluggers, and received MVP votes in three consecutive campaigns. If that isn't enough, the Braves outfielder is having his finest season yet in 2021. Acuna ranks among the top 10 in every offensive category that matters and has a good shot at becoming the first 40-40 player since Alfonso Soriano in 2006.
2. Fernando Tatis Jr., Padres (22)
Nando. El Nino. Slam Diego. Tatis is the new face of baseball - and MLB The Show - in an era when the sport needs it most. He's brash, he flips his bat with gusto, and he plays with a reckless abandon that makes him one of the most thrilling players to watch. And, like Acuna, he brings an increasingly rare five-tool skill set to the table. Through his first 196 games, he's hit 61 home runs and stolen 40 bases.
1. Juan Soto, Nationals (22)
Soto has been unfathomably great since stepping onto a major-league field as a teenager. Not even Mike Trout can say that. A lot has already been written about Soto's teenage stardom, but how has he fared since then? Well, here's the OPS+ leaderboard for every player with at least 300 games through their age-21 campaign:
| Player | GP | OPS+ |
| --- | --- | --- |
| Mike Trout | 336 | 166 |
| Jimmie Foxx | 354 | 157 |
| Rogers Hornsby | 302 | 155 |
| Juan Soto | 313 | 153 |
That's Trout, two inner-circle Hall of Famers from the pre-integration era, and then Soto. If Soto, who turns 23 in October, merely continues to be this good, he's already on pace to get a call from Cooperstown. If he dares to get better? Look out.
Comments
✕
Ranking the top 25 MLB stars under 25
  Got something to say? Leave a comment below!