Winners, losers, takeaways from Day 1 of 2021 MLB Draft
Sean M. Haffey / Getty Images Sport / Getty
An MLB draft expected to be loaded with surprises and deemed impossible to project exceeded expectations on Sunday, with Day 1 featuring plenty of chaos.
While there are still many picks to come as the Home Run Derby and All-Star Game take center stage, the top-tier names have found new homes and the dust is settling on an event unlike any of its predecessors.
MLB's most watchable draft ever
For the first time, the event was held in conjunction with All-Star week, and it was unquestionably a huge success.
The MLB draft will never be a marquee event and will never have the draw of its NFL or NBA counterparts. Even the best players are normally years away from making an impact at the major-league level.
However, kudos to MLB for finally setting aside time for an event that highlights the potential future of the sport. An offseason draft might be preferred by some, but the high school and college seasons are too much of a logistical obstacle to make that work. Consider this a colossal step in the right direction, as this year's event was held in Colorado with fans in attendance, well after the College World Series so more prospects could attend, and without any actual games going on at the same time.
Prep shortstops not it?
In a draft billed for its top-tier shortstop talent at the high school level, only two were selected in the top 10. That doesn't necessarily mean these players are worse than originally expected, but it is interesting to see how many teams stuck with their game plans despite certain players plummeting down the board.
Is this perhaps an indictment on how high the ceilings of Jordan Lawlar (6th to the Diamondbacks), Brady House (11th to the Nationals), and Khalil Watson (16th to the Marlins) actually are? Or were evaluators simply underestimating how complete Jackson Jobe - a prep pitcher with a refined repertoire - or Colton Cowser - a versatile fielder with great pop - are? Time will tell.
Winners
Boston Red Sox
Speaking of those prep shortstops, landing Mayer at four feels wrong. Tabbed to go as high as first, Mayer is arguably the most complete of the high school class and could be headed for superstardom.
Early on, it seemed like everything was going wrong for the Red Sox. The rumor mill had them tied heavily to Jack Leiter, who went second to the Texas Rangers. And, to top it off, their perceived fallback plan of Henry Davis went first overall to the Pittsburgh Pirates. Thanks to the Detroit Tigers taking Jobe, Mayer fell right into their lap.
Following a year where the Red Sox went way off board by taking Nick Yorke in the first round, it was nice to see them take the best player available. And while the debate between him and Lawlar will rage on for years, Boston certainly didn't botch this pick.
New York Mets
Somehow, the Mets had arguably the best player of the draft waiting for them at 10th overall. Nine teams passed on Vanderbilt co-ace Kumar Rocker and, while no prospect in the MLB draft is a sure thing by any means, that feels beyond egregious.
Rocker's name getting called early has felt like an eventuality since his high school days. He was a power arm with a deep arsenal who made opposing hitters look, well, like the toddlers they were compared to his 6-foot-5 stature.
Then, in his NCAA career, the right-hander never really faltered. Right from his freshman year, Rocker showed his stuff would play immediately. As he started working outside the zone a bit more, the Mets recruit traded slightly more walks for far fewer hits and even more strikeouts.
Rocker certainly isn't a lock to become an ace, but the floor is incredibly tantalizing, and, while he'll still need to develop, there's a chance he plays a role with the big club as soon as this year - perhaps in the same way Brandon Finnegan did for the 2014 AL pennant-winning Kansas City Royals.
Losers
Los Angeles Angels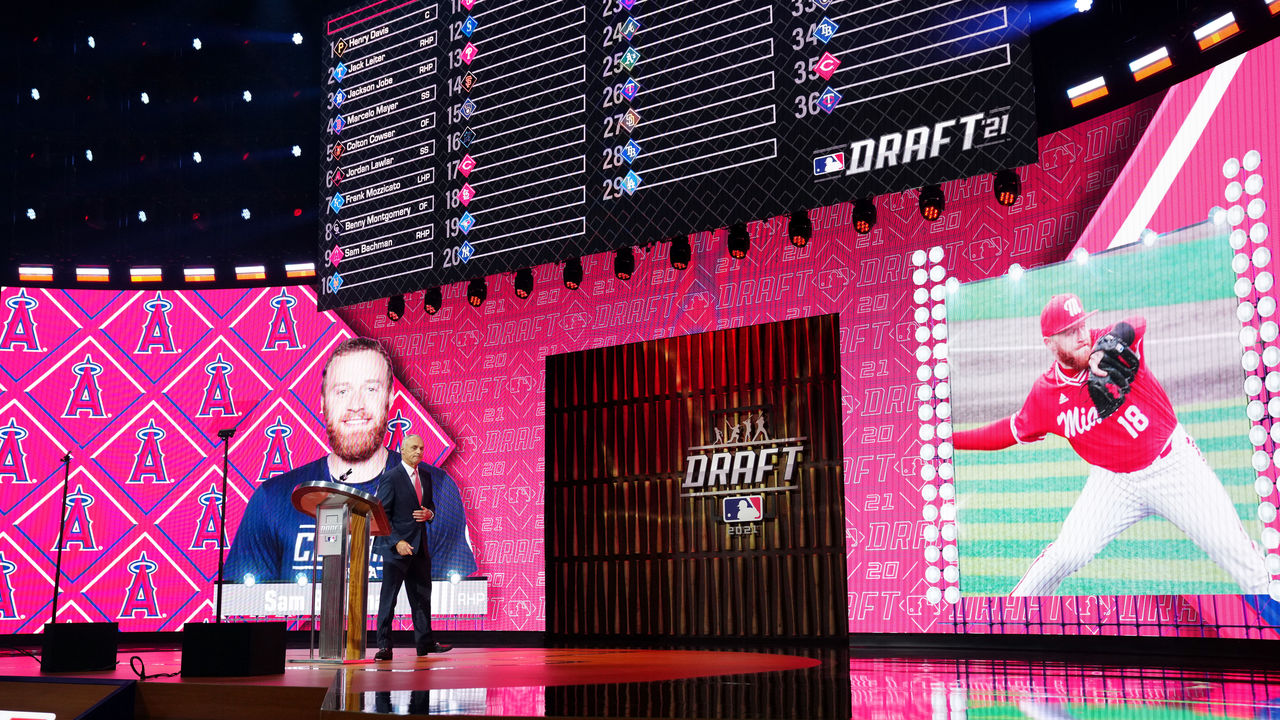 On the topic of Rocker, why didn't the Angels take him? Almost every team before the Mets have a plausible excuse for avoiding the hurler (though the Royals' selection of prep lefty Frank Mozzicato is a bit of a head-scratcher), but not the Halos.
Sam Bachman, the pitcher L.A. went with at ninth overall, is also quite good, striking out a whopping 93 hitters over 59 2/3 innings as a junior this past year. The problem is, he's been held to 159 innings over the past three seasons total and had a WHIP higher than 1.30 and ERA higher than 3.40 over the last two.
Meanwhile, Rocker has thrown 77 more innings against better competition, never had an ERA over 3.30, and never had a WHIP higher than 1.10. MLB teams don't and shouldn't draft for immediate need, but a pitcher who could help the major-league team in relatively short order was within their grasps, and they let the Mets get him instead.
Ty Madden
Seen by most as a college arm just barely beneath Leiter and Rocker, Madden plummeted all the way to the competitive balance round. And, while falling down the draft usually at least comes with the added bonus that you'll be going to a more exciting team, with due respect to the Tigers, that didn't even happen.
Some credit is due to the Detroit front office, though. By taking Jobe early on what will presumably be an under slot deal, the Tigers were able to react when Madden fell to them later, unlike other teams with shallower bonus pools.
Instead of going right after Leiter and Rocker, Madden wound up being the 10th college arm off the board. Perhaps this becomes motivation, as he now joins a Tigers system teeming with elite arms.
Comments
✕
Winners, losers, takeaways from Day 1 of 2021 MLB Draft
  Got something to say? Leave a comment below!