For so long, first base was where teams parked their top sluggers. Historically, it's been the best hitting position on the field, often with a dedicated player to fill the corner spot. But as the careers of some likely Hall of Fame players near an end, and as the nature of the position and the game both change, is the prototypical, iconic slugging first baseman an endangered species?
Thus far this season, first base production is nearly at an all-time low. Through Sunday, MLB first basemen had combined for a weighted runs created plus (wRC+) mark of 99. If that holds, it will be their worst collective performance since 1948 and the third-worst of all time. The metric is useful for this sort of evaluation because it adjusts for ballpark factors and run-scoring environments, allowing one to compare the relative strength of a position from year to year and era to era. A wRC+ mark of 100 represents a league-average offensive performance.
Since 2018, the position has endured one of the softer periods in its history. First basemen have averaged a 113 wRC+ since the DH came into play, tops in the game. But after sitting in the 110 range for most of the 21st century, first base production dipped to a 105 wRC+ in 2018 and 2019, finished at 108 in last year's short season, and stood at 99 after Sunday's games.
At a time when the game has never needed offense more - MLB's batting average sits a woeful .234 - first basemen were hitting .228 and slugging under .400 through Sunday. Where did the sluggers go?
Longtime stalwarts at the position, such as Miguel Cabrera, Joey Votto, and Albert Pujols - whom the L.A. Angels released last week - are nearing the end of their respective careers. It's not clear who might form the position's next group of sluggers; catcher is the only position-player group to get fewer wins above replacement from players 25 and younger this season. Freddie Freeman remains the top star at the position, but he'll be 32 in September. Paul Goldschmidt turns 34 that same month. Vladimir Guerrero Jr. looks like he could be an elite talent for years - but will he remain at first base? Guerrero and Texas Rangers first baseman Nate Lowe are the only 25-or-younger players excelling as batters at the position. The Angels' Jared Walsh is hitting well, but he's already 27.
Not only does MLB seem to have a talent shortage at first base, but clubs are also using the position differently - and valuing it less.
In the last three free-agent classes, Carlos Santana and Daniel Murphy were the only first basemen to receive more than a one-year deal, according to Spotrac, and each only signed for two years.
Clubs are also spending less draft capital on the position. There was just one first baseman selected in last year's abbreviated draft: University of North Carolina product Aaron Sabato, who went 27th overall to the Minnesota Twins. Just three first basemen were top-100 picks in 2019, and the same was true in 2018. Three first basemen were selected in the first round in 2017, but two of them - Keston Hiura and Evan White - have struggled mightily in their brief major-league time.
Of course, players can always slide down the defensive spectrum like many stars have - including Cabrera and Pujols, who debuted as third basemen. But there's been a lack of direct investment in the position in recent years.
That lack of investment might be taking its toll.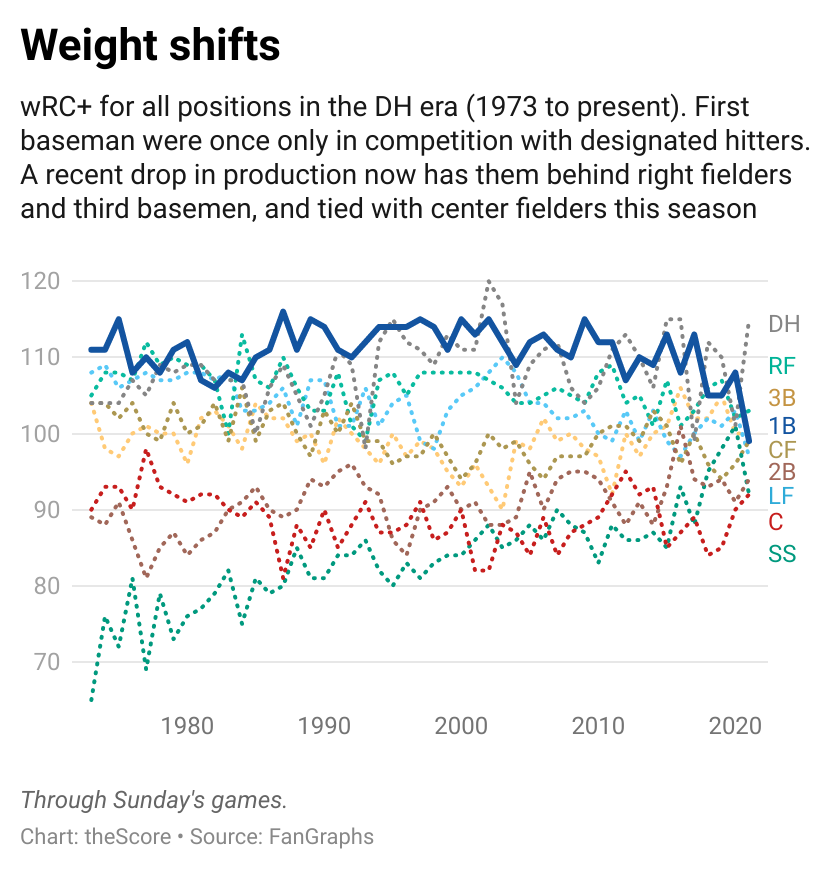 Shortstop, a once-traditionally weak-hitting position, continues to close the gap. In the 1970s, shortstops averaged a 73 wRC+ through the decade, while first basemen combined for a 112 mark. Since 2010, shortstops have posted a 90 wRC+, while first basemen are at 108. Most positions are moving toward league-average hitting in a convergence of offensive productivity, and the gap between the best and worst hitting positions is shrinking. (Pitchers are the exception as they continue to decline in relative performance.) That makes some sense; with fewer balls put in play due to record strikeout levels, teams can trade glove for bat at most positions. The relative offensive bar is then raised for first basemen.
Some teams are simply struggling to find anyone to play first base.
The Cleveland Indians' first basemen have produced a .173/.239/.240 slash line and a 34 wRC+. Should that wRC+ stand, it will be the worst team performance at first base in major-league history. The Detroit Tigers' first basemen have combined for a 50 wRC+, and White's struggles in Seattle have staked the Mariners to a wRC+ mark of 58. Cleveland, Detroit, and Seattle first basemen have hit like early 20th-century pitchers - before pitchers fell into negative wRC+ territory for good in the 1980s.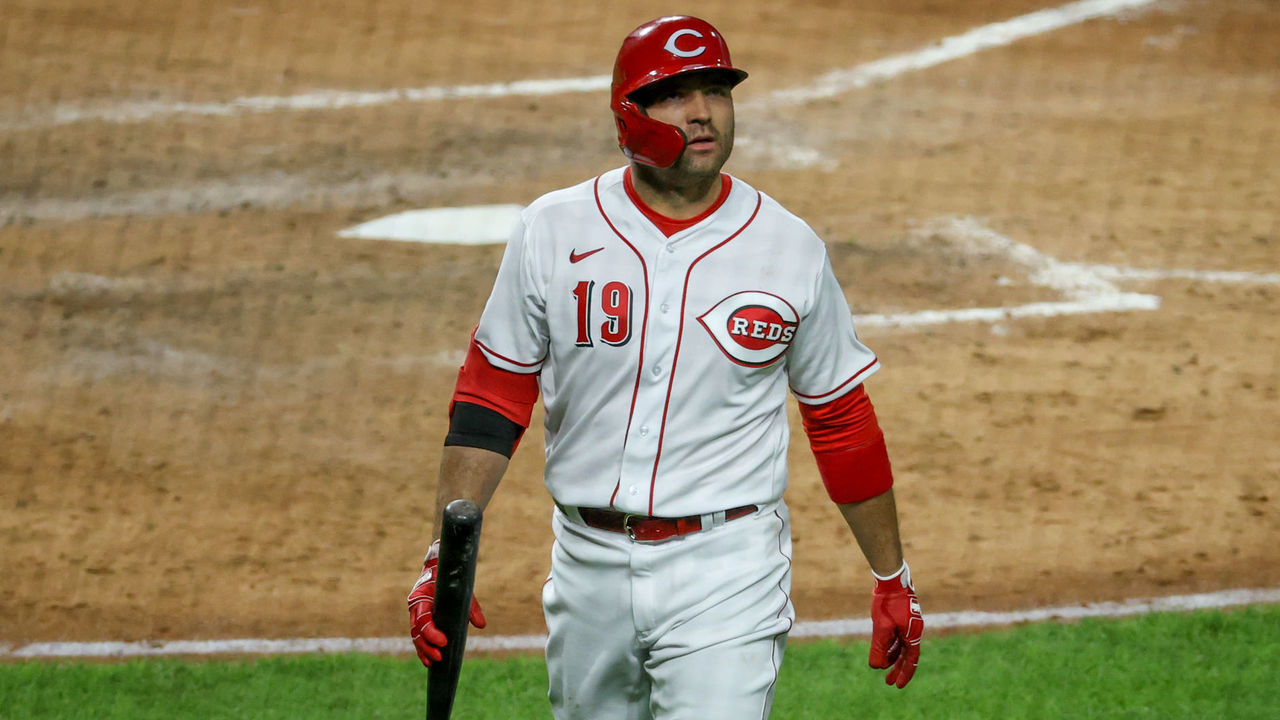 Some teams are also treating first base as a utility spot.
In the modern game, roster flexibility is king as teams try to jam their rosters with as many arms as possible. A record number of players played at least one game at first base over the six seasons before the shortened 2020 campaign, according to Baseball-Reference.com, while 2018 and 2019 were the first two seasons in which fewer than 20% of players played 75% of their games there. This year, 101 players have already logged time at first - more than three per team.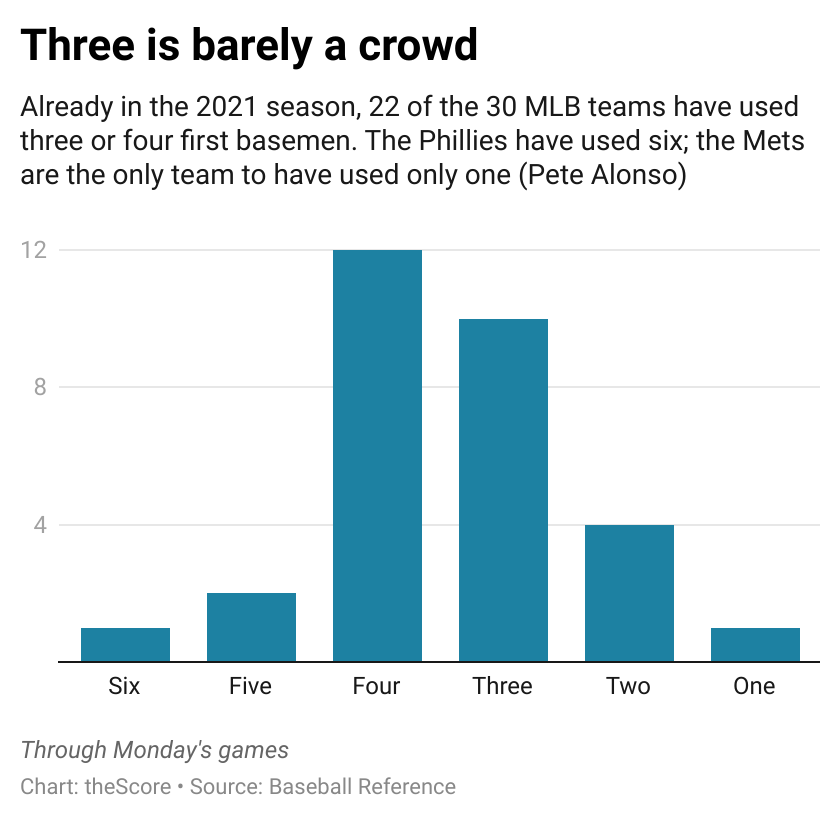 It's possible this year's offensive outage is just a blip on the radar, that more stars will soon emerge at the position, just as Pujols, Votto, and Cabrera did in the early 2000s. But the game and position are changing, the demands are different, and the iconic first base slugger might soon be the outlier rather than the norm.
Travis Sawchik is theScore's senior baseball writer.