Joy and the San Diego Padres rarely converged during Ryan Cohen's youth, so eventually, he tried to spark the feeling himself. The 20-year-old UC Davis communications student cheers for the most prolific loser in MLB history. This is a franchise that has managed 15 winning records in 52 years and reached all of six postseasons. The Padres stand alone for never having tossed a big-league no-hitter (while winding up on the wrong end of 10). They've crushed more souls in San Diego than baseballs.
Cohen grew up north of town, loving the team anyway and accepting tickets from friends that sometimes enabled them, pre-pandemic, to sit wherever they wanted at Petco Park. You should know that Cohen likes to dance: alone at home, in the car, in the idle time between at-bats. A few years ago, as the lineup on the field scuffled to 90-plus losses, Cohen's theatrics kept popping up on the Petco videoboard, making him a minor celebrity.
Haters said he danced for the attention, but Cohen was at the park because he yearned for the Padres to be respectable - to contend for the first time since a rare charge to the National League pennant in 1998, before he was born. Last summer, they obliged. COVID-19 kept spectators out of Petco, but people in Padres shirts thronged at beaches ahead of night games, buzzing about Mike Clevinger's upcoming start or the Manny Machado and Fernando Tatis Jr. highlights that MLB spread everywhere on social media.
The club made the playoffs, and it felt like a reward for smiling through the hardship - for those years when a Matt Kemp jersey was Cohen's apparel of choice.
"I got excited for the 2017 Padres (team) that had Erick Aybar running out to shortstop," Cohen said recently, recalling the infielder whose OPS+ topped out at 73 in his final big-league season.
"Now I get to watch Tatis and Machado," he said. "It's unbelievable."
Seriously, it's hard to fathom: The San Diego Padres now stage baseball's most exciting show? Their shot to dethrone the Los Angeles Dodgers is as good as anyone's in the NL? Consider their woebegone history for another minute: Only twice have the Padres finished a season above .600. Their all-time win percentage is .461, a tick behind the Miami Marlins and last among MLB's 30 teams. They enter 2021 the owner of more 100-loss seasons (five) than playoff series victories (four).
Wait 52 years and sometimes a club's fortunes change on a dime. The Padres bombed 95 home runs in 2020's short season, four of them grand slams in consecutive games. Owning last year's trade deadline wasn't sufficient for the front office; San Diego's big swings headlined this offseason, too. The Padres will play on ESPN's Sunday Night Baseball on April 25 and May 16, their first appearances in the showcase slot since 2009.
The '21 Padres are electrifying, a just reward for shelling out $161.8 million in payroll. No one's more compelling than Tatis, the 22-year-old shortstop in neon shades who is MLB The Show's current cover star - and who'll earn $340 million to flip bats in brown and gold, the Padres' original color scheme, through 2035.
"It's surreal. It's really weird. Every day I open Instagram and see the Padres on MLB's feed again," Cohen said. "I'll watch Tatis highlights in the offseason and just go: 'Wow. That guy's really on the team that I've been rooting for my whole life.'"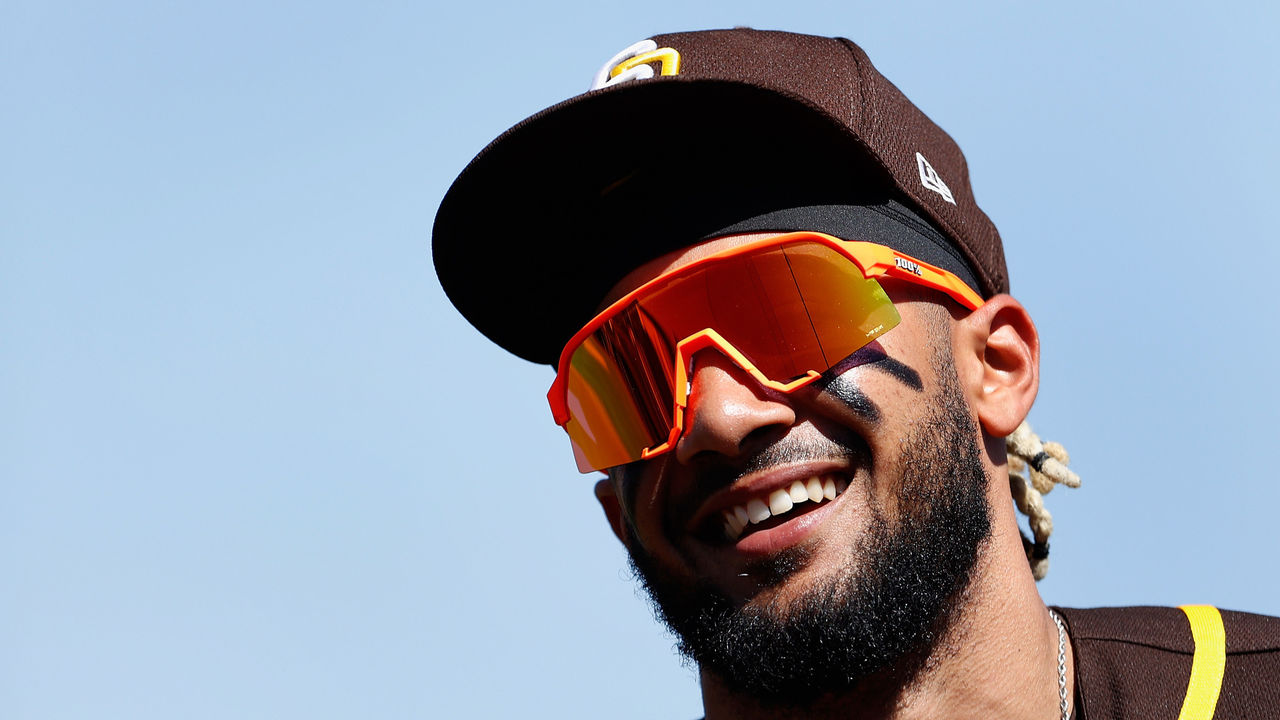 He's far from the only draw, as Tatis emphasized in February when his 14-year contract extension was announced. "We have big dogs in the room," he said, referring to the incumbent core and general manager A.J. Preller's starry acquisitions. Those included Cy Young runner-up Yu Darvish, San Diego's Opening Day starter, and Blake Snell, once a Cy Young winner himself. Out went Clevinger (Tommy John surgery), Trevor Rosenthal (free agency), and Kirby Yates (both); Preller replaced them with Joe Musgrove, Keone Kela, and Mark Melancon.
Bereft of glaring weaknesses, the Padres might boast MLB's deepest rotation - Chris Paddack and Dinelson Lamet are in the fold, too - and the best infield, that being Tatis, Machado, Eric Hosmer, and Rookie of the Year finalist Jake Cronenworth. Wil Myers' OPS was .959 last season, a team and (by some margin) career high. Gold Glove center fielder Trent Grisham was second in the majors in defensive runs saved, per FanGraphs, and he compiled an .808 OPS to boot.
Preller also landed Ha-seong Kim, a regular .300 hitter and Gold Glove infielder in South Korea. It's little wonder that, near the start of spring training, Hosmer told reporters that watching the GM work this winter was a blast.
"Especially where the game's at now, being part of a team that's doing whatever they can to go out and win a World Series, to win a world championship, is extremely motivating as a player," Hosmer said. "You really feel there's no excuses but to be ready for this opportunity."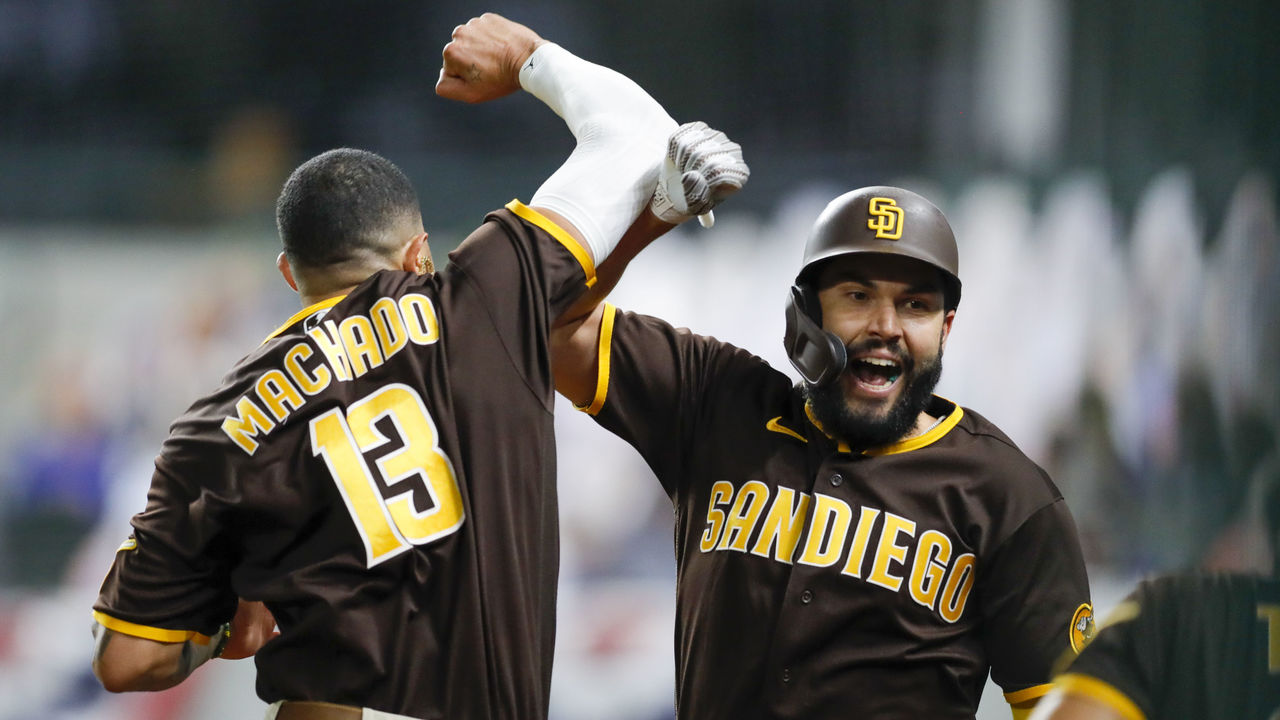 Even by their own spotty standards, the Padres are well overdue for a World Series run. The franchise's most beloved Hall of Famer, the late right fielder Tony Gwynn, starred for both of San Diego's NL champions: the 1984 Padres, whose stirring comeback from a 2-0 deficit in the best-of-five NLCS bounced the Chicago Cubs, and the 1998 team that upset two 100-win opponents. San Diego lost handily in each subsequent World Series and has endured another 22 years without a playoff series win.
At seven seasons, Myers is San Diego's longest-tenured player, the rare Padre who was around before Machado signed for $300 million in 2019. He bagged 15 homers last summer, Machado and Tatis territory, and early in 2021 spring training, he said this is the best team he's been on. The difference is attitudinal. Last year's Padres legged out triples, led MLB in stolen bases, defied the unwritten rules by raking on 3-0 (at least Tatis did), and beat the St. Louis Cardinals in the wild-card round.
Now they expect to do all that and more.
"It's not hopeful this year," Myers told reporters. "It's more of a matter of fact that we're good."
Best case, San Diego has the manpower to test the Dodgers in the NL West these next six months, and maybe to unseat them come October. That 2020's eventual champs swept the Padres in the NLDS barely dimmed their newfound glow, though as Hosmer said by way of summing up the defeat, everybody in the clubhouse at Texas' Globe Life Field "felt that pain."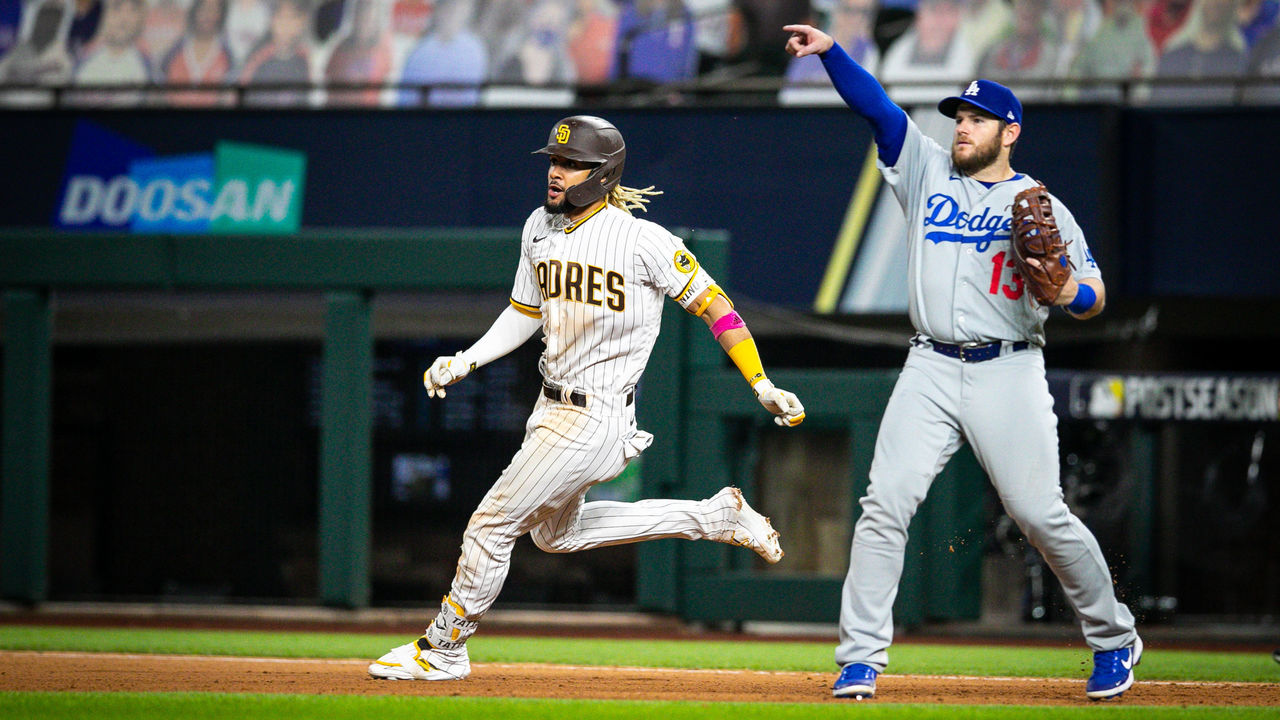 Midway through the series, Machado and L.A. pitcher Brusdal Graterol objected to each other's in-game celebrations by pointing fingers, blowing kisses, and trading profane barbs. These teams' 19 matchups this season might get spicy. Cohen sure wouldn't mind, stressing that Dodgers fans long have regarded the Padres as a little brother. Competing for banners is that much sweeter when it relieves a pent-up grievance.
"I know I should only care about the Padres. I shouldn't worry about other teams. But I think internally, I won't be satisfied unless the Padres go farther than the Dodgers," Cohen said.
"And (reach) the ultimate goal," he added, "which is of course winning the World Series."
For as long as the Dodgers rule the NL West, L.A. will remain its state's de facto baseball capital. But the game's roots in California can be traced to San Diego. In an interview, local historian Bill Swank recounted the pioneering influence of Azariah Smith, a private in the 1840s Mormon Battalion that marched from Iowa to man the U.S. border during the Mexican-American War. Grunt work and leisure pursuits kept the battalion busy in San Diego, as Smith once wrote in his diary: "We play ball and amuse ourselves the best way we can."
San Diego is the place that raised Ted Williams, and its populace can watch baseball or toss a ball outside year-round. Yet to start the 20th century, the pro game's foothold in the city was tenuous, Swank said. Train travel north to road matchups was slow and expensive, multiple minor-league teams folded within a year, and one disillusioned owner predicted that no San Diego pro club would ever last. He was proved wrong in 1936, when a Pacific Coast League franchise uprooted from Hollywood and recruited Williams to play left field.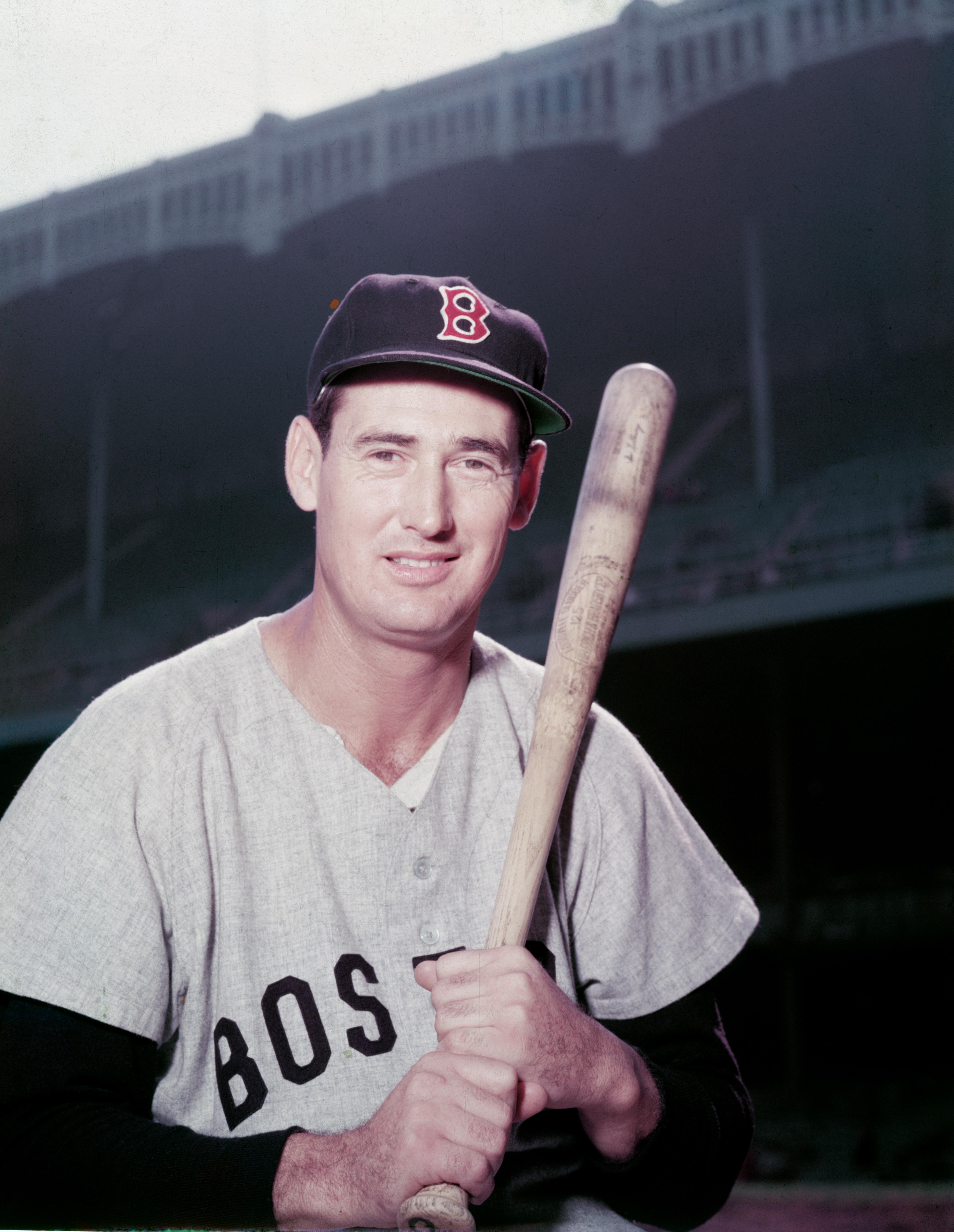 This Double-A (and later Triple-A) club was the original San Diego Padres, and it counted as faithful fans plenty of World War II-era sailors who flocked to the team's waterfront field for the cheap beer. The PCL Padres won three league titles in the 1960s before they ceded town to the major-league club, which never reached equivalent heights or garnered much favorable recognition. When Swank traveled to Chicago to take in the 1984 NLCS, some locals looked at his Padres ballcap and mistook him for a South Dakotan.
"The Cubs, they waited forever (to win a World Series). The Red Sox waited forever. The Cubs were considered lovable losers. People felt sorry for their fans," Swank said. "I don't know that the baseball world was feeling sorry for the Padres fans, because they didn't even know that the Padres existed."
Things are different now, and so much of that is thanks to Tatis. When the Padres unveiled his extension in February, Preller said his front office pitched the mega-deal to Tatis as a "statue contract," the point being that his bronzed likeness someday could reside at Petco Park next to those of Gwynn and Trevor Hoffman. Tatis shouted out the fan base for showing him immediate and abiding love and voiced his personal mission statement: "I'm all about winning, and I'm all about winning in San Diego."
Music to Cohen's ears. Just 143 games into Tatis' career, it's not as if the superfan would rate him on par with Barry Bonds or Mike Trout, but he is the most entertaining player Cohen's seen, the picture of joy who flips bats in throwback Padres brown. Cohen points out that this franchise's last great shortstop, Ozzie Smith, was traded to the St. Louis Cardinals four years into his career, right before he blossomed into a perennial All-Star.
Now comes the chance, with the core locked in and top prospects like pitcher MacKenzie Gore rising, to shed that baggage and chart a radically divergent future - and maybe even to topple L.A. The Dodgers outscored the Padres 23-9 in the NLDS last fall, a trouncing that prompted the additions of Darvish and Snell. The reigning champs remain loaded. But as Hosmer noted during spring training, it's rare a player can say his club is a legit contender, and the Padres undeniably - finally - have that potential.
"It feels like (the Padres) better get in the playoffs in 2021, for sure," Cohen said. "They'd better do well. But this is just the start. This is just the beginning. Hopefully the beginning of 14 more years: Tatis is 35 and still winning MVPs.
"It's just exciting to know that there's this much hype around a team that hasn't even done anything yet. I know San Diego's going to go nuts when they do cross that line and get there."
Nick Faris is a features writer at theScore.