With spring training set to wrap up, we review the best player on each team from the exhibition schedule.
Arizona Diamondbacks, Christian Walker: Walker could be primed for a big season. The 29-year-old slugger has 14 hits in 45 at-bats, including four homers. The first baseman is just one season removed from a 2019 campaign that saw him go deep 29 times with a .825 OPS.
Atlanta Braves, Ehire Adrianza: The 31-year-old utility man will start the season on the Braves' bench after joining the team on a minor-league contract. The eight-year veteran has 16 hits in 37 at-bats, resulting in a .432/.523/.757 slash line. He also added two homers and leads the club with 12 RBIs.
Baltimore Orioles, Austin Hays: Hays has a team-best 19 hits over 17 games. The outfielder owns a .388 batting average this spring after slashing .272/.320/.424 in 74 career contests for the Orioles between 2017-20. The 25-year-old's ascent gives Baltimore another young bat to pair with Ryan Mountcastle.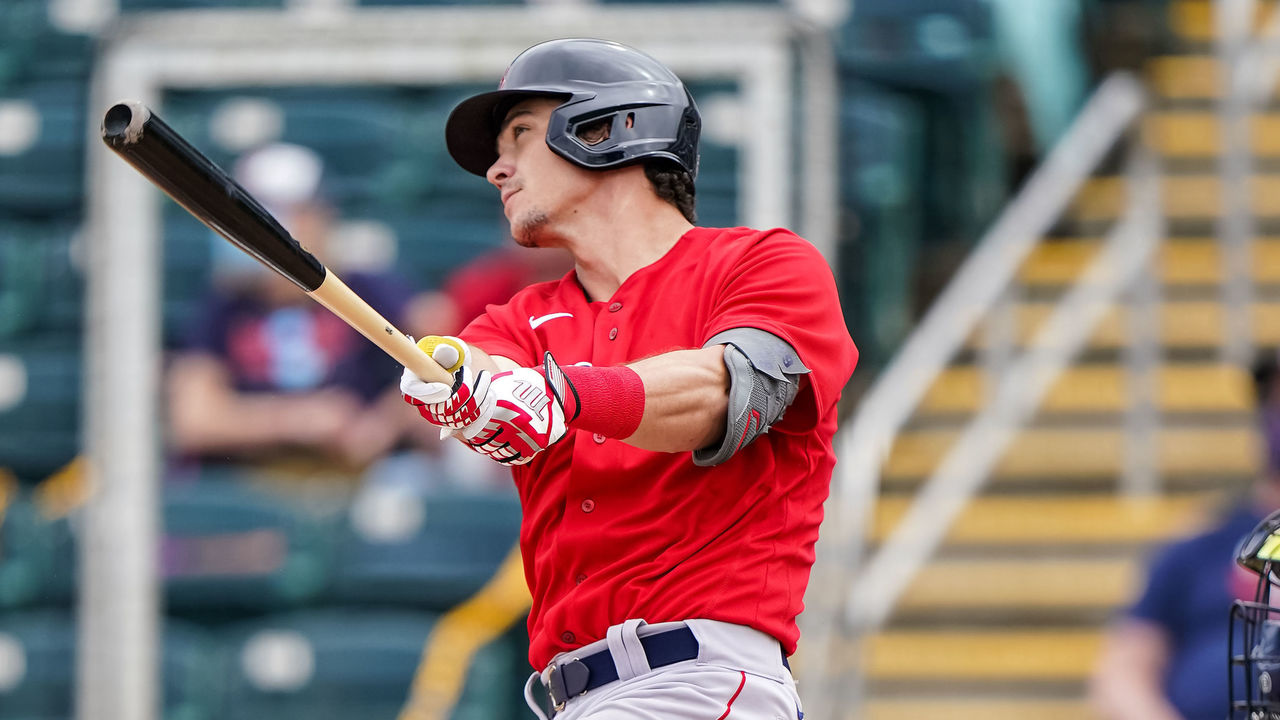 Boston Red Sox, Bobby Dalbec: The rookie led the team with seven homers. The 25-year-old also put up a 1.214 OPS over 18 games. Dalbec picked up right where he left off after going deep eight times in 23 regular-season contests for the Red Sox in 2020.
Chicago Cubs, Joc Pederson: The slugging outfielder owns an MLB-best eight round-trippers and 17 RBIs in 17 games. Pederson, 28, joined the Cubs on a one-year deal after posting a .806 OPS over seven years with the Dodgers.
Chicago White Sox, Andrew Vaughn: The White Sox were raving about Vaughn even before he hit the lights out in spring training. He owns a .834 OPS with six extra-base hits and eight walks across 59 at-bats. It was already proving difficult for Chicago to justify keeping him off the roster before Eloy Jimenez's injury. If Vaughn keeps this up in the regular season, the White Sox won't miss a beat.
Cincinnati Reds, Nick Castellanos: The eight-year veteran will be a big part of the Reds' offense. Castellanos registered 14 hits (three homers) in 43 at-bats, following a 2020 campaign that saw him collect 14 homers in 60 games. The 29-year-old is entering his second season with Cincinnati after signing in January 2020.
Cleveland Indians, Franmil Reyes: The slugger amassed a .310/.348/.690 slash line with four homers in 15 contests. Reyes, 25, hit a career-high 37 round-trippers in 2019, and the Indians will be counting on his offensive contributions with Francisco Lindor out of the picture.
Colorado Rockies, C.J. Cron: The slugging first baseman is gunning for a starting job after signing a minor-league pact. Cron, who's coming off knee surgery, owns a .340/.404/.702 slash line with four round-trippers across 47 at-bats.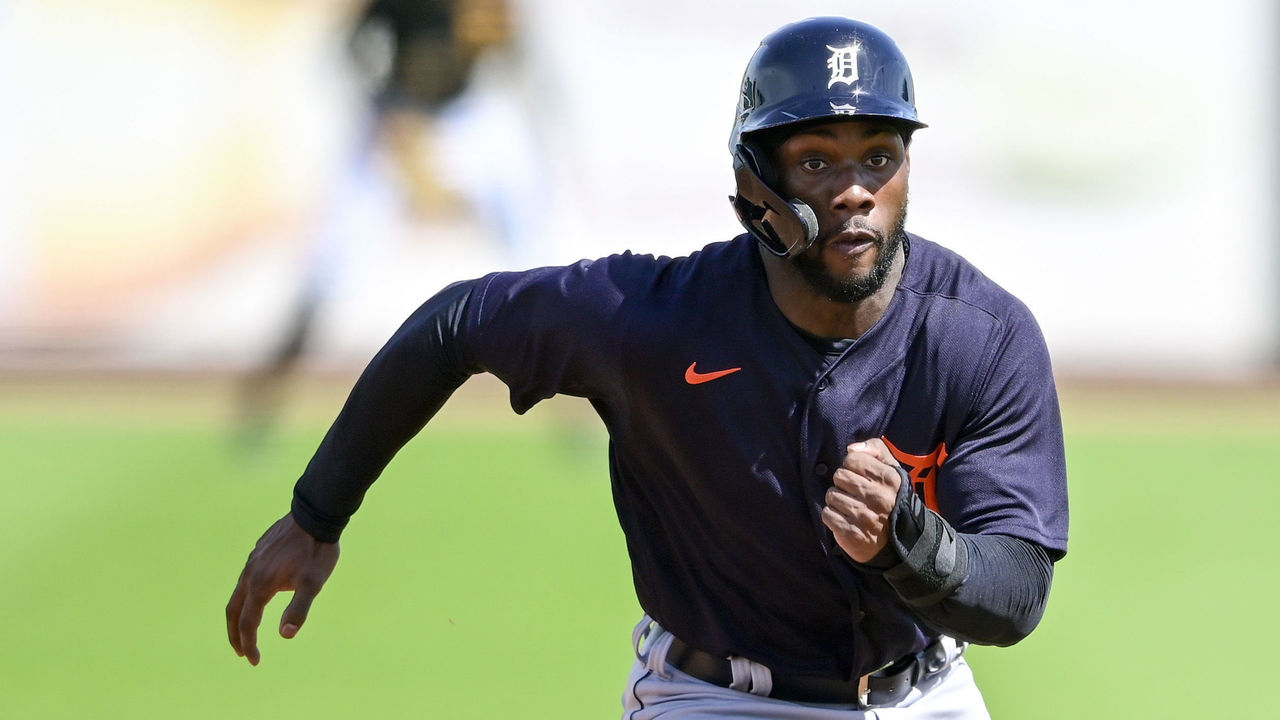 Detroit Tigers, Akil Baddoo: The Tigers grabbed Baddoo in the Rule 5 Draft, and he's made them look like geniuses. Baddoo, 22, has slashed .324/.468/.703 with four homers, nine RBIs, and four stolen bases. As a Rule 5 pick on a rebuilding club with low expectations, there was probably always a spot for him on the roster, but his role may expand in the regular season after opening some eyes.
Houston Astros, Carlos Correa: There weren't many standout performances in Astros camp, but Correa put together an encouraging spring. The star shortstop tied for the team lead in homers while slashing .324/.409/.541. Correa wasn't able to agree with the club on an extension, so he'll head into the season potentially auditioning for other teams.
Kansas City Royals, Salvador Perez: Salvy's performance probably didn't factor into the Royals' decision to hand him a five-year contract extension earlier this month, but it couldn't have hurt. Perez, a franchise icon in Kansas City, crushed three homers and posted a 1.036 OPS in Cactus League play. He means so much to the Royals, and it's no surprise his impact is being felt in the spring.
Los Angeles Angels, Shohei Ohtani: Ohtani is showing his true powers. The two-way star is the hottest hitter in either spring circuit, crushing at a near .600 clip with five home runs. While his raw numbers aren't as great on the mound, Ohtani reached triple digits on the radar while showing off his dizzying arsenal of pitches. This feels like the Ohtani everybody was anticipating when he first arrived.
Los Angeles Dodgers, Corey Seager: Seager picked up right where he left off in October and put together an otherwordly spring for the defending champions. The reigning World Series MVP was far and away the Dodgers' best hitter in camp, slashing .333/.407/.771 with seven home runs and 15 RBIs. If this is a preview of what he'll do in 2021, the Dodgers will be just fine in their quest to repeat.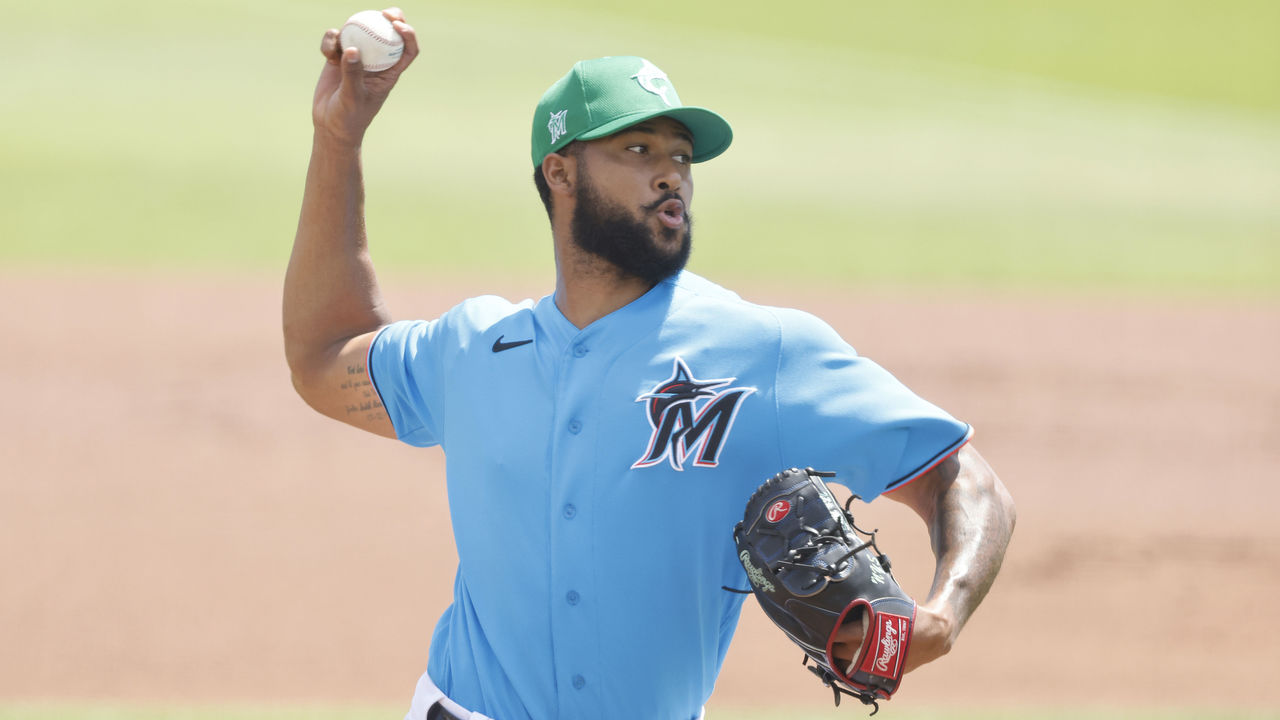 Miami Marlins, Sandy Alcantara: He might not be the Marlins' ace, but Alcantara sure looked the part. He posted a 1.33 ERA and limited opposing hitters to a .208 batting average in six Grapefruit League starts. The one-time All-Star will hope to sustain this into the regular season, where he'll be an important part of Miami's young rotation.
Milwaukee Brewers, Christian Yelich: A bounceback from Yelich is the biggest thing on Brewers fans' wishlists, and the former MVP has shown promise that it's on its way, authoring a 1.403 OPS and going 10-for-25 over 12 games with three homers. There's a case to be made that Corbin Burnes is a co-MVP, though, after posting a 1.65 ERA with 26 strikeouts over 16 1/3 innings.
Minnesota Twins, Kenta Maeda: And it's not even close. Maeda made mincemeat of opposing lineups this spring, posting a 0.49 ERA and 0.49 WHIP in 18 1/3 innings, earning the Twins' Opening Day gig. The 22-to-1 strikeout-to-walk ratio is a new level of dominance.
New York Mets, Jacob deGrom: The Mets ace was only slightly less dominant than Maeda. DeGrom allowed the same amount of runs - one - over 13 2/3 innings, authoring a 0.66 ERA and 0.66 WHIP. He also earned 21 strikeouts and surrendered three walks.
New York Yankees, Gleyber Torres: The shortstop came into camp motivated following a down year, and the early signs have been encouraging. Torres hit .279/.380/.674 with five homers and drew seven walks in 17 games. He hit just three home runs in 42 games last season.
Oakland Athletics, Matt Olson: While he maintained pretty strong plate discipline, Olson lost a bit of his power stroke last year. This spring, it was back with a vengeance as the first baseman clobbered six homers and racked up 18 RBIs to the tune of a .787 slugging percentage.
Philadelphia Phillies, Bryce Harper: It took a while for him to heat up, but Harper looked phenomenal once he got going. He's gone 10-for-32 with a trio of dingers, three doubles, and nine walks. If the Phillies have playoff aspirations this year, they'll need their $330-million man.
Pittsburgh Pirates, David Bednar: Bednar not only didn't allow a run all spring over nine appearances (8 1/3 innings), but the right-hander gave up just three hits while striking out 17 and walking one.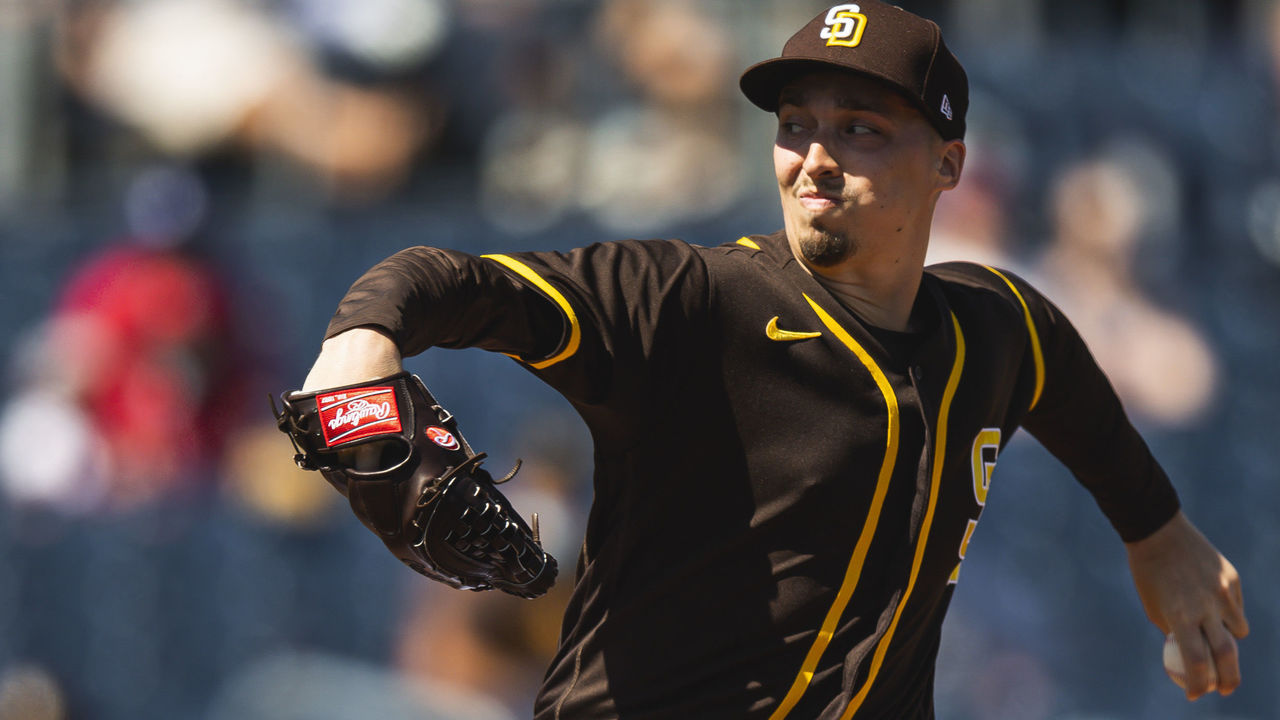 San Diego Padres, Blake Snell: Snell was marvelous in his first camp with the Padres, allowing zero runs and five hits in 14 1/3 innings while striking out 13. The left-hander recently said he wants to do a better job of keeping his pitch count low and getting quicker outs. He's averaged less than two pitches per plate appearance during spring training.
San Francisco Giants, Logan Webb: Spring training couldn't have gone much better for the right-hander. Webb tossed 11 shutout innings, allowing three hits and one walk while striking out 17. His 0.36 WHIP and .079 opponent batting average led the club.
Seattle Mariners, Ty France: France has been the Mariners best hitter, showing incredible power and contact. The 26-year-old is slashing .327/.389/.714 with five homers and should be a force for Seattle as its DH this season.
St. Louis Cardinals, Tyler O'Neill: O'Neill has shown signs that a breakout campaign is on the way. The 25-year-old has crushed opposing pitching with a .372/.400/.581 slash line in 15 games. He also flashed some speed with three steals.
Tampa Bay Rays, Michael Wacha: The early returns on Wacha have been encouraging. After a miserable year with the Mets, the right-hander posted a 0.75 ERA, 0.67 WHIP, and struck out 10 over 12 innings. Wacha allowed a career-worst 2.4 HR/9 last season, but did not allow a home run this spring.
Texas Rangers, Joey Gallo: Gallo has looked like the foreman of a Rangers wrecking crew that has demolished baseballs. The powerful outfielder ranks tied for third in the majors with six homers this spring. His 15 RBIs lead the Rangers, while nine of his 13 hits have gone for extra bases.
Toronto Blue Jays, Vladimir Guerrero Jr.: Guerrero's offseason conditioning program, which saw him lose forty pounds, appears to have worked wonders. The 22-year-old is hitting .444/.533/.778 with 16 hits, two home runs, and four doubles.
Washington Nationals, Ryan Zimmerman: Taking last season off seems to have done wonders for Zimmerman. The veteran first baseman slashed .480/.519/1.280 with six home runs and a team-leading 15 RBIs. He actually posted more home runs than strikeouts this spring.