Padres building World Series contender while Rays stay the Rays
Tom Pennington / Getty Images Sport / Getty
Note: This article was published before the Padres' reported signing of Ha-seong Kim and reported trade for Yu Darvish.
The last image of Blake Snell in a Tampa Bay Rays uniform is him walking off the mound in frustration.
The left-hander cruised through 5 1/3 innings during Game 6 of the 2020 World Series, allowing just two hits while striking out nine. But this was the Rays' process, and they weren't about to deviate from the plan. Snell was not to face the lineup a third time through the order. He walked into the dugout, the Rays 'pen imploded, and the Los Angeles Dodgers won the World Series. And now Snell will never throw another pitch for the Rays organization.
Exactly two months later, he's packing his bags for San Diego following a reported blockbuster deal that will send him to the Padres for Francisco Mejia, Luis Patino, Cole Wilcox, and Blake Hunt. Here are some takeaways from the offseason's biggest trade.
Trust the process? 🤔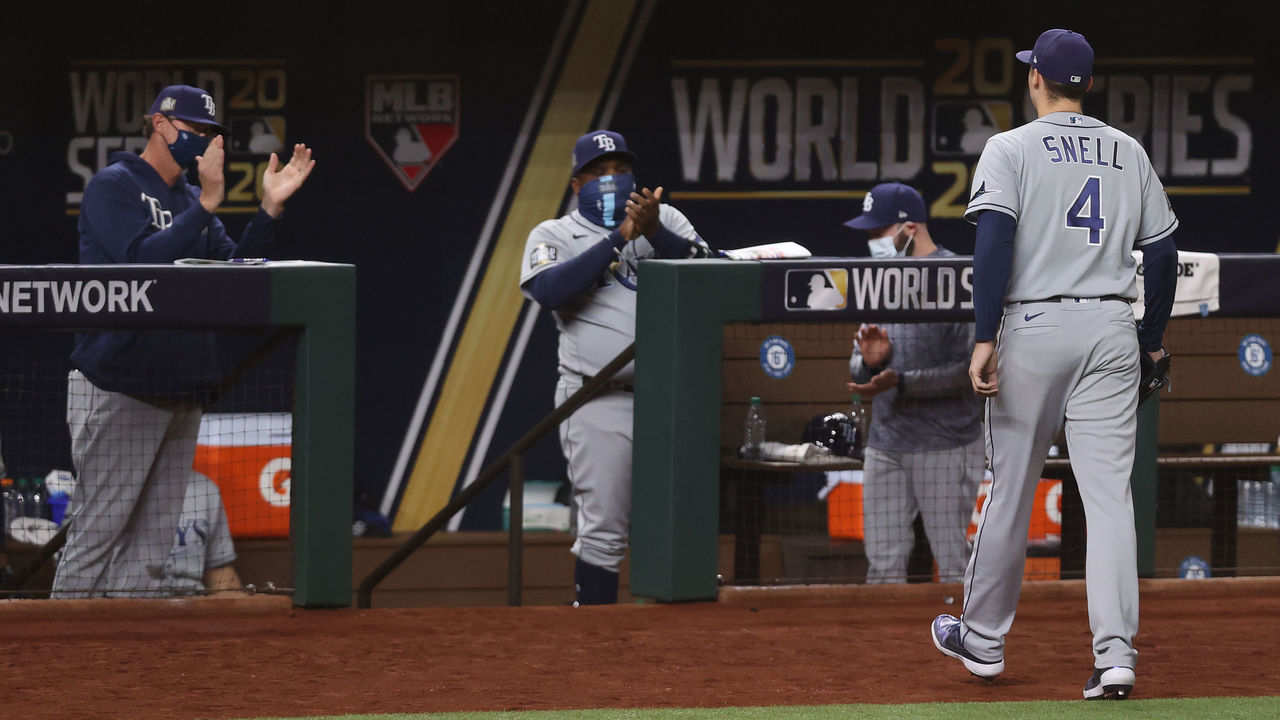 Tampa Bay has earned the benefit of the doubt.
You can love the trade for the Rays while hating it at the same time, but this is what they represent. The wheel keeps turning. There is no loyalty to players. No one is bigger than the team. There is no such thing as an untouchable. It's how they succeed both on the field and in the front office. It's no doubt infuriating for a large portion of the fan base, but it's hard to argue with the results.
Using the Rays' lens, there are plenty of reasons to justify the move. They were able to extract five years from a homegrown star who won a Cy Young and flipped him for a premium before he became too expensive for them (even though he's considered a bargain for the rest of the league). They've proved they can develop pitching better than almost any team, and anyone who questions their decision-making needs to look at the return for Chris Archer, or the way they shed Evan Longoria's contract, or how they acquired Randy Arozarena. The Rays pulled off some of the biggest heists in league history when everyone else was asking, "What are they doing?"
And just because they traded away their ace with three years left of control doesn't mean they are punting on 2021. Tampa has always been strong at evaluating talent from other organizations. Austin Meadows, Arozarena, Manuel Margot, Willy Adames, Tyler Glasnow, Pete Fairbanks, and Nick Anderson were all acquired through trade, and the haul for Snell is considerable. Patino is the No. 23-ranked prospect in baseball and made his MLB debut last season. Mejia was once a top-30 prospect, and he's still just 25 years old. Tampa now has seven top-100 prospects, including No. 1 overall Wander Franco, who could make his MLB debut as soon as this season. Wilcox and Hunt were also within the Padres' top-15 prospects. The Rays' system is stacked.
Tampa always works on a strict budget, and the pandemic complicates things further. While the departures of Snell and Charlie Morton leave two massive holes in the rotation, they also clear close to $25 million in salary off the books for 2021, resulting in a roughly $59-million payroll for the entire 40-man roster (once arbitration salaries are taken into account). That should give the Rays' front office the flexibility to bring in some starting pitching help from a free-agent market flooded with veterans looking for short-term deals - or to pull off another trade for a young, cheap, controllable starter.
Hello, Slam Diego 😎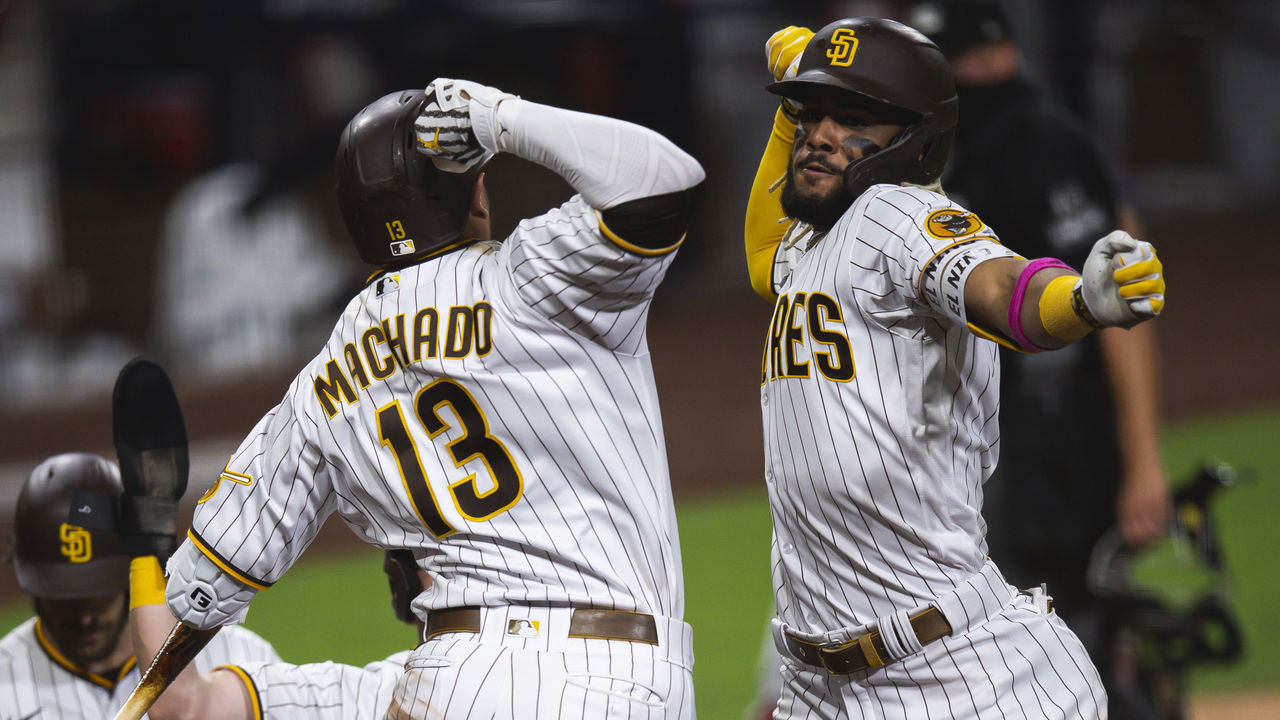 San Diego and Tampa Bay are living in the same competitive window, but there's a huge contrast in how the two clubs are currently operating.
With the fruits of a long rebuild finally ripe, Padres general manger A.J. Preller has placed his foot firmly on the accelerator, and there's a chance he might put it through the floor.
When the Padres convinced Eric Hosmer and then Manny Machado to sign long-term deals, it came with a promise that the front office and ownership would commit to spending. Over the last year, it's done just that. Snell joins Trent Grisham, Tommy Pham, Jake Cronenworth, Austin Nola, Drew Pomeranz, Emilio Pagan, Pierce Johnson, and Mike Clevinger as players the team has brought in recently, and most of them are signed through the 2022 season.
San Diego is built to be a legitimate World Series contender, and a sustainable one. Already armed with an offense that finished fourth in the majors in OPS in 2020, the Padres added an elite starting pitcher to a rotation that could be the best in baseball in 2022 once Clevinger returns following Tommy John surgery and top prospect MacKenzie Gore makes the jump to the majors.
Projected 2022 rotation
| Pitcher | Throws |
| --- | --- |
| Blake Snell | L |
| Dinelson Lamet | R |
| Mike Clevinger | R |
| MacKenzie Gore | L |
| Chris Paddack | R |
For any rebuilding team, this is the blueprint: If you're going to tank, there needs to be a plan, and once the prospect cupboards are full, deal from the surplus to add major-league talent. San Diego could construct one of the best rosters in the majors because its system was so deep. Preller was able to add a number of core players over recent years through trades and free agency while still holding on to the organization's top four prospects. That allowed him to finally part with Patino when a player as talented as Snell became available. San Diego is competitive now but still has a pipeline of talent that can either help the MLB team soon or be used as trade bait later.
Compare the Padres' process with the off-the-rails rebuild in Philadelphia: The Phillies haven't reached the postseason in nine years and now have an entirely new front office. Or consider the Colorado Rockies, who signed Nolan Arenado to an eight-year extension only to cry poor one year later. There needs to be a long-term vision in place, and sticking to it takes discipline. Sure, there's plenty of luck involved - like Fernando Tatis Jr. developing into a star - but San Diego is displaying how exciting it can be when a rebuild is executed properly, and how important scouting and developing remain.
The Padres are in a unique position in baseball that most teams strive to reach, and it's refreshing to see them push the chips to the middle of the table.
Trade market set for starting pitching 🔮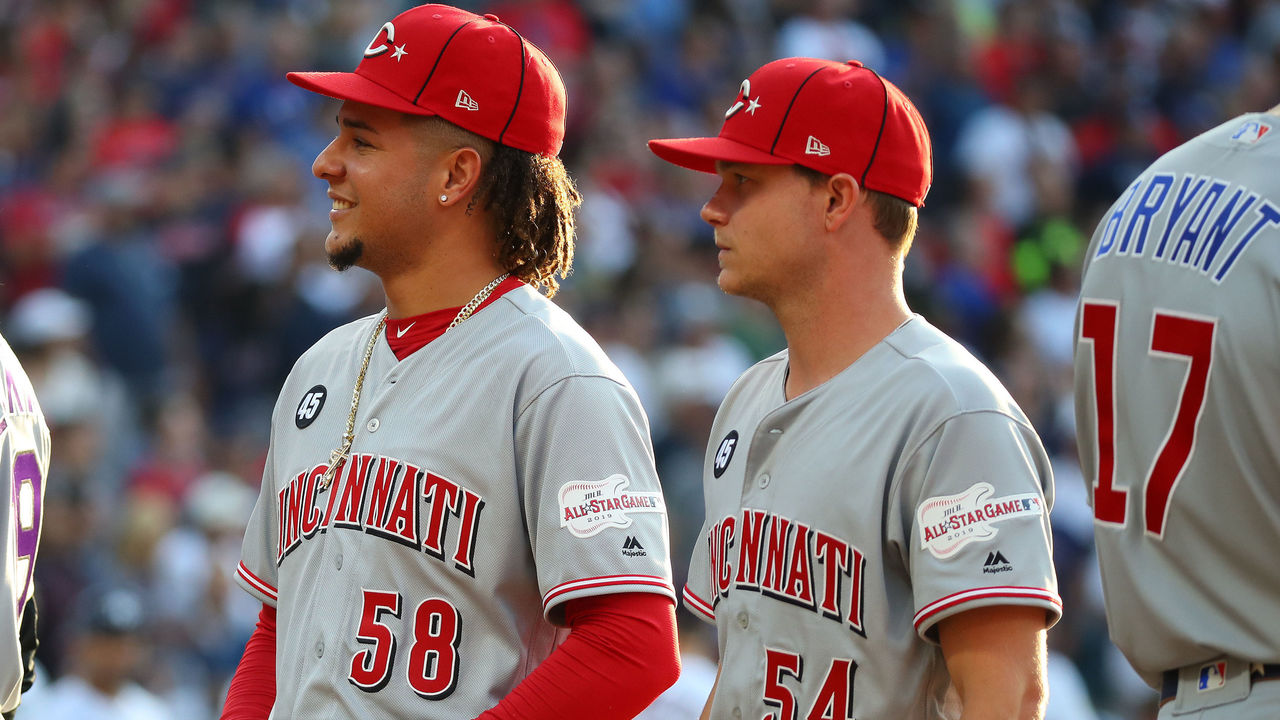 Maybe Hopefully this is what finally kickstarts the winter.
It's been a slog so far as only a handful of free agents have signed - with even fewer trades - but the Snell deal helps set the market for teams looking to trade away starting pitchers with multiple years of control remaining.
| Pitcher | Age | Remaining contract |
| --- | --- | --- |
| Blake Snell | 28 | 3 years $40.8M |
| Luis Castillo | 28 | 3 years arbitration  |
| Sonny Gray | 31 | 2 years $20.3M + $12M option |
| Yu Darvish | 34 | 3 years $59M |
| Kyle Hendricks | 31 | 3 years $43.5M |
Snell's resume, age, and contract were enough to net the Rays one top-tier prospect, a former top prospect, and two other intriguing young players. The Reds should expect a similar haul for Castillo. With so few top arms available in free agency after Trevor Bauer, teams that eventually miss out on Bauer could pivot to one of the pitchers above. The Texas Rangers were able to land Dane Dunning for one year of Lance Lynn, which means it could be a seller's market.
Comments
✕
Padres building World Series contender while Rays stay the Rays
  Got something to say? Leave a comment below!