Stunning collapse in Game 4 could haunt Dodgers for a long time
Sean M. Haffey / Getty Images
No team knows October agony like the Los Angeles Dodgers. Over the past three-plus decades, the Dodgers have endured a century's worth of heartbreaking postseason losses in vain pursuit of another championship. The recent years, in particular, have been rife with them, like, for instance, Game 4 of the 2014 National League Division Series against the St. Louis Cardinals. Game 5 of the 2017 World Series against the Houston Astros was pretty bad, too. And their loss to the Washington Nationals in the decisive game of last year's NLDS was excruciating.
However, never before in their eight-year run of dominance atop the NL West have the Dodgers suffered a playoff loss as devastating as Saturday's collapse in Game 4 of the World Series against the Tampa Bay Rays, a walk-off, series-evening, 8-7 defeat ending in such incomprehensibly nightmarish fashion that it elicited this reaction from manager Dave Roberts:
His tortured face says it all. If the Dodgers don't end up winning the World Series, which is now a best-of-three, this loss will haunt the franchise and its fanbase.
Consider, first of all, the circumstances of the game's mind-boggling final play: Brett Phillips' single off deposed closer Kenley Jansen, which, thanks to an egregious sequence of Dodgers' miscues, allowed the tying and winning runs to score with two outs in the bottom of the ninth.
Phillips, who entered as a pinch-runner in the eighth inning, hadn't gotten a hit in a month heading into Game 4. He wasn't even included on Tampa Bay's roster for the American League Championship Series. The Rays likely would've preferred almost anyone else at the plate in that situation. Phillips, a former sixth-round pick, owns a .202/.284/.347 line across parts of four seasons in the majors, managing a worse wRC+ (67) since the start of 2017 than Ryan Goins, Greg Allen, and Wilmer Difo. Yet, against the Dodgers' increasingly vulnerable closer, Phillips delivered, stroking a soft line drive to center for what was ostensibly the game-tying hit. L.A.'s win expectancy, per FanGraphs, sat at 83.7% when Phillips - as favorable a matchup as Jansen, a three-time All-Star, could hope for - stepped into the box.
As it turned out, however, Phillips' hit didn't merely tie the game. Instead, the Rays escaped with a victory thanks to two horrific defensive gaffes by the Dodgers, one from Chris Taylor, who booted Phillips' liner in center field, and another from catcher Will Smith, who whiffed on Max Muncy's relay throw and allowed Randy Arozarena to stumble home for the winning run. That kind of loss stings in May. To self-immolate so spectacularly in the World Series is downright traumatic.
"This is a tough one," Roberts told reporters afterward.
Still, as devastating and improbable as that finish was, it felt like a somewhat fitting conclusion to a game in which the Dodgers repeatedly failed to put away the Rays, whose bats suddenly awoke Saturday following three quiet games.
Between their ineffective relief pitching (5 ER over 4 IP), faulty management (Roberts told Pedro Baez he was finished after the sixth inning then sent him back out in the seventh to get lit up again), and spectacular ninth-inning collapse, the Dodgers squandered three leads - 4-2, 6-5, and 7-6. They frittered away a game that saw their win expectancy hover above 70% for at least one appearance in the third, fourth, fifth, sixth, eighth, and ninth innings.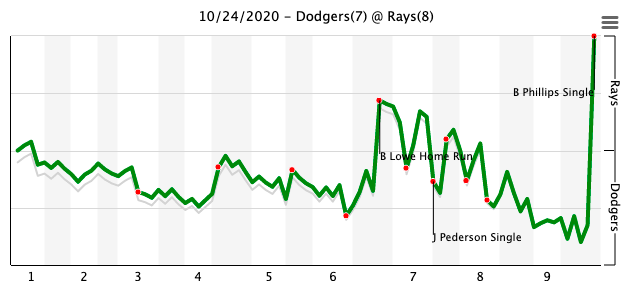 By definition, that is a highly winnable contest, a game that baseball's best team - and not by an insignificant margin - should win. Instead, Game 4 reaffirmed the Dodgers' two biggest (and perhaps only) vulnerabilities - their relief corps, which now owns a 6.62 ERA and 1.53 WHIP in the World Series, and Roberts' managerial acumen. The issues have dramatically changed the complexion of a series Los Angeles seemed destined to win in the wake of its commanding Game 3 victory.
The Rays are now slight favorites to prevail in the series, per FanGraphs, which makes sense considering Tampa Bay will start Tyler Glasnow, Blake Snell, and Charlie Morton in the next three games. The Dodgers may have to go with a bullpen game for Game 6 following Clayton Kershaw's Game 5 start, or use Walker Buehler on short rest in Game 6 and cross the proverbial Game 7 bridge when, and if, they get there.
The Dodgers' outlook has dimmed considerably. Should their streak of futility extend another year, their Game 4 defeat will arguably go down as the most painful chapter in their long-running series of torturous October meltdowns.
Jonah Birenbaum is theScore's senior MLB writer. He steams a good ham. You can find him on Twitter @birenball.
Comments
✕
Stunning collapse in Game 4 could haunt Dodgers for a long time
  Got something to say? Leave a comment below!