We should all be parked in front of our televisions, phones, tablets - or whatever device you use to watch baseball - enjoying the first week of the 2020 season. However, that is not the case. But fear not, baseball fans: theScore and MLB The Show 20 have you covered as we've simulated the first series for each team in order to help give fans their fix. Here are the results from the first weekend of the season and some very, very early league leaders.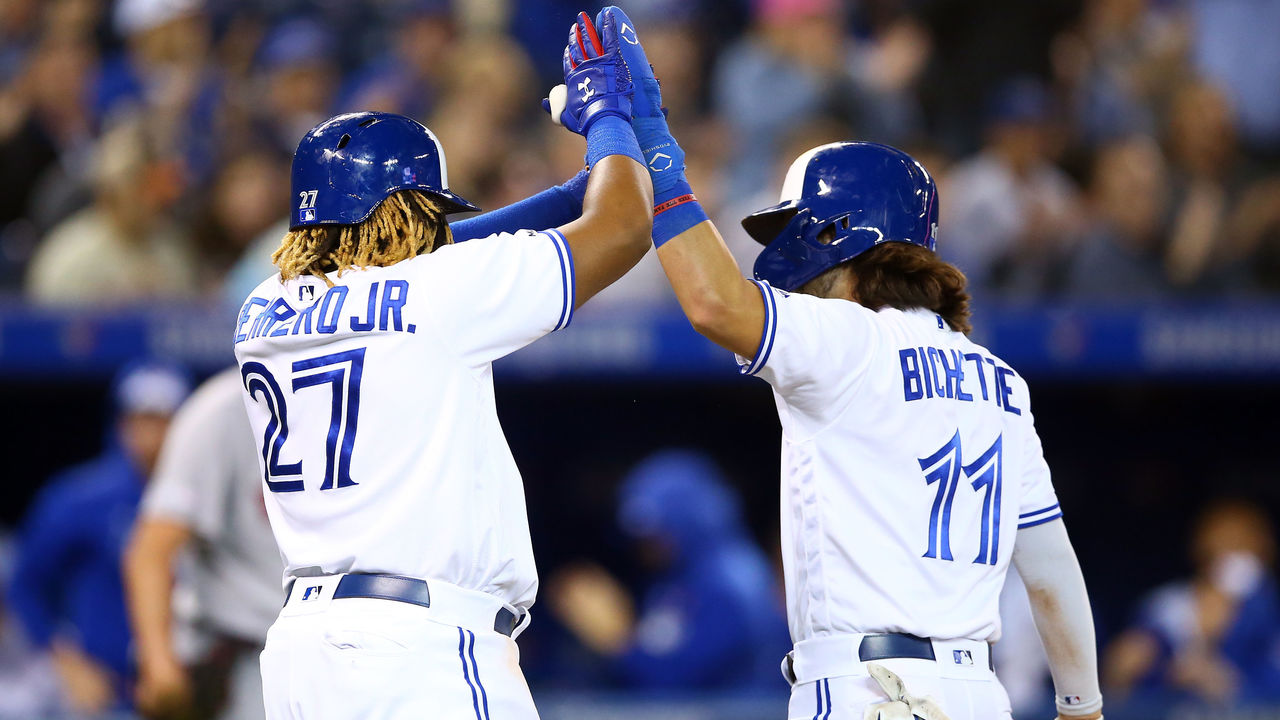 Red Sox, Blue Jays split 4-game set
Game 1: 6-2 BOS (Rodriguez: 7 IP, 11K)
Game 2: 5-4 TOR (Guerrero: 2-4, 3 RBI)
Game 3: 12-9 BOS (Martinez: 2-4, 4 RBI)
Game 4: 7-6 TOR (Bichette: 3-5, 4 RBI)
The Red Sox split the series with the Blue Jays despite scoring over six runs per game. The pitching staff showed it might be a major issue without Chris Sale and David Price as Martin Perez and Nathan Eovaldi combined to allow 11 runs in their starts. Meanwhile, Toronto's new ace Hyun-Jin Ryu allowed just one run over 6 2/3 innings in his debut, while Bo Bichette and Vlad Guerrero Jr. starred in the Blue Jays' two wins.
Gleyber leads Yankees to series win over O's
Game 1: 5-3 NYY (Cole: 8 IP, 0 ER)
Game 2: 4-2 BAL (Smith: HR, 2 RBI)
Game 3: 8-4 NYY (Torres: 2-5, 3 RBI)
The Orioles managed to keep Gleyber Torres in the yard during the series - he homered 13 times against them last season - but he still drove in six runs. Gerrit Cole wasted no time getting his first win with his new club after tossing eight shutout innings in his debut.
Rays fend off Pirates despite struggling starters
Game 1: 11-4 PIT (Polanco: 3-5, 3 RBI)
Game 2: 6-5 TB (Martinez: 2-3, 3 RBI)
Game 3: 5-2 TB (Wendle: 3B, HR)
After being embarrassed in the opener, the Rays got back on track by winning the next two to take the series. Tampa's starters struggled mightily, with Charlie Morton, Tyler Glasnow, and Blake Snell combining to walk 18 batters over 14 1/3 innings.
Cubs drop series to Brewers despite stellar pitching
Game 1: 3-2 MIL (Garcia: 3B, 2 RBI)
Game 2: 8-1 CHC (Baez: HR, 2 RBI)
Game 3: 5-4 MIL (Hiura: 4-5, 2 RBI)
Despite limiting the Brewers to nine runs and one homer over the three-game set, the Cubs still managed to lose two games. Milwaukee's pitching staff was all hands on deck, using 10 pitchers in the series, and limited the duo of Kris Bryant and Anthony Rizzo to five hits.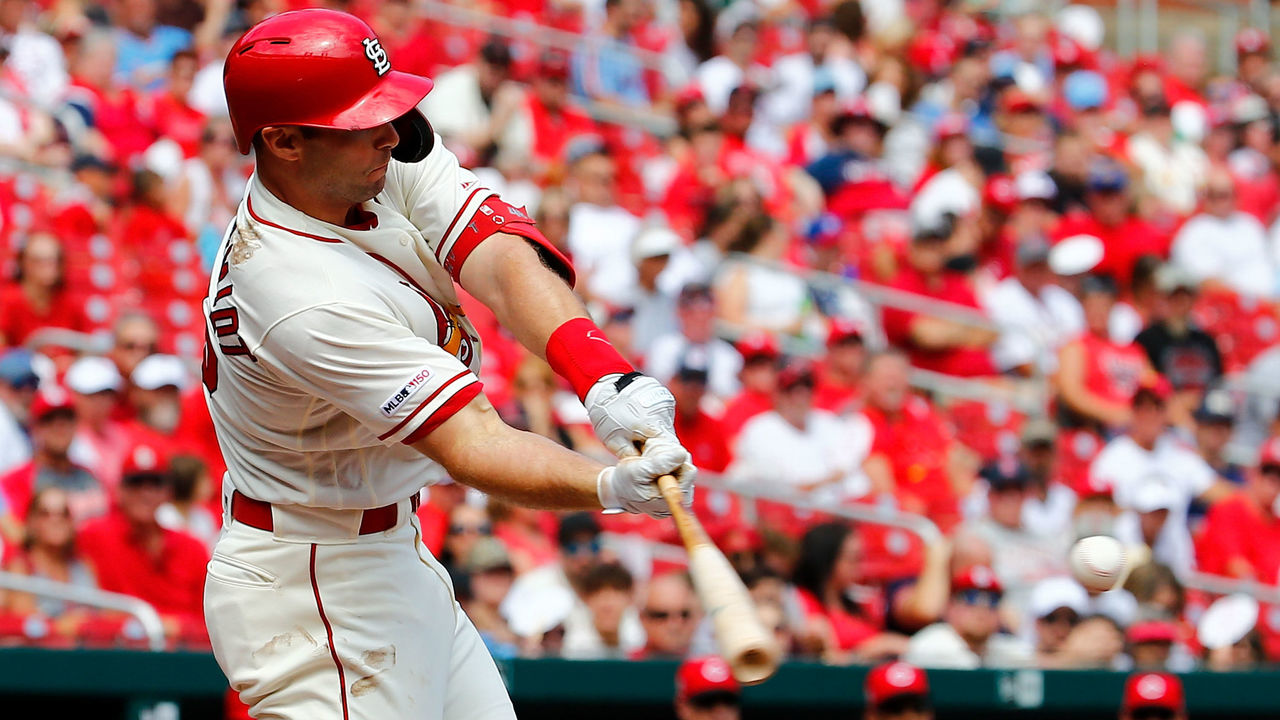 Balanced attack lifts Cardinals over Reds
Game 1: 9-5 STL (DeJong: HR, 3 RBI)
Game 2: 9-3 STL (Martinez: 7 IP, 0 ER)
Game 3: 7-4 CIN (Bauer: 6 IP, 8 K)
Just like last season, Paul Goldschmidt opened the first series of the year with multiple home runs, but the real story was how balanced the Cardinals' offense was. Eight players drove in at least one run, while six players had at least four hits. Cincinnati's rotation struggled, with Sonny Gray and Luis Castillo combining to allow nine runs.
Eloy leads White Sox to sweep of Royals
Game 1: 3-1 CWS (Giolito: 6 IP, 1 ER)
Game 2: 9-0 CWS (Jimenez: 2 HR, 7 RBI)
Game 3: 3-1 CWS (Lopez: 7 IP, 1 ER)
It was an impressive statement series for the revamped White Sox, even if it came against the lowly Royals. Not only did Eloy Jimenez wow with two homers and eight RBIs, but Dallas Keuchel tossed a complete-game shutout with 10 strikeouts in his debut.
Indians' offense sputters in series loss to Tigers after loud opener
Game 1: 11-1 CLE (F. Reyes: 3 HR, 8 RBI)
Game 2: 9-0 DET (Zimmermann: 8 IP, 10 K)
Game 3: 6-3 DET (Cabrera: 3-5, 3 RBI)
Aside from Franmil Reyes' monster opener, in which he hit three home runs and drove in eight, the Indians' offense didn't manage much else. Cleveland scored just three runs over the final 18 innings of the series. On the other side, Miguel Cabrera is now just 22 homers away from 500 after going deep in the series finale.
A's pitchers shut down high-powered Twins
Game 1: 5-2 OAK (Fiers: 6 IP, 1 ER)
Game 2: 7-1 OAK (Manaea: 8 IP, 6 K)
Game 3: 6-3 MIN (Kepler: 3-5, 2 RBI)
Game 4: 2-1 OAK (Luzardo: 7 IP, 1 ER)
The A's pitching staff kept the revamped Bomba Squad in check, limiting the Twins' high-powered offense to 10 runs over the four-game set. Minnesota's free-agent splash Josh Donaldson went just 2-for-15 with one RBI. Oakland's unheralded pitching staff was excellent, highlighted by rookie Jesus Luzardo's seven-inning gem to close out the series.
Angels salvage split with few fireworks vs. Astros
Game 1: 5-4 HOU (Alvarez: 3-3, 2 HR)
Game 2: 3-1 HOU (Bregman: 2-3, HR)
Game 3: 10-4 LAA (Fletcher: 4-6, 2RBI)
Game 4: 4-3 LAA (Trout: 3-4, 2B, HR)
The Astros opened the season as baseball's most hated team in the comforts of home. After taking the first two games, Houston only managed a split despite new Angels star Anthony Rendon going 2-for-15 (.133). Despite some expected animosity, Josh Reddick was the only Astro hit by a pitch.
Youngsters lead rebuilding Mariners to surprise start
Game 1: 5-4 SEA (Seager: HR, 3 RBI)
Game 2: 7-6 TEX (Gallo: HR, 4 RBI)
Game 3: 2-0 SEA (Sheffield: 7 IP, 0 ER)
Game 4: 8-5 SEA (Walker: 7 IP, 2 ER)
Just like last season, the Mariners jumped out of the gates early. Youngsters J.P Crawford, Mallex Smith, and Shed Long paced the offense, combining to go 22-for-48 (.458) while scoring 11 runs. The pitching was surprisingly excellent, with Justus Sheffield and Taijuan Walker each tossing seven strong innings. Could this be the Mariners' year? Probably not.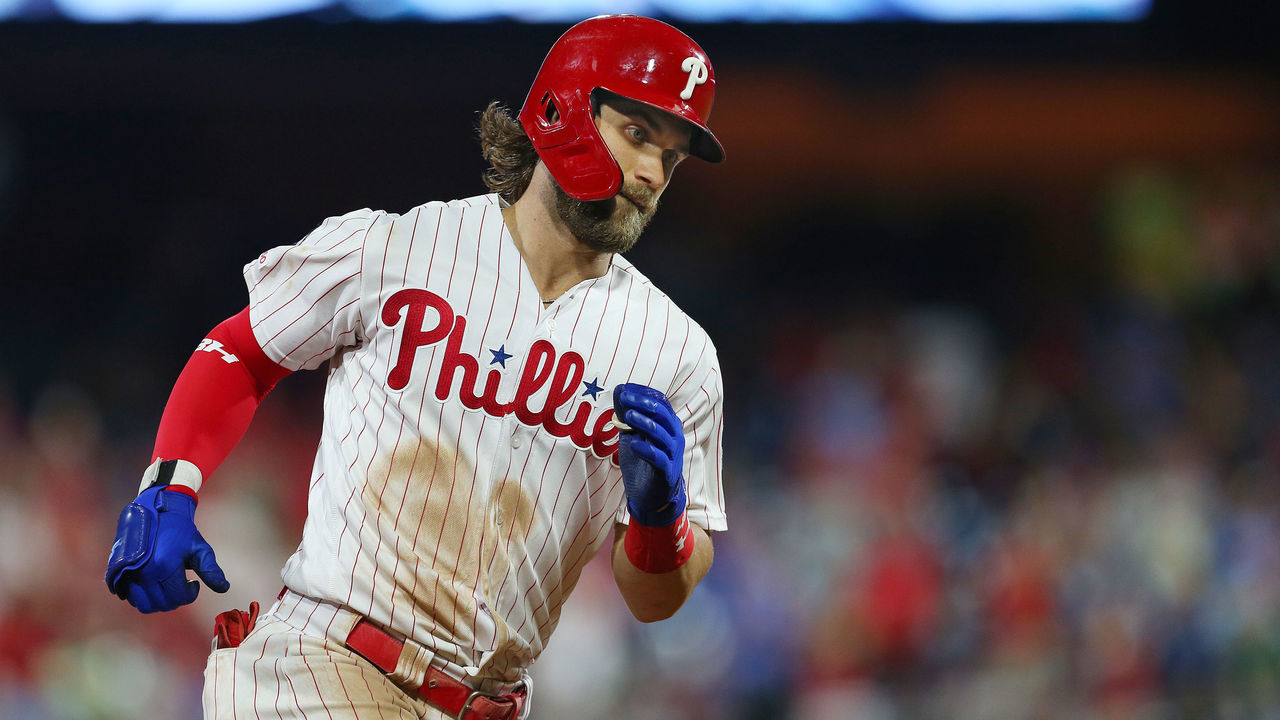 Phillies take 3 of 4 from Marlins despite close series
Game 1: 4-2 PHI (Nola: 6 IP, 7 K)
Game 2: 7-5 MIA (Dickerson: HR, 3 RBI)
Game 3: 4-3 PHI (Haseley: HR, 2 RBI)
Game 4: 3-2 PHI (Bruce: HR, 2 RBI)
The revamped Marlins managed to play the Phillies tight, but they still ended up dropping three of four. Philly bashed six homers during the series, though none came from Bryce Harper, who went 4-for-19 (.211) with just one RBI. Free-agent splash Zack Wheeler was the only Phillies starter to not pick up a win after allowing four runs over six innings in Game 2.
Nationals' title defense begins with series loss to Mets
Game 1: 6-2 NYM (deGrom: 7 IP, 8K)
Game 2: 4-3 WSH (Scherzer: 7 IP, 11K)
Game 3: 5-3 NYM (Stroman: 6 IP, 1 ER)
No Noah, no problem - at least for the first series. The reigning champions were slowed by dominant pitching from the Mets' staff of Jacob deGrom, Marcus Stroman, and newcomer Rick Porcello. The trio allowed four earned runs and 17 hits over 19 1/3 innings. The lone Nationals win came on the shoulders of Max Scherzer and his 11-strikeout gem.
Braves, D-Backs split seesaw series
Game 1: 6-4 ARI (Calhoun: HR, 3 RBI)
Game 2: 5-1 ATL (Freeman: 3-5, HR)
Game 3: 4-3 ARI (Ray: 7 IP, 11K)
Game 4: 10-3 ATL (Freeman: 3 HR, 4 RBI)
Freddie Freeman wasted no time getting off to a hot start, going 8-for-19 (.444) with four home runs and just three strikeouts. Meanwhile, the D-Backs got mixed results from their two biggest offseason acquisitions: Madison Bumgarner allowed three runs over seven solid innings, while Starling Marte went 2-for-16 with one extra-base hit.
Rockies' offense explodes against Padres
Game 1: 6-5 COL (Dahl: 2-5, 2 HR)
Game 2: 4-3 SD (Hosmer: HR, 2 RBI)
Game 3: 7-2 COL (Freeland: 7 IP, 0 ER)
Game 4: 13-2 COL (Blackmon: 3-6, 5 RBI)
Maybe the Rockies didn't need to spend any money during the offseason after all. The club scored a league-high 30 runs over the four games, while the pitching staff posted a sparkling 2.66 ERA. Hopefully, that keeps Nolan Arenado happy.
Giants' starters key in series win over rival Dodgers
Game 1: 8-2 SF (Longoria: HR, 2 RBI)
Game 2: 2-1 SF (Samardzija: 8 IP, 1 ER)
Game 3: 5-4 LAD (Muncy: 2-4, 3 RBI)
The Giants received throwback performances from starters Johnny Cueto, Jeff Samardzija, and Kevin Gausman as the three combined to allow just four runs over 20 2/3 innings. New Dodgers star Mookie Betts went 2-for-10 during the series as the club only scored eight times.
League leaders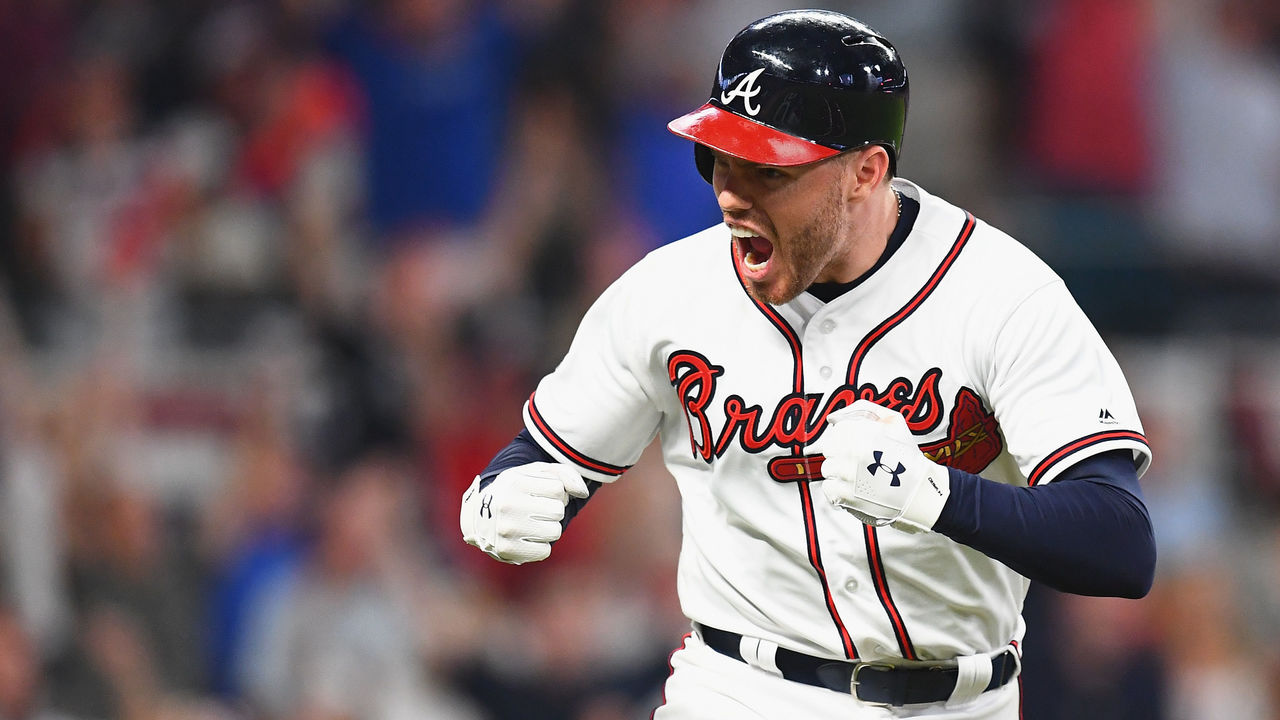 Hits
| Rank | Player | Team | Hits |
| --- | --- | --- | --- |
| 1 | J.P. Crawford | SEA | 10 |
| T-2 | David Fletcher | LAA | 9 |
| T-2 | Andrew Benintendi | BOS | 9 |
Home Runs
| Rank | Player | Team | HR |
| --- | --- | --- | --- |
| 1 | Freddie Freeman | ATL | 4 |
| T-2 | David Dahl | COL | 3 |
| T-2 | Max Kepler | MIN | 3 |
| T-2 | Franmil Reyes | CLE | 3 |
| T-2 | Yordan Alvarez | HOU | 3 |
| T-2 | Michael Brantley | HOU | 3 |
RBIs
| Rank | Player | Team | RBIs |
| --- | --- | --- | --- |
| T-1 | Franmil Reyes | CLE | 8 |
| T-1 | Eloy Jimenez | CWS | 8 |
| 3 | Eric Hosmer | SD | 6 |
OPS
| Rank | Player | Team | OPS |
| --- | --- | --- | --- |
| 1 | Eloy Jimenez | CWS | 2.028 |
| 2 | Franmil Reyes | CLE | 1.692 |
| 3 | Freddie Freeman | ATL | 1.585 |
Strikeouts
| Rank | Pitcher | Team | Ks |
| --- | --- | --- | --- |
| 1 | Shane Bieber | CLE | 13 |
| T-2 | Eduardo Rodriguez | BOS | 11 |
| T-2 | Max Scherzer | WSH | 11 |
| T-2 | Robbie Ray | ARI | 11 |