Winning the World Series is hard. These teams couldn't do it. So, what's next for the casualties of the league championship series? Jonah Birenbaum, theScore's senior MLB writer, tries to suss it out.
Previous entries: ALDS - Twins and Rays | NLDS - Braves and Dodgers | Wild-card round - Brewers and Athletics
St. Louis Cardinals
Three straight years without October baseball - a veritable eternity by St. Louis standards - prompted an aggressive winter for the Cardinals, who traded for Paul Goldschmidt and signed Andrew Miller in an effort to snap their longest postseason drought in two decades.
However, in addition to bolstering their chances for 2019, the Cardinals also attempted to secure their future, extending Goldschmidt through the 2024 campaign while also locking up Miles Mikolas through 2023 and Matt Carpenter through 2021. Ultimately, the immediate returns from their offseason frenzy were solid: the Cardinals, buoyed by a monster second half, finished with 91 wins and a division title in 2019, then outlasted the Atlanta Braves in the best-of-five NLDS.
Their decisive sweep at the hands of the Washington Nationals in the NLCS exposed a major deficiency that their regular-season success obscured - their inability to hit - while renewing doubts that popped up throughout the club's uninspired first half about the core they've assembled.
For the foreseeable future, at least, Goldschmidt, Carpenter, Dexter Fowler, and Paul DeJong will comprise the core of this team. (Yadier Molina and Kolten Wong have one more year left on their deals, and Wong has a club option for 2021.) But only one of those other players is trending in the right direction: DeJong, who only turned 26 in August, put up a career-best 4.1 WAR in 2019 and earned his first All-Star appearance. The other three disappointed, with 32-year-old Goldschmidt and 33-year-old Fowler combining for just 4.4 WAR. Carpenter, who will be 34 next month, managed a below-average wRC+ (95) for the first time since becoming an everyday player in 2012.
The Cardinals aren't necessarily doomed in 2020 if those three continue to decline - given their ages, that's highly possible - but the presumed loss of Marcell Ozuna to free agency, along with lackluster performances in 2019 from two ostensibly key youngsters, Harrison Bader and Tyler O'Neill, don't inspire much hope that St. Louis will be a juggernaut next season. To eke out 91 wins, the Cardinals needed outsized contributions from Wong, who managed a career-high 3.7 WAR, and rookie Tommy Edman, whose 120 OPS+ belies a discouraging batted-ball profile. (He was in the bottom 20th percentile in percentage of hard-hit balls, for example.)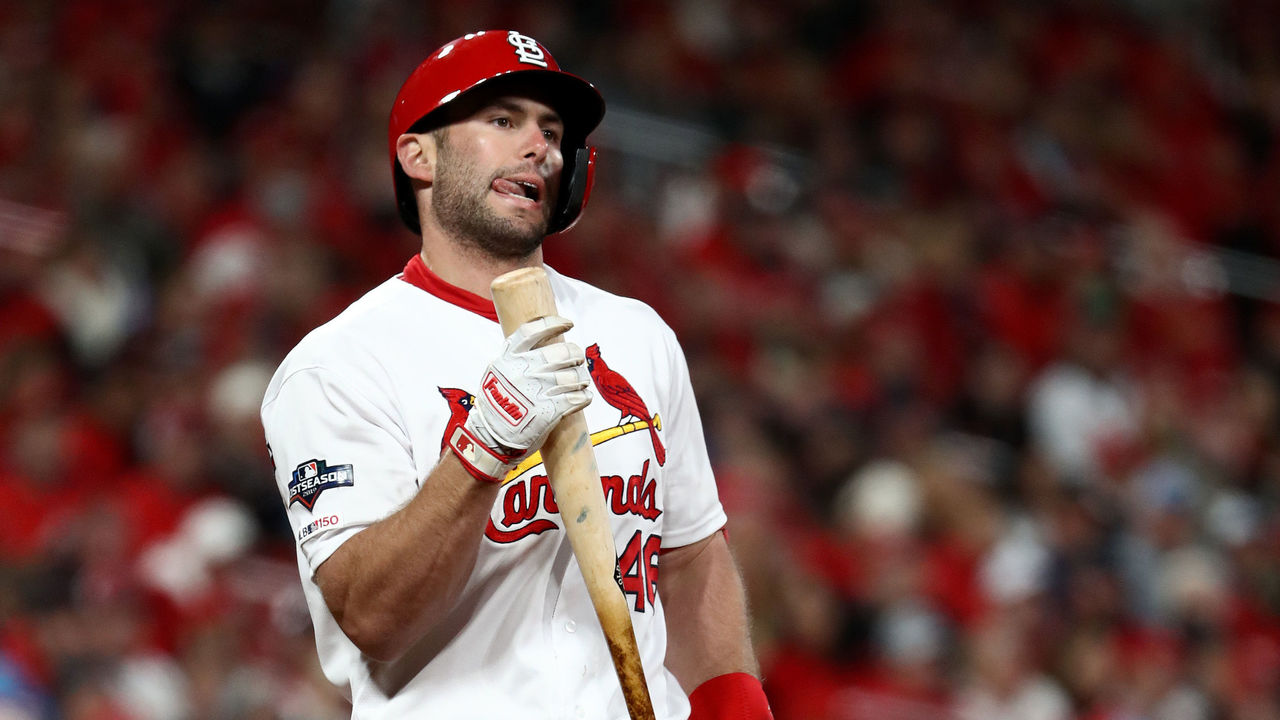 There's talent here, to be sure, and regression is not linear, but the Cardinals are going to either need bounce-back seasons from their veterans or major steps forward from their younger holdovers in order to field an above-average offense next year. With more than $146 million already committed to their 2020 payroll, and considerable future monies locked up thanks to last winter's extension bonanza, a major free-agent acquisition seems unlikely for the Cardinals, who fielded the biggest payroll in franchise history ($162 million) this season.
Of course, as the Cardinals just demonstrated, a team can still contend with a mediocre offense, but the state of St. Louis' rotation isn't especially encouraging despite the success the starters enjoyed this past season. Though the Cardinals' rotation managed the fifth-lowest ERA (3.78) in the majors in 2019, their collective fielding-independent numbers (4.44 FIP) and batted-ball data (.321 expected weighted on-base average) suggest they were more fine than great, with two of their three holdovers, Mikolas and Dakota Hudson, looking like regression candidates. (Jack Flaherty, the other holdover in their rotation, is a bona fide stud.)
With Adam Wainwright retiring and Michael Wacha eligible for free agency, the Cardinals have two starting jobs to fill this winter, but only one intriguing in-house option: Alex Reyes. He was the top pitching prospect in baseball not too long ago but has lost considerable luster since undergoing Tommy John surgery in 2017. It's possible they go outside the organization to fill up their rotation, but, again, don't expect them to pursue Gerrit Cole or anyone of comparable ilk.
Ultimately, while the Cardinals are a decent team as currently constructed, they're still significantly worse than the game's top clubs. They're probably good enough to win a second straight NL Central title in 2020, but with limited resources left to bolster their current roster, they'll need greater production from players already in their employ to contend for a World Series title in earnest.
New York Yankees
After two years of relative financial restraint in New York, the Yankees were expected to go all-in last winter and put the finishing touches on an already talented roster - shrewdly cultivated by Brian Cashman - that earned an American League Championship Series berth in 2017 and won 100 games in 2018. Their only pressing need was starting pitching, and the market was rife with options: Patrick Corbin or Charlie Morton or Dallas Keuchel. Why not toss in a Bryce Harper or Manny Machado signing, too, just because, right? With those additions, the Yankees - who hadn't won a division title since 2012 - would surely reassert themselves as baseball's premier club and snap their almost decade-long World Series drought.
Instead of bringing in a star, the Yankees made cost-effective moves: acquiring James Paxton via trade, signing DJ LeMahieu and Adam Ottavino, while re-signing Zack Britton, CC Sabathia, and J.A. Happ. To be sure, those additions helped the Yankees grab that elusive division title and cement themselves as one of baseball's elite teams. But their ALCS defeat to the clearly superior Houston Astros made it abundantly clear what they still lack - elite starting pitching - while highlighting the limitations of their bullpen-centric approach to run prevention. Aroldis Chapman will surely agree, you can't ask your relievers to bail you out every single night.
In fact, the composition of both pennant winners suggests that having a top-end rotation is integral to a deep October run, so if the Yankees hope to vie for a World Series title in 2020, they'll have to add at least one more impact starter this winter given the inconsistency of Paxton and Masahiro Tanaka.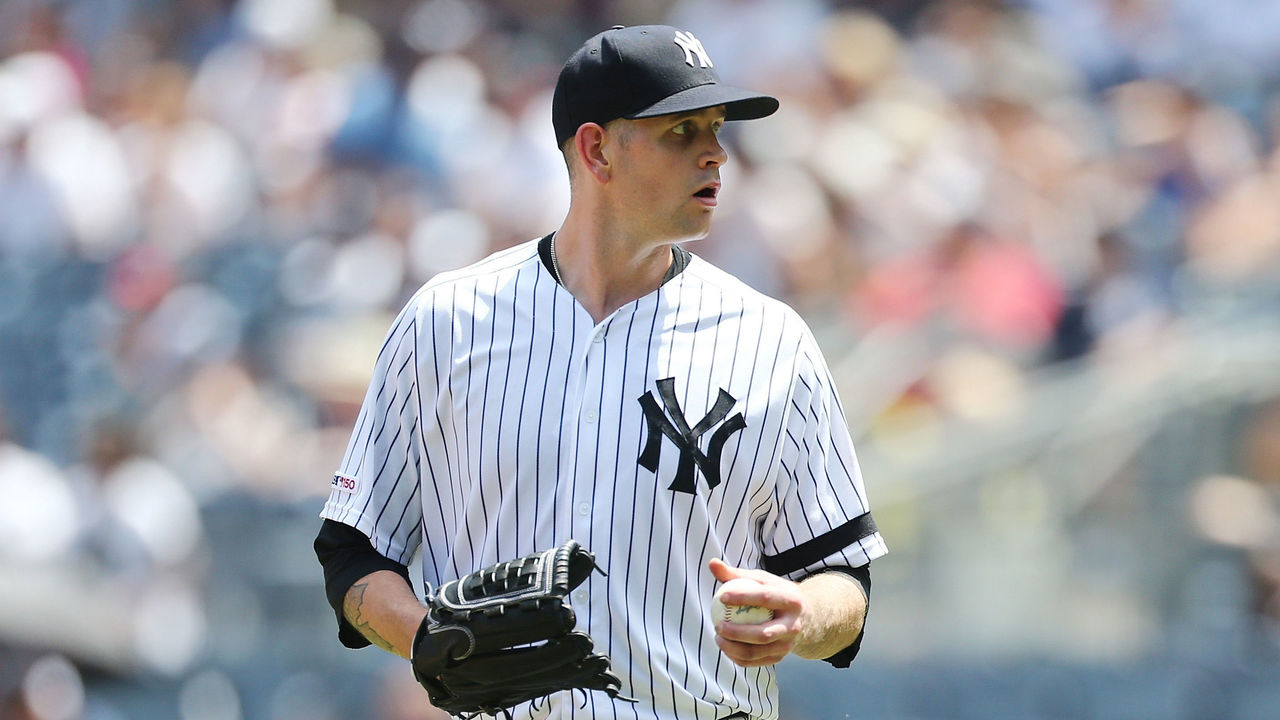 Fortunately, the Astros' Cole, who owned the Yankees in Game 3 of the ALCS, is a free agent this offseason, and Stephen Strasburg likely will be, too. (Hyun-Jin Ryu and Madison Bumgarner will be available, as well, but this is the Yankees we're talking about.) For about $250 million, the Yankees - who carry a franchise valuation of $4.6 billion, according to Forbes - can instantly become the best team in the majors, with Cole or Strasburg and Luis Severino comprising one of the game's best one-two punches. It's as simple as that.
As such, they simply need to decide what's more important to them: avoiding luxury-tax penalties or fielding the best team possible. With a projected payroll of $171.5 million already for 2020, the Yankees will almost certainly have to eclipse the $208-million luxury-tax threshold to sign Cole or Strasburg and attend to their lesser offseason needs. Should that matter? Of course not. This is a no-brainer. But, then again, so was signing Corbin.
In any event, the Yankees will be elite again in 2020. There are no holes on this roster, even with Didi Gregorius and Brett Gardner poised to hit the open market. Gleyber Torres can move over to short with LeMahieu taking over as the everyday second baseman and either Miguel Andujar or Gio Urshela at third. Giancarlo Stanton can take Gardner's spot in left, with Edwin Encarnacion serving as their primary DH. Between Aaron Judge, Stanton, Encarnacion, Torres, Gary Sanchez, and Luke Voit, their lineup will once again contend for the major-league lead in homers.
Their bullpen, anchored by Aroldis Chapman, Britton, Ottavino, and Tommy Kahnle, will once again rank among the game's best. And their rotation, even without Cole, will be fine, too. At this point, though, the goal has to be a World Series championship, and for the Yankees to reach that goal, their rotation needs to be better than fine.
Jonah Birenbaum is theScore's senior MLB writer. He steams a good ham. You can find him on Twitter @birenball.