The 115th edition of the World Series gets underway Tuesday when the Houston Astros host the Washington Nationals in Game 1 of the Fall Classic. So, how do these teams stack up against each other? Jonah Birenbaum, the Score's senior MLB writer, breaks it down by position.
Hitting and defense
Catcher
The addition of Martin Maldonado at the trade deadline quietly afforded Houston one of the game's better catching tandems; only seven teams received more WAR from their catchers over the final two months of the season. Robinson Chirinos, Houston's primary catcher, inconspicuously outhit the likes of J.T. Realmuto, Wilson Ramos, and Buster Posey in 2019, finishing fifth at his position (minimum 400 plate appearances) with a 113 wRC+ mark. Maldonado, a former Gold Glove winner, ranked among the game's top defensive backstops despite starting roughly once every three games. It's worth noting, however, that neither Astros catcher was an above-average pitch-framer this season, according to Baseball Savant.
The Nationals didn't receive nearly as much value from their catchers as Houston did this season. Washington distributed playing time almost evenly between its two veterans: Kurt Suzuki, who was an above-average hitter for a third straight season in 2019 but can't really frame pitches or throw out base-stealers (10% caught-stealing rate), and Yan Gomes, a decent but not elite defender who owns a .683 OPS (77 wRC+) since 2015. Edge: Astros
First base
Yuli Gurriel finally broke out following a pair of middling seasons, setting career bests in OBP (.343), slugging percentage (.541), OPS+ (126), and home runs (31) in 2019. The 35-year-old's October numbers (.541 OPS) belie how well he's been swinging the bat. Ryan Zimmerman, as it happens, is in the totally opposite boat. The Nationals' longest-tenured player has followed up a dismal, injury-shortened regular season - he managed an 89 wRC+ and 0.1 WAR in 52 games - with a surprisingly productive October, hitting .290/.313/.484 in nine games (seven starts). Don't let recency bias convince you he's still an impact hitter, though. Edge: Astros
Second base
Two years removed from earning American League MVP honors, Jose Altuve, the diminutive patriarch of Houston's dynasty, remains a bona fide monster - in case you weren't sure after his ALCS-clinching homer. His defensive skills have waned somewhat over the last couple of years and he's not the base-stealing threat he used to be, but Altuve remains the best-hitting second baseman in the majors and set a new career high with 31 home runs this year while putting up a .903 OPS.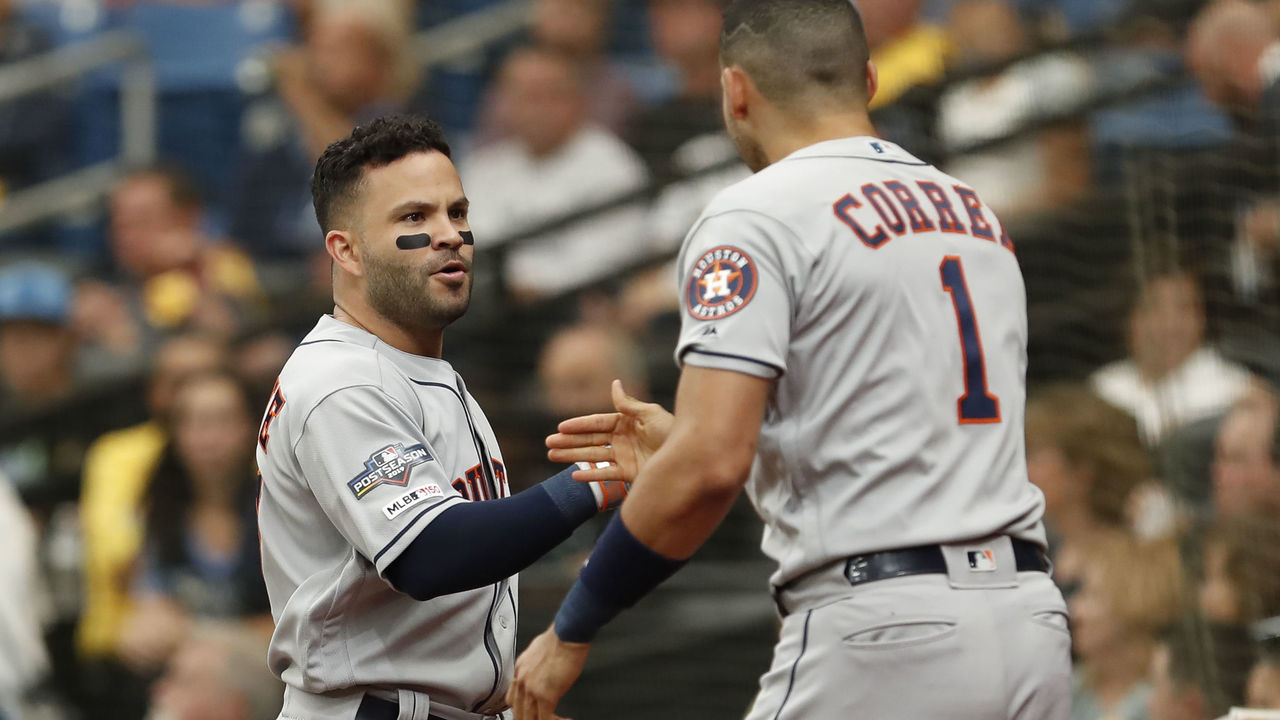 Howie Kendrick's season with Washington was also marked by career highs. The 36-year-old established new personal bests in virtually every offensive category, including batting average (.344), slugging percentage (.572), and OPS+ (142). Like Altuve, Kendrick went off in the league championship series, doubling his way to a 1.014 OPS and MVP honors. He's good. But Altuve is Altuve. Edge: Astros
Third base
Only Mike Trout accrued more WAR in 2019 than Alex Bregman, the cocksure 25-year-old who smashed 41 homers, finished third in the majors in wRC+ (168), and was the only qualified hitter to walk more often than he struck out. Bregman was just 3-for-18 (.143) in the ALCS - and still managed a .423 OBP in six games.
Anthony Rendon is a superstar in his own right, too, quietly managing a .953 OPS (145 wRC+) over the last three seasons while providing more WAR than every player in the majors except Trout, Mookie Betts, and Christian Yelich. All he's done this postseason is hit .375/.465/.594, and he carries an eight-game hitting streak into Game 1. Edge: Even.
Shortstop
A litany of injuries limited Carlos Correa to just 75 games this season, but the former AL Rookie of the Year looked like the stud he is when healthy, finishing fourth among shortstops (minimum 300 plate appearances) in OPS (.926) and second in isolated power (.289). Between the rocket throws, preternatural range, and that opposite-field, walk-off homer in Game 2 of the ALCS, his ridiculous complement of tools has been on full display in October.
The Nationals' Trea Turner doesn't have Correa's thunder at the plate, and his glovework this year was particularly poor based on defensive runs saved. But he's a solid leadoff hitter (career .348 OBP; 110 OPS+) with game-changing speed and ranks third in the majors with 157 stolen bases over the last four seasons. Edge: Astros.
Outfield
Two of this season's top 15 position players by WAR reside in the Astros' outfield. George Springer, now a three-time All-Star, set new career highs in virtually every offensive category this year while also playing plus defense. Houston's biggest offseason addition, Michael Brantley, paid major dividends, hitting .311/.372/.503 as Marwin Gonzalez's replacement in left field. Josh Reddick, the Astros' worst outfielder, managed more defensive runs saved than all but two other right fielders in 2019 while putting up close to league-average offense.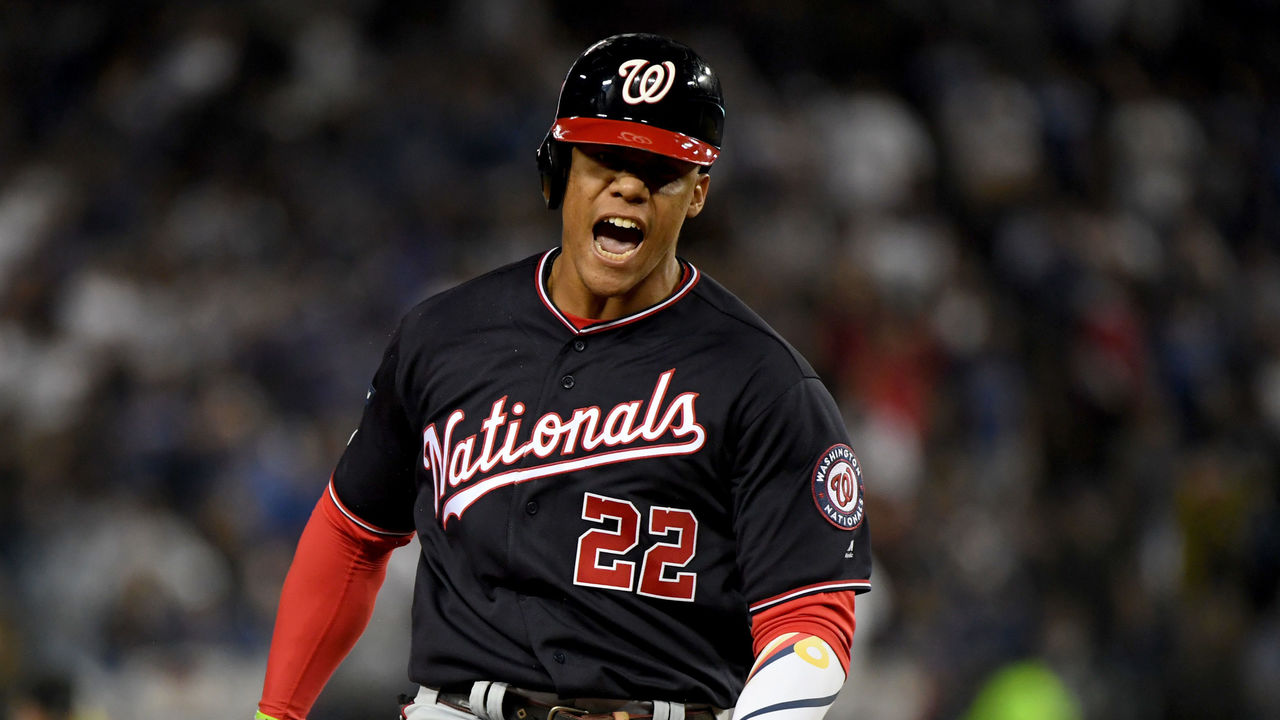 Though multiple metrics peg the Nationals' outfield as the defensively superior unit, it doesn't quite compare to Houston's. Yes, Juan Soto, the 20-year-old left fielder with a .937 OPS through his first two big-league seasons, is already a superstar. But neither center fielder Victor Robles (2.5 WAR; 91 wRC+) nor right fielder Adam Eaton (2.3 WAR; 107 wRC+) is close to as good as Houston's second-best outfielder. Edge: Astros
Designated hitter
After slashing an impressive .313/.412/.655 in 87 games as a rookie following his June promotion, Yordan Alvarez went AWOL in the ALCS. He went 1-for-22 with 12 strikeouts against the Yankees, yet as painful as it was to watch him, his brutal championship series amounted to one bad week. Anyone can have a bad week at the plate, and his series-long slump doesn't change the fact that Alvarez was MLB's best hitter in 2019 not named Mike Trout (minimum 300 PAs). Alvarez has hit at every level at which he's played, and the 22-year-old remains the Astros' best DH option by a mile.
It's not clear who will serve as the Nationals' designated hitter in Games 1 and 2 (and potentially Games 6 and 7); they can go in several different directions. Matt Adams could DH, for instance, with Zimmerman playing first base and Kendrick playing second. Alternatively, Zimmerman or Kendrick could DH, with the other playing first and either Brian Dozier or Asdrubal Cabrera playing second. There are other possibilities, too. But no matter who the Nationals slide into their lineup at Minute Maid Park, he won't be as good as Alvarez. Edge: Astros
Bench
With the exception of Maldonado and barring injury, the Astros' reserve players will remain glued to the bench for virtually the entire World Series. Jake Marisnick might get some late-inning pinch-running opportunities, too, but if Kyle Tucker or Aledmys Diaz get into a game, it'll be out of necessity or to conserve a starter's energy in a blowout. There's simply no scenario in which either player offers an upgrade over any regular he'd conceivably replace. Manager AJ Hinch can essentially set his lineup each day and take a nap until the seventh inning when it's time to get someone loose in the bullpen.
Nationals manager Dave Martinez, on the other hand, will be far more active in seeking out opportunities for his bench to pinch hit or platoon. Martinez has some useful players on his bench in Dozier, Adams, Cabrera, and Michael A. Taylor, and, more importantly, the starting lineup simply isn't set-it-and-forget-it good. Edge: Nationals
Pitching
Rotation
Look, each team has three legitimate aces. Combined, the Astros and Nationals boast six of the top 13 starters of 2019. Sussing out who has the edge is a fool's errand. Is Gerrit Cole better than Max Scherzer? Maybe. Maybe not. No one really knows. Nor can it be said with any degree of certainty that Justin Verlander is better than Stephen Strasburg. The same goes for Zack Greinke and Patrick Corbin. It remains to be seen if either club uses a fourth starter; the Astros could opt for a bullpen game in Game 4, while the Nationals might be more inclined - depending on the series score - to use Scherzer on short rest rather than start Anibal Sanchez. Regardless, we may never again see a World Series with as many appointment-viewing pitching matchups. Edge: Even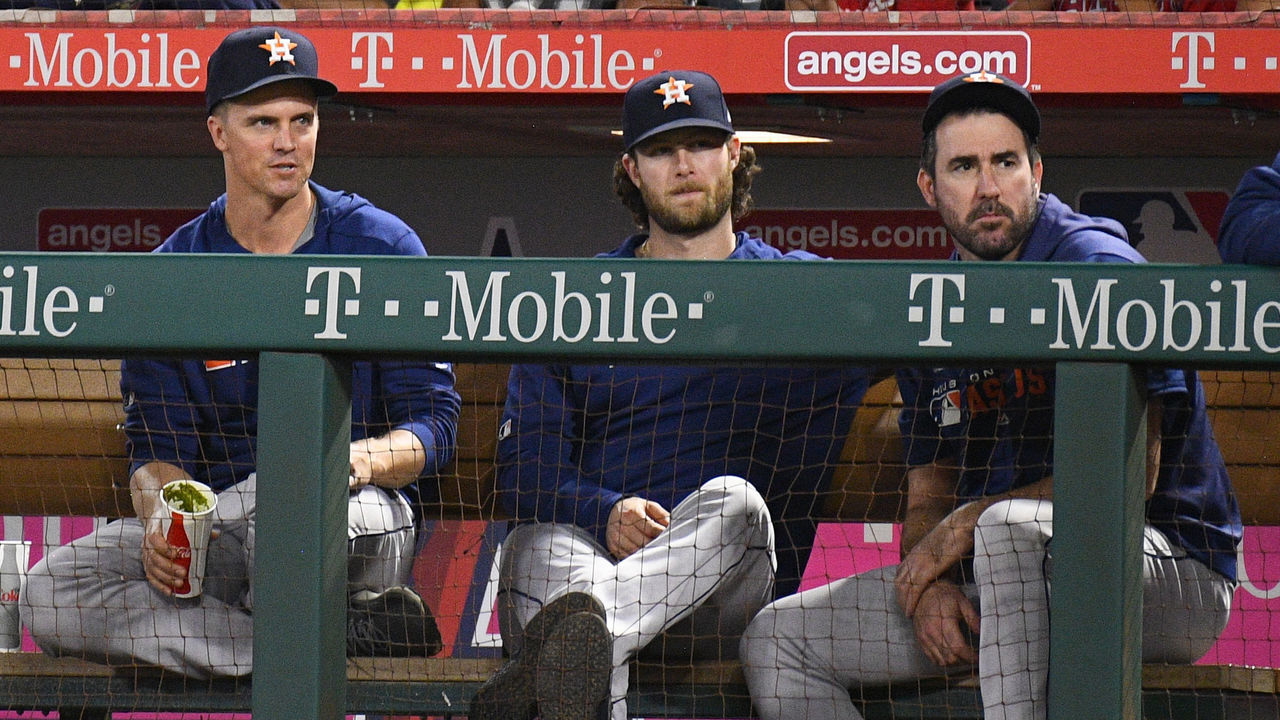 Bullpen
Even if Ryan Pressly's wonky knee precludes him from contributing in the World Series, the Astros' relief corps is still in good shape thanks to the triumvirate of Will Harris, Joe Smith, and Roberto Osuna. The trio has dominated all year and boasts a combined 1.93 ERA and 0.75 WHIP in 18 2/3 innings this postseason. If Pressly is unable to pitch, Josh James, the erratic right-hander with triple-digit velocity, will be heavily leaned on, too. The other members of Houston's bullpen are mostly irrelevant. Owing largely to the strength of the rotation, no Astros pitcher beyond the aforementioned five hurlers made more than one relief appearance in the ALCS.
As maligned as the Nationals' bullpen was coming into the postseason, the relative dearth of trustworthy options hasn't been a problem in October. That's mostly because Martinez has simply refused to entrust high-leverage situations to any reliever besides Sean Doolittle or Daniel Hudson, choosing instead to have one of his top three starters try to bail Washington out. The formula has worked so far, largely thanks to the fact the Nationals haven't had many high-leverage, late-inning scenarios. But Washington's thin bullpen is liable to get exposed against a ridiculously deep and disciplined Houston lineup, one that won't necessarily allow Scherzer, Strasburg, or Corbin to work deep into games. Edge: Astros
Jonah Birenbaum is theScore's senior MLB writer. He steams a good ham. You can find him on Twitter @birenball.