The National Baseball Hall of Fame will welcome six new members Sunday when Mariano Rivera, Roy Halladay, Edgar Martinez, Mike Mussina, Harold Baines, and Lee Smith are enshrined in Cooperstown.
Hall of Fame weekend runs July 19-21 with the induction ceremony taking place at 1:30 p.m. ET and broadcast on MLB Network. Here's everything you need to know about the Class of 2019.
Meet the Inductees
Mariano Rivera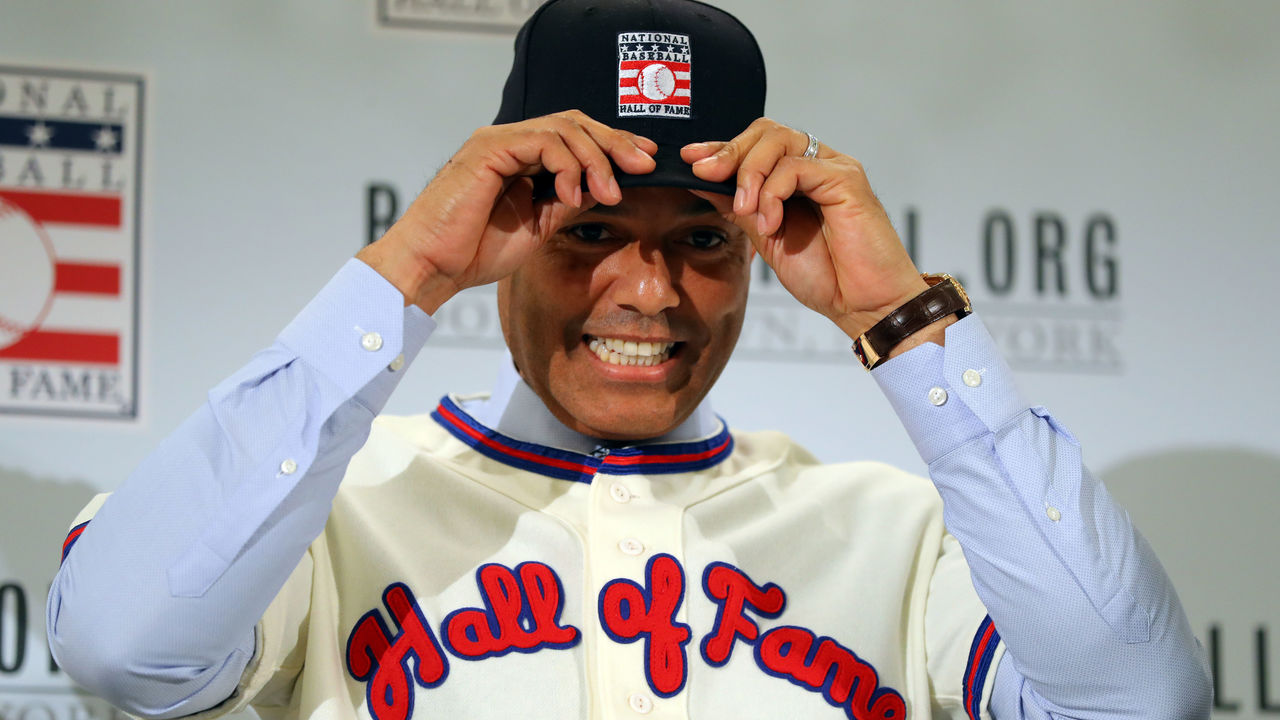 When Rivera's plaque is unveiled, his 652 saves will be front and center (figuratively, as his bronze likeness will literally be the center) but it was No. 602 that permanently etched his name in MLB record books. In the waning days of the 2011 season, Mo officially surpassed Hall of Famer Trevor Hoffman for first on the all-time saves leaderboard. It's truly remarkable for a reliever in any era to sustain excellence as one team's closer for nearly two decades. (Read more)
Roy Halladay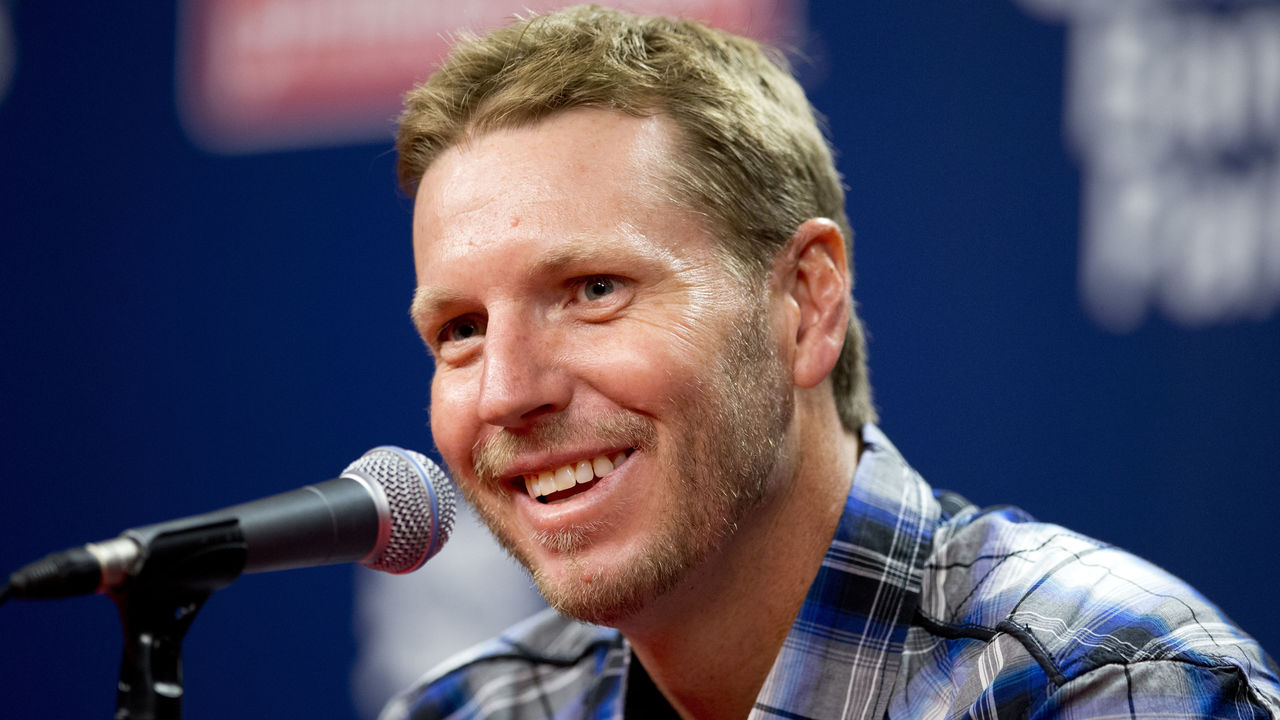 Doc was special. He was a workhorse starter in an era when they became less and less common. Since 1990, only three pitchers - Randy Johnson, Greg Maddux, and Curt Schilling - have tallied more complete games than Halladay's 67. And he did it in only 390 starts and 2,749 1/3 innings, considerably fewer than any member of that trio. (Read more)
Edgar Martinez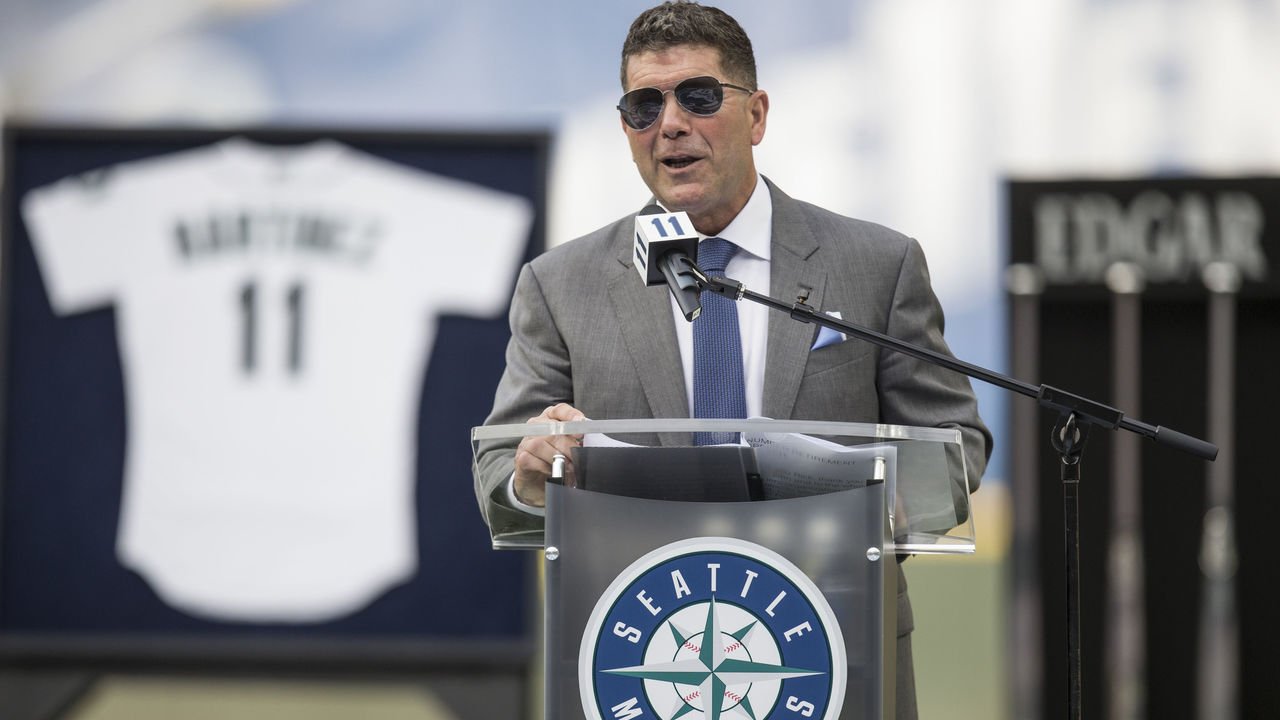 Martinez is arguably the greatest designated hitter of all time and one of the most feared hitters of his generation. Among qualified designated hitters, only Frank Thomas, Jim Thome, and Paul Molitor accumulated more WAR than "Gar." Each member of the aforementioned trio is in the Hall of Fame. "The only guy that I didn't want to face when a tough situation comes was Edgar Martinez," fellow Hall of Fame inductee Mariano Rivera said in 2013. (Read more)
Mike Mussina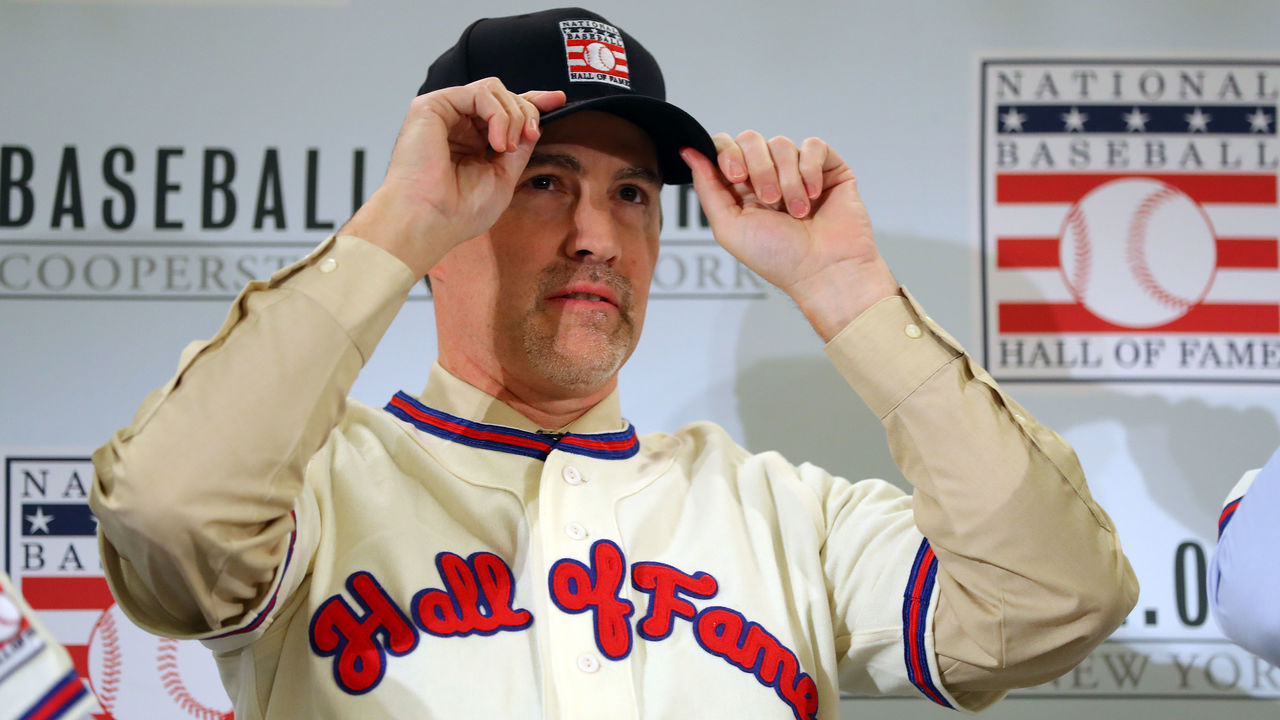 Mussina earns a spot in Cooperstown on the strength of a brilliant 18-year run in the American League East. Armed with a devastating curveball, the man known as "Moose" finished with 2,813 strikeouts, 270 wins, and a 1.19 WHIP over a career split between the Orioles and Yankees. Mussina was a five-time All-Star, seven-time Gold Glove winner, and had six top-five finishes in AL Cy Young voting; he managed to accomplish all of it while pitching in perhaps the most loaded division in baseball. (Read more)
Harold Baines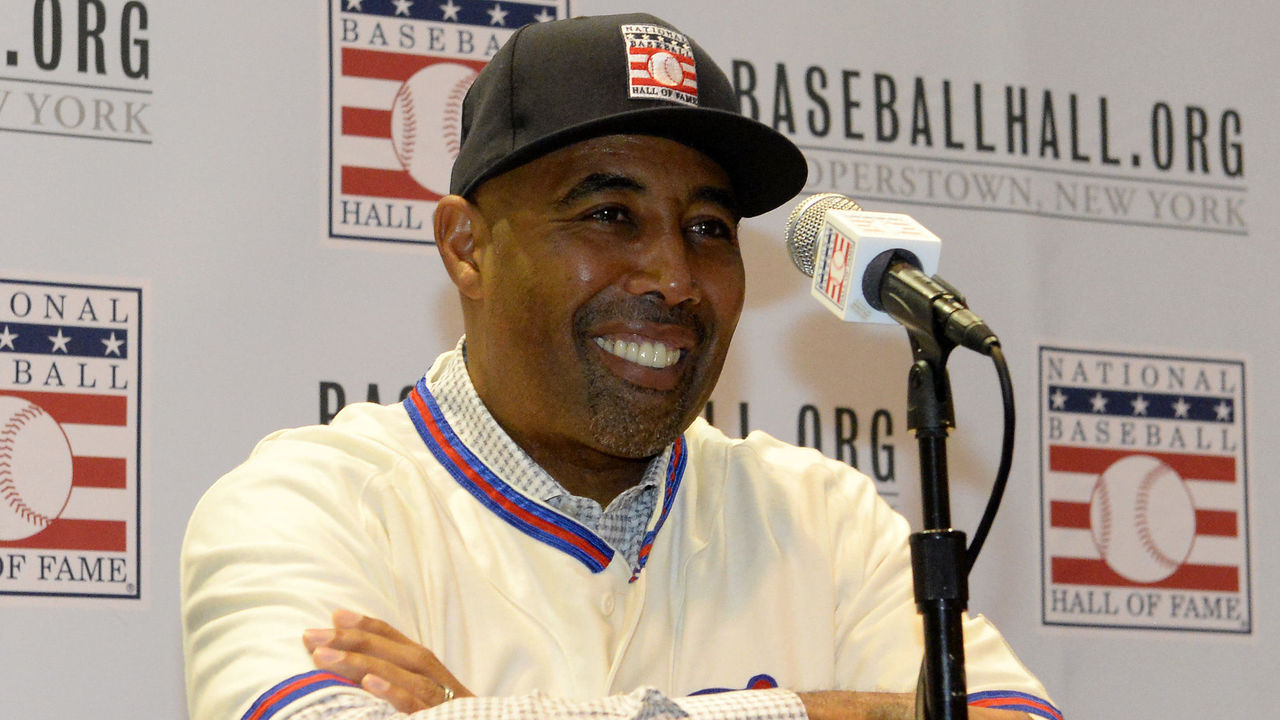 Armed with a sweet swing and iconic leg kick emulated on the South Side of Chicago for several generations, Baines spent 22 seasons as a quietly productive slugger in the American League. He's best remembered for his three stints with the White Sox, becoming such an icon the team retired his No. 3 after trading him in the middle of 1989. When injuries forced him to leave the outfield, he became one of baseball's premier designated hitters and helped pave the way for future DH-only players. He retired as the all-time leader in homers as a DH. Baines helped the White Sox end a 24-year playoff drought in 1983 - his walk-off sacrifice fly clinched the division - and also won a pennant in Oakland.
Lee Smith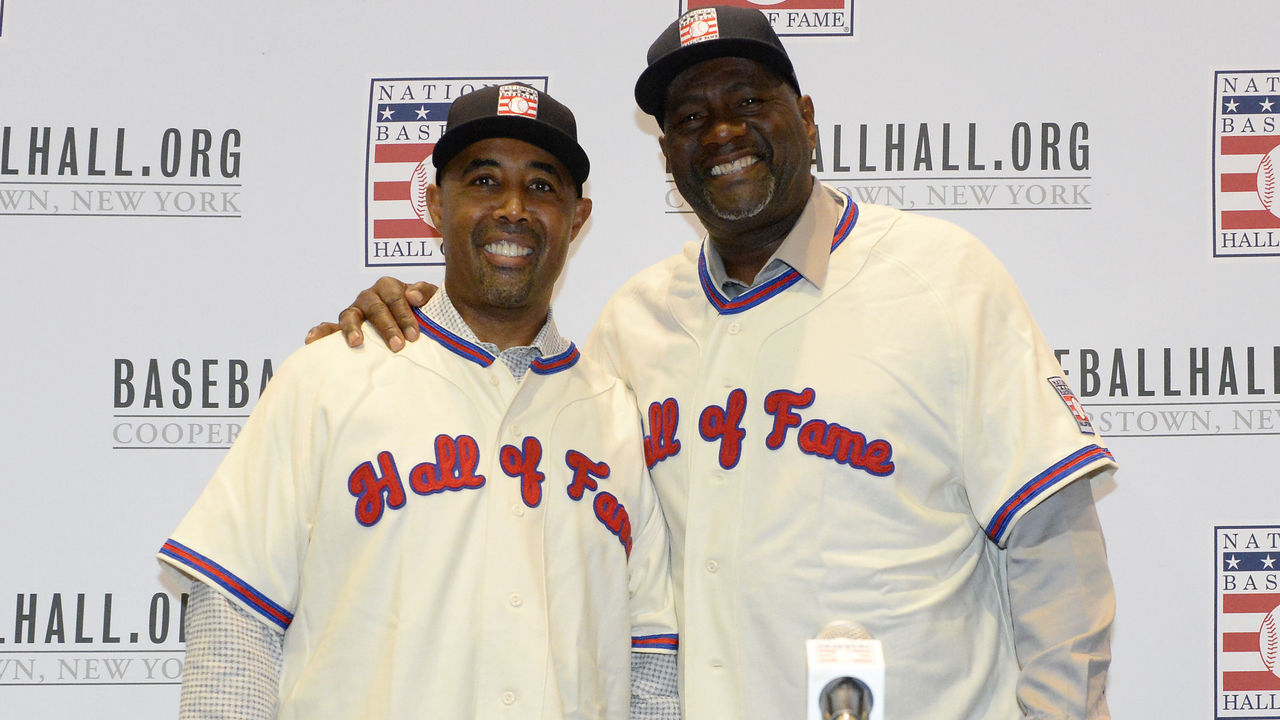 Smith was one of the most feared relievers of the 1980s and a pioneer in the role of closer. He was durable, appearing in at least 62 games a season from 1982-1993 and topping the 80-inning mark eight times. Smith was a seven-time All-Star and three-time league leader in saves, retiring as baseball's all-time leader in that category.
3 things to watch for Sunday
Doc's moment
Roy Halladay's tragic death in a plane crash two years ago will cast a pall over Sunday's celebration. The acceptance speech likely to be made by his wife, Brandy, should mark an emotional and defining moment of the afternoon. Cooperstown is within a day's drive of both Toronto and Philadelphia, so the Halladay family can expect to see plenty of love and support from both fan bases Sunday.
Edgar's long wait over
Ken Griffey Jr. might have been the first Mariner in the Hall, but to many, Edgar Martinez is the Mariners. He's had 10 years to prepare for a moment long overdue, getting the call in his final year of eligibility.
Mo love for Rivera
Expect plenty of Yankee fans to make the short trip to Cooperstown to celebrate one of the greatest players in franchise history. Rivera is the first player in history to ever be voted into the Hall of Fame unanimously.
2019 Award winners
Ford C. Frick Award for excellence in broadcasting: Al Helfer
Helfer, who died in 1975, was a well-known radio broadcaster and enjoyed a career in baseball that began in 1933 and spanned nearly five decades. Best remembered as the voice of the Mutual Broadcasting System's "Game of the Day," a national radio broadcast in the 1950s, he also worked on local broadcasts for multiple franchises. He retired in 1969 after calling seven World Series and 14 no-hitters, including Catfish Hunter's perfect game in 1968.
J.G. Taylor Spink Award for baseball writing: Jayson Stark
Stark is a longtime and well-respected scribe who's covered baseball at the local and national levels. He began his career writing about the Phillies before moving to ESPN and now writes for The Athletic.
Quiz: How well do you know the Class of 2019?