Chris Paddack won't call himself an ace, but the fiery rookie looks the part
Christian Petersen / Getty Images
Three weeks before he had secured a spot on the San Diego Padres' roster, Chris Paddack told reporters he wanted the ball on Opening Day.
He had yet to throw a pitch in a major-league game. He had made only seven starts above High-A. He wasn't a consensus top-50 prospect.
For the uninitiated, though, it was an on-brand introduction.
Paddack didn't land the Opening Day assignment (that honor went to Eric Lauer), but the 23-year-old right-hander has since made it abundantly clear that his audacity was justified - and proportionate to his talent.
Through the first two months of his career, Paddack has practically evoked prime-era Pedro Martinez on the mound while showing off an unapologetic - and deliciously Southern-fried - bravado that's captivated the attention of the league (and rendered him persona non grata in Queens).
Most rookies eschew behavior that attracts attention. But Paddack showed up for his major-league debut looking like a blond Johnny Cash, evoking his Texas roots with an all-black suit, cowboy hat, and boots. Later, he called out another precocious rookie, Peter Alonso of the New York Mets, solely to antagonize.
Paddack pumps his fist after strikeouts. He stares down opponents. He rides the dugout railing like a bucking bronco when his teammates go deep. And thus far, he's avoided any comeuppance by also being one of baseball's most indomitable starters in 2019, authoring a preposterous 1.93 ERA with an 0.76 WHIP - and accruing the third-highest WAR mark among National League rookies (1.4 via FanGraphs) - across his nine starts.
Between the stuff and the swagger, in other words, Paddack looks like an emergent ace. Understandably, with only 10 weeks of major-league service time under his belt, he refuses to characterize himself as one, but if the cowboy boot fits ...
"I feel like that's the way I continue to have success, is just knowing that I'm the best in the world," Paddack said.
"You got to have - not being cocky - you got to have that inner confidence because this game, man, it'll humble you. And it's a game of failure."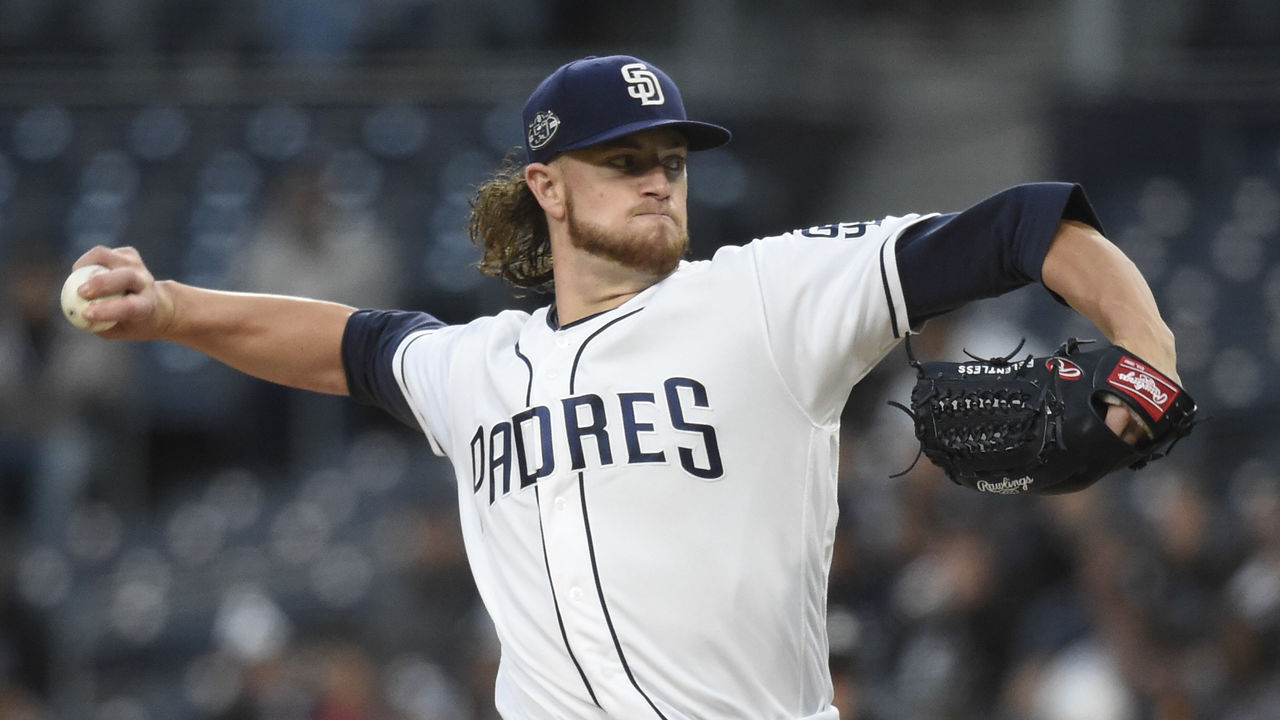 Paddack's emergence didn't exactly come out of left field, but it was far from preordained.
Selected by the Miami Marlins in the eighth round of the 2015 draft, Paddack was best known as the dude who got traded for a half-season of Fernando Rodney. Last year, though, he returned from Tommy John surgery with aplomb and continued to demonstrate command of a high-octane three-pitch mix. In 2018, Paddack crafted a 2.10 ERA across 17 starts split between High-A Lake Elsinore and Double-A San Antonio, recording 120 strikeouts while issuing just eight walks and allowing only four home runs in 90 innings.
Only then did he start to garner Legitimate Prospect Attention, though his relatively small body of work left evaluators split as to his potential. Coming into the 2019 campaign, MLB.com pegged Paddack as the game's 34th-best prospect, while Baseball America had him at No. 66; Baseball Prospectus ranked him 37th overall, yet he was only considered the fifth-best prospect in an admittedly stacked Padres system.
"I just feel like I've always been overlooked," Paddack said. "And I love that. … I think that it has a lot to do with my success, just kind of being that underdog. And what I mean by that, it's just kind of like I'm finally showing the world who I am. (I'm) finally getting what I deserve."
The Padres could've easily overlooked Paddack this spring, too. Without having logged even 100 innings in a season, and with only a modicum of experience at Double-A, Paddack could've been defensibly assigned to Triple-A at the end of March. The addition of big-ticket free agent Manny Machado dramatically shifted the Padres' outlook for 2019 and compelled them to roster their most highly touted, major-league-ready prospects - namely Fernando Tatis Jr. and Paddack, who was told he'd made the team while being removed from a late-spring start against the Seattle Mariners.
"It was tears of joy in my eyes, man," Paddack said. "It was just seeing the reflection of all the hard work flash between my eyes. It was a very special moment for me."
Since then, Paddack has been turning the world's best hitters into sentient piles of goo. No matter what he throws, hitters haven't squared it up.
Against his four-seam fastball, which averages nearly 95 mph and tops out at 99, opponents are hitting just .158 with a .258 slugging percentage, according to Baseball Savant. They haven't fared much better against his curveball, which is nearly 20 mph slower than his heater and boasts 5 percentage points more vertical drop than league average. Opponents are hitting .167 and slugging .250 against the deuce. Arguably, though, Paddack's most devastating weapon is his changeup, a pitch so good that he uses it liberally even against same-handed hitters in blatant violation of conventional pitching wisdom.
"My Double-A coach called it the Bugs Bunny," Paddack said. "And I was like, 'What do you mean by that?' And he showed me a video on YouTube. ... I think Bugs Bunny is pitching. I forget what Looney Tunes character is hitting, but he literally turns around, like, eight times before the pitch even gets there."
Exhibit A:
Exhibit B:
Much like those hapless Looney Tunes mugs, opponents whiff aplenty against Paddack's changeup, fanning nearly 20 percent of the time while mustering a meager .153 average and .222 slugging percentage off it.
Put it all together and the results are staggering.
| Statistic | Value | MLB Rank |
| --- | --- | --- |
| WHIP | 0.76 | 2nd |
| Opp. average | .155 | 2nd |
| Strikeout percentage | 28.7 | 17th |
| Walk percentage | 5.6 | 25th |
| K/BB ratio | 5.09 | 13th |
| FIP– (park adjusted) | 66 | 10th |
| Barrels (100 batted balls min.) | 6 | 3rd (tie) |
In seven of his nine starts, Paddack allowed two earned runs or fewer. The only pitcher with a lower WHIP and opponents' average is Justin Verlander. Only the Braves' Mike Soroka and the Athletics' Frankie Montas have allowed fewer barreled balls (defined as batted balls with an expected batting average of at least .500 and an expected slugging percentage of at least 1.500) for pitchers with at least 100 batted balls allowed.
And Paddack's done it all with an in-your-face panache and unbridled emotional flair that makes for damn compelling baseball.
"Never do I try and show someone up," he said. "It's just more when you're a starting pitcher, or even coming out of the bullpen, you're kind of setting the tone for your team. You're kind of bringing that energy. And the guys love it. They feed off of it. It fires me up in the inner self. It keeps me focused. It keeps me locked in."
The Padres, by the way, are 7-2 in games started by Paddack.
"It's just nice to see his name in the lineup," veteran second baseman Ian Kinsler said. "We know what we're going to get. We know we're going to get 100 percent effort from him, and he's going to do whatever he can to win the game."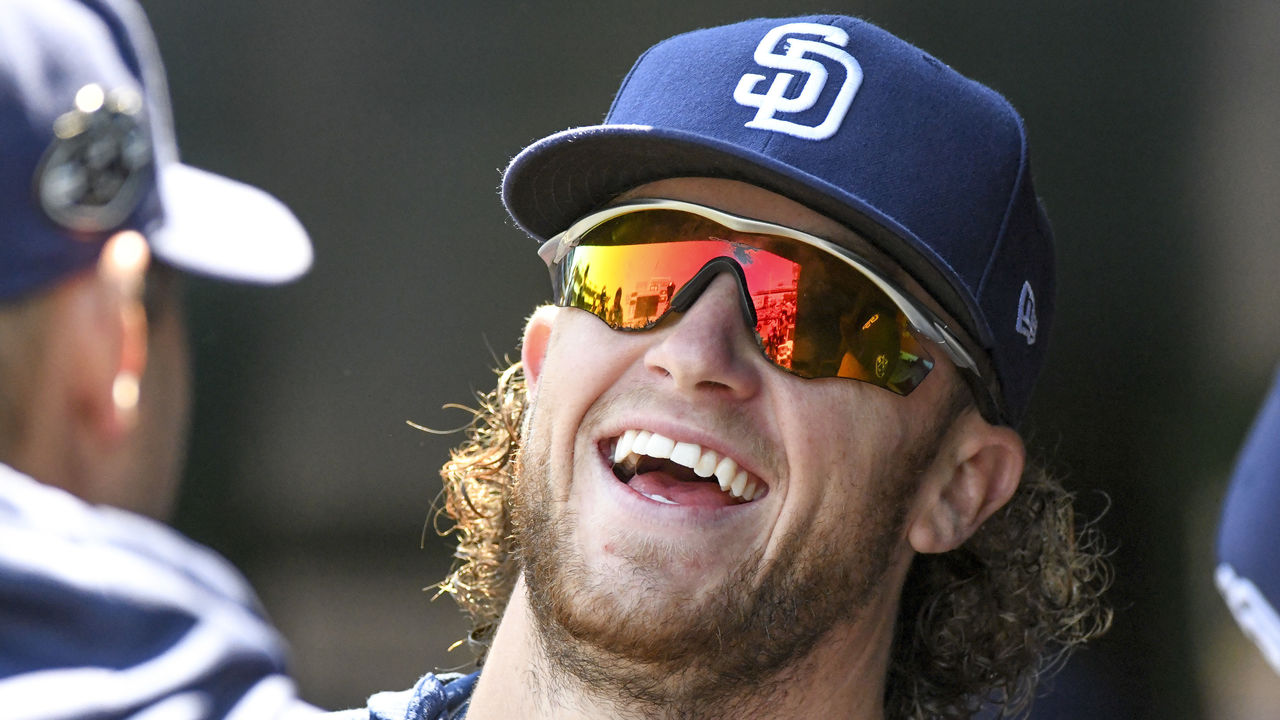 While load management will likely scuttle Paddack's chances of realistically contending for the National League Cy Young Award - he's logged only 51 1/3 innings thus far and hasn't once pitched on regular rest - that doesn't mean he can't author one of the most statistically impressive rookie seasons ever.
Right now, Paddack is one of just six live-ball-era pitchers to put up an ERA at least 115 percentage points better than league average as a rookie while making at least nine starts. None of the five other pitchers on that list logged more than 134 innings in their respective debut campaigns. Put another way, Paddack's success has been so otherworldly that few other rookie pitchers have come close to replicating it over a full season.
"There's definitely guys who have come into the league and made their mark very quick," said Kinsler. "And that's what Chris is doing right now."
Rookies with at least 9 GS, 215 ERA+, 1920-2019
| Player | Year | ERA+ | GS | IP |
| --- | --- | --- | --- | --- |
| Chris Paddack | 2019 | 215 | 9 | 51.1 |
| Zach Duke (RoY-5th) | 2005 | 233 | 14 | 84.2 |
| Cal Eldred (RoY-4th) | 1992 | 217 | 14 | 100.1 |
| Steve Rogers (RoY-2nd) | 1973 | 245 | 17 | 134 |
| Red Witt | 1958 | 241 | 15 | 106 |
| Al Brazle | 1943 | 221 | 9 | 88 |
To be sure, he won't be this good all season. Specifically, his .198 batting average on balls in play will eventually creep closer to league average, as will his 8.3 percent home-run-to-fly-ball ratio, even with his half his starts coming in spacious Petco Park.
Still, even if regression and an innings limit (likely around 150) conspire to keep him out of the record books, Paddack's debut season should be meaningful nonetheless. As baseball plunges further into the era of ridiculously stacked bullpens, the ace has practically become an endangered species. Having one begin to sprout somewhat unexpectedly is a boon for the game. Doubly so when that pitcher has as much personality as Paddack.
Not since Jose Fernandez has a rookie starter enjoyed so much success and had the audacity to recognize it, embrace it, celebrate it, and flaunt it. And no matter which side of baseball's culture war you fall on, Paddack deserves credit for doing the seemingly impossible: He's made Padres games appointment viewing.
Therein lies the power of an ace - not that he's prepared to anoint himself one yet. Then again, Paddack was asking for the Opening Day gig before he'd pitched at Triple-A.
So maybe give it a week or so.
Jonah Birenbaum is theScore's senior MLB writer. He steams a good ham. You can find him on Twitter @birenball.
Comments
✕
Chris Paddack won't call himself an ace, but the fiery rookie looks the part
  Got something to say? Leave a comment below!