The Twins have gone from patient to aggressive at the plate - and it's working
Jim McIsaac / Getty Images
The Minnesota Twins barely made Corey Kluber break a sweat on Opening Day.
The Cleveland Indians ace needed just 79 pitches to navigate seven innings, as the Twins' revamped lineup - replete with new faces who imbued the organization and its fan base with cautious optimism following a regressive 2018 campaign - swung liberally, offering at more than half of Kluber's pitches and rarely taking a hittable one.
That aggressiveness did damage, though.
The Twins scorched the ball all afternoon, recording exit velocities above 95 mph nine times - Kluber has yet to allow that many missiles in a start since - while striking out just five times against the two-time Cy Young Award winner. Though the laser show amounted to only two runs, a brilliant effort from starter Jose Berrios sent the Twins home with a 2-0 victory.
Minnesota's approach against Kluber, it turns out, was also a harbinger of things to come.
"I think right off the bat, we kind of showed we're not afraid to swing," first baseman C.J. Cron said. "And that's kind of the offense we have."
Indeed, throughout their torrid 22-12 start, the Twins, who boast a four-game lead atop the American League Central and an even more encouraging plus-36 run differential, have been one of the most free-swinging teams in baseball, representing a dramatic departure from a patient offensive philosophy long practiced in Minnesota. And while it'd be disingenuous to attribute their surprisingly elite offense (the team's .815 OPS ranks third in the majors) solely to a shift in approach, the Twins seemingly have yet to suffer any adverse effects from being perpetually in swing mode.
"I think (the front office) kind of constructed the lineup like this for that reason: to be an aggressive offense that can hit the ball hard," Cron said. "And I think we've shown that so far in the first month."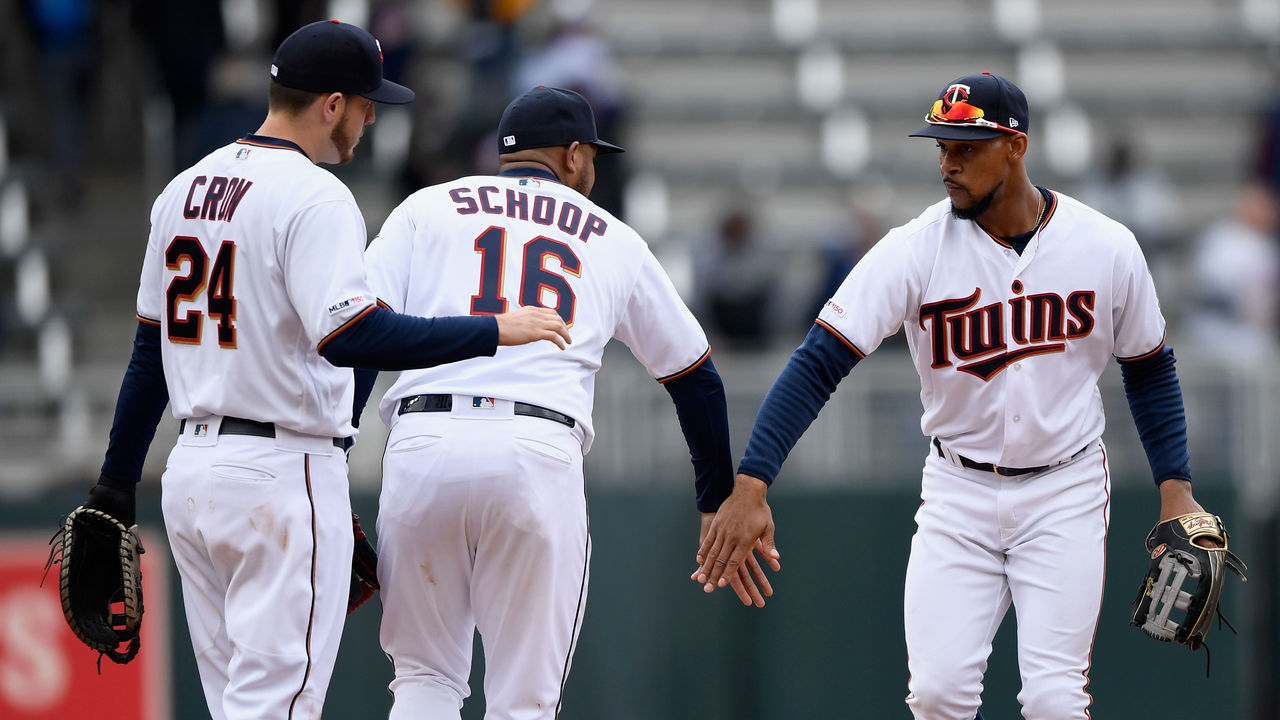 Nearly six weeks into the season, the Twins - bolstered in the offseason by the additions of Nelson Cruz and Marwin Gonzalez, as well as free-swinging types such as Jonathan Schoop and Cron - have offered at a higher percentage of pitches than all but three other teams. All told, they've increased their swing rate by more than 3 percentage points from 2018, easily the biggest jump of any club.
| Team | 2019 Swing Pct. | 2018 Swing Pct. | Diff. |
| --- | --- | --- | --- |
| Twins | 48.4% | 45.1% | 3.3% |
| Diamondbacks | 47.4% | 45.5% | 1.9% |
| Reds | 47.7% | 46.8% | 0.9% |
| Giants | 48.4% | 47.6% | 0.8% |
| Astros | 44.8% | 44.3% | 0.5% |
For the first time this decade, in fact, Minnesota's hitters have been markedly more aggressive than league average. And while correlation doesn't equal causation, it should also be noted that the Twins' offense is currently not mediocre for the first time this decade.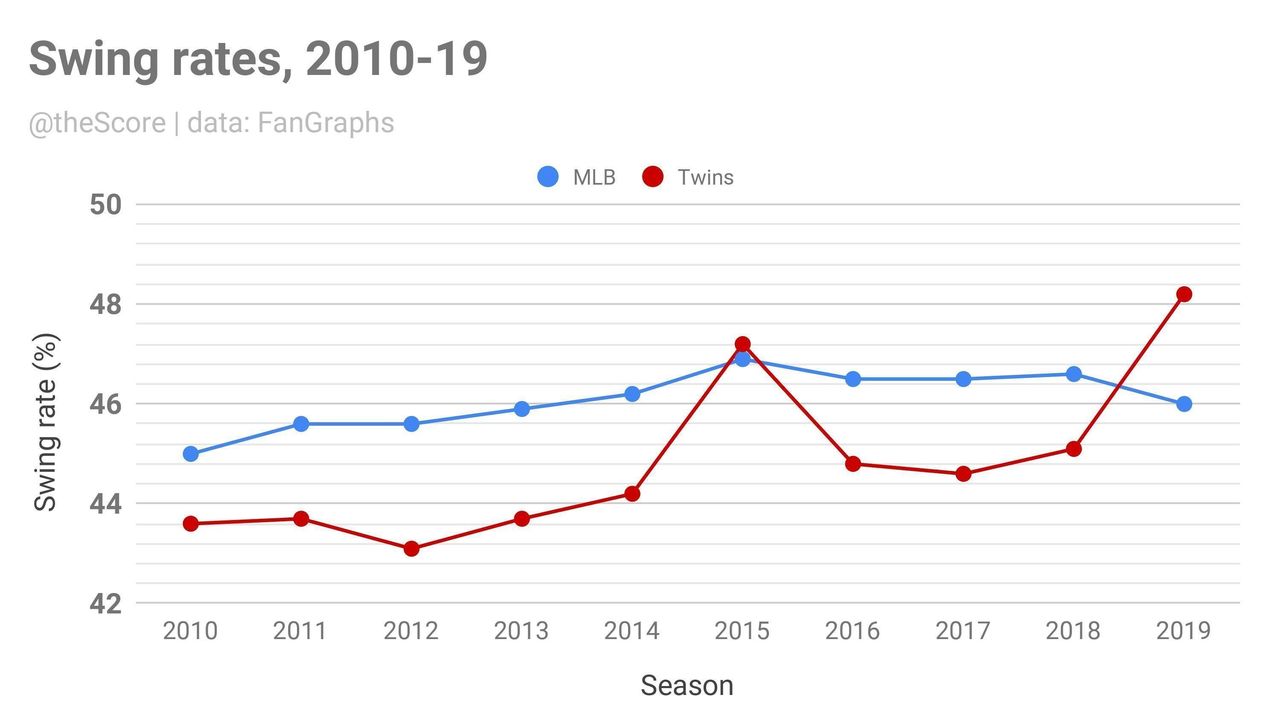 The additions of Schoop and Cron have certainly helped fuel that jump (as have the departures of Joe Mauer and Brian Dozier, both of whom were famously selective at the plate), but many of the Twins' young holdovers have become more inclined to take the bats off their shoulders, too.
Max Kepler, who trails only Eddie Rosario for the team lead in home runs, has swung at 6 percent more pitches than he did a year ago. Jorge Polanco, who ranks second among all qualified shortstops in wRC+, has increased his swing rate by 2 percentage points. Even Willians Astudillo, whose cult persona was already built around his distaste for taking pitches, has somehow bumped up his swing rate by more than 7 percentage points from his abbreviated 2018 debut.
Those increases can be partially attributed to Rocco Baldelli, who replaced Paul Molitor as manager in the winter. Over the final three seasons of Molitor's four-year tenure, the Twins swung at a smaller percentage of pitches than every team except the Boston Red Sox and the Los Angeles Dodgers.
"He wants us to have quality at-bats, have great at-bats," center fielder Byron Buxton said of Baldelli. "He ain't want you giving up no strikes. With that in your head, we're an aggressive team. We like to swing the bat. And we swing the bat very good."
Added Cron: "What he preached was aggressiveness. He wants us to be ourselves."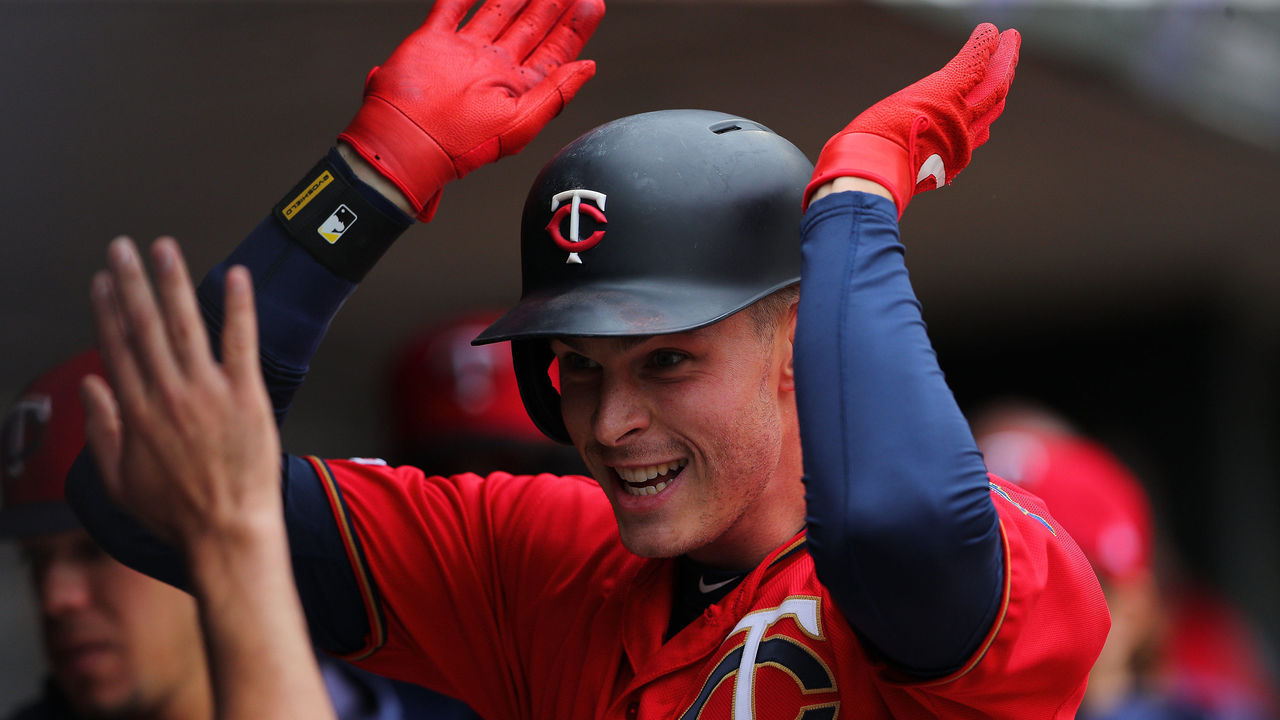 Of course, swinging more often isn't necessarily better, as the line between aggressive and undisciplined can be razor thin. But so far, the Twins have channeled their aggressiveness into quality swings; no team has offered at a higher percentage of pitches inside the strike zone than Minnesota.
"I think there's some times when you're around baseball, there's this whole thing about don't swing at the first pitch. And then if the first guy swings at the first pitch, don't swing at the second pitch," Cron said. "But there's none of that with this team."
The Twins are demonstrating that when good hitters swing at strikes, no matter the count, good things happen. Entering play Wednesday, they lead the majors in isolated power (.232), rank third in expected weighted on-base average (.345), and have produced the eighth-most runs per game (5.21).
"You want to work the pitcher and you want to do all this kind of stuff, but you also want to hit the ball hard and give yourself a chance to succeed out there," Cron said.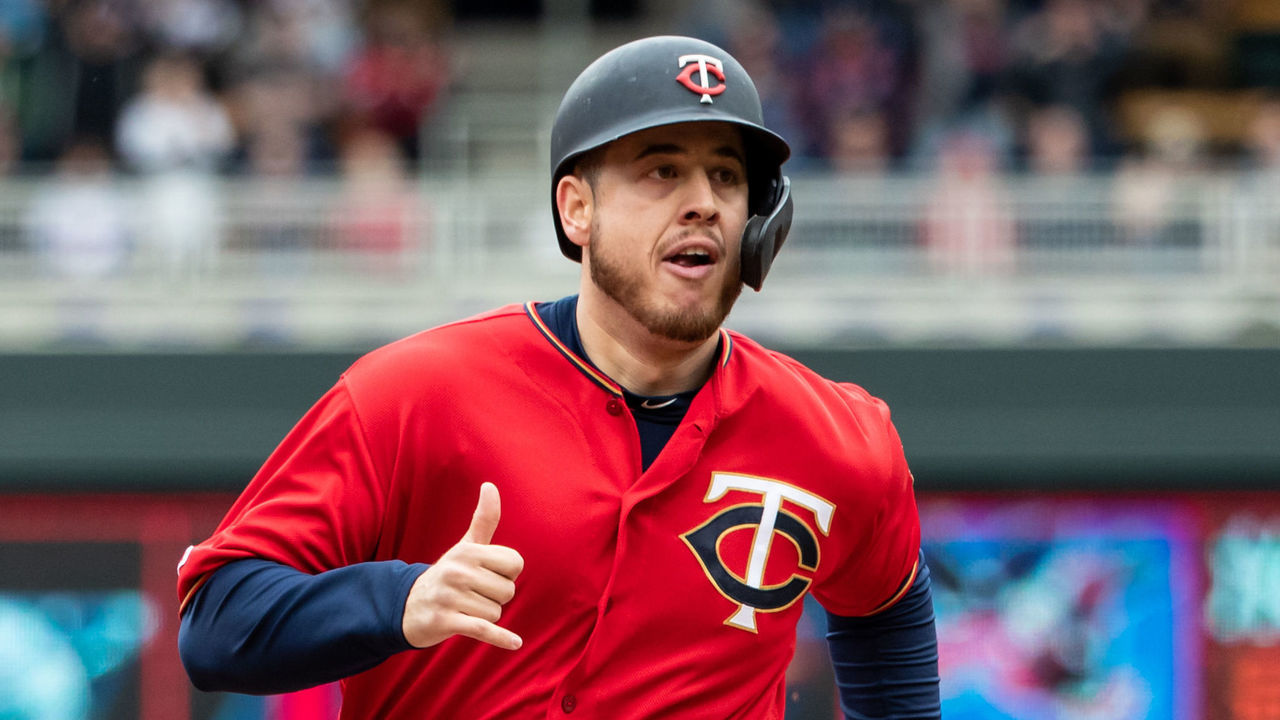 Interestingly, the Twins' increased aggressiveness and the bat-to-ball skills of a much-improved lineup have actually made them something of an anachronism in today's game. Strikeouts have been steadily increasing league-wide for more than a decade, but Minnesota's hitters are resisting the epidemic. They've whiffed in fewer than 20 percent of their plate appearances to begin 2019, while MLB's overall rate is sitting at a record 23.2 percent and hasn't dipped below 20 percent since 2013.
"I think our guys battle in their at-bats very well," Baldelli said. "And the deeper the at-bat goes, and the closer they get to two strikes - or when they get to two strikes - they have a desire to change their approach and maybe not take their 'A' swing, but maybe take their 'B' swing and try to make something happen that way. And I think it's apparent. I think we can see it, and it's led to good things for us."
While they may be adept at making those adjustments during at-bats, it's also true that Minnesota's hitters just don't get to two strikes very often: only 27.9 percent of the pitches they've seen this season have come in two-strike counts, the third-lowest rate in the majors. It's hard to strike out when you're consistently putting the ball in play early in counts. And the Twins, who own the sixth-highest contact rate in baseball, have swung at the first pitch more frequently than all but five other teams.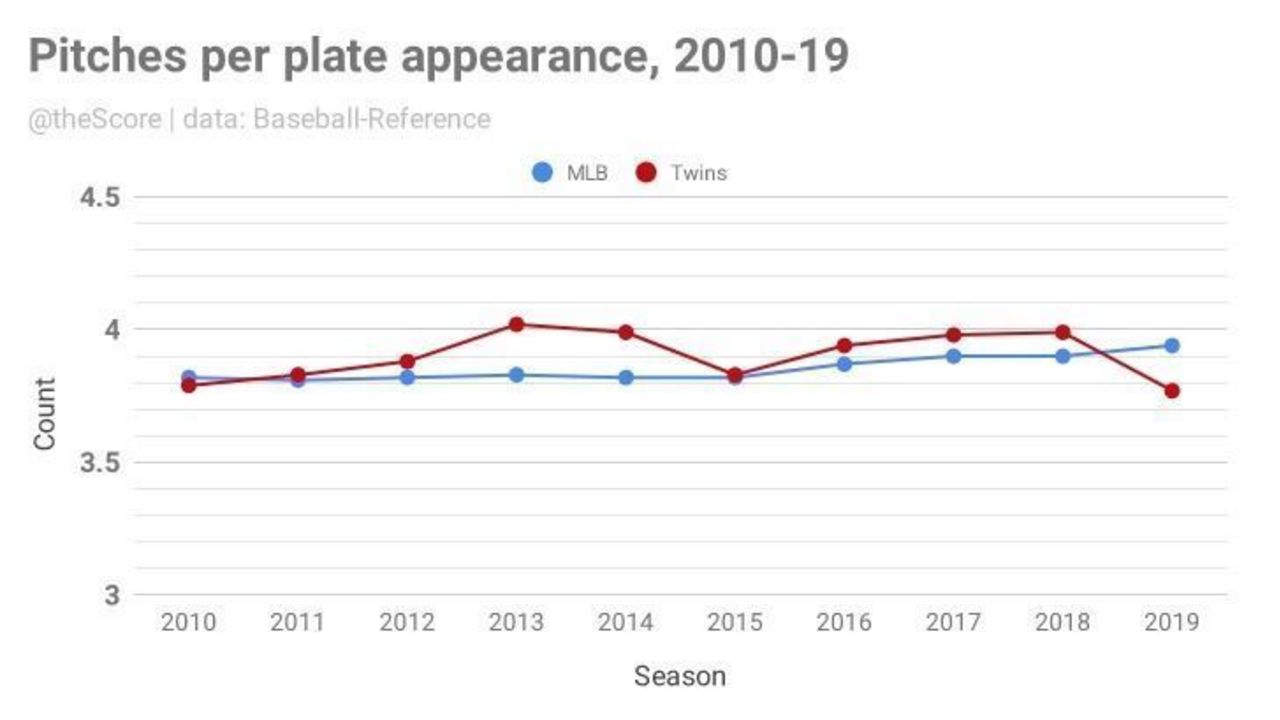 Ultimately, the Twins' impressive start to 2019 can be attributed to multiple factors, from success in one-run games (6-3) to simply having better players. A shift in offensive approach may or may not be one of them. This early in the season, it's impossible to say whether their hitters are swinging more because they're having success, or whether they're having success because they're swinging more. But as long as the Twins keep producing, don't expect them to step into the box looking to walk.
"I think we kind of feed off each other's at-bats," Cron said, adding: "And I think when one guy hits the ball hard, the next guy wants to hit the ball hard."
Jonah Birenbaum is theScore's senior MLB writer. He steams a good ham. You can find him on Twitter @birenball.
Comments
✕
The Twins have gone from patient to aggressive at the plate - and it's working
  Got something to say? Leave a comment below!