A month's worth of data can often be misleading, especially at the beginning of the season.
In 2006, Chris Shelton memorably clobbered 10 home runs in April. By season's end, his numbers were barely league average. Last year, Matt Carpenter carried a .155 batting average and a .274 slugging percentage into May. By season's end, he'd established a new career high in OPS at .897.
That isn't to say predictive value can't be gleaned from April performances. You just have to know where to look - and what to look for. With May on the horizon, let's review some notable early-season performances and determine whether they augur future success, or whether they're Shelton-esque mirages. (Note: Statistics updated through Tuesday's games.)
Believe - Peter Alonso, Mets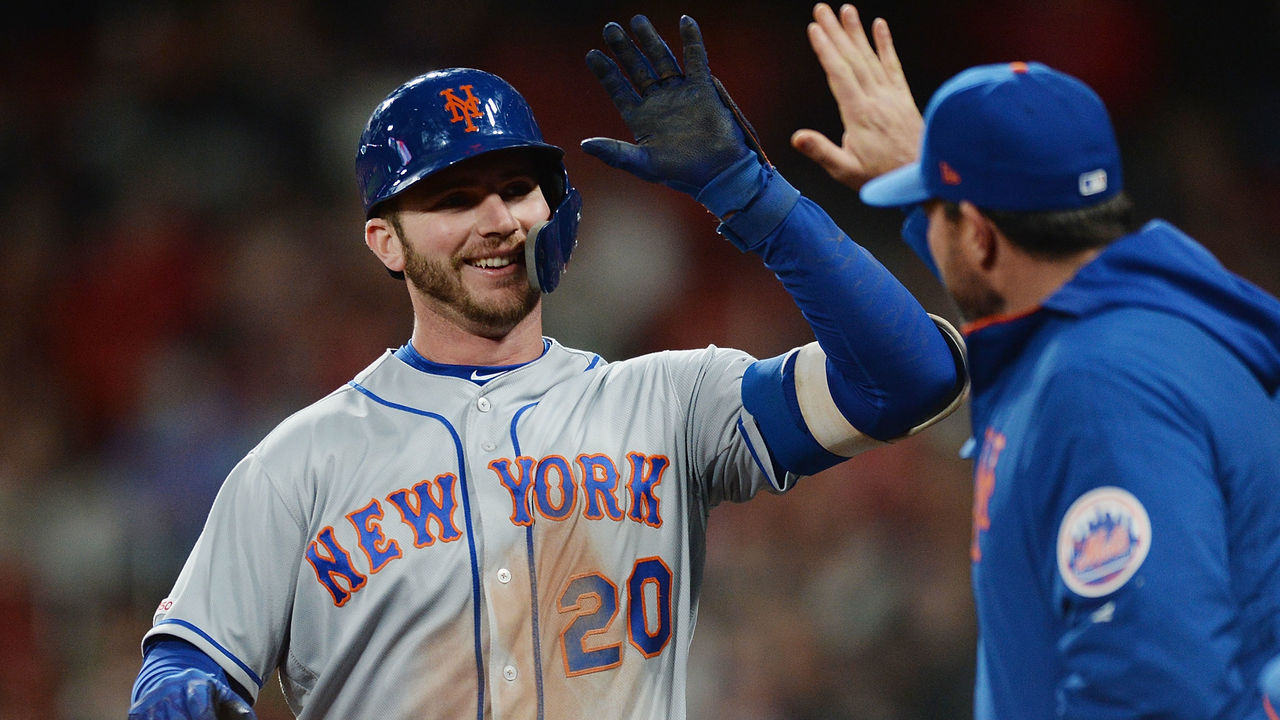 | OPS | AVG | ISO | HR |
| --- | --- | --- | --- |
| 1.099 | .310 | .381 | 8 |
There's no stronger case against the manipulation of a major-league-ready prospect's service time than Alonso, the precocious rookie who currently leads the Mets in home runs (eight), slugging percentage (.690), and wRC+ (189), while trailing only Michael Conforto and Jeff McNeil in on-base percentage (.408). His underlying numbers don't suggest he's poised to slow down much, either. Though Alonso has slightly outperformed his expected numbers (culled from the exit velocities and launch angles of his batted balls), the 24-year-old still owns a .441 expected weighted on-base average, tying him with Minnesota's Nelson Cruz for 10th in the majors among players with at least 50 plate appearances. (Last year, Mookie Betts led MLB with a .449 wOBA.)
Moreover, Alonso is "barreling" the baseball - that is, producing a batted ball with an expected batting average of at least .500 and an expected slugging percentage of at least 1.500 - more frequently than every MLB hitter other than the Yankees' Gary Sanchez and the Rangers' Joey Gallo. Alonso's contact quality is off the charts, in other words, even against pitchers who are clearly resolved to get him to chase; he's currently seeing fewer pitches inside the strike zone than all but 18 qualified hitters.
Don't believe - Tim Anderson, White Sox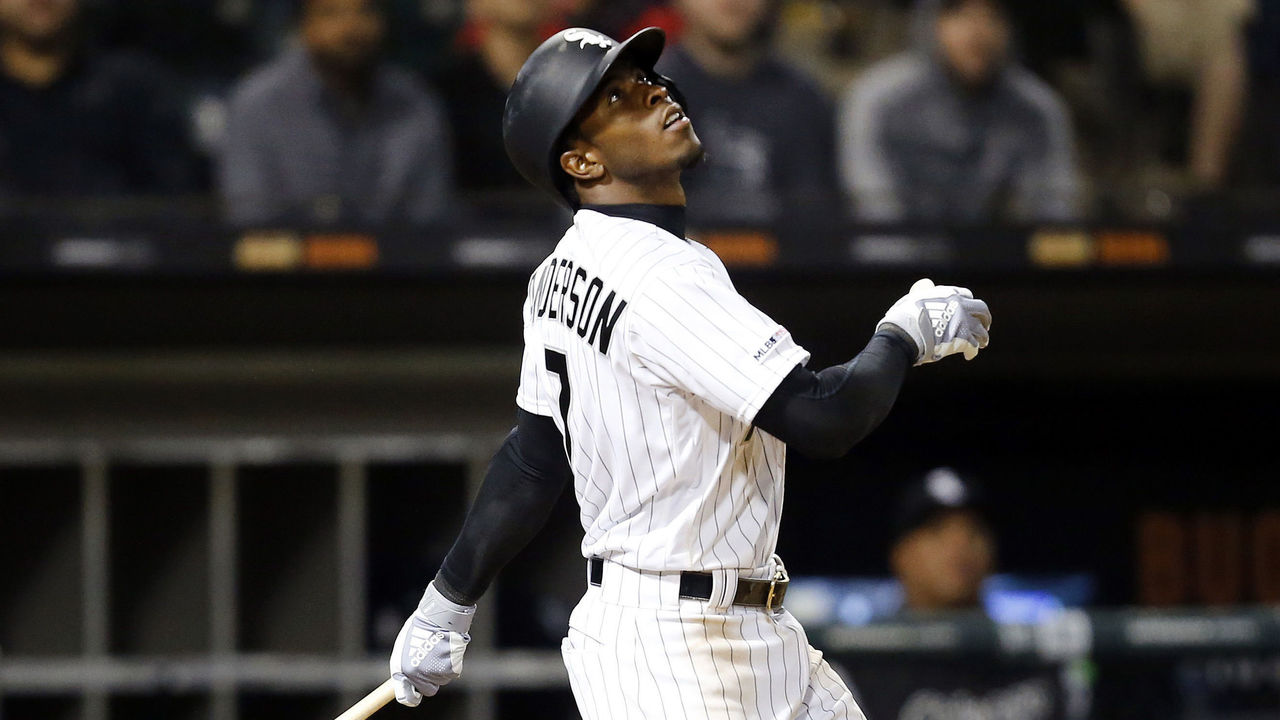 | OPS | AVG | ISO | HR |
| --- | --- | --- | --- |
| 1.023 | .395 | .211 | 4 |
A lack of plate discipline has marred Anderson's otherwise promising career, and his "swing at literally everything" approach will ultimately undermine his efforts to be a premier offensive shortstop in 2019, too. Swinging freely isn't necessarily a bad thing, of course - Freddie Freeman is one of baseball's best hitters and he had the sixth-highest swing rate in the majors last year - but Anderson remains aggressive to a fault. The 25-year-old is currently offering at a higher percentage of pitches outside the strike zone (43.9 percent) than all but four qualified hitters. As such, he's drawn just two walks in 19 games and is taking a free pass less often (2.5 percent) than every qualified hitter except Andrelton Simmons, Kevin Pillar, and Jose Peraza - none of whom are even sniffing league-average production at the moment.
Anderson, conversely, has been exceptional so far this season with a 186 wRC+, but that's largely because of, well, luck. His hard-contact rate is actually down 5 percent from last season, but Anderson still boasts a preposterous .456 batting average on balls in play (BABIP). Eventually, those poorly struck balls - a consequence of constantly swinging at non-strikes - are going to stop finding holes, and once his BABIP shrinks back to normal size, so too will his outsized production.
Believe - Jorge Polanco, Twins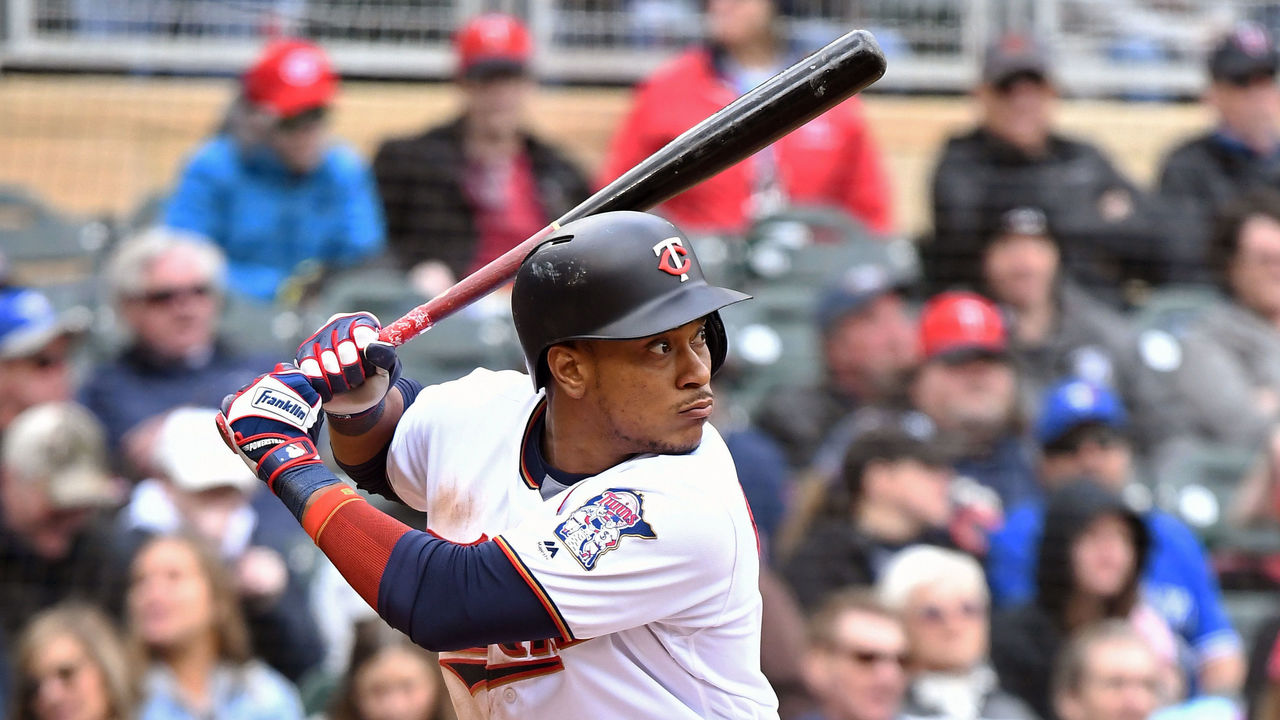 | OPS | AVG | ISO | HR |
| --- | --- | --- | --- |
| 1.111 | .372 | .308 | 4 |
Like Anderson, Polanco's gaudy numbers are partly the result of good luck - his .403 BABIP is eighth-highest in the majors - but they're also a byproduct of a marked improvement in contact quality for the 25-year-old. Polanco, who served an 80-game suspension last year after testing positive for a performance-enhancing drug, has increased his hard-contact rate by more than 10 percentage points from 2018, while his soft-contact rate has dropped by almost 7 percentage points. His average exit velocity has been 88 miles per hour, according to Baseball Savant, up from 84 a year ago. And just as significant is the increase in Polanco's launch angle, which has jumped to 22 degrees from 15.5 in 2018. Long story short: Polanco is hitting the ball harder and higher, which is a pretty solid recipe for success. He didn't hit his fourth home run in 2018 until his 54th game, after all, and his current .422 xwOBA is tied for 19th-best in the majors.
Don't believe - Max Scherzer, Nationals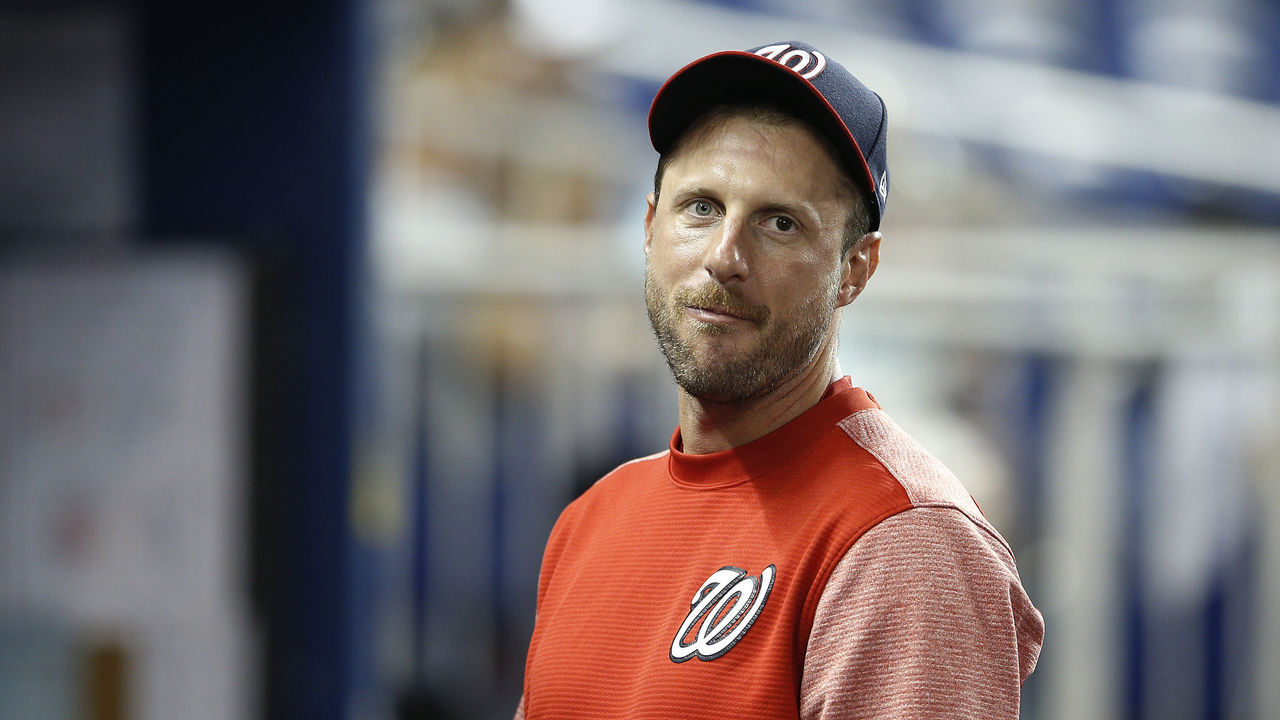 | ERA | WHIP | K/BB | Opp. OPS |
| --- | --- | --- | --- |
| 4.45 | 1.24 | 8.80 | .749 |
Decline looms for Scherzer, who will turn 35 in July and has averaged 210 innings per season since 2010, but rest assured it hasn't started yet. He still throws incredibly hard, with his four-seamer averaging almost 98 miles per hour. He still misses bats, as the three-time Cy Young Award winner currently leads the majors in strikeouts (44) and swinging-strike rate (16.4 percent). And he still misses barrels, having allowed just three homers - with a .283 xwOBA - over 32 1/3 innings.
Ultimately, Scherzer's unsightly surface stats have been skewed by bad luck, as evinced by his .395 BABIP and his 63.5 percent rate of stranded baserunners (nearly 10 percentage points below league average), which contributed to two lousy outings. He'll be fine, and may well need to find space on his mantle for another Cy Young Award if Jacob deGrom's elbow continues to bark.
Believe - Matt Boyd, Tigers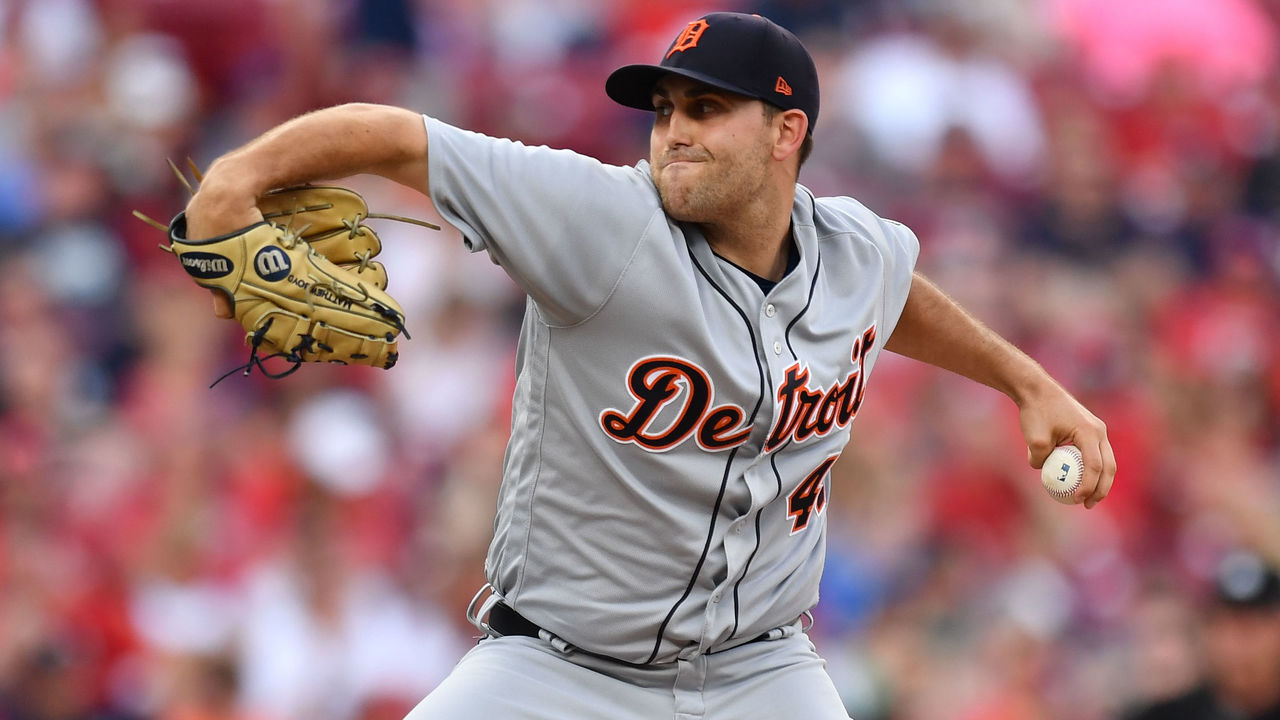 | ERA | WHIP | K/BB | OPP. OPS |
| --- | --- | --- | --- |
| 2.96 | 1.11 | 5.14 | .591 |
Bereft of premium velocity, Boyd has tinkered with his slider for years in an effort to make himself more than a back-of-the-rotation shlub. Finally, it seems, he's found one that works. In fact, Boyd's revamped slider - which is 3 mph slower than the one he threw last year with 2 more inches of horizontal movement - is now among the most difficult pitches in baseball to make contact with, inducing whiffs on 44 percent of opponents' swings, according to Brooks Baseball, an increase of 11 percentage points from 2018. And when hitters do make contact with the pitch, they can't elevate it. Balls in play off Boyd's slider have averaged just 4 degrees of launch angle this year, while opponents have slugged just .278 against the pitch.
With this potent new weapon (which he also commands exceptionally well), Boyd has been born anew. He leads all qualified starters in fielding independent pitching (1.66), and trails only Blake Snell, deGrom, and James Paxton in strikeout rate (36 percent). We're also past the point in the season at which strikeout rates can be seen as random.
Jonah Birenbaum is theScore's senior MLB writer. He steams a good ham. You can find him on Twitter @birenball.