The unstoppable Rays are redefining the super-bullpen
Of all the impossibly nasty pitches uncorked early on in 2019, none captivated the internet quite like Jose Alvarado's freakish fastball.
The pitch, a 1-2 offering clocked at 99.4 miles per hour, LOL-ed at the laws of physics, hugging the inside edge of the plate on approach before veering more than a foot inside to sneak under the barrel of Charlie Blackmon's bat. Moments later, Major League Baseball's official Twitter account shared the pitch with the world. The video has been retweeted more than 10,000 times.
"I don't think it's the only internet sensation you're going to see from this club," quipped Mike Zunino, the veteran catcher who somehow corralled that Alvarado heater.
It wasn't.
Later that week, another member of the Tampa Bay Rays bullpen hurled an infinitely rewatchable pitch. This time, it was Diego Castillo, whose triple-digit fastball to the Giants' Pablo Sandoval resembled something you might see in a game of wiffle ball. It didn't break the internet like Alvarado's heater, but it did help reinforce Blue Jays pitcher Marcus Stroman's decision to become a pitcher over a position player.
If you weren't previously aware of either Alvarado or Castillo, you're not alone. Small-market (and largely role-agnostic) relief pitchers typically don't become household names. Generally speaking, neither do any members of the Tampa Bay Rays, no matter which position they play. Casual fans are likely more familiar with Wendell from "The Simpsons" than Joey Wendle, who led Tampa Bay's non-pitchers in WAR last year.
As their sensational start to 2019 continues unabated - they're an MLB-best 12-4 heading into this week's series against the Orioles - the overwhelmingly anonymous Rays are becoming harder to ignore. So are the contributions of an unheralded but increasingly remarkable relief corps, as filthy as it is fluid, that may be the league's most overlooked super-bullpen.
In fact, the Rays could be quietly redefining the very concept.
"I think now what's really cool is we're starting to have the success in the win column, so we're going to get more attention from everybody else finally catching on to what we have," left-hander Adam Kolarek, who has yet to allow a run through nine relief appearances in 2019, told theScore when the Rays were in Toronto over the weekend.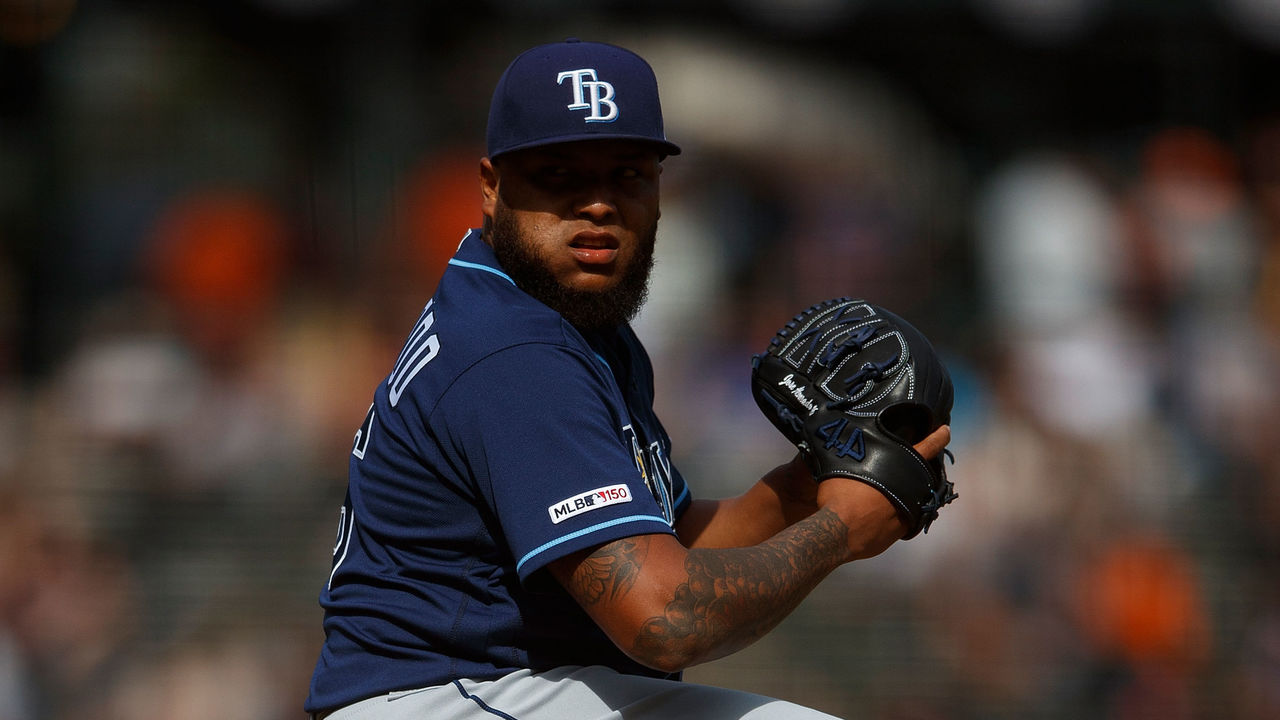 Five years ago, the Kansas City Royals won their first World Series in three decades on the back of an indomitable bullpen, anchored by Greg Holland, Wade Davis, and Kelvin Herrera. Those three effectively shortened the game for the opponent, dutifully handling the seventh, eighth, and ninth innings. From a personnel standpoint, it's easy enough to draw some parallels between that club and these Rays.
Alvarado, playing the role of de facto closer, is a strikeout machine blessed with largely unparalleled velocity for a left-hander. Castillo, the ostensible setup man, throws harder than every right-hander in baseball except the Cardinals' Jordan Hicks. Ryne Stanek, who rose to relative prominence in 2018 as Tampa Bay's go-to "opener," sits comfortably at 98 mph with two nasty off-speed pitches.
Combined, the three have allowed two earned runs in 24 2/3 innings (0.73 ERA) in 2019.
"It's the best overall stuff I've seen in a bullpen in a long time," said Zunino, whom the Rays acquired from the Mariners in November. "Not only are they anywhere from 95 (mph) to 100, (but) they can land their offspeed pitches. They can expand off with it. They can expand the edges. They can make you raise the top of the strike zone.
"They're truly pitching. I think that's the biggest thing. A lot of times you think of these bullpen guys as these throwers, having no idea where it's going. But these guys have a true grasp of what they do well."
Beyond those three, the Rays have pitchers who can serve the traditional complementary roles, potentially bridging the gap between their starters and late-inning stalwarts. Kolarek, a side-armer, is a lefty specialist. Chaz Roe murders right-handers with his slider. Jalen Beeks and Ryan Yarbrough provide length.
After adjusting for park effects, the Rays' bullpen ranks third in the majors in fielding independent pitching (FIP), behind only the San Francisco Giants and Houston Astros. (That number doesn't account for Stanek's three scoreless opening stints, either.)
Of the 26 runners they've collectively inherited, only four have scored (15 percent), giving them the third-best rate in baseball. Although MLB's single-season home run record could be in jeopardy this year, Rays relievers are surrendering only 0.7 homers per nine innings. By expected weighted on-base average, which is culled from the outcomes of similar batted balls, Tampa Bay's bullpen is ranked fourth:
| Team | xwOBA |
| --- | --- |
| Astros | .235 |
| Athletics | .254 |
| Giants | .279 |
| Rays | .286 |
To put that in context, only eight qualified hitters managed a wOBA below .286 in 2018. And given the strength of their rotation, featuring Cy Young winner Blake Snell and free-agent addition Charlie Morton, the Rays could conceivably follow the same tactical path that led the Royals to glory.
But the Royals' paint-by-numbers approach to bullpen management was inherently limiting. It presumes a starter should go at least five innings. It denies a manager the ability to adjust for matchups or leverage. It ultimately encourages decisions based on something other than data, and such an approach doesn't compute for the famously analytics-driven Rays.
That's why they continue to pioneer a different model of bullpen management that prioritizes matchup optimization above most everything else - be it tradition or aesthetics or their pitchers' preferences. In the process, they're creating a new blueprint for a super-bullpen, one that offers a holistic approach to run prevention (and, as such, further blurs the traditional distinctions between starter and relievers).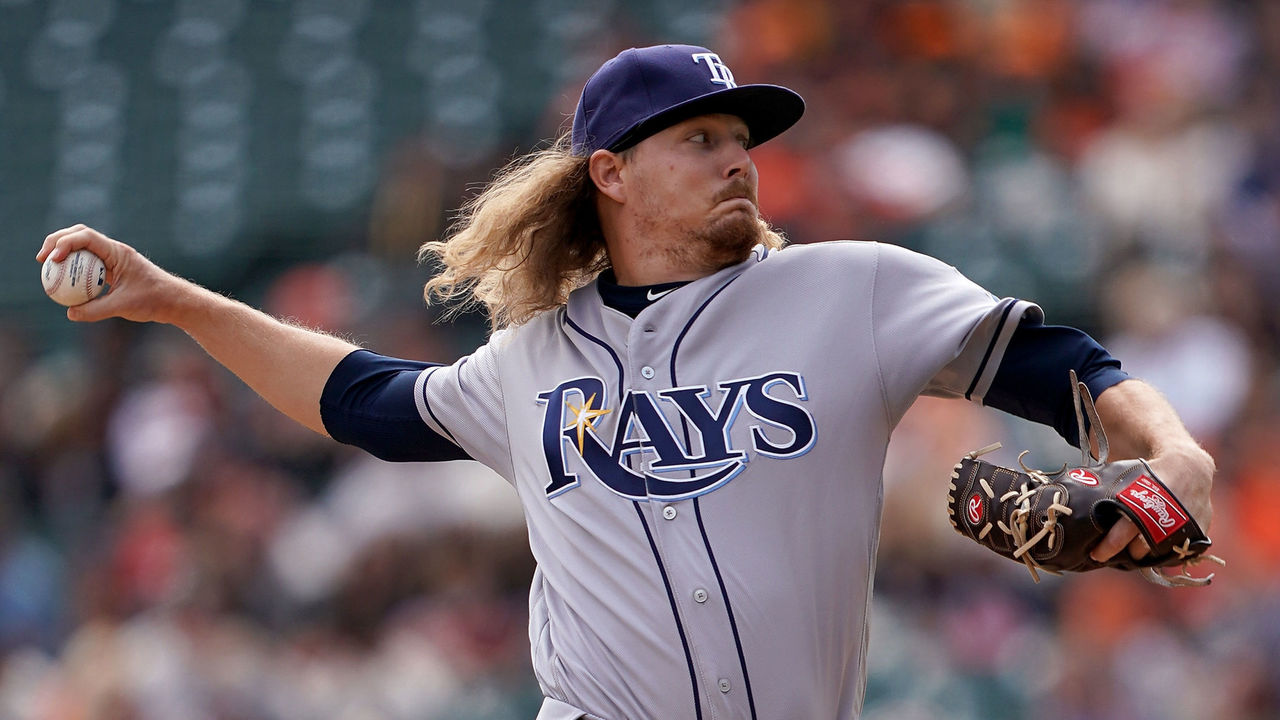 Stanek is a reliever who sometimes starts. So is Hunter Wood. Yarbrough is a starter who relieves in the second or third inning. Yonny Chirinos is a bit of both. Castillo pitches in the seventh, eight, and ninth innings in the span of a week.
And everyone has to be ready, always. For anything.
"Everybody's bought into how we're going to handle our daily approach within the game," Kolarek said. "I think that since everyone's bought in, everyone is ready at all times. When you know that going in, you're never caught off guard, which I think is something that we learned … over the last two years.
"Everyone's gotten more and more comfortable with not having the traditional, you know, 'You have this inning; you have that inning' every night. I think it keeps you locked in all game. I think you realize that everyone has a role on the team, that role just changes."
Collectively, the role expands. Last year, as they effectively unleashed game theory and introduced the concept of the opener in May to produce an unexpected 90 wins, the Rays received more innings from their bullpen than any other team. Through Sunday's games, the Rays had received more innings from their relievers in 2019 than all but two clubs. (Unlike the Orioles and Rangers, the Rays are strategically placing this increased burden on their relievers and not simply foisting mop-up duties on them.)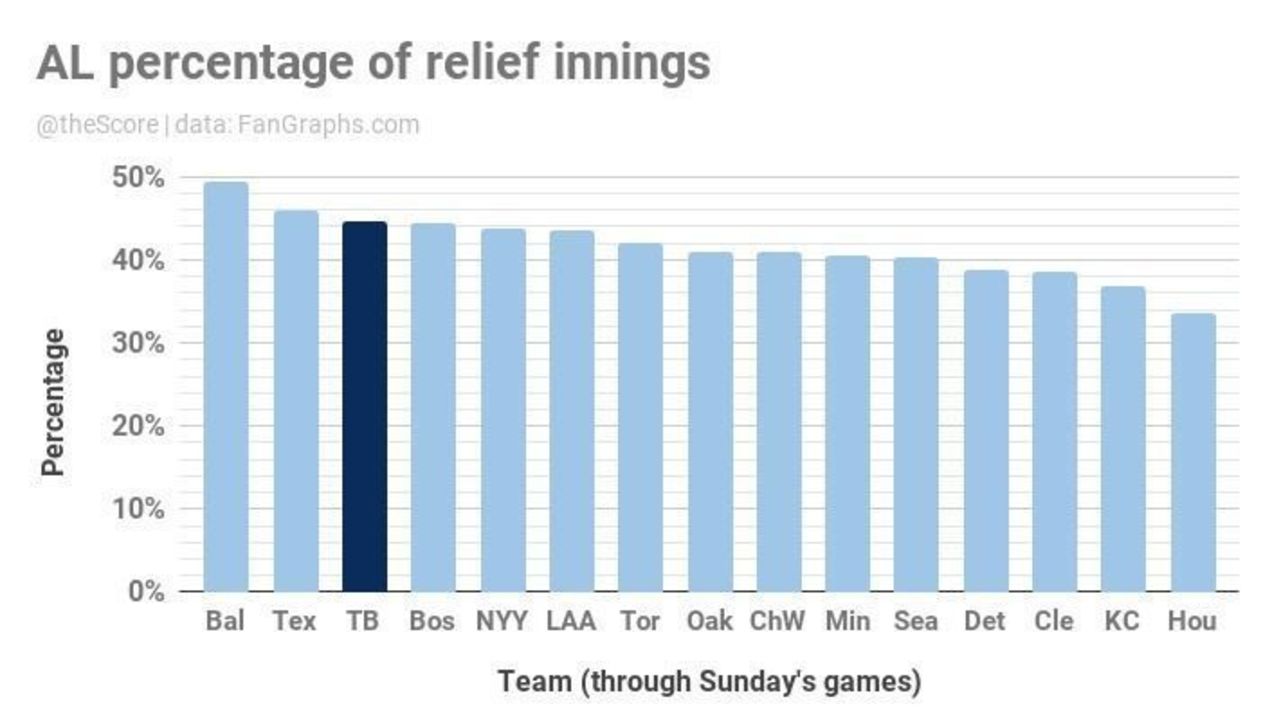 Even though the "best person for the job" philosophy comes at the cost of individual achievements such as saves and holds, both of which carry a solid exchange rate in arbitration, Rays manager Kevin Cash said his relievers are unbothered.
"They're all really selfless," Cash said. "And that's a credit to them as people, and the messages that Kyle (Snyder, the pitching coach) and Stan (Boroski, the bullpen coach) provide. I don't think there's too many people that really care about when they're pitching. It's more or less, 'How can I get big outs whenever I'm called upon?'"
That pliability also extends to the length of their outings. Already the Rays have had 18 relief appearances of at least four outs, tied for fourth in the majors. Even their more traditional relievers are routinely being asked to record more than three outs: Castillo has done it three times, while Kolarek, a lefty specialist, and Roe, a right-hander with dramatic platoon splits, have each done it once.
Know how many times Davis logged more than an inning in an outing for the Royals in the 2015 regular season? Zero.
"You kind of see it with our big three starters," Kolarek said. He explained that Snell, Morton, and Tyler Glasnow "want to - not outdo each other, but, you know, kind of. ... That's how they compete, but we're all pulling in the same direction. So I think our bullpen does the same thing. Whether it's someone coming in for one out or someone coming in for multiple innings, I think the next person up out of the bullpen is just looking to keep putting up zeros. That's all we're trying to do."
So far, they've done it with aplomb, helping to fuel the strongest start in franchise history.
If they can keep it up, though, they may well change the game. With enough success, the Rays' unique model of bullpen management will one day be co-opted by every team in baseball.
Talk about going viral.
Jonah Birenbaum is theScore's senior MLB writer. He steams a good ham. You can find him on Twitter @birenball.
Comments
✕
The unstoppable Rays are redefining the super-bullpen
  Got something to say? Leave a comment below!