Looking for Hall of Famer Chipper Jones? Check the batting cage
KISSIMMEE, Fla. - On certain Sundays in spring training, the Atlanta Braves get to sleep in.
During the week, players typically begin rolling in to the ballpark around 6:30 a.m. for a standard 1 p.m. start. For those scant Sunday home games, though, the Braves alert the rostered and non-rostered alike that they needn't show up until 9 - and that deadline is loosely enforced.
Chipper Jones has never been a big sleep-in guy, though. And by the time 9 a.m. rolls around on one particular Sunday, the prodigious third baseman is dressed and ready to go, well before many of the Braves' active players meander into the Champion Stadium clubhouse.
"I always prided myself on being one of the first guys here," Jones recently told theScore. "I was not a huge rah-rah guy, but I was a lead-by-example guy. I think if one of your best players is the first position player in camp every year and one of the first ones to the ballpark every day, the young guys kind of sense that and they say, 'Well, if he's here then I need to be here.' And that's the kind of culture we're trying to pass along to the next generation."
Looking for Jones at Braves camp? Your best bet is one of the batting cages, either the one on the field or the one beyond the fence in left-center field bearing his name and number, where he functions as a de facto hitting instructor.
If Jones isn't diagnosing swings, he's doing tee work. If he isn't doing tee work, he's flipping soft toss. If he isn't flipping soft toss, he's discussing approaches to hitting with somebody. Anybody.
"I'm not trying to take over the cage, but there are a lot of guys in here, and a lot of guys who need work," Jones said. "And they can't hit everybody at the same time. So having an extra set of eyes around, having an extra guy that you trust a couple of cages down, it was an easy fit. I think the communication between myself and the (hitting coaches), it never stops. And I think as long as you let everybody know, 'Hey, I'm not here to take your job. I don't want your job. I just want to be involved.' And it's worked great."
As perhaps the second-most indelible player in Braves history (after Hank Aaron), Jones' tutelage - on everything from punctuality to playing the infield to, of course, hitting - has been beyond reproach since he first showed up in Kissimmee as a special adviser in 2016. Now, however, Jones has the rarest, most unimpeachable kind of credibility: Cooperstown credibility.
Jones typically spends about 10-14 days at Braves camp. He retired in 2012 and was inducted into the Hall of Fame last summer after receiving 97.2 percent of the vote in his first year on the ballot. While his job title leaves much to the imagination, Jones helps with the amateur draft and, throughout the regular season, sporadically checks in on some of the organization's minor leaguers.
For some of the Braves' youth at camp, conversations with Jones can be career-altering.
"We've talked a little bit about hitting," said Drew Waters, a switch-hitting outfielder the Braves took in the second round of the 2017 draft. "The big thing with him is, he said: 'You have to decide what type of guy you want to be. Do you want to be a guy that hits .300 and hits 20, 25 home runs? Or do you want to be a guy that gets up on the plate and tries to yank?' ... But it's awesome being around him, being the switch-hitter he was. And him being able to have an impact on me, it's an awesome experience."
Mostly, Jones is sought after for his technical expertise. And given his stature, not to mention his relatively brief time in camp, he is in constant demand.
"He can do everything," said Freddie Freeman, a three-time All-Star and one of the few players on Atlanta's roster who once called Jones a teammate. "If you want more technical (instruction), he can get more technical with you. He's very good at just reading swings, understanding your swing just looking at it very fast. It's really a gift that he has. He just knows baseball. He knows hitting."
Indeed he does.
Jones managed a .930 OPS and smashed 468 homers for Atlanta over nearly two decades in the big leagues, famously leading the Braves to 11 straight National League East titles and a World Series title in 1995. He hit .303 as a right-handed hitter and .304 as a left-handed hitter.
In 1999, he was named National League MVP. In 2008, at 36, he led the majors in batting average (.364) and on-base percentage (.470). All told, he earned eight All-Star nominations and two Silver Slugger Awards. He remains one of only 23 members of the .300/.400/.500 club. After Mickey Mantle, Jones is widely considered the greatest switch-hitter who ever lived.
If you have a chance to talk to Chipper about the bat, you do it.
"I was trying to kind of get on his schedule to go to the cage," Waters lamented. "And he goes, 'Well, I'm going today with B-Mac (Brian McCann), and I'm going tomorrow with Dansby (Swanson).' So you look at that and look at the guys he's helping. He's not just helping me. He's helping everybody. And even though he was a switch-hitter, he was still a great hitter from each side of the plate. So whether it's Brian McCann hitting left-handed or Dansby Swanson hitting right-handed, I think Chipper Jones has something to offer for both of those guys."
For some of the less accomplished players invited to Braves camp, the prospect of approaching someone with such a resume - who, at 46, still looks like he could out-bench everyone on the active roster - might be intimidating. According to Waters, it isn't.
"He brings a lot of energy," the 20-year-old Georgia native said. "I mean, he's a Hall of Famer and he's going to go down as one of the greatest switch-hitters, one of the greatest players to ever play the game, (but) you really would never know. He's just a good dude and he loves the game of baseball and loves helping us get better."
And does he have bit more pep in his step than he did last year?
"Well, I like to think (the Hall of Fame induction) hasn't changed me but the fact of the matter is it can't help but change you," Jones said. "It does take a little longer to sign my name on a baseball, which is a good thing. But hopefully I'm coming down here and walking around the same way I always did, still being polite to everybody and humble. That hasn't changed (about) me."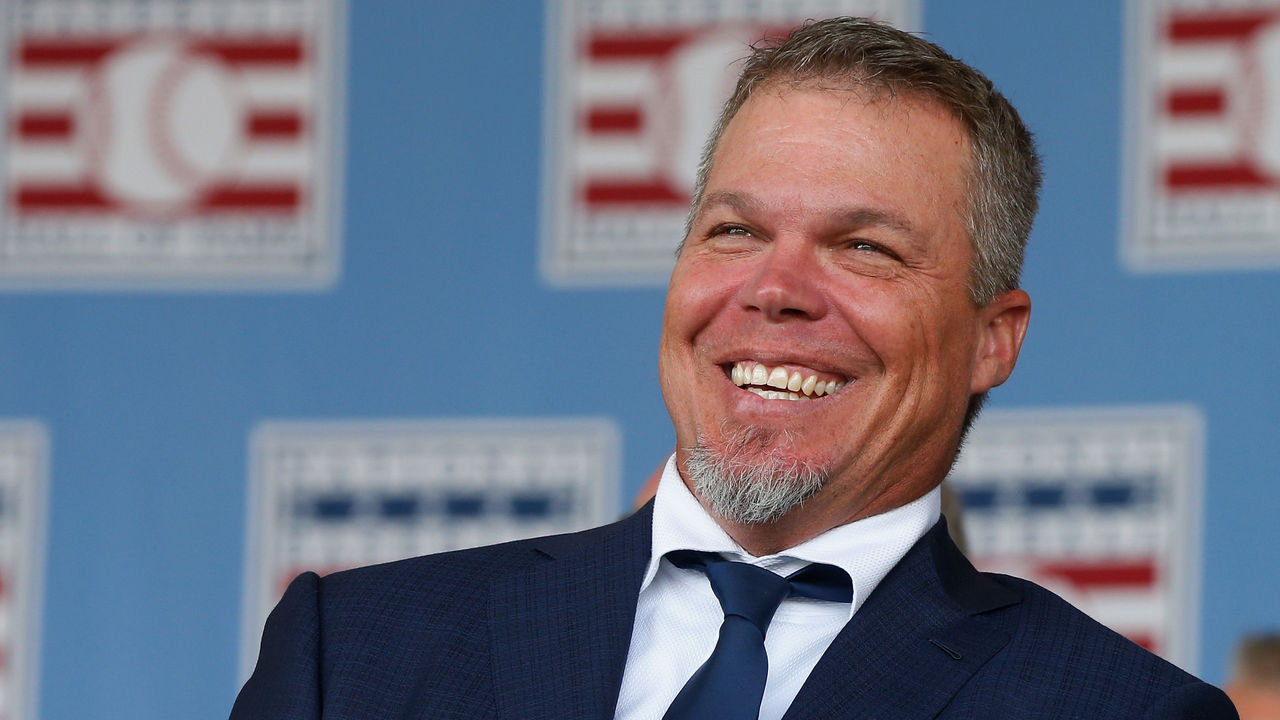 Despite a young and stacked Braves team, whose window to compete is only opening, Jones has no desire to be back in the dugout full time.
"(By) no means do I want to put this (uniform) on every single day and be away from my family," continued Jones, who welcomed his seventh child in August. "I spent too much of my life being a part-time dad. I think it's time that I spend the next half of my life being a full-time dad. But coming out here for 10 days, two weeks ... that's all I need."
So it's on the young Braves to make Jones' time in camp count.
"A lot of organizations don't get to experience the knowledge of someone who was able to do it for 19 years in the big leagues," Freeman added. "It's also a testament to him that he's still willing to come and help. He's been through it all. He's won championships. He knows what he's talking about.
"It's huge that these young guys get to (be) a sponge ... They're all just trying to talk to him and learn, and he is a wealth of knowledge. And for him to be able to give it out like he does, the Braves are lucky to have him here."
Freeman also confirmed that Jones wasn't bluffing about his future.
"Playing golf with him last week," said Freeman, "I think he's pretty happy where he's at."
Jones, by the way, swings a golf club right-handed. He won the round. And presumably, he was on the green first.
Jonah Birenbaum is theScore's senior MLB writer. He steams a good ham. You can find him on Twitter @birenball.
Comments
✕
Looking for Hall of Famer Chipper Jones? Check the batting cage
  Got something to say? Leave a comment below!