'Less is more': Verlander taking it easy as another deep October run looms
Bob Levey / Getty Images Sport / Getty
TORONTO - Only once in his distinguished career has Justin Verlander required a trip to the disabled list. Felled by soreness in his right triceps in the spring of 2015, the venerated right-hander was incapacitated for the first 10 weeks of the regular season, creating a major void atop the Detroit Tigers' rotation. At the time, he described the situation as "crappy."
It was also instructive.
Chiefly, those two-plus months spent recovering disabused him of the notion that if something doesn't hurt it must not be harmful.
"Since I got hurt a few years back, I've been really smart about maintaining my body in a healthy way," Verlander, now with the Houston Astros, told theScore. "Structurally, physically, I look at things a lot different now. I think that's something that's helped me a lot. Even though, when I was younger, I didn't get sore, doing the same thing over and over and over and over takes a toll on your body that I wasn't dealing with or maintenancing properly."
He has since adjusted his routines accordingly.
So, while some of his teammates - particularly those of more recent vintage - may be inclined to ramp up the weightlifting and cardio to prepare their bodies for another deep run into October, Verlander instead gears up for the postseason much like you or I might.
The dude just chills, mostly.
"I do less," Verlander told theScore. "As the season wears on, I listen to my body and start to kick out some of the unnecessary lifting and unnecessary strain on my body."
Verlander has already put considerable strain on his body this year. He does every year. He's thrown 208 innings - second in the American League behind Corey Kluber - with another outing to go before, presumably, the American League Division Series. In the last dozen seasons, Verlander has failed to reach the 200-inning plateau just once. And if the Astros manage to secure a second straight pennant, the 35-year-old will huck another 25 innings, at least, before the offseason commences. It makes sense that he'd ease up.
Early in the season, Verlander will sometimes do some light lifting the day after a start. His real strength, he says, is cultivated during the offseason; once Opening Day hits, his workouts are more about maintaining baseball shape ("I'm not worried about being able to deadlift 500 pounds," he says). He also gets in an occasional run. By September, however, he does virtually nothing in between starts, save for a body-maintenance check, just to "make sure I stay in alignment." He also gets a massage the day after he pitches.
"My body does a good job of recovering. Always has. So I don't need to run to get a flush," Verlander said. "If I don't need to run to get a good recovery, then I don't feel like I need to put the extra stress on my body at this point in the year."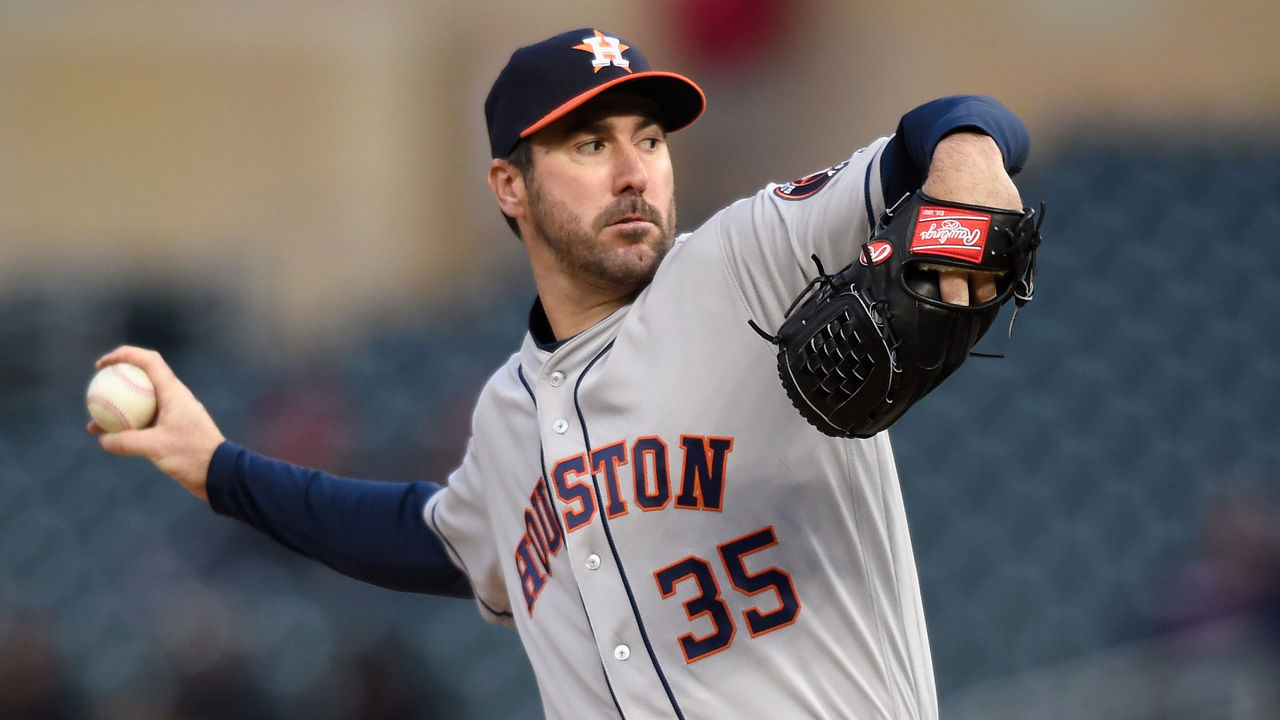 In fact, for Verlander - who boasts a 2.60 ERA (153 ERA+) with a career-best 0.91 WHIP and has a credible case for his second career American League Cy Young Award - the most important physical late-season prep work is sleep.
"I try to get at least 10 hours a night," Verlander said, noting that LeBron James aims for a dozen, albeit non-consecutive, each day. "More and more studies have shown eight hours for a non-athlete is enough, but think about the toll that we're putting on our bodies.
"It's the same as somebody that doesn't work out a lot. All of sudden, they get into the weight room for a week and they're grinding at it and working hard - they're exhausted. And we do that every single day. It's just different. People don't think about it that way because we don't have weights in our hands. But just being on your feet all day long, out there grinding mentally, physically, it takes a huge toll. So sleep's the No. 1 thing."
This routine - sleep and chill and play - may be anathema to the gym and cage rats in the Astros' clubhouse, but Verlander nevertheless felt compelled to extol the virtues of this approach to his new teammates last year when he arrived in Houston following an 11th-hour trade on Aug. 31.
"Sometimes, less is more," he said. "And especially the younger generation, like right below me, they were brought up in this age where more is more, you know? Like, always do something. And that's not really the case. I'm a firm believer that you need to give your body a chance to recover, and if you're always beating on it, you're not giving it that opportunity."
Correlation isn't causation, but it's hard to argue with success. As his workouts waned in frequency and intensity down the stretch in 2017, Verlander only became more dominant on the mound. In five regular-season starts with Houston, the seven-time All-Star authored a 1.06 ERA while notching 43 strikeouts, allowing just four home runs, and issuing only five walks in 34 innings. He was similarly spectacular in October, fashioning a 2.21 ERA while holding his opponents to a .177 average across 36 2/3 postseason innings. (And his Astros, in case you forgot, defeated the Los Angeles Dodgers in seven games to win the first World Series title in franchise history.)
This September, Verlander's stinginess has persisted. So far, he's allowed four runs total this month (1.33 ERA), completing at least six innings with no more than two runs allowed in all four of his starts while also notching double-digit strikeouts in each of his last three outings. As for October? Well, we'll just have to wait and see.
Rest assured, though, Verlander will be well-rested.
Jonah Birenbaum is theScore's senior MLB writer. He steams a good ham. You can find him on Twitter @birenball.
Comments
✕
'Less is more': Verlander taking it easy as another deep October run looms
  Got something to say? Leave a comment below!