TORONTO — Two years ago, Philadelphia Phillies starter Aaron Nola was just another top pitching prospect heading down the ominous path of elbow troubles.
Nola owned a 4.78 ERA in 2016 when he was shut down with an elbow strain, and his fastball had been creeping across at a pedestrian 90 mph. He had the pedigree as a former seventh overall pick who breezed through the minors, but questions about his durability were starting to overshadow his talent.
Jump back to this 2018 playoff race, though, and you'll find that Nola has quietly emerged as a Cy Young candidate while becoming the most underrated starting pitcher in Major League Baseball.
The 25-year-old is approaching September with a 15-3 record and a 2.13 ERA. He's powered the Phillies - who haven't made the playoffs since 2011 - into an NL wild-card race that could see five teams fighting for just two spots until the very end.
Nola's rise to stardom has been especially fascinating because it's happened so subtly. He's throwing a bit harder (now averaging 92.7 mph), mixing his repertoire more effectively, and doing a better job of keeping the ball in the park, but there's been no transcendent moment of clarity or one miracle pitch that brought it all together.
"It's a growth in every aspect of the game," Nola told theScore. "With my delivery, I try to focus on that a lot and I try to repeat that as much as I can. I'm also trying to take care of my body this year. I've learned a lot about my body over the past couple of years from getting hurt, and that's been an adjustment for me."
Nola's widespread, incremental growth is something that first-year Phillies manager Gabe Kapler has been preaching since spring training began.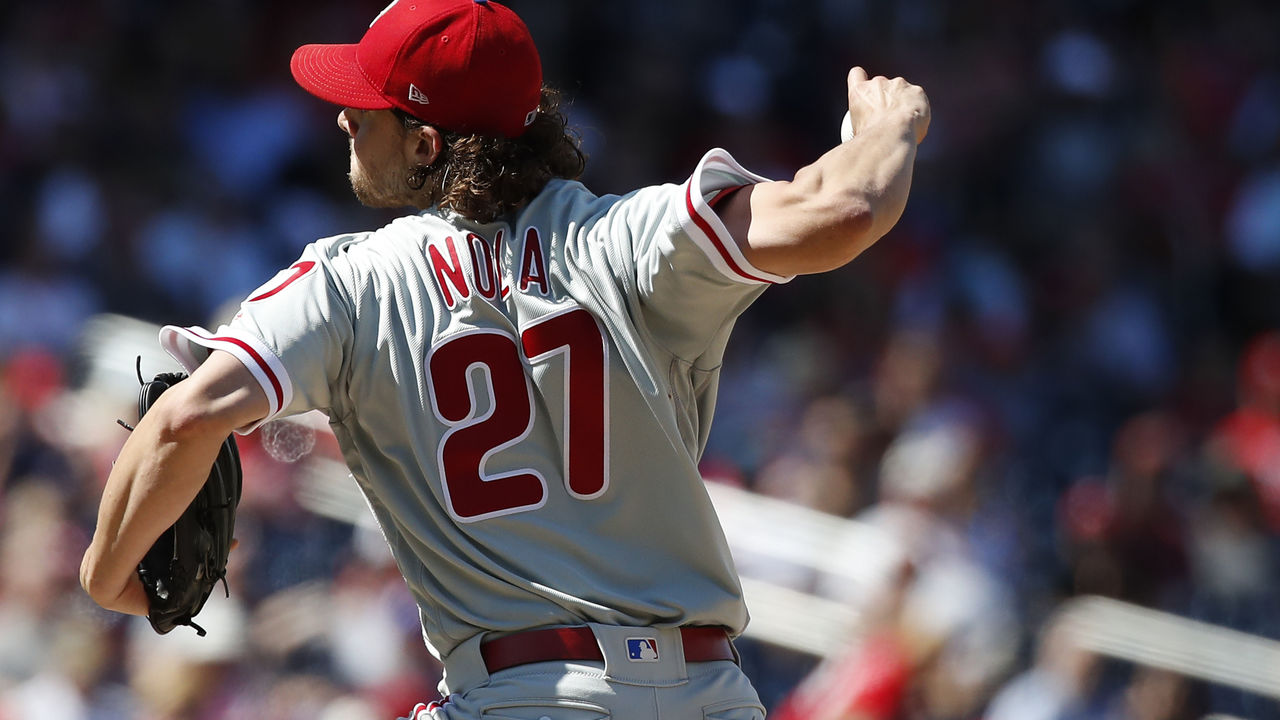 And Nola's ability to gain an inch in every aspect of pitching - along with maintaining his improvements throughout the grind of the season - has Kapler championing his young starter for the NL Cy Young Award.
"Of course, Nola is our guy," Kapler said last week, via Evan Macy of PhillyVoice. "But, I watch him every time out there and just the dependability, the consistency, the creativity, the numbers. The numbers speak for themselves."
While there are plenty of subtle reasons for Nola's breakout, one surface-level change has been a turn toward using his four-seam fastball and changeup more often in 2018, while scaling back his sinker and curveball. He's done particularly well at avoiding hard contact with that four-seamer, and opponents have seen their slugging percentage against the pitch fall from .448 in 2017 to just .256 this season.
Of course, a four-seamer averaging 92.7 mph isn't special in today's MLB, but Nola has learned to create natural deception between his primary pitches by repeating his mechanics. If every pitch looks the same until the ball leaves his hand, then 92.7 mph starts to look a little more like 95 mph.
"It's the same delivery," Nola said. "It's just the process of repeating it as much as I can on each pitch - not just on one certain pitch but on my fastball, changeup, and curveball. I try to make the pitch come out of the same arm slot and get on top of the ball."
Nola currently ranks third in the NL by pitcher WAR at 5.4, behind only Jacob deGrom (6.9) and Max Scherzer (6.0). That might be just how the NL Cy Young voting ultimately plays out, too, but Nola has unexpectedly put himself firmly in the conversation.
Ask any old-school baseball manager to define an "ace," and one answer you'll hear over and over is that they stop losing streaks. In Nola's last outing, against the Washington Nationals, the Phillies were coming off four consecutive losses. Those were, of course, the four games since Nola had outdueled Noah Syndergaard for their last win.
This time, Nola was tasked with Scherzer. The two-time reigning Cy Young Award winner was great, but Nola was better. He struck out nine across eight innings in a 2-0 win and announced his presence yet again in the best pitching matchup of the 2018 season.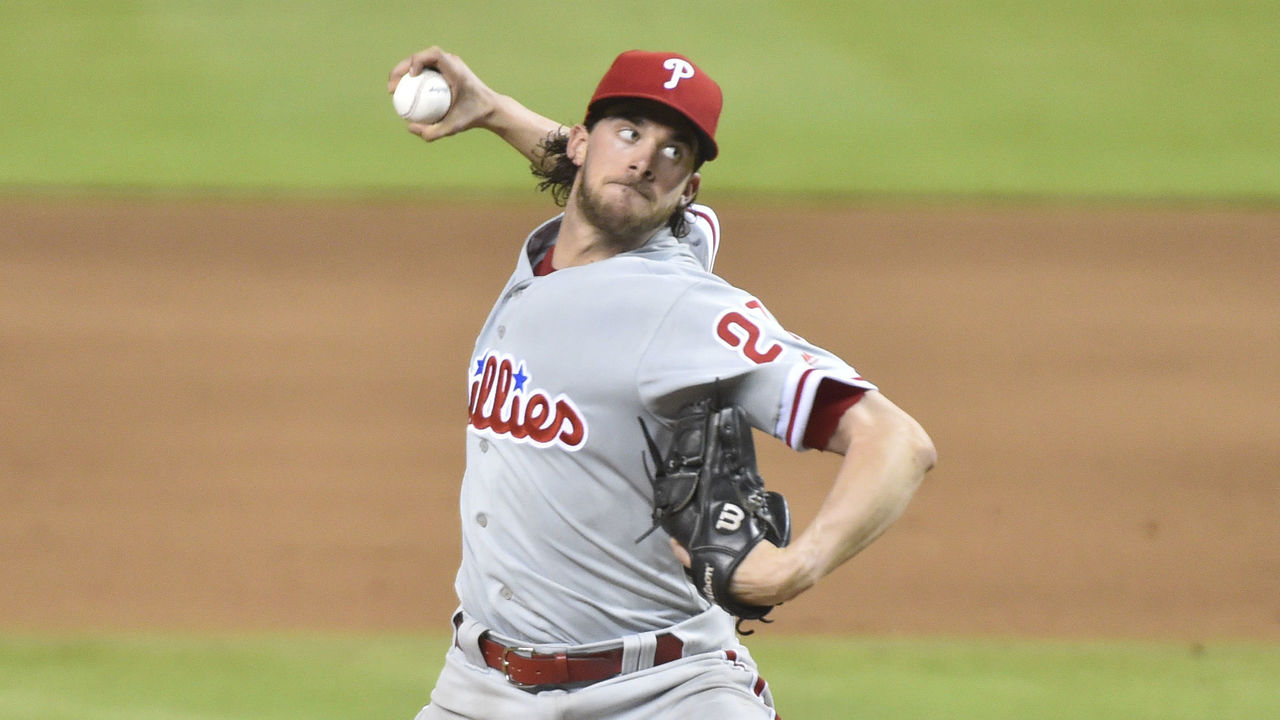 Nola doesn't need to look far for advice, either. Seated a few lockers to his right on a recent trip to Toronto was Jake Arrieta, the veteran whose 2015 Cy Young campaign with the Cubs (22-6, 1.77 ERA) was one of the great pitching seasons of the past decade.
"He's had a big impact on me," Nola said of Arrieta. "He's been around and he's had his ups and downs in his career. He's won a Cy Young, he's got some no-hitters, he's won a World Series, so coming here and into this clubhouse in spring training, he knows what it takes to win."
Nola is only now entering arbitration this coming offseason. The Phillies would certainly love to lock him up beyond his arbitration years, and they explored doing so this past winter, but they're no longer dealing with an up-and-coming pitcher who's leaning on potential.
In Aaron Nola, the Phillies now have an elite, ace-caliber pitcher who the rest of baseball is suddenly waking up to.
Keegan Matheson is the editor-in-chief of Baseball Toronto, which he founded in early 2018 after previously covering the Blue Jays for MLB.com. He appears regularly across sports radio and television networks in Canada as a Blue Jays and MLB analyst. Now living in Toronto, Keegan is originally from Nova Scotia. Find him on Twitter @KeeganMatheson.
(Photos courtesy: Getty Images)