Last year's Players' Weekend was a rousing success and a rare opportunity for Major League Baseball - a league notoriously plagued by "playing the right way," stymying even the most boisterous personalities - to introduce fans to the characters that take the field every day.
Of course, some used this opportunity to show that they do, indeed, lack any character at all. For instance, Brett Gardner went with the nickname "Gardner." Joe Mauer, who undoubtedly labored for hours, picked "Mauer."
Aside from the players who chose their own names, there are a host of players who simply added "Y" to either their first or last name as well.
However, let's not dwell on them any longer. Let's take a look at the 10 best Players' Weekend nicknames, which will get worn during the last weekend of August:
10. Ender Inciarte: "GAME ENDER"
Points off for not being a closer and ending games on a regular basis, but the nickname at least reminds you of the time the Atlanta Braves outfielder hit a walk-off bunt back in April:
(Video courtesy: MLB.com)
9. Josh Phegley: "PTBNL"
A carry-over from last year, Phegley's "Player To Be Named Later" is a hilarious nod to the roster management anomaly that only exists in baseball. Points deducted for Phegley never actually being a player to be named later, though.
8. Eric Thames: "MR. TEE"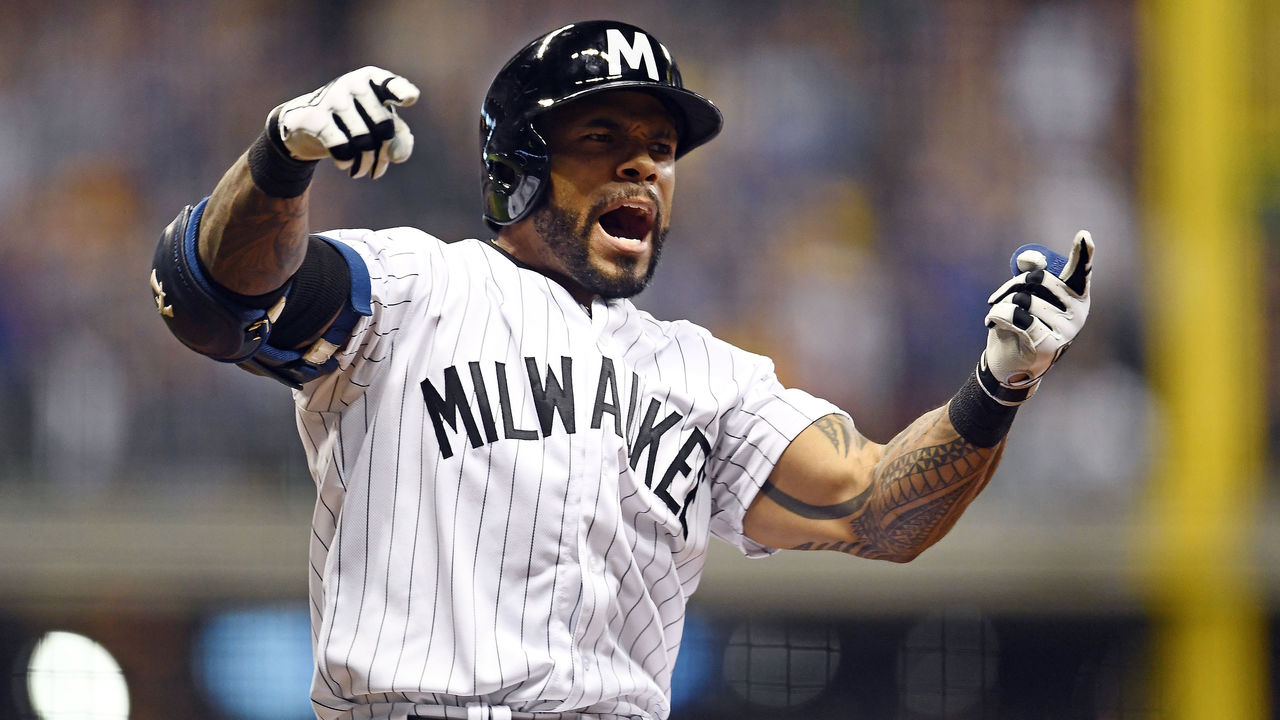 If there's any player in baseball who could do a passable impression of B.A. Baracus, it's undoubtedly the notoriously jacked Thames. Even better: his last name starts with "T," so millennials who don't remember the fool-pitying wrestler won't think it's weird.
7. Joey Gallo: "PICO DE GALLO"
Gallo's nickname isn't particularly imaginative, but it's definitely fun and in the spirit of Players' Weekend. It's a bit odd he didn't just go with "Pico De" and let everyone's imagination do the rest, though. Also, as far as salsas go, pico de gallo is kind of meh.
6. Travis Shaw: "MAYOR-DDC"
Another repeat of last year, Shaw's "Mayor of Ding Dong City" will be on these lists in perpetuity until further notice. It ticks all the boxes: it's creative, it's fun, it's true, and it's a top-tier way to refer to homers.
5. Joey Votto: "IN FLANDERS FIELDS"
Votto is an interesting guy, and for a player who dressed up as a Mountie - the slang term for a member of the Royal Canadian Mounted Police - during a television appearance, this nickname might actually be the most Canadian thing he has ever done. "In Flanders Fields" is a poem written by Lieutenant Colonel John McCrae about the First World War and is the most well-known piece of Canadian war poetry.
4. Rich Hill: "D. MOUNTAIN"
It's kind of crazy that Major League Baseball deemed this nickname allowable and is printing them on jerseys for sale to the public. We don't have to belabor Hill's choice here; it's the popular nickname for Richard followed by the word for a much larger hill.
3. Shane Bieber: "NOT JUSTIN"
Ah, the perils of having a similar name to a famous person. The 1999 cult classic Office Space perhaps captured the folly of this best:
Shane was born 10 months before Justin and shares no relation to the Grammy-winning musician. Good on Bieber for being able to make a joke.
2. Derek Holland: "LAST NAME"
Two months ago, on ESPN's Sunday Night Baseball broadcast, someone forgot to change the graphic from the filler "LASTNAME" for Holland. So, instead of making a big deal out of it, the San Francisco Giants left-hander has just made it his own.
1. Brad Boxberger: "📦🍔"
Boxberger became the first to use emojis, and did so with such absolute perfection that his nickname can't possible be anywhere except No. 1. It's a slippery slope to someone using the peach emoji next year, though.
(Pictures courtesy: Getty Images)