'I guess we'll find out': What does the future hold for Joe Mauer?
Jonathan Daniel / Getty Images Sport / Getty
TORONTO - Getting Joe Mauer to chase has always been an exercise in futility. Even now, with the greying Minnesota Twins icon on the precipice of an uncertain future, that hasn't changed.
Have your plans beyond 2018 crystallized, Joe?
"No," he said with a chuckle, appreciating the attempt to elicit a firm answer about his plans beyond his current contract, which expires at season's end. (Mauer, who turned 35 shortly after Opening Day, has never before been a free agent.)
Do you want to continue playing baseball?
"Well, that's the thing, I haven't really changed my stance since the beginning of the season," he said. "I'm just enjoying each day, and tonight I'm going to try to win the game. There'll be time for that, but right now it really hasn't changed."
At the outset of spring training, as he geared up for the final season of an eight-year, $184-million contract extension, Mauer was similarly non-committal, responding to probes about his future with a smile and a shrug.
If you DO continue playing baseball, would you prefer to stay in Minnesota or perhaps go somewhere where you have a better shot to contend for a World Series?
"I think I made the choice to stay here for a long time, and that means a lot to me," he said. "It'd mean a lot for me to win here, so that's what I'm going to try to do."
That, too, amounted to prevarication. He's trying to win in Minnesota presently, after all.
Well played, Mauer.
While it's difficult to imagine him in a different uniform after a decade-and-a-half with the Twins, the uncertainty surrounding Mauer's future underscores the complex calculus he would inspire as a commodity on the open market. For myriad reasons, Mauer would make a unique free agent in today's climate, and his eventual deal, should he opt to keep playing, could offer further insight into what is and isn't valued in the current baseball economy.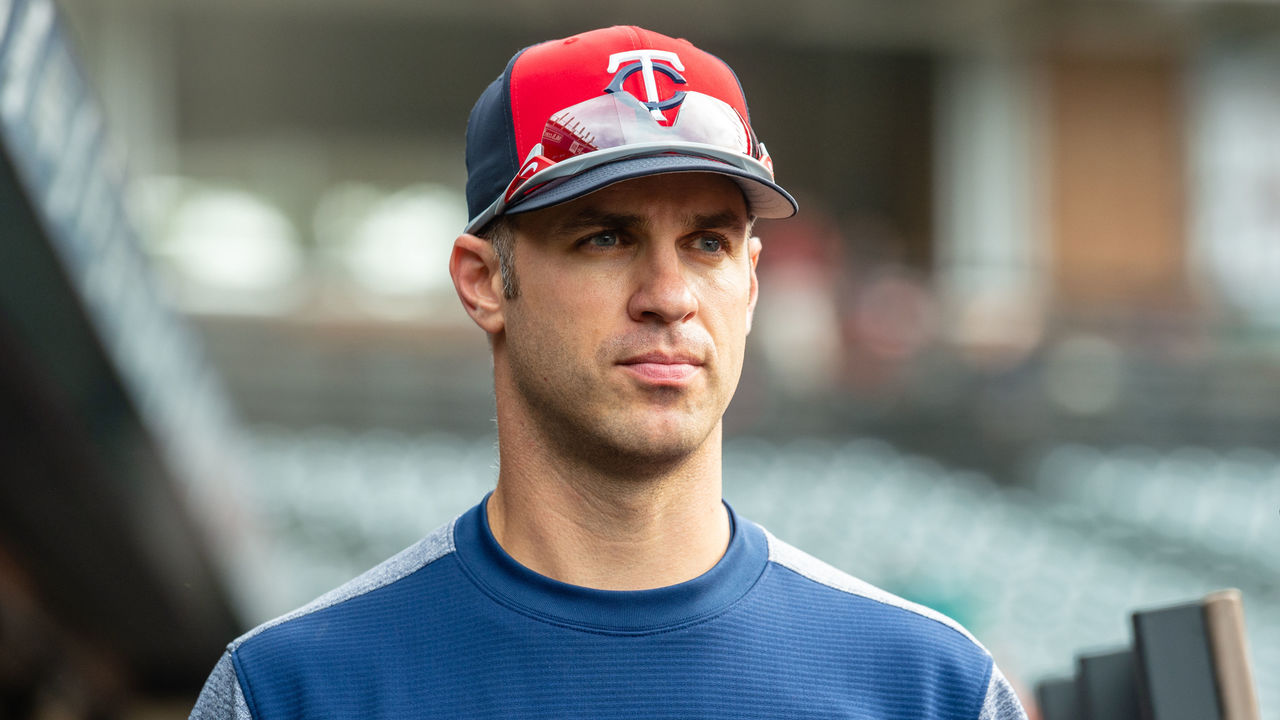 Once, Mauer was the consensus top catcher in the game, combining elite work behind the plate with almost unprecedented offensive production for his position. From 2005 through 2013, Mauer ranked seventh in WAR, hitting .323/.406/.466 over that span while earning an American League MVP award, six All-Star nominations, five Silver Slugger awards, and three Gold Gloves. At one point, he won three batting titles in a four-year span, equitably distributing line drives all over the field like a midwestern, baseball-playing Bernie Sanders. Among catchers with at least 3,000 career plate appearances, only Mike Piazza and Gene Tenace outhit Mauer, who managed a 135 wRC+ during his 10 seasons as a full-time catcher. Despite playing in small-market Minnesota, he graced the cover of MLB The Show in 2010, and inspired the most memorable marketing schtick the franchise has ever known (he still gets that line on the street, occasionally). And, for his efforts, Mauer - a St. Paul native whose exploits on the baseball diamond and football field earned him local television coverage as a high-schooler - was compensated handsomely: ahead of the 2010 campaign, Mauer, then 27, landed the biggest contract in franchise history, signing an eight-year, $184-million extension to stay in Minnesota.
The initial return on investment was considerable. Lately, not so much.
Since moving out from behind the plate in 2014, effectively forced to first base by concussion problems, Mauer's production has cratered, with his year-to-year performance ranging from average to serviceable to downright disappointing. Unable to provide a lick of defensive value (an occupational reality at first base), and with his age, concussion history (which led to vision problems in 2016), lack of footspeed, and increasingly obsolete high-contact, low-power profile conspiring against him, Mauer's WAR totals for the past five seasons read: 1.7, 0.3, 1.0, 2.2, and, presently, 0.7. Cumulatively, Mauer has provided the Twins with fewer marginal wins over the past five seasons than Jose Ramirez did for the Cleveland Indians through the first half of 2018. During that span, throughout which the Twins' rebuild bore fruit and then quickly soured - they earned a wild-card berth last year before a regression this season - Mauer's hit .277/.361/.388 over 623 games, averaging fewer extra bases per at-bat than Ketel Marte while managing an OPS that, after adjusting for parks effects, registers only six percent better than league average.
Moreover, while the fly-ball revolution has enraptured hitters across the league in recent years, compelling them to tailor their swings to get the ball in the air more, Mauer hasn't made any significant tweaks to his picturesque stroke, continuing instead to spray line drives. (His 25.2 percent line-drive rate since the start of the 2015 campaign is ninth-highest among qualified hitters.)
| Season | MLB average launch angle | ISO | Mauer launch angle |  ISO |
| --- | --- | --- | --- | --- |
| 2015 | 10.1 | .150 | 3.8 | .115 |
| 2016 | 10.8 | .162 | 3.8 | .128 |
| 2017 | 11.1 | .171 | 5.6 | .112 |
| 2018 | 11.7 | .160 | 4.6 | .091 |
This year, Mauer - who missed time with a cervical strain and concussion-like symptoms - has put up characteristically slightly-above-average numbers at the plate. He's slashed .280/.366/.371 (105 wRC+) over 70 games while continuing to work long at-bats (4.24 pitches per plate appearance), take plenty of walks (11.5 percent BB rate), and put the ball in play (12.8 percent K rate) a ton. Mauer only has three home runs in 304 plate appearances, though, and has been a non-factor on the bases and slightly below-average afield. Overall, among the 173 position players with at least 300 plate appearances, Mauer's 0.7 WAR is tied for 135th highest.
Herein lies the question(s), then: Clearly, Mauer can still hit a bit, but does his offensive profile have any market value, especially in the face of his other deficiencies? And, moreover, does the possibility of qualitative value - the benefit of having a potential mentor in Mauer - make palatable the opportunity cost of committing a roster spot to an aging, power-deficient first baseman?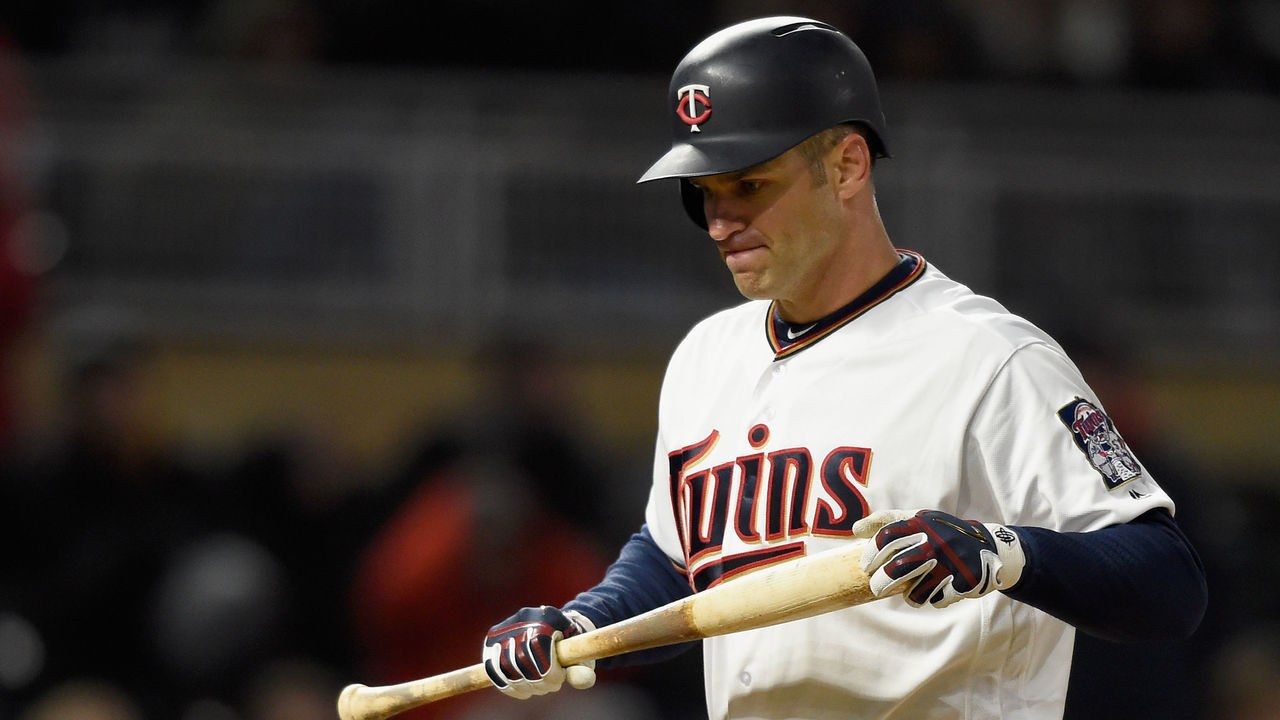 To those ends, each club may feel differently, but what is clear is that it's exceedingly difficult to find a free-agent contract from this past offseason - which may have dramatically changed the landscape of free agency - that could serve as a baseline for a potential Mauer deal.
| Player | Age | Contract | Platform season WAR | Platform season wRC+ |
| --- | --- | --- | --- | --- |
| Eric Hosmer | 28 | 8 years, $144M | 4.1 | 135 |
| Yonder Alonso | 31 | 2 years, $16M | 2.4 | 132 |
| Mitch Moreland | 32 | 2 years, $13M | 1.0 | 98 |
| Logan Morrison | 30 | 1 year, $6.5M | 3.2 | 130 |
| Matt Adams | 29 | 1 year, $4M | 1.3 | 112 |
| Lucas Duda | 32 | 1 year, $3.5M | 1.1 | 113 |
| Adrian Gonzalez | 36 | Minor-league deal | -1.0 | 69 |
| | | | | |
| Joe Mauer | 36 | - | 0.7 | 104 |
Age - Player's age in the first season of his new contract
Mauer, after all, is considerably older than each of those first basemen, save for Gonzalez (whose disastrous platform season makes him a lousy comparison, too), making him a less likely investment as baseball's decision-makers continue to devalue players on the back nine of their thirties, so to speak. Through the first two-thirds of the 2018 campaign, after all, position players age 36 or older have accounted for only 2.95 percent of all plate appearances, a roughly 5.5 percent drop-off from a decade ago.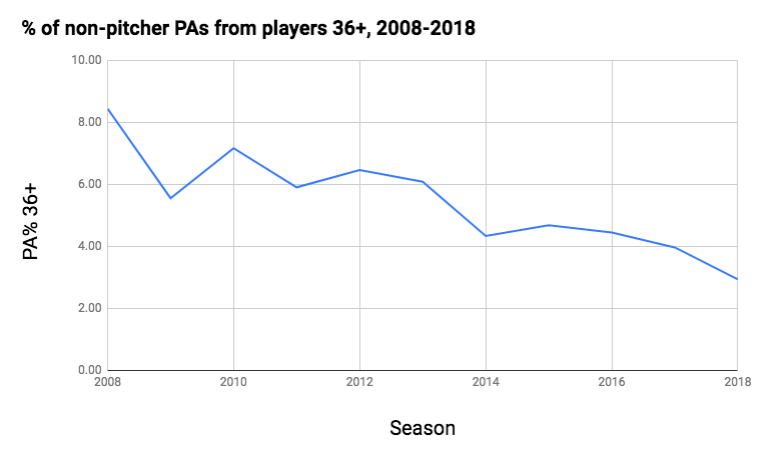 Mauer's inability to hit the ball out of the ballpark also distinguishes him from that group:
| Player | Platform season ISO |
| --- | --- |
| Eric Hosmer | .179 |
| Yonder Alonso | .235 |
| Mitch Moreland | .197 |
| Logan Morrison | .270 |
| Matt Adams | .248 |
| Lucas Duda | .279 |
| Adrian Gonzalez | .113 |
| | |
| Joe Mauer | .091 |
It's salient to note, of course, that Mauer occupies rarefied air - he may well have a plaque in Cooperstown one day - and that venerated stars with eons of service time will always have more market value than their raw numbers suggest. In March, the Seattle Mariners reunited with 44-year-old Ichiro Suzuki, guaranteeing him $750,000 even though he performed at below replacement-level in two of the previous three seasons. (Shortly thereafter, Ichiro was relegated to a front-office role.) Similarly, the Atlanta Braves were undeterred by Jose Bautista's brutal 2017 campaign, signing the 37-year-old to a minor-league deal a couple weeks after Opening Day (he was released in mid-May, but has since rediscovered his stroke with the New York Mets).
Those deals were largely risk-free, however. Mauer isn't quite as old as either of those players, nor has his production tapered off as significantly. As such, he occupies a strange place in the marketplace: he's old, but he isn't ancient; he won't be expensive, but he won't come cheap; he's far from useless, but he doesn't seem to be especially valuable. Even he isn't sure, frankly, how to appraise his skill set.
"I don't know, I guess we'll find out," Mauer quipped when asked how he might be valued on the open market. "Yeah, that's a good question. Maybe that's a question for somebody else."
Eventually, hopefully, somebody else will answer that question. The answer could be revealing.
Jonah Birenbaum is theScore's senior MLB writer. He steams a good ham. You can find him on Twitter @birenball.