TORONTO - History shows it isn't too difficult to predict what the Blue Jays will do with the 12th pick of the MLB amateur draft on Monday.
Since Ross Atkins and Mark Shapiro took over prior to the 2016 season, 19 of Toronto's 22 selections in the top 10 rounds have been college players. Thirteen of the team's 14 picks came from the college ranks after current amateur scouting director Steve Sanders took over the draft last season.
That's a lot of arrows pointed in the same direction. But Sanders, like any MLB executive within a hundred miles of a draft room this week, won't reveal his cards.
"Our focus is really on getting the best player available to us and it's hard to anticipate where that player will come from," Sanders said Thursday in a conference call. "Whether it's a college or a high school player, or what position that guy is going to play."
Vladimir Guerrero Jr., who's quickly emerged as baseball's Next Big Thing, headlines Toronto's farm system. The Blue Jays' prospect group has also grown much deeper over the past two seasons, with their once-thin pitching depth developing nicely up the Double-A and Triple-A levels. And, for the first time in years, there's a legitimate stream of positional talent on the way.
Sanders, however, doesn't focus on how a potential draft candidate might factor into the club's existing prospect pool.
"Our current depth in our minor league system probably won't play much or a role in the players we're targeting," Sanders said.
"It's a tough thing for us to incorporate into our scouting process, I think, largely because player's timelines change. Not just the ones that we're looking at to draft this year, but also guys in our own system change."
In each of their last four drafts, the Blue Jays have selected a right-handed college pitcher in the first round.
Florida's Jackson Kowar fits those parameters, and is generating some draft buzz after pitching behind 18th overall pick Alex Faedo in 2017 and projected top-five pick Brady Singer this season. Logan Gilbert is another college right-hander, out of Stetson, but there may be more appealing options on the board at No. 12.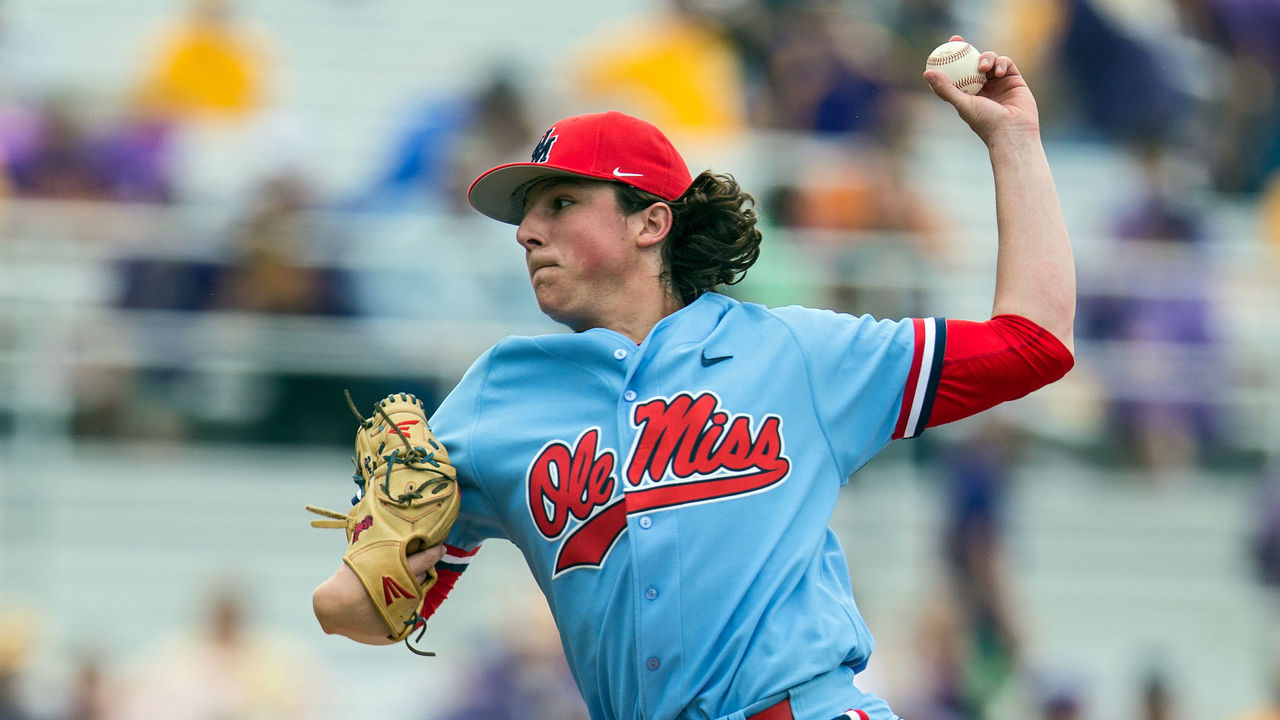 (Photo courtesy: Getty Images)
Among those options could be South Florida lefty Shane McClanahan, on whom the Blue Jays have done extensive background work and medical checks. McClanahan has a 100-mph arm and ace potential, but has had trouble with control at times. Mississippi's Ryan Rolison (shown above) is another college lefty, with remaining upside and a curveball scouts love.
"We're really excited about the calibre of player we're going to be able to add with the 12th pick," Sanders said.
Of course, there's no reason Toronto couldn't go for a position player.
South Alabama outfielder Travis Swaggerty fits the model of strong athlete with offensive upside that the Blue Jays have typically targeted. Florida third baseman Jonathan India, if he reaches 12, is a rock-solid prospect who hit .362 with a 1.1225 OPS against tough NCAA competition in 2018.
And yes, there's still the high school ranks. Toronto's three dips into prep talent since Atkins and Shapiro arrived - Bo Bichette, D.J. Daniels, and Hagen Danner - were all high-risk, high-reward additions.
Right-handers Carter Stewart, Ethan Hankins, Cole Winn, and Grayson Rodriguez, as well as left-hander Ryan Weathers, could appeal to the Blue Jays, while outfielder Jared Kelenic swings an advanced bat for his age.
Even Canadian catcher/infielder Noah Naylor could creep into the picture. The Blue Jays should also have opportunities in the middle and later rounds to scoop up Canadian prospects.
"There's a sense of pride and certainly a priority for us as an organization to make sure that Canada is something that we're well-positioned to scout, and to acquire talent from our own country," Sanders said.
Character and culture fit play roles in draft evaluations, too, and few teams in Major league Baseball, if any, weigh them as heavily in their decision-making process as the Blue Jays.
"It's incredibly important to us," Sanders said. "What we're trying to do as we go through our scouting process is not just get to know these players as baseball players, but get to know them as people and professionals."
Perhaps no player understands Toronto's unique culture better than second-base prospect Samad Taylor, who came over from Cleveland last season in the Joe Smith deal and is now playing with the Single-A Lansing Lugnuts.
"It was the culture that really surprised me," Taylor said in Lansing, Mich., this week. "Culturally, here it's way different than it was with the Indians. It's more like … the Americans kind of brother-love the Latin guys (here). Over there, it was like everybody was just trying to shoot for their one goal.
"Don't get me wrong, over here, everyone's trying to make it to the big leagues, but we're also trying to help the younger guys get to where we're at now."
The Detroit Tigers hold the top pick in the draft and are widely expected to take Auburn pitcher Casey Mize.