The Machine: 20 years and 3,000 hits later, Pujols' peak remains a marvel
For years, he bristled at "El Hombre," fearing that it encroached on the province of Stan Musial, the St. Louis Cardinals legend widely and affectionately known as "The Man." So he earned himself a new nickname.
Eventually, in title as in practice, Albert Pujols - the baseball-destroying behemoth, highly routinized with an indefatigable work ethic - became known as "The Machine."
And for nearly two decades, Pujols' gears have been relentlessly turning, his immense talent and laser focus fueling a career that had the folks in Cooperstown prepping his plaque at 30. His output has diminished in recent years, to be sure, but Pujols nevertheless remains a fixture for the Los Angeles Angels, serving as their cleanup hitter almost every day, every now and then evoking the version of himself who won three National League MVP awards in a five-year span.
Pujols, fighting off his dotage like an 0-2 curveball, has now also gained entry to one of baseball's most exclusive clubs as one of only four players in history with 3,000 hits and 600 homers. The numbers speak to how amazing he was at his peak, when his stats strained credulity, year after year, providing ample evidence that he wasn't, in fact, flesh and blood.
"If a guy has the amount of hits that he has, they're much more than just a hitter," David Price, the Boston Red Sox left-hander and former American League Cy Young award winner, told theScore.
"I would say number one (hitter of all time)," Seattle Mariners star Robinson Cano said. "The numbers that he put up his first 10 years was something that maybe one other guy has done in baseball. He was amazing."
'Are these really his numbers?'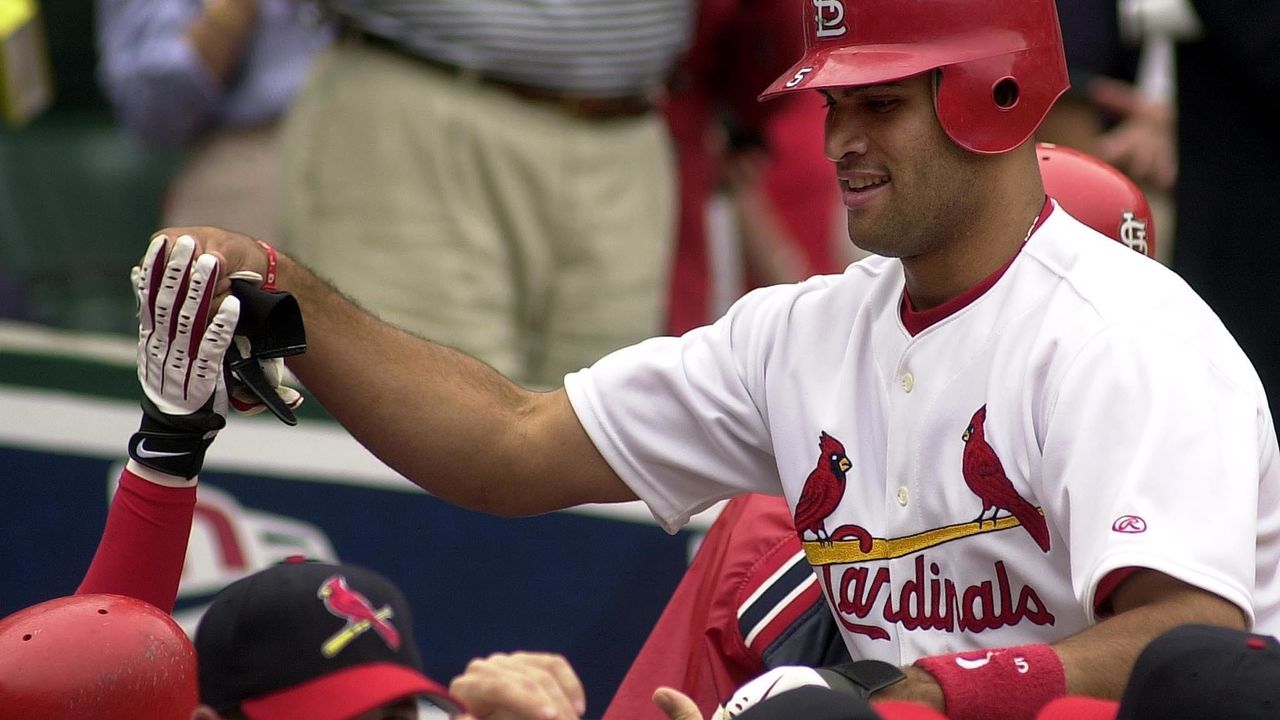 When Pujols arrived for his first spring training with the Cardinals, in 2001, he wasn't supposed to make the team. The 21-year-old had played a grand total of two games above High-A, spending the bulk of the previous season in the Midwest League. And though he had swung it well in Peoria (and in his brief stint with Potomac), the Cardinals - coming off a 95-win campaign - had Fernando Tatis locked in at third base and newly signed Bobby Bonilla poised to be their everyday left fielder. To his credit, Pujols did his best to force the Cardinals' hand that spring, but he was still reassigned to minor-league camp shortly before Opening Day. He was slated to open the season in Double-A.
Then Bonilla strained his hamstring.
On March 31, two days before their regular-season opener against the Colorado Rockies, the Cardinals selected Pujols' contract, adding him to the 40-man and including him on their Opening Day roster. Instead of New Haven, Pujols began his 2001 campaign at Coors Field. Slotted into the No. 6 spot in the lineup, Pujols went 1-for-3 in his MLB debut, an 8-0 Cardinals loss.
For the next decade, all Pujols did was rake.
That year, he hit .329/.403/.610 with 37 home runs and 47 doubles in 161 games, earning an All-Star nomination and the National League Rookie of the Year award while finishing fourth in MVP voting, behind only Barry Bonds, Sammy Sosa, and Luis Gonzalez. Over the next nine seasons, Pujols never once managed an OPS below .955 or appeared in fewer than 143 games for the Cardinals, earning those three MVP awards and establishing himself not only as the game's preeminent hitter, but as one of the greatest hitters of all-time.
"If you look at his career it's pretty incredible, and if you look at the first 10 years of his career, for me, it's the best there's ever been. It is the best 10 years in the history of this game," former Milwaukee Brewers manager Ron Roenicke told theScore. "When you're reading (his stats), you're like, 'Are these really his numbers?' His rookie year, it was just ridiculous."
WAR leaders, 2001-2010
| Name | WAR | AVG | OPS | wRC+ | HR |
| --- | --- | --- | --- | --- | --- |
| Albert Pujols | 77.5 | .331 | 1.050 | 169 | 408 |
| Alex Rodriguez | 69.9 | .299 | .971 | 151 | 424 |
| Barry Bonds | 54.3 | .325 | 1.262 | 208 | 268 |
| Ichiro Suzuki | 53.1 | .331 | .806 | 115 | 90 |
| Carlos Beltran | 50.3 | .283 | .874 | 125 | 251 |
Former Los Angeles Dodgers outfielder Shawn Green told theScore that Pujols, when he was in St. Louis, was "the most feared guy in the league" behind Bonds.
Really, as far as right-handed hitters, it's hard to think of anyone more fearsome in any era than peak Pujols. After adjusting for league and park effects, Rogers Hornsby, Jimmie Foxx, and Mike Trout - two Hall of Famers and a future first-ballot inductee - were the only right-handed hitters (min. 4,000 plate appearances) to produce a higher OPS than Pujols throughout the first decade of their careers.
| Player | OPS+ | PA |
| --- | --- | --- |
| Rogers Hornsby (1915-24) | 180 | 5409 |
| Jimmie Foxx (1925-34) | 173 | 4592 |
| Mike Trout (2011-present) | 173 | 4215 |
| Albert Pujols (2001-10) | 172 | 6782 |
| Frank Thomas (1990-99) | 169 | 6092 |
'No one is going to change his plan'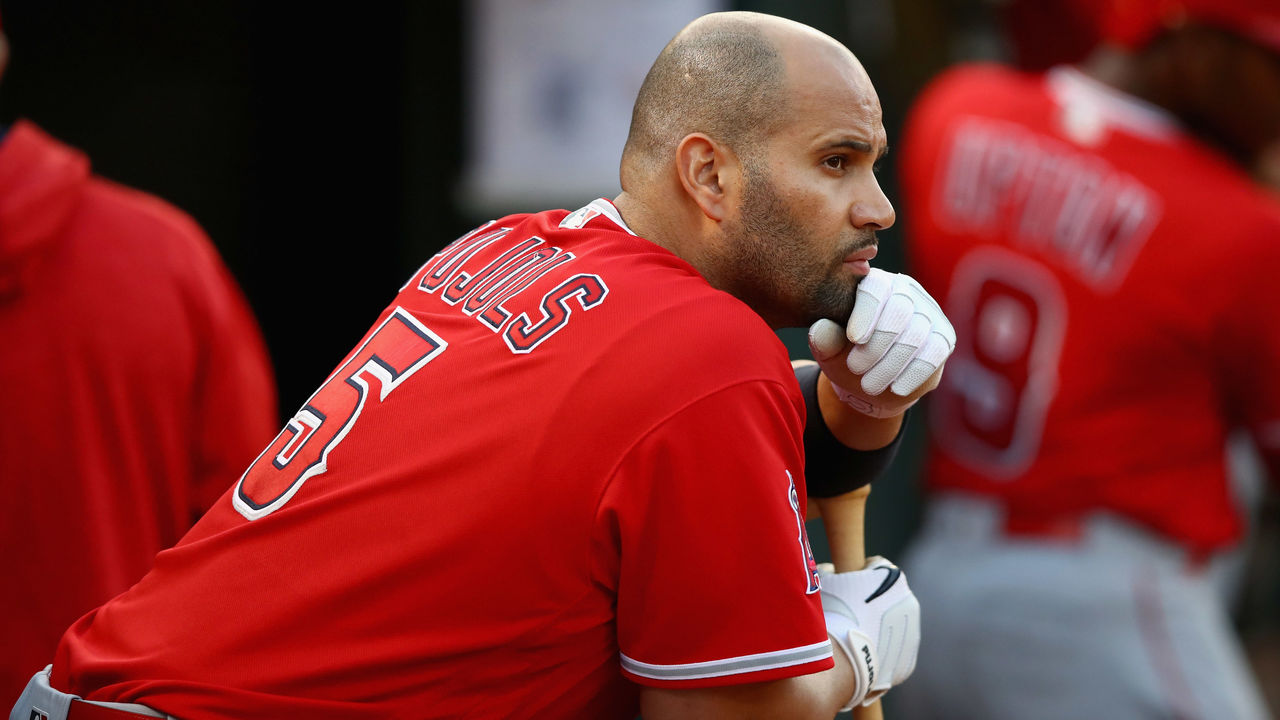 Pujols, a 13th-round pick in 1999, navigated the best years of his career before analytics were ubiquitous. When he won the batting title in 2003, notching 212 hits (including 43 homers and 51 doubles) en route to a .359 average, exit velocity wasn't part of the baseball lexicon. Two years later, when he hit .330/.430/.609 with 41 home runs and received his first NL MVP award, the benefits of an optimized launch angle weren't widely known.
He didn't need these concepts broken down for him, though. Pujols knows hitting, and through an unwavering commitment to his routine - he prefers tee drills and soft-toss to on-field batting practice - along with his willingness to park himself in the video room, he became virtually unstoppable.
"He's going to study guys," Price said. "He knows how you got him out the last time or how you've had success against him and he's going to make his adjustment and if that pitcher doesn't adjust (that's why he's got 3,000)."
Added Roenicke, "He's a little different now, but at that time really there was only one place that you could pitch him and get him out, and that was a fastball up and in. I can remember the first series (in 2011) we went in to face him we had him swinging at that pitch - which when he's good, he doesn't. So we got him out that first series, so then the next series, we tried to pitch him there again. He ended up getting four hits and a homer and just killed us the rest of the year."
Still, despite the overwhelming volume of information Pujols carries with him into the batter's box, once he digs in, he tries to clear his mind, in a sense. Keep it simple and swing at strikes, no matter what (his career 1.08 walk-to-strikeout ratio is sixth-best among hitters with at least 5,000 PAs since 2000).
Red Sox infielder Eduardo Nunez, who said he had the "pleasure" of hitting with Pujols in the Dominican Republic during the offseason, marvels at the slugger's mindset.
"He doesn't like to think that much," Nunez said. "He has his own approach, his own plan and he doesn't change it for anything or any reason - umpires, pitchers, no one is going to change his plan."
'You make a mistake, you're going to pay'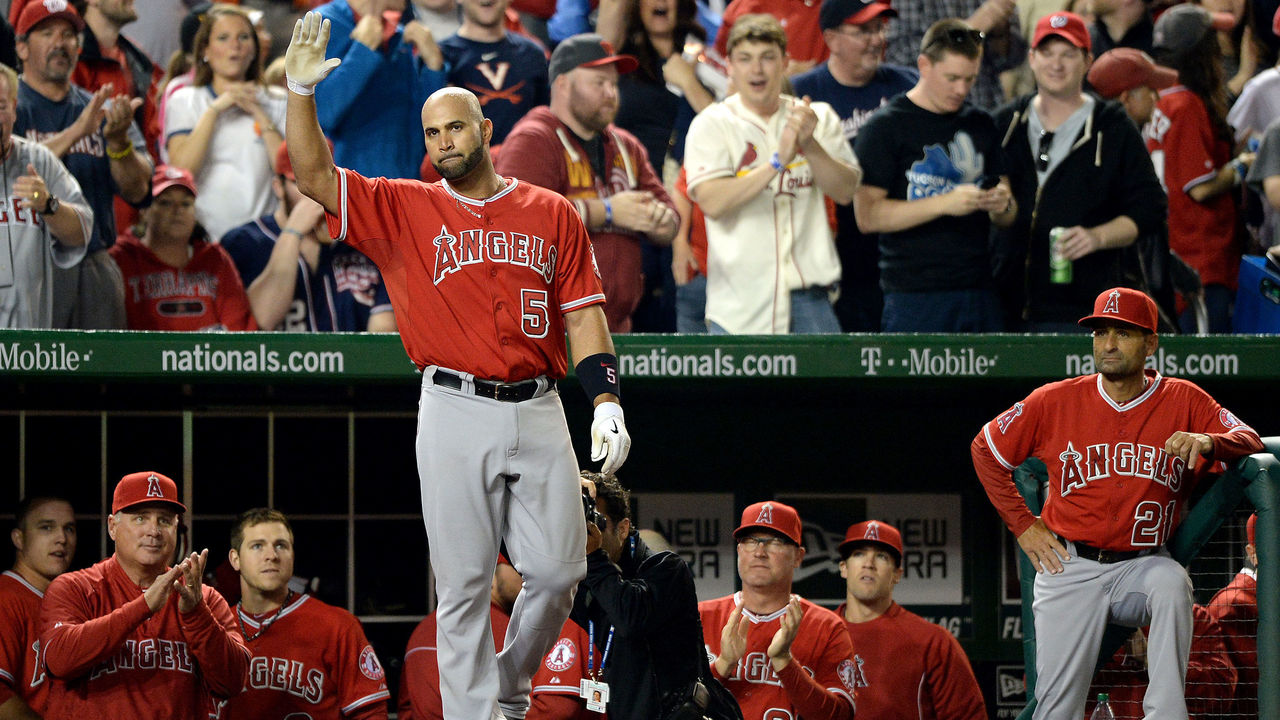 Father Time remains undefeated and even legends like Pujols can't escape it.
Look at his Baseball-Reference page and it's easy to see the decline. He's far from the hitter who terrorized opposing pitchers during his time in St. Louis. His batting average and on-base percentage no longer hover around league-leading levels. The strikeouts are up, the walks are down.
But Pujols can still do damage.
"He's still got a lot in the tank," Mariners DH Nelson Cruz told theScore.
Red Sox catcher Sandy Leon agrees.
"You have to mix (your pitches) with him," he said. "Any mistake, he's going to hit it. You need to execute pitches, make really good pitches, because if you make a mistake you're going to pay for it."
Leon was front and center for two of those mistakes on April 23, 2014. Catching for the Washington Nationals at the time, Leon was behind the plate when Pujols belted career home run No. 499, and then No. 500.
"It was my first game playing against him so I didn't say anything," Leon recalled when asked about his first interaction with Pujols. "The next at-bat I said, 'Congratulations, 500 homers, that's a Hall of Fame career."
Bring the slugger's name up to Boston's Price and immediately one game comes to mind.
"Two homers," Price said about an afternoon in May 2014, when the left-hander became the 319th pitcher to surrender a home run to Pujols.
Pujols, known for making astute adjustments, entered that game 0-for-7 against Price for his career; he's gone 10-for-24 since.
"He obviously has a lot of knowledge on the pitchers, especially guys who have been in the league, guys that have faced him," Price said. "Now that he's getting more DH days he can really get in that film room, especially after each at-bat, and see what that pitcher was trying to do."
Fellow Cy Young winner Felix Hernandez agrees. Despite having success throughout his career against Pujols (13-for-65 with one home run), Hernandez said none of those outs came easy.
"He's got some hits - he's got a homer against me," Hernandez told theScore. "He's still the same guy that he was in St. Louis. He's such a smart hitter. He doesn't miss any mistakes. That's why he's got 3,000, because if you make a mistake as a pitcher, he's either going to get a hit or a homer. That's why he's got 3,000 hits and 600 homers.
"The first at-bat, if you strike him out, you're not going to do the same sequence the second at-bat because he's going to get you."
'I learned a lot of that from Albert'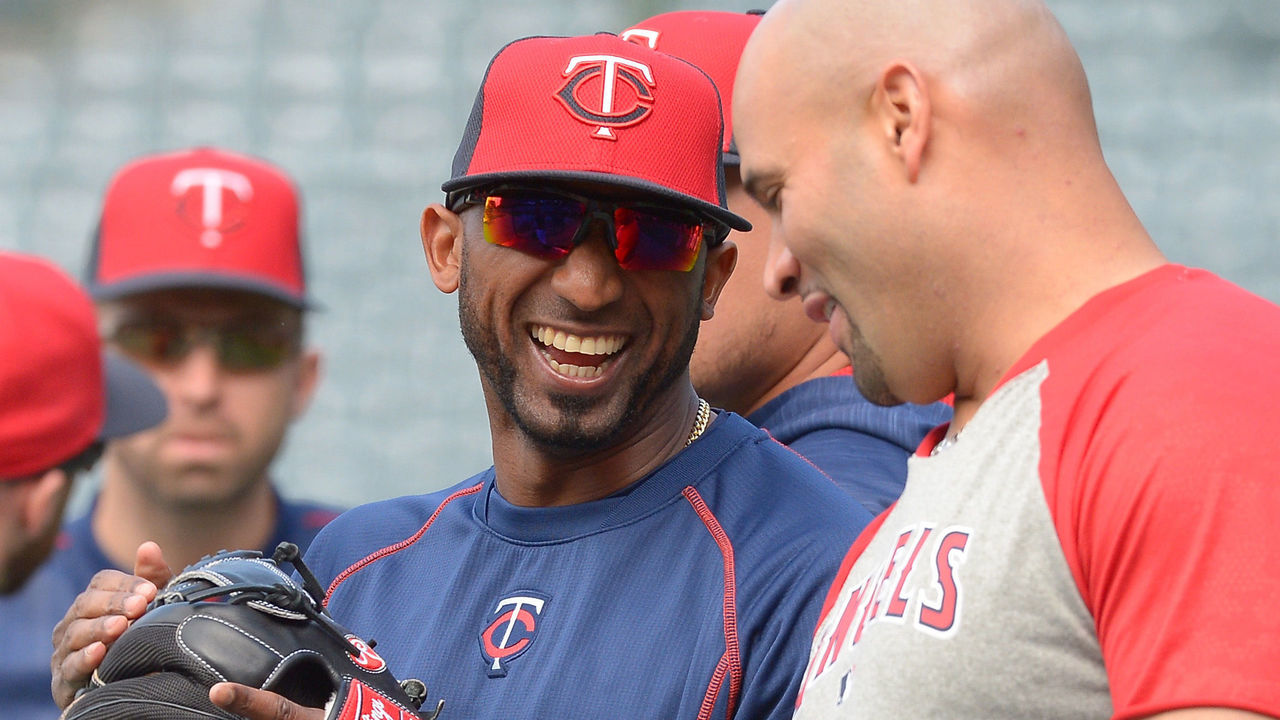 Pujols is signed through the 2021 season, and is owed more than $87 million. There's still plenty of baseball to be played, but the end is near.
With every hit he climbs the ladder. Another step toward Cooperstown, another step toward baseball immortality.
"It's special," Cruz said. "You're watching history."
A baseball lifer, Pujols has given so much to the game. The numbers put up will forever be admired, and those who have had the pleasure of calling him a teammate have learned career-altering lessons, former Cardinals teammate and Royals outfielder Jon Jay said.
"The biggest thing I take away - I was really young when I played with him - I look at myself now and how when I get to the field I feel like I have a plan (for) getting ready and preparing myself. I feel like I learned a lot of that from Albert," Jay said. "Now, as a player, being around a little bit, I see that's what helps his longevity. The guy had a routine and stuck to his routine. Just his preparation and the way he went about his business was unbelievable."
Teammate or opponent, it doesn't matter. If you have a question or want advice, players say Pujols is extremely generous with his time.
"He's a gentleman," Nunez said. "He enjoys hitting, enjoys talking about hitting, enjoys when people learn from him. He's a very special human being.
"He's one of the best players in the world and one of the biggest players from the Dominican. We feel special to see someone born in the Dominican do what he does. It's special for us."
A special player, a special career.
"He's going to be a first-ballot Hall of Famer," Hernandez said.
Comments
✕
The Machine: 20 years and 3,000 hits later, Pujols' peak remains a marvel
  Got something to say? Leave a comment below!