When Clayton Kershaw stands on that Cooperstown podium 15 years from now, all rotund and happy and surrounded by those whose lives he enriched with his magical left arm, he's going to crack a joke about his postseason struggles, and the crowd, bless their hearts, will indulge him.
Right now, however, with his Los Angeles Dodgers very much poised to win the World Series for the first time since the Berlin Wall came down, it's no laughing matter. And while the source of his struggles in playoffs past remains maddeningly inscrutable, this time around it looks like Kershaw, the best pitcher of his generation, just isn't right.
On Friday, Kershaw got the ball for his club's best-of-five NLDS opener against the Arizona Diamondbacks, and the makings of a strong postseason - an October that would rewrite his narrative, dammit - were there right away. Afforded a four-run lead in the first inning, Kershaw locked in, holding the Diamondbacks hitless until A.J. Pollock's solo shot with two outs in the third. Kershaw responded with aplomb, allowing only a single in the fourth - his teammates graciously tacked on another three runs in the bottom of the inning - before retiring the Diamondbacks in order in the fifth.
An inning later, however, things unraveled for the three-time Cy Young Award winner, sullying what had been, up to that point, a spectacular outing. He walked the leadoff man in the sixth, coughed up a home run to J.D. Martinez two batters later (following a timely double play), and then served up two more home runs, to Ketel Marte and Jeff Mathis, in the seventh before being lifted for a reliever.
In isolation, Kershaw's shaky start wasn't all that troubling - the Dodgers won, after all, holding on for a 9-5 victory - but his performance continued a disquieting pattern he hasn't been able to break since coming off the disabled list five weeks ago. Since rejoining the Dodgers in September after missing five weeks with a wonky back, Kershaw hasn't been able to turn over a lineup more than once, consistently getting lit up his third time through the batting order during his final six regular-season outings.
Third time through the order, 2017
| Split | AVG | OBP | SLG | wOBA |
| --- | --- | --- | --- | --- |
| April 3 - July 23 | .234 | .255 | .418 | .284 |
| Sept. 1 - Sept. 30 | .269 | .345 | .560 | .372 |
His ability to hornswoggle each opposing hitter three times, every time out, is one of the things that makes Kershaw, er, Kershaw, so naturally, his numbers plummeted to mere-mortal levels when this ability abandoned him upon his return from the DL.
| Split | ERA | FIP | WHIP | wOBA |
| --- | --- | --- | --- | --- |
| April 3 - July 23 | 2.04 | 2.95 | 0.88 | .245 |
| Sept. 1 - Sept. 30 | 3.48 | 3.60 | 1.22 | .310 |
In Game 1, in a frustrating bit of deja vu, Kershaw got torched his third time through the batting order. It went like this, beginning with David Peralta's at-bat with two outs in the fifth: Popout (good); walk (bad); GIDP (good); home run (bad); strikeout (good); lineout (meh); homer (uh oh); homer (please make it stop). Then, mercifully, he was pulled, departing his first start of the 2017 postseason with a 5.68 ERA and 1.26 WHIP.
"They hit some good pitches," Kershaw said following his club's victory, per MLB.com's Ken Gurnick. "I just didn't have much left, I don't know."
Kershaw continued: "It just wasn't coming out as good as I would have liked it to that last inning."
No kidding. In the first inning, wherein Kershaw navigated around a leadoff walk with a lineout and a pair of strikeouts (against Paul Goldschmidt and Martinez, no less), his four-seam fastball averaged 94.8 miles per hour. By the seventh inning, his fastball - the pitch Mathis improbably yanked for a homer - was sitting at 91.1 mph. (The slider Marte laced over the left-field wall moments earlier, incidentally, was just a bad pitch.)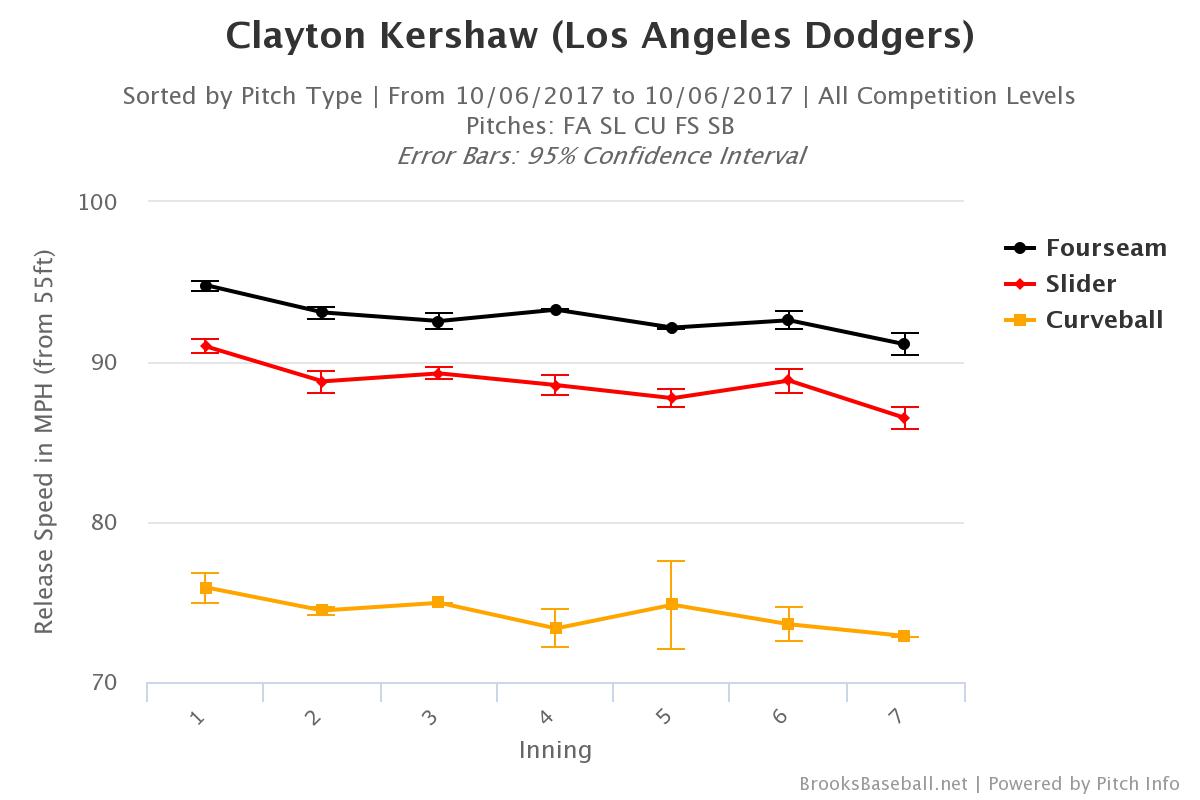 This wasn't an anomaly, either. Kershaw hasn't been able to consistently maintain his velocity late into games since coming back, and while he doesn't need plus-plus velocity to be successful, his command has also eluded him more than usual of late. That's a problematic combination, and it's likely the reason his home-run rate has skyrocketed. Just look at the location of these pitches responsible for the five homers he allowed over his final six regular-season starts (he averaged 1.34 homers per nine innings over that span, by the way). See that elevated fastball in the middle of the plate? That's a terrible pitch, and he threw it to Nolan Arenado. That slider, the one that broke middle-in to Aaron Altherr, was turned around 418 feet - with an exit velocity of 107.6 mph - for a grand slam.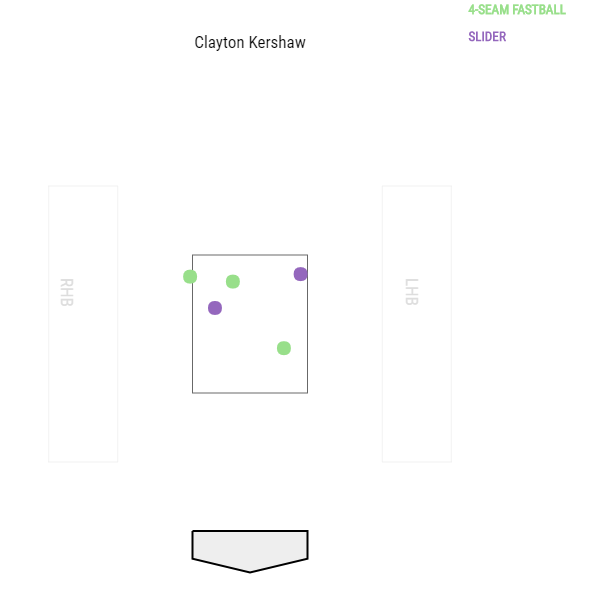 Every pitcher makes mistakes, of course, but Kershaw is supposed to be different. He is different. He's just not himself right now. The Diamondbacks can see that.
"You got to pull the positives out of a game like this for sure and that's one thing that sticks out in my mind for sure, the fact that we came back and made a ball game of it," Mathis said. "They know that over there."
As constituted, the Dodgers are a very, very good team even without their ace at his best. With Kershaw on the disabled list, Los Angeles went 23-10, and the rotation was fine in his absence, putting up a 3.91 ERA (albeit with a more damning 4.68 FIP) in August with understudies like Brock Stewart and Ross Stripling helping to fill the void. The road to the World Series is fraught, though, with Diamondbacks and Cubs poised to pounce, to say nothing of the American League behemoth that will eventually vie for the championship. The depression of baseball's middle class has truly resulted in one of the best postseason classes in recent memory, and though this Dodgers team may have been able to withstand a faulty Kershaw some other year, that won't be the case in 2017.
Kershaw, at the moment, isn't right. But the Dodgers can't afford for him to be wrong.