Back in February, as he discussed his elephant-in-the-room contract status with a gaggle of reporters at the Blue Jays' spring training complex in Dunedin, Jose Bautista - resplendent in his "Home is Toronto" sweater - scoffed at the notion of a hometown discount.
He didn't reveal that afternoon in Florida what it would take for him to stay in Toronto, his home for almost a decade, now, but Bautista did make clear he would navigate his first trip into free agency with a pragmatic, unsentimental approach. He was going to get paid, because he deserved to get paid.
That, however, was eight months ago. What now, Jose?
Over the summer, Bautista watched his earning potential plummet, as conspiring health problems and performance decline fueled his worst season since he became, well, Jose Bautista in 2010. He played just 116 games, smacked only 22 home runs, and, after adjusting for park effects, was a worse hitter than Jean Segura and Wilson Ramos. With the dreaded qualifying offer further deterring potential suitors, the market for his services remains unclear, but let's look at three teams he should consider signing with this offseason.
Toronto Blue Jays
Duh.
It'd be uncouth of the greatest player in Blue Jays history to force his longtime team to gloss over a Boston era, or possibly an Astros stint, in his Level of Excellence induction ceremony video montage, no? Despite his struggles in 2016, and even though a not-insignificant contingent of Blue Jays fans would be fine seeing the polarizing 36-year-old sign elsewhere, this marriage shouldn't end yet.
The Blue Jays remain committed to contending in 2017, having just plopped down $33 million for 33-year-old Kendrys Morales, so they either need to re-sign Bautista or replace him with one of Dexter Fowler, Josh Reddick, or someone else of that ilk that doesn't offer the upside Bautista does. See, because of his struggles this year, both performance and health-wise, Bautista has played himself into a price point that could actually yield surplus value on his forthcoming contract. Though he's only a year removed from a .913 OPS (145 OPS+) and 40 homers, Bautista, pundits have argued, will have to settle for a contract no greater than $51 million, and possibly as low as $16 million. Even if his market value settles in the neighborhood of that first figure (on a three-year deal), the Blue Jays should be amenable, and, frankly, so should Bautista, who, despite his track record, offered little besides patience and power in an injury-riddled 2016 campaign. He may not be the elite hitter he was as recently as two summers ago, but Bautista still has value, and, as his agent said last week, after being ousted from the ALCS in consecutive seasons, the six-time All-Star has unfinished business in Toronto.
Houston Astros
With a scant $38.5 million committed to their 2017 payroll, most everybody is expecting the Astros to make a splash this offseason to complement their enviable core of Jose Altuve, Carlos Correa, George Springer, and Alex Bregman. Though they're not fond of Bautista in other parts of Texas, in Houston, where Evan Gattis, Yulieski Gurriel, and Nori Aoki are tentatively poised to receive regular playing time in 2017, the veteran superstar is an obvious fit.
Of course, Bautista would be a fit on pretty much any team, what with his on-base ability and pop, but Houston in particular makes sense for him because of the short porch in left field at Minute Maid Park. Not unlike Rogers Centre, the place is an incubator for right-handed power, and that bodes well for Bautista, who, since the start of 2014, boasts the seventh-highest pull rate and 13th-highest fly-ball rate among baseball's 235 qualified hitters. That approach has yielded big dividends.
2014-2016
| Bautista | Pull % | FB% | OPS | HR |
| --- | --- | --- | --- | --- |
| Stat | 51.9% | 44.2% | .892 | 97 |
| MLB rank | 7 | 13 | 15 | 11 |
Even as his performance dipped in 2016, Bautista continued to pull the ball like crazy, and had he played half his games at Minute Maid Park, he actually might've had a couple more homers (and an OPS above .817, his lowest since 2009).
2016 spray chart w/Minute Maid Park overlay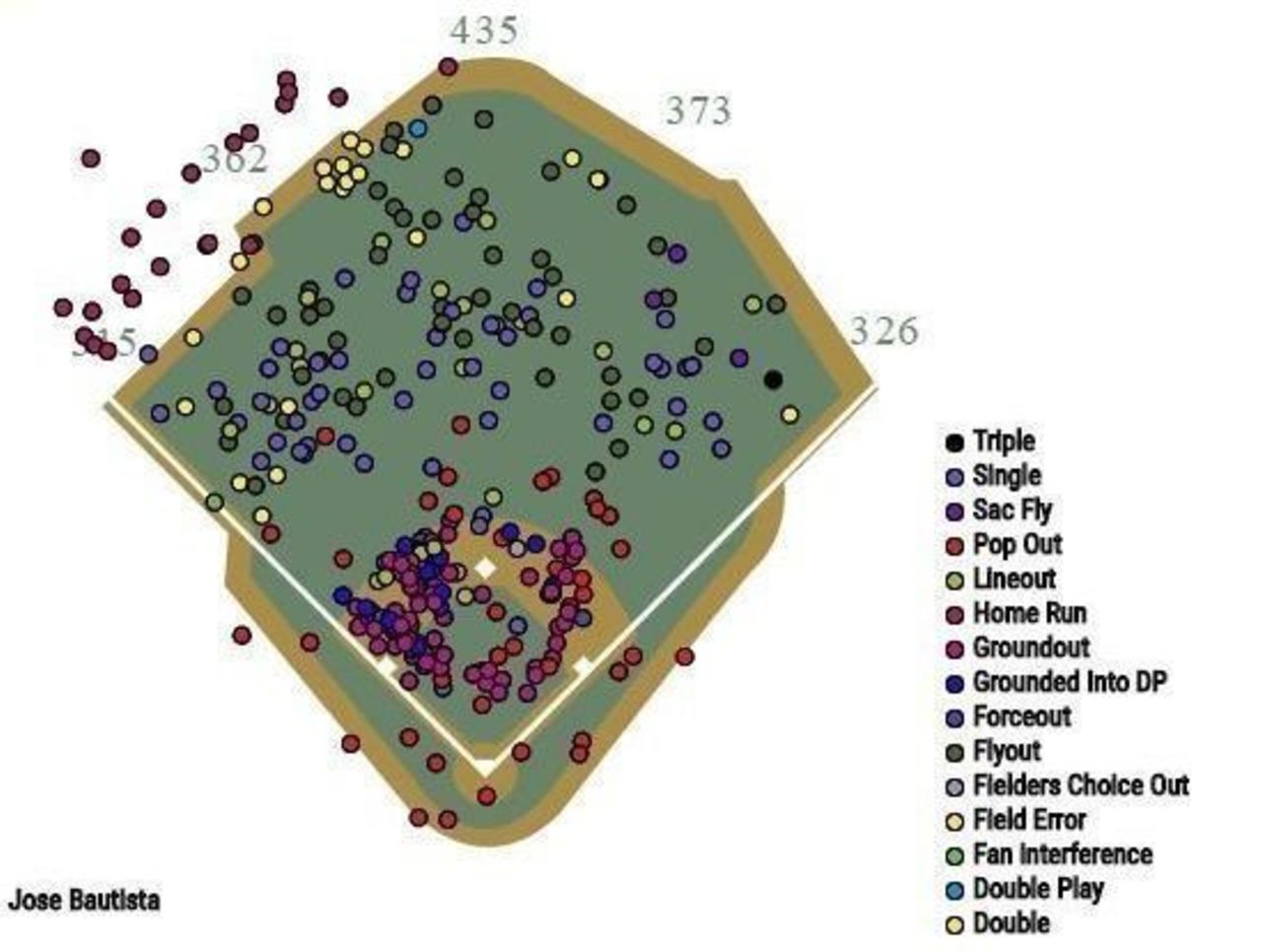 Boston Red Sox
Speaking of environments conducive to right-handed power, it'd be disingenuous not to mention rickety, old Fenway Park, where Bautista has very much enjoyed hitting throughout his 13-year career. In 66 games in Boston, Bautista has gone deep 24 times - he doesn't have more than 17 homers in any other ballpark he didn't at one point call home - while posting a .972 OPS in 288 plate appearances at the pre-World War I bandbox. It's reasonable to presume the thought of signing with Boston has crossed his mind.
For months now, we've been hearing that Bautista's longtime running mate, Edwin Encarnacion, will be the one to replace David Ortiz (who in July even lobbied for the Red Sox to sign Encarnacion this winter), but recent reports suggested the reigning American League East champions aren't that serious about signing the 33-year-old. For a couple reasons, they may be more interested in Bautista: First, even though much was made of Bautista's defensive woes in 2016 (while he dealt with two separate lower-body injuries), he can, unlike Encarnacion, play left field for Boston. That would put the Red Sox in a position to trade either Jackie Bradley Jr. (likely) or Andrew Benintendi (unlikely) to improve other areas of weakness. It would also allow the Red Sox to use their DH spot liberally, enabling John Farrell to give one of his regulars a day of their feet instead of penciling in Encarnacion (or Hanley Ramirez) into that spot every game. Second, the Red Sox are probably apprehensive about giving Encarnacion the nine-figure deal he's reportedly looking for, while Bautista's eventual contract, as noted above, will likely provide a reasonable chance for surplus value.