Singapore GP Takeaways: Red Bull struggles spice things up, Sainz-Lando work together
Following each race weekend this year, theScore's editors offer their takeaways. We continue the 2023 schedule with the Singapore GP.
"Carlando" is back, baby
"With Lando, it's special."
Carlos Sainz was overjoyed - obviously - to join Ferrari in 2021, but there was a tinge of sadness detectable in his voice as the Spaniard described the relationship he and Lando Norris had built during their time together at McLaren, and how difficult it would be to leave that bond behind. "Carlando" was easily the most delightful partnership on the grid, a true bromance that was genuine, entertaining, and endearing.
It was rekindled in Singapore.
Sainz and Norris, though no longer officially teammates, worked together on Sunday to hold off an ominous Mercedes threat in the waning laps of the Singapore Grand Prix, allowing Sainz to convert his pole position into a second career victory, and Norris to cross the line just behind him.
When George Russell and Lewis Hamilton came roaring out of the pits with fresh medium tires for the final 17 laps of the physically taxing race - Mercedes expertly double stacked their drivers after Esteban Ocon's mechanical failure triggered a Virtual Safety Car - it seemed inevitable that they would surge past Charles Leclerc, Norris, and Sainz, all of whom were running on old (hard) rubber ahead of them. Toto Wolff said as much after the race, admitting the team's live data projected a one-two finish after the pit stops. Russell and Hamilton, more than a second per lap quicker than the top three, were flying around the street circuit, and easily swallowed up Leclerc before catching the leading duo.
Sainz, the quickest car all weekend long, could no longer rely on pace alone to get to the finish line first. He would have been a sitting duck. Instead, in a cunning move, he took his foot off the gas - literally - which allowed Norris to use DRS and beef up his defense against the onrushing Russell and Hamilton.
"I didn't need the team to suggest it, I knew my pace more or less to Lando, I knew how difficult it is to overtake here," Sainz said of the masterful tactical decision that ultimately secured his win. "I knew he was on a hard, I knew if George and Lewis were passing him I was probably going to be dead meat also, so I needed him to hold on as long as possible."
Norris, who appreciated his old pal's "generous" move, held up his end of the bargain, keeping Russell - who eventually crashed out - and Hamilton at bay.
The end result was Sainz and Norris, for the first time in F1, standing side-by-side on the top two steps of the podium. It was special. - Gianluca Nesci
Red Bull suffers meltdown
Red Bull's RB19 has been regarded as one of the most dominant cars of all time. But, the machinery piloted by Max Verstappen and Sergio Perez in Singapore looked nothing like the fast and reliable RB19. At times it barely looked drivable.
It was one of the team's worst showings in years. For the first time since the 2018 Russian Grand Prix, both Red Bulls failed to make Q3. Perez qualified 13th, which isn't unusual. However, even the mighty Verstappen started 11th - more than a second off the pole time - and was knocked out of Q2 by sister club driver Liam Lawson. Verstappen may have salvaged some points Sunday with a fifth-place finish, but don't let that fool you; the reigning constructors' champs were shockingly poor.
So, what exactly went wrong? From just watching the onboards of the two Red Bull pilots, it seemed clear that a car that typically appeared on rails had no bite, especially in the front tires. Verstappen and Perez wrestled with the steering constantly as the two fought against oversteer and understeer to the point where it looked like they were in a drifting competition. Despite numerous attempts to tinker with the car's setup throughout the weekend, Red Bull just couldn't find a solution.
"The car is just not responding to changes we've made," team principal Christian Horner said. "We've tried many different things with the tires, but they don't seem to be working. That time deficit could be explained by not getting the tire into the window."
The bigger question is: Was it a Singapore problem or was this weekend's troubles a sign of long-term danger? That depends on how much you believe what Red Bull says publicly. The team was adamant even prior to Singapore's arrival that the track would be a tough fit for the RB19. The car has shown it doesn't prefer street circuits. Couple that with the positive development that the likes of Ferrari, McLaren, and Mercedes have made over the season, and Singapore's disaster becomes a believable one.
However, perhaps there's a more ominous explanation in the form of a new technical directive. TD18, introduced by the FIA in order to curb flexible front and rear wings that have "a little bit too much freedom." Is it possible this technical directive has been the Kryptonite to the mighty bulls that the rest of the grid has been asking for? According to Horner, it is nothing more than a coincidence that Red Bull faltered immediately after this directive was implemented.
"The car we have here for qualifying is essentially the identical car that we had two weeks ago in Monza and a week before that in Zandvoort," Horner said after qualifying. "Nothing's changed on the car."
The encouraging news for Red Bull is that Verstappen described Sunday's race, which featured two unfavorably timed safety cars - as the "worst-case scenario." The reigning world champion even went as far as to say his last stint was "quite easy" and that he believed he could have fought with the front-runners had the safety cars worked in his favor.
The truth will become apparent next weekend when F1 heads to the legendary Suzuka circuit. There, on a typical track, Red Bull won't have anywhere to hide. Much to the dismay of the grid, Verstappen has made it clear that it should be business as usual in Japan.
"I'm confident that next week, (when) we're going to Suzuka, the car is faster," Verstappen said, according to RacingNews365. "It already felt like that on the simulator that (Singapore) was a difficult setup window for the car, where then we went to Suzuka and it just felt amazing again." - Daniel Valente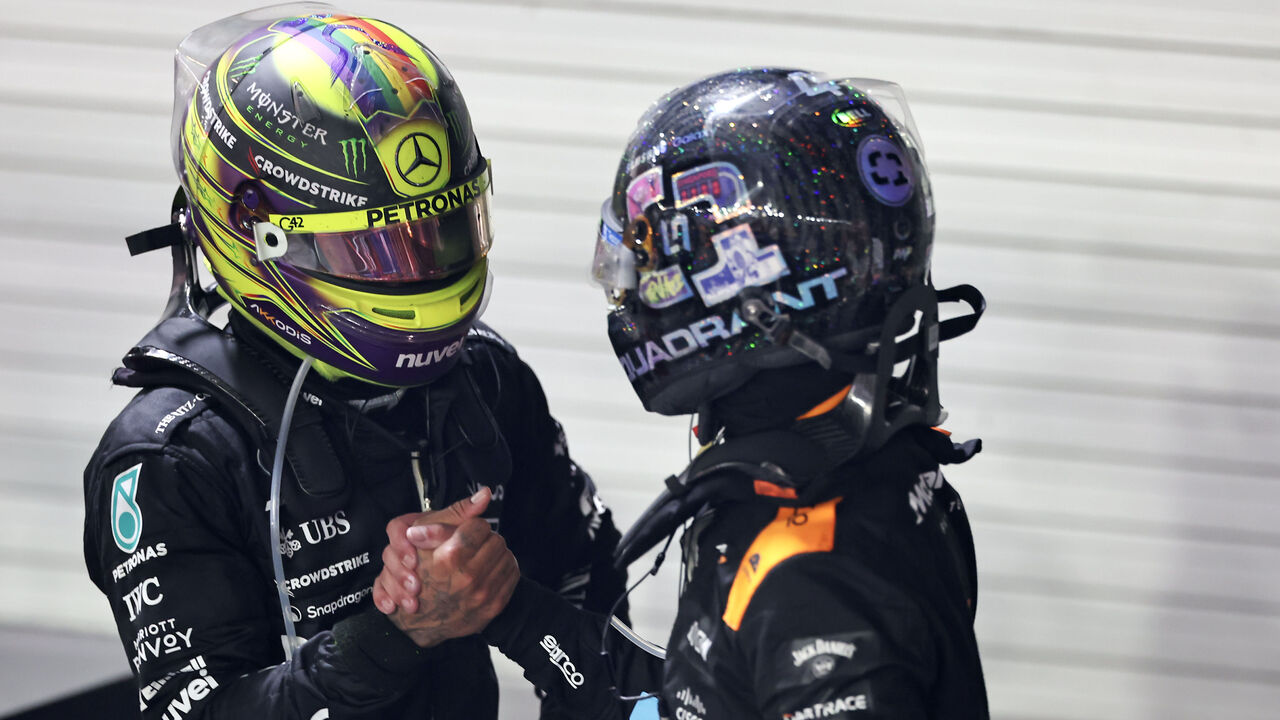 Mercedes' gamble almost pays off
It was a mixed bag for Mercedes in Singapore.
The team was a lap away from taking home a third- and fourth-place finish before George Russell clipped the wall and soured what would've been a positive weekend for him. Lewis Hamilton benefited and finished third, claiming his first podium in five races and fourth on the season.
Russell looked extremely distraught after the race, and for good reason. It's been a downright awful sophomore season for him with Mercedes. Singapore would've been just his second podium on the season. Instead, it's a third DNF and second time in three races in which he's finished outside the points.
"A millimeter lapse of concentration and game over," Russell said of his crash. "It was a really challenging race."
He added: "I feel like I let myself down and the team down. It's tough."
What makes Russell's crash even more frustrating is that Hamilton likely would've had a shot at finishing higher on the podium had he gotten by his teammate earlier. Russell admitted that he believes he could've caught Sainz had he been able to get by Norris, while Hamilton, who claimed the fastest lap, looked like the quicker driver. Mercedes was in a difficult position near the end, though, and couldn't issue team orders to allow Hamilton to pass with Russell poised to take a spot on the podium.
"It's (a) shame for George because he worked hard for that," Wolff said.
Despite how things ended, it was nice to see Mercedes going for the win and not just being satisfied with a podium and points - who knows how many races remain where Red Bull looks so vulnerable.
Armed with an extra set of medium tires, Mercedes made an aggressive move to pit both its drivers late in an attempt to chase down Sainz and Norris. While the team ran out of time in the end - Hamilton said he probably needed another 5-10 laps to chase them down - it was still great to see Mercedes rolling the dice.
"We risked it at the end and took a chance, and I love that the team is doing that," Hamilton said.
With the result, Hamilton was able to leapfrog Fernando Alonso to move into third in the drivers' standings. Meanwhile, Mercedes lost critical points when Russell crashed and watched its gap over Ferrari in the constructors' standings shrink from 45 to 24 points
"I think they have the edge over us (right now)," Wolff said of Ferrari. - Brandon Wile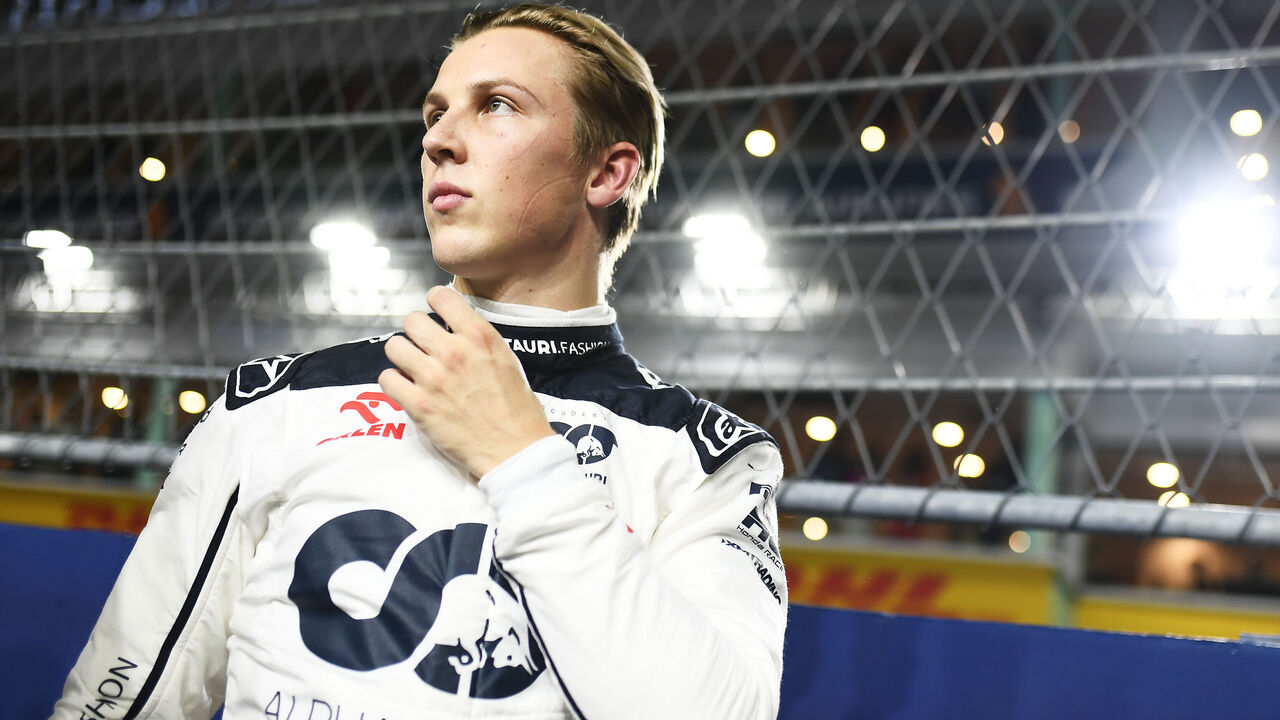 Lawson is next in line
It might be difficult for AlphaTauri to put Daniel Ricciardo back into the seat that Liam Lawson has kept warm.
The 21-year-old has outperformed his teammate Yuki Tsunoda in each of his first three races since being asked to cover for Riccardo, who broke his thumb during practice for the Dutch GP. And, on Sunday, Lawson earned the first points of his career, finishing ninth in Singapore to cap off an impressive race weekend where he outqualified both Red Bulls and made it into Q3. It's the first time a driver has scored their maiden points at Singapore, a notoriously tight night race. It's also the first time a driver has taken that particular car across the finish line in the top 10 - a feat both Nyck de Vries and Ricciardo have failed to accomplish thus far.
It would perhaps be unjust to give Riccardo his F1 seat back just to yank it away from him due to injury and because an incredibly promising rookie has shown he likely deserves a full-time seat. So it won't happen. This is the veteran Aussie's seat as soon as he's able to return. But Tsunoda and other underperformers on the grid should feel the pressure from Lawson, who continues to climb.
| Race | Position |
| --- | --- |
| Dutch GP | 13th |
| Italian GP | 11th |
| Singapore GP | 9th |
Throughout his young career, Lawson has shown a penchant for adjusting quickly, winning the first race of the 2019 M2 Competition en route to claiming the championship. He followed that up by winning his debut in the 2019 Euroformula Open along with three additional victories that season. On top of those incredible breakout performances, he won the first sprint race of the 2021 Formula 2 season against the likes of Oscar Piastri, Zhou Guanyu, and Logan Sargeant, among others.
Is some of this fool's gold? Perhaps. De Vries originally won the AlphaTauri seat to start the 2023 season due, at least in part, to an impressive drive with Williams down the 2022 stretch. But De Vries is 28 years old. After just three races, Lawson is accomplishing what's eluded even Tsunoda as a 21-year-old. If there's an opening somewhere at the end of this season, Lawson should be seen as a top contender to take that seat. Right now, it might depend on how Ricciardo looks following his recovery. But would a team with a vacancy rather go with an aging veteran who really struggled after leaving Red Bull or an up-and-coming youngster who could grow with the team? If not elsewhere, Lawson and Riccardo could easily become teammates with AlphaTauri next year. - Michael Bradburn