As Europe's top leagues await word on the resumption of their respective seasons, here are the seven best moments from the campaign so far:
Haaland shines in Champions League debut
Erling Haaland introduced himself to the world on Sept. 17 with three goals in the first half of a memorable Champions League debut. The 19-year-old had already scored three hat-tricks before then and was well on his way to superstardom.
Before that, he was just the son of former Nottingham Forest, Manchester City, and Leeds midfielder Alf-Inge Haaland, defined more by his upbringing in England and his father's endeavors in the Premier League than his own individual success.
But Haaland's value soon became clear.
Despite his towering frame, the teen sensation has shown incredible footwork since his debut. Nimble and positionally aware, Haaland probes defenses and attacks with ruthless efficiency. The nine goals he scored against Honduras in the FIFA Under-20 World Cup were merely a sign of things to come.
Gnabry's goal bonanza
Once a Gooner, always a Gooner.
Arsenal sold Serge Gnabry for just £4.5 million in 2016, but the German international has always identified himself with his former club. It's no coincidence that some of his best performances have come against archrivals Tottenham.
In October, he became the first player to score four goals in the second half of a Champions League match when he embarrassed Spurs in front of their own fans in north London. Gnabry proceeded to troll Tottenham supporters after his extravagant outing.
Gnabry's quadruple ensured Tottenham's heaviest defeat at home in 137 years. Mauricio Pochettino was fired a month later.
Walker to the rescue
Manchester City manager Pep Guardiola ran out of goalkeepers when Claudio Bravo was sent off for a foul on Atalanta dynamo Josip Ilicic.
Usual starter Ederson injured himself earlier in the Champions League contest, and Bravo's error left City with 10 men for the final few minutes of the match. So Guardiola summoned Kyle Walker, and the makeshift 'keeper came in from the cold to save a free-kick and preserve a 1-1 draw.
Walker is the only "goalkeeper" Atalanta have failed to beat in the Champions League campaign.
"We didn't know before but Xabi Mancisidor, our goalkeeper coach, suggested him for his courage and because he is quick," Guardiola said. "We are lucky we only conceded one shot on target when he was in goal but congratulations for the courage and desire to help the team in this position."
Players serenade Mihajlovic outside hospital
Bologna manager Sinisa Mihajlovic was diagnosed with leukemia just before the start of the Serie A season. It was a devastating blow to the Italian football community, which has long viewed Mihajlovic as one of the game's strongest personalities.
But treatment didn't stop him from coaching. He kept in contact with his players while undergoing chemotherapy in the hospital, and one particular speech made a tremendous impact.
With Bologna trailing Brescia at halftime of an early-September fixture, Mihajlovic riled up the troops by telephone. Bologna fought back from being down 3-1 to win 4-3.
On the way home, Bologna's team bus stopped at the hospital and chanted Mihajlovic's name until he emerged from his window and waved.
Leicester's record win over Southampton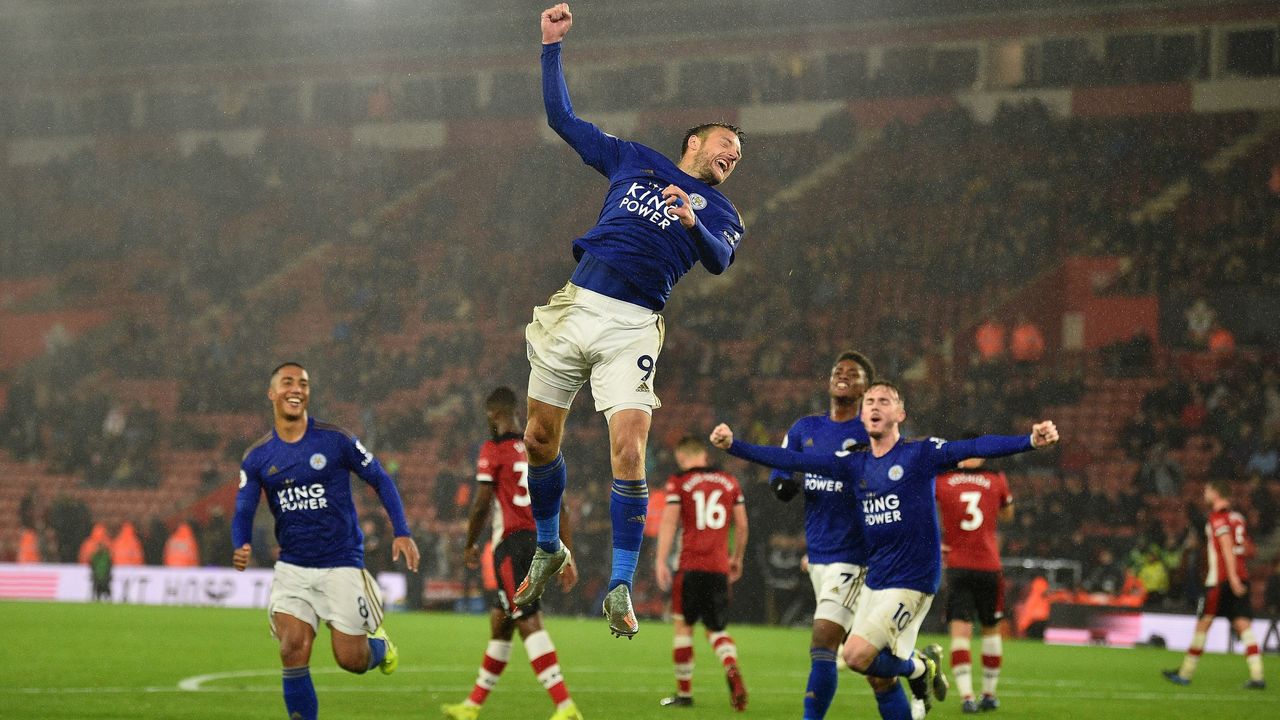 It was over before it began.
Leicester City equaled the biggest-ever win in Premier League history with a 9-0 trouncing of Southampton in October. Jamie Vardy and Ayoze Perez each scored hat-tricks to help the Foxes tie a record that Manchester United initially set in 1995 with a nine-goal demolition of Ipswich Town.
It stands alone as the biggest win recorded by an away team in the 131-year history of the English top flight.
Ryan Bertrand's red card in the 12th minute gave Leicester the freedom to run rampant. Brendan Rodgers' side scored five goals before the referee even blew for halftime.
Haaland does it again
Haaland has a habit of making good first impressions.
After joining Borussia Dortmund from Red Bull Salzburg, Haaland came off the bench to make his Bundesliga debut in astonishing fashion. He scored three times in just 20 minutes to lead Dortmund to a 5-3 comeback victory over Augsburg.
It marked the fourth different competition to feature a hat-trick by Haaland. Similar virtuoso displays came in the Austrian Cup, the Austrian Bundesliga, and the Champions League.
Haaland hadn't trained at all in December due to an injury he suffered in his final month at Salzburg, but it didn't matter. His ruthless streak never abandoned him.
Aduriz's sensational winner vs. Barcelona
At nearly 39 years of age and in his final season, Aritz Aduriz - one of La Liga's old warhorses - reminded everyone of his abilities on the first day of the campaign.
Eyeing down an arching cross in the 89th minute, Aduriz contorted his body to execute the scissor kick of a lifetime. He was on the pitch for just over a minute when he struck the winner against Barcelona.
Barcelona's season-opener wasn't supposed to go like this, but Lionel Messi was absent with an injury, Luis Suarez was substituted early with an ailment of his own, and Antoine Griezmann, freshly signed from Atletico Madrid, hardly made an impact.
Instead, it was Aduriz who punctuated the little time he had on the field with an audacious effort. It remains the only goal he's scored this season.