15 thoughts from the weekend's Premier League action
Pool / Getty Images Sport / Getty
theScore examines the most important Premier League developments from the weekend, dissecting the big talking points after a busy slate of action.
West Brom might have a shot at survival
Sam Allardyce believes he's done the math correctly: if 19th-placed West Bromwich Albion can somehow win five of their last eight games, they could well escape relegation from the Premier League. He may not have thought a win over Chelsea of all teams would raise his hopes, but here we are.
Saturday's 5-2 result revealed something else about this side: It can, on occasion, score. A lot had to happen for West Brom to explode for five goals - Chelsea went down to 10 men early in the first half and Allardyce only changed formations because of injuries to his center-backs - but the approach was still encouraging. West Brom moved the ball well and kept on looking for goals when they'd usually try and protect the lead.
Even if West Brom revert to their old defensive ways in the final stretch of the season, Matheus Pereira - the 24-year-old midfielder who inspired West Brom to promotion last year - will continue to be a factor in the final third. He showed against Chelsea just how quick, patient, and tricky he can be when he's in possession, contributing to four of the goals.
Chelsea can't afford any more slip-ups
The honeymoon is over. Chelsea no longer have the air of invincibility. After going unbeaten in Thomas Tuchel's first 14 games, the Blues suddenly appear vulnerable to the chasing pack. Their hold on fourth place - and a Champions League berth - is looking tenuous at best: Liverpool are now just two points behind Chelsea, and West Ham United can jump ahead with a win on Monday.
What now? Tuchel's constant chopping and changing has yielded inconsistent results as of late, and the suspension to Thiago Silva complicates things even more. The upcoming schedule isn't exactly forgiving: Daunting tilts await against relegation-threatened Brighton & Hove Albion and Fulham, top-four rivals West Ham, and champions-elect Manchester City. Those are tough fixtures for a team that struggles to create chances.
As usual, De Bruyne shines brightest
Creating scoring chances out of thin air is what Kevin De Bruyne does, and everyone knows it. But that doesn't mean anyone can stop the Manchester City playmaker.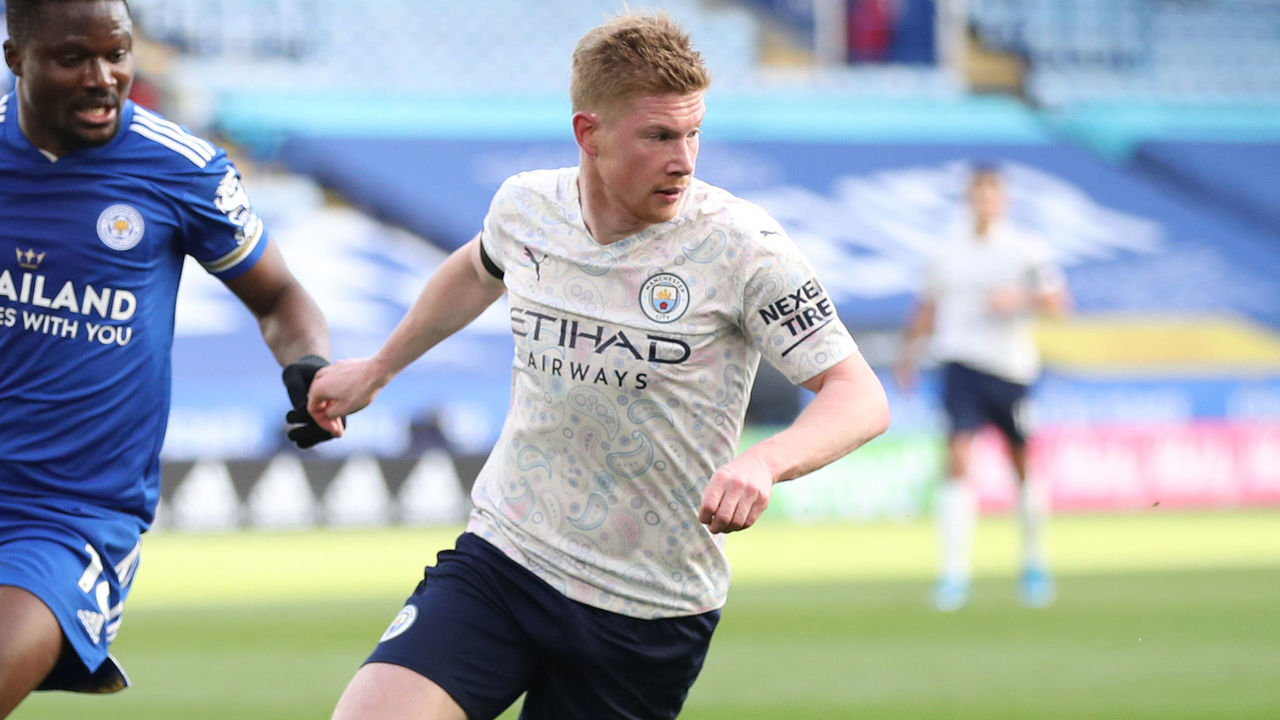 He was the unequivocal man of the match in Saturday's 2-0 victory over Leicester City, producing another masterclass performance for a Manchester City side on the cusp of winning another Premier League title.
His phenomenal vision and perfectly weighted passes proved too much for the Foxes, as the Belgian left Leicester's backline in complete disarray with a pair of defense-splitting balls that led to both of Manchester City's goals. While his name won't show up on the scoresheet, there's no doubting his massive influence was pivotal in helping City collect three points at the King Power Stadium.
Leicester didn't show up
Failing to contain De Bruyne is one thing, but Leicester's problems Saturday go far deeper than just one man's brilliant performance.
Despite being in the thick of the race for the top four, Leicester City were almost resigned to the fact that beating the runaway Premier League leaders was out of the realm of possibility. Especially considering the Foxes were happy to concede possession to a City side that happily accepted and dominated from start to finish.
Playing on the counter is a tactic that's worked for Leicester this season, but it backfired Saturday as City comfortably avenged their 5-2 loss from September.
Rethink international break
Any in-season international break is a blight on the calendar that always results in players being injured while away with their respective national teams. But the latest edition was yet another reminder that it is genuinely dangerous to shuttle footballers around the world right now.
Leicester defender Caglar Soyuncu joined the growing list of those who contracted COVID-19 during international duty, staying behind in Turkey and missing the Manchester City encounter after multiple cases were reported within the Turkish camp over the past week.
After all the restructuring of the schedule over the past year, surely there was a better way to do this and mitigate the risk. Some travel for World Cup qualifying is inevitable, but a singular, larger international window - one that could allow for the creation of a quarantined bubble - is a possible solution that sadly never appeared to gain any traction.
Fernandinho still elite in twilight of career
Now that Sergio Aguero's impending departure has been confirmed, it might be time for Manchester City officials to address the future of Fernandinho - another legendary squad member whose contract is almost up.
As superstars such as De Bruyne, Riyad Mahrez, and Ruben Dias have been instrumental in helping Manchester City march toward another Premier League title, some might need reminding that Fernandinho is still at the top of his game. Appearances for the tenacious 35-year-old have become less frequent, but Saturday's outing against Leicester was another vintage showing from one of the league's most consistent midfielders.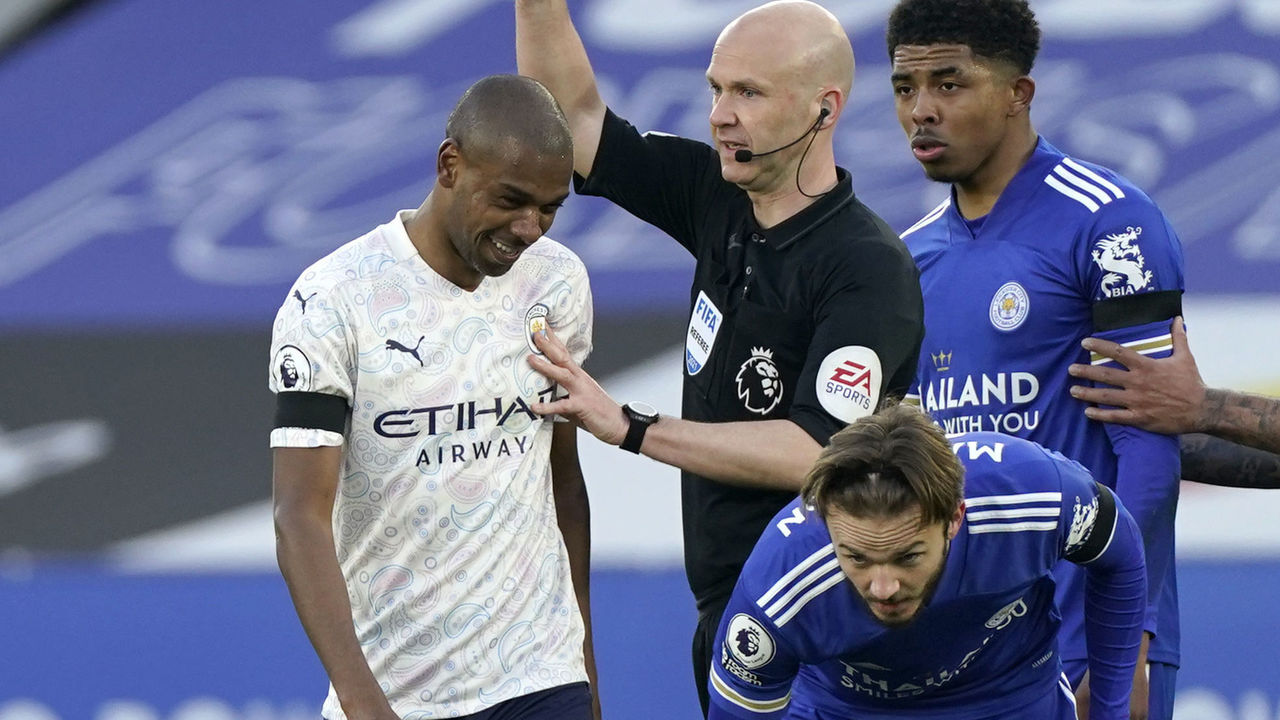 Along with laughing in James Maddison's face after the Leicester star confronted him over a hard challenge, Fernandinho had another memorable moment when he appeared to score a rare goal, only for it to be called back because Aguero was standing in an offside position.
With just months left on his contract, one would think the Brazilian, who turns 36 in May, has played well enough this season to earn another deal to return for at least one more year.
If Haaland joins City, look out
Get ready for a whirlwind week of Erling Haaland rumors.
Borussia Dortmund are stumbling in the Bundesliga; Haaland's agent, Mino Raiola, has kicked off a very public tour of Europe's top clubs; and reported suitors Manchester City are set to host the German side in their Champions League quarterfinal first leg on Tuesday. Combine all those ingredients, and you have the perfect transfer rumor cocktail.
Amid that backdrop, Pep Guardiola's juggernaut just keeps rolling along, blowing away everything in its path. It's becoming increasingly difficult to find flaws in the team; even matches that should be tricky on paper result in comprehensive wins. The quadruple is a very real possibility this season.
What do you get for the club that already has everything? The best young striker in world football, of course. If a deal does come to fruition - despite Guardiola suggesting it's not possible - everyone else might as well pack it in.
It can't get much worse for Arsenal
Club icon Ian Wright likely spoke for every Arsenal fan when he summed up Saturday's performance against Liverpool as "embarrassing."
The Gunners were thoroughly outplayed by a Liverpool side that edged closer to the top four with a 3-0 win at the Emirates Stadium. From the start, there was hardly any reason to think Arsenal would find a breakthrough during a first half in which the lifeless hosts struggled to even get the ball to the halfway line.
Arsenal managed to keep it scoreless heading into the break, but Jurgen Klopp's composed outfit eventually broke down the Gunners and the floodgates swung wide open in the second half. Diogo Jota bagged a brace and Mohamed Salah scored his 18th goal of the season to help the Reds move within two points of fourth-place Chelsea.
Arsenal now sit 10th, and their already slim hopes of Champions League football next season are in tatters.
Diogo Jota gives Liverpool added spark
Much of the talk around Liverpool's injury woes this season centered on the club's ravaged collection of central defenders, and with good reason. But while the absences in that department have seriously hampered Klopp's team, it's important not to overlook the impact that Jota's prolonged time on the shelf had on the Reds.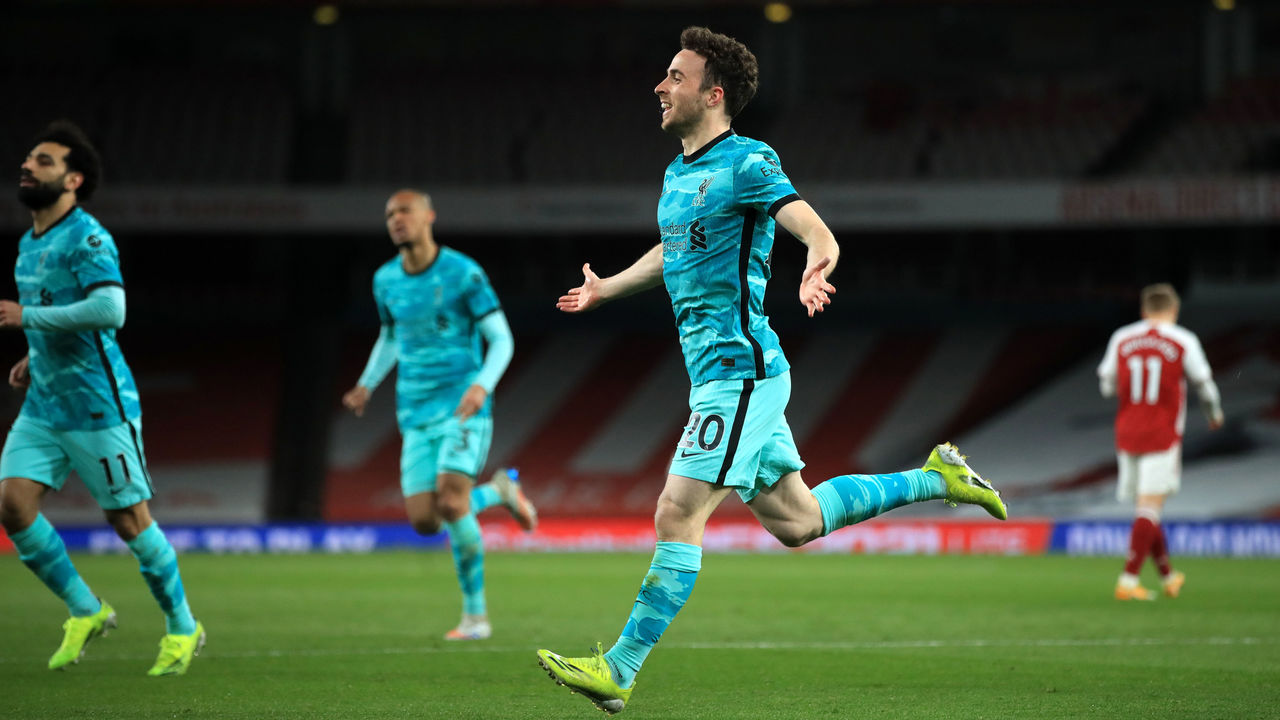 The Portuguese attacker, who slotted in seamlessly and went on a tear earlier in the season before a knee injury in mid-December knocked him out for three months, is flying high once again. The electrifying 24-year-old is getting back up to speed at the perfect time; after Saturday's brace, Jota now has six goals in his last four matches for club and country.
With the Champions League returning and Liverpool in the battle for a top-four place, his purple patch couldn't come at a better time.
Alisson's mustache is a thing of beauty
In what was a telling sign of Liverpool's dominance over Arsenal, the match was almost over before the commentators had a chance to point out Alisson's glorious new look. The camera was barely on him over the 90 minutes.
But it was well worth the wait for those who didn't get a glimpse of the Brazilian's mustache before the contest.
Perhaps this was Alisson's response to what was the most difficult spell of his career since arriving at Liverpool, as the world-class goalkeeper suffered through a series of uncharacteristically poor performances leading up to the international break.
Now that he has a clean sheet under his belt, the new look might be here to stay.
Ings shows his worth on return
Consider the following stat: Danny Ings is third among Premier League scorers with 28 non-penalty goals since the start of last season. That's an incredible number for a player who's often fended for himself as Southampton's primary scoring threat.
His goal against Burnley on Sunday contributed to a remarkable comeback win that should, in theory, help Southampton ward off relegation. But once salvation is achieved, the club's next challenge will be equally difficult. With just over a year remaining on his contract, Ings is sure to command interest in the summer, and if Southampton can't offer the terms he wants, a transfer is likely.
Manchester City have already been linked with Ings, and few would hold it against him if he pushed for a move. He's in his prime, and after overcoming a career-threatening injury, Ings knows too well the value of time.
Newcastle finally show signs of life
Newcastle United wouldn't have to worry about relegation if they played every game the way they did against Tottenham Hotspur. What a performance from Steve Bruce's side - and that's not something that's said often. The football under Bruce has often been dull, dreary, and devoid of creativity - even with the likes of Miguel Almiron in the squad - but there was a lot more to like Sunday.
The Magpies fired 17 shots inside the penalty area, the most they recorded in any single Premier League match since Bruce replaced Rafa Benitez in 2019. They also posted 4.02 expected goals, the most in any single game this season. Even Joelinton, Newcastle's lackluster striker, looked dangerous in the 18-yard box.
Newcastle deserved more than the point they got in the 2-2 draw. They simply paid the price for a lack of game management, conceding twice shortly after taking the lead. A simple clearance - or anything other than Emil Krafth's misguided passing attempt - could have negated Spurs' first goal.
But the positives certainly outweigh the negatives. If Newcastle want to stay in the Premier League, they have to show the same courage and attacking spirit that troubled Spurs at St. James' Park. Bruce's switch to a 3-5-2 formation seemed to unlock their potential.
Why can't Tottenham hold a lead?
For the sixth time this season, Tottenham failed to convert a halftime lead into a win. They've also dropped 15 points from winning positions, which is just not good enough for a side with top-four aspirations.
Jose Mourinho's teams are usually so good at defending leads. What's different at Tottenham? "Same coach, different players," he told BBC Radio after the draw against Newcastle.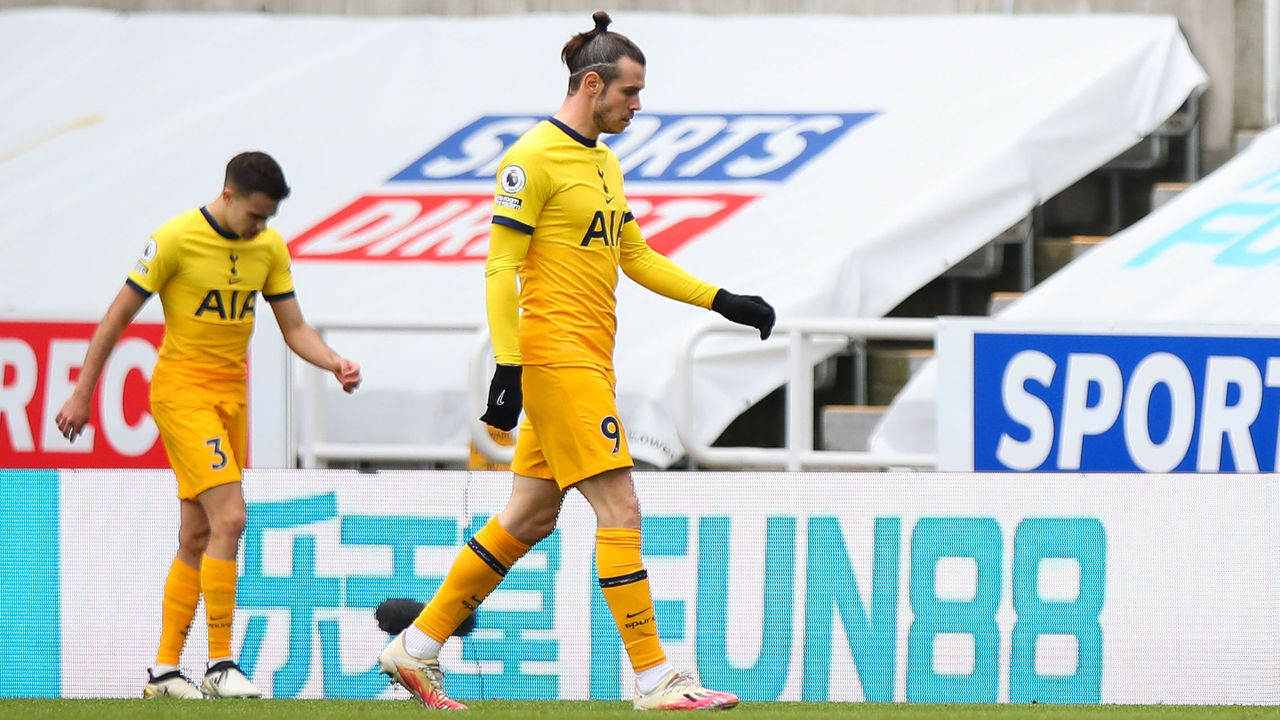 Mourinho's point is at least partially true. It's hard to blame the Portuguese manager when players make individual errors. He can't be held responsible for the goal Spurs conceded after Davinson Sanchez's poor giveaway. But Mourinho can instruct his players to do more. Sitting idly on a lead only invites pressure, and Tottenham's players almost always buckle under the strain. They're just error-prone. Adjustments have to be made.
Harry Kane, Tanguy Ndombele, Heung-Min Son, and Pierre-Emile Hojbjerg are the only players who ever look comfortable out there. Give them the ball. Let them do their thing. That's when Spurs are at their best. The sooner Mourinho plays to the team's actual strengths, the better.
Game over for Fulham?
Fulham are still very much alive in the battle to avoid relegation, but Sunday's disheartening 3-1 defeat to Aston Villa felt like it could be the end of the line.
Leading 1-0 with just over 10 minutes remaining at Villa Park, the Cottagers conceded twice in a disastrous three-minute spell before Ollie Watkins sealed the result. After carrying the play for large stretches and creating a handful of decent openings, Fulham fizzled out.
It was a microcosm of their season: some encouraging signs, but an inability to sustain that level, combined with glaring defensive errors, undid any good work Scott Parker's men produced. Newcastle are within touching distance in 17th place, but having played one more game than the Magpies, climbing out of the bottom three is looking more and more difficult for Fulham with time quickly running out on the campaign.
Manchester United show fighting spirit
With the caveat that it came against Brighton, who've made a habit of throwing away points this season, Manchester United deserve credit for once again overcoming a slow start to pick up a win.
Trailing at the interval, the Red Devils got second-half goals from Marcus Rashford and Mason Greenwood to overturn a 1-0 deficit. United have now gained 25 points from losing positions this season. In an ideal world, Ole Gunnar Solskjaer's team wouldn't have to fight back so often, but at this stage of this unprecedented, unpredictable season, it's all about the results, however they arrive. Just win, baby.
Crucially, Sunday's victory came on a weekend when fellow top-four hopefuls Leicester, Tottenham, and Chelsea all dropped points. What looked like it could be a huge wasted opportunity about an hour into Sunday's match turned into a very good weekend for United.
Comments
✕
15 thoughts from the weekend's Premier League action
  Got something to say? Leave a comment below!