Anatomy of a Classic Goal: 'Agueroooo' wins the title for City
As we eagerly await the return of world football, we're taking this opportunity to look back on some of the most memorable goals ever scored. Going frame by frame, we'll dissect how, exactly, these epic moments came to fruition.
Who, where, and when?
Goalscorer: Sergio Aguero (Manchester City)
Match: Manchester City vs. Queens Park Rangers
Competition: Premier League (final day of the season)
Date: May 13, 2012
Heading into the final matchday of a dramatic, up-and-down 2011-12 Premier League season, Manchester City's task was simple: Beat relegation-threatened Queens Park Rangers - at home, no less - and pip bitter rivals Manchester United to the title on goal difference.
Their first league crown since 1968 was viewed as a foregone conclusion ahead of the opening whistle. Nouveau-riche City, everyone assumed, would cruise to victory. The match reports were already being written before the contest kicked off.
But QPR didn't get the script.
Despite being reduced to 10 men after hothead Joey Barton - who else? - was sent off in the 55th minute, the lowly visitors clung to a 2-1 lead as the clock ticked past the 90-minute mark and into stoppage time. A combination of anger and sheer disbelief struck City fans. Even for a club with an extensive history of failure, this was a rough way to blow the Premier League title.
Edin Dzeko's header in the 92nd minute leveled the proceedings at two apiece, but that alone wasn't enough for City. They needed one more.
United, playing away against Sunderland, had done their part by recording a 1-0 win at the Stadium of Light. Their concurrent match ended as the final seconds drained away at the Etihad Stadium, and fans were either on the phone or listening to the live broadcast to hear what was happening back in Manchester. The Red Devils were within inches of a fifth title in six seasons.
And then, with less than two minutes remaining in their season, Mario Balotelli and Sergio Aguero conspired to deliver the most indelible moment in Premier League history.
Here's the title-winning goal, complete with the iconic call from beloved commentator Martin Tyler:
Let's examine the spine-tingling sequence that a fateful swing of Aguero's right leg capped off.
Setting the scene
With 120 seconds remaining, QPR actually possessed the ball inside the City half after winning a throw-in. Samir Nasri had foolishly let the ball run out of play after a teammate touched it last.
Just how desperate was the situation? Central defender Vincent Kompany, who will become very important in just a few seconds, was in full-on center-forward mode. With seconds left in the season and the title slipping through their fingers in humiliating fashion, City threw caution to the wind.
They had no choice.
Joleon Lescott won a header on the aforementioned throw-in, directing the ball to midfielder Nigel de Jong, who was quickly running out of time to progress it upfield.
A pocket of space
This is when Aguero comes into play for the first time. Like all good attacking players tend to do, the Argentine, who had scored 22 league goals to that point in the season, finds a pocket of space between a collection of QPR players, parking himself inside a box of red and white jerseys.
QPR defender Anton Ferdinand, who's watching Dzeko on the edge of his own penalty area, sees Aguero pop free and points out his position, imploring one of his teammates to mark him. Midfielder Shaun Derry acknowledges the call and springs to his right - perhaps a split-second too late, in the end.
The assist
Derry does get close to Aguero, but the stocky striker manages to quickly juke to his left and slide the ball inside to Balotelli, who has swapped spots with Dzeko and sealed off Ferdinand behind him.
It's important to note just how unlikely it was, in hindsight, for Balotelli to even be on the field to make the decisive pass to Aguero.
To say nothing of his myriad off-pitch incidents, which included throwing darts at youth team players and setting off fireworks in his bathroom, Balotelli's lack of on-pitch composure was on full display earlier in the season, when he was sent off against Arsenal during a childish outing in April.
With six matches left on the calendar and their title chances fading fast following that defeat to the Gunners, manager Roberto Mancini vowed to keep his petulant compatriot glued to the bench for the rest of the campaign.
And yet, there he was, stepping up in the most crucial moment to deliver an assist that was calmness personified. Incredibly, that cameo appearance against QPR was his first since the red card against Arsenal.
"It was all down to individuals taking responsibility," journalist Henry Winter said of the famed play. "And Balotelli's had some criticism - I've slagged him off on many an occasion for some of the daft things that's he's done - but I'll tell you what: That was a great pass to Aguero."
Three crucial things happen at once after Ferdinand manages to reach around and get a slight touch on the ball, knocking Balotelli off balance:
Kompany - remember him? - makes a prototypical striker's run across the line and pulls his defender (Taye Taiwo) along for the ride. That creates congestion in the middle of the box, subsequently opening up a lane for Aguero to burst into.
With his path into the area blocked by Derry and Shaun Wright-Phillips, Aguero hops to the outside of the pair to get a clean run into the box.
Balotelli hesitates for a beat as he's falling, almost double-clutching, before prodding the ball along.
It's possible Balotelli was actually trying to direct the ball to David Silva, who's hilariously open on the play. The Italian couldn't possibly have seen Aguero while he was tumbling to the ground, given their respective body positions. But we'll give him the benefit of the doubt here. Call it striker's intuition.
As Kompany drags left-back Taiwo into the middle of the penalty area, look at the cluster of desperate QPR defenders. Five of them congregate, leaving just enough space for Aguero to exploit while scooting around the outside.
Keeping your head
There was still plenty for Aguero to do after picking up the ball. Were he to panic or rush and immediately fire his shot, Taiwo, who had stopped his momentum and shimmied back to his left after Balotelli poked the pass through, almost certainly would've blocked the attempt.
But Aguero, just 23 at the time and in his first season with the club after an opulent summer move from Atletico Madrid, remained calm. That was no small feat considering the tense circumstances, and instead of shooting on sight, he takes one touch to evade Taiwo, creating a clear lane to the goal.
The more you watch it, the more this next part seems to happen in slow motion. Once he leaves Taiwo on the ground and cocks his leg back, you could feel in your bones there would only be one outcome.
"I knew when he took his touch that he was going to score," Tyler later said. "I've been in the job for 38 years and it doesn't always happen that you anticipate the moment, but he's such a good player and his touch was so sure, I trusted my instinct. That allowed me just enough time to get air into my lungs."
With the clock reading 93:20, the ball flew past goalkeeper Paddy Kenny, and a deafening roar went up from the euphoric Etihad Stadium.
Jubilation. Shock. Relief. All of it together. United, the league's predominant power for so long, were second-best. City, Manchester's other team, were champions.
The power shift had started. A new era in the Premier League was underway.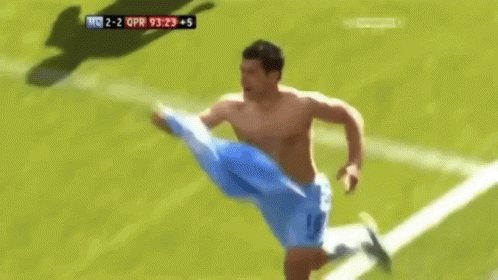 The commentary
In the weeks, months, and years following the goal, the commentary from various play-by-play announcers only added to the mystique. The yelling. The genuine surprise. The voice cracks. It was all a rich tapestry.
Paul Merson: (inaudible yelling)
Rob Daly (Manchester City TV): "It runs for Aguero. They've done it! City win the title! I don't believe what I'm seeing! Have you ever seen anything like this before?!"
Ian Darke: "Aguero! He can win it. Oh! He's won the title! Surely, who is writing this stuff?"
Peter Drury: "Aguero! Staggering! Just staggering! He's won the league with 90 seconds of stoppage time to play. Where does football go from here?!"
We leave the last word, though, to Tyler. How could we not? His epic "Agueroooo" call - as unforgettable as the actual on-pitch moment - still induces goosebumps.
Martin Tyler: "Balotelli. Agueroooo!!!! I swear you'll never see anything like this ever again! So watch it, drink it in. They've just heard the news at the Stadium of Light. Two goals in added time for Manchester City to snatch the title away from Manchester United."
While everybody else in the football world was screaming at the top of their lungs, these announcers found the right words.
Comments
✕
Anatomy of a Classic Goal: 'Agueroooo' wins the title for City
  Got something to say? Leave a comment below!