Manchester City and the art of the tap-in
Robbie Jay Barratt - AMA / Getty Images Sport / Getty
Perfection, according to Pep Guardiola, is impossible to obtain. But that doesn't stop him from trying to achieve it.
To Guardiola, the perfect goal isn't necessarily a howitzer from distance or a beautiful strike into the top corner. It isn't some solo effort or moment of improvisation. It's a well-worked team play culminating in an open-goal finish, something Manchester City made routine throughout their title-winning campaign.
This is much more than ball possession. It's width and movement that allows them to unlock defenses and net these gilt-edged opportunities. And the tap-in, City's signature move, caps these wonderful passing moves.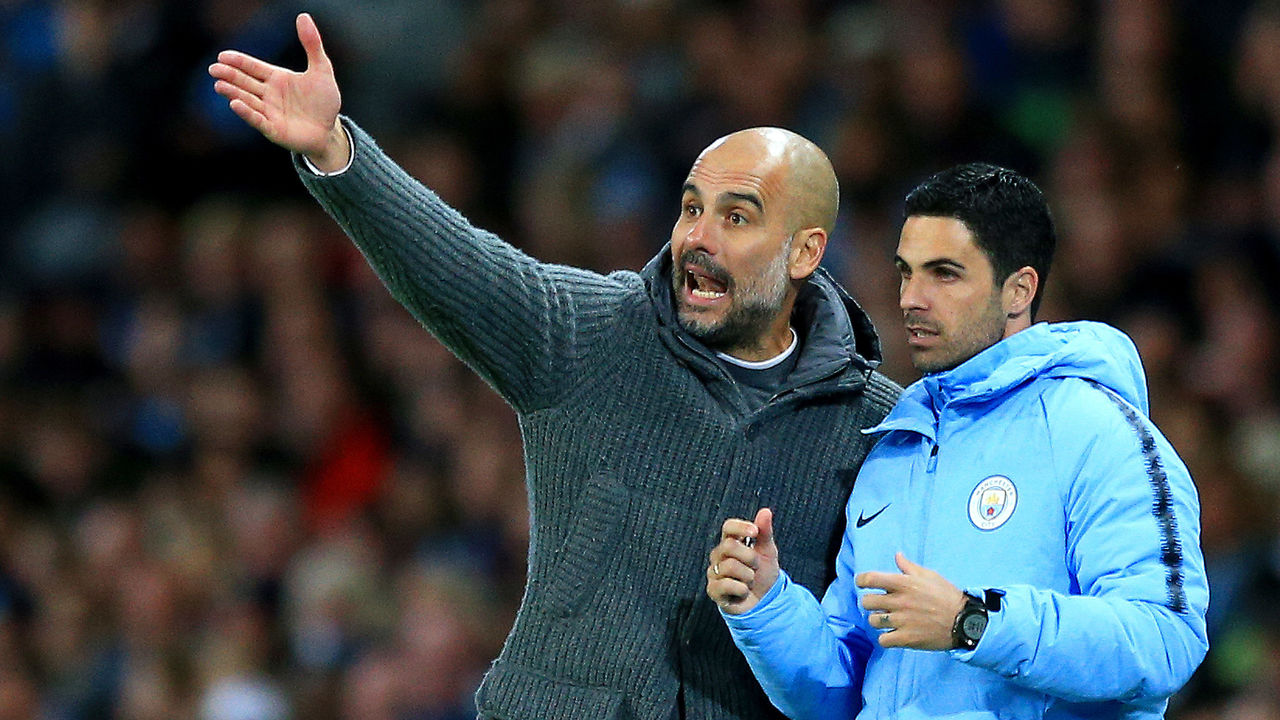 Knowing opponents will hunker down and clog the main arteries of the pitch, Guardiola instructs his players to go wide. That shift in play gives City a few precious seconds to find space between defenders, who then have to decide whether to track the man or follow the ball in play.
Because City's wingers often stay on their natural sides - a left-footer like Leroy Sane, for example, plays on the left flank - they have the ability to send an accurate ball back into the area with their strongest foot. These crosses are hard and low, as Guardiola knows a pass along the ground - tricky as it may be - offers a higher-percentage route to goal than a speculative aerial cross.
That requires skill from the player releasing the pass and timing from the runner trying to score. If one thing is off, the whole thing falls apart.
But the brilliance of City is that their players move in unison. There's near-perfect symmetry between them, the result of hundreds of hours of practice at the Etihad Campus.
One of City's best attacking combinations came in February's 3-1 win over Arsenal. In just 12 seconds, the hosts cut the Gunners apart.
The sequence began with Fernandinho. The underrated soul of City's midfield arced a ball to Raheem Sterling on the left. Waiting a second to freeze the defender, Sterling spotted Ilkay Gundogan joining the rush. The German dinked the ball over the top as soon as he received it, and it dropped to Sterling on the run. The 24-year-old beat his defender before slipping a pass to the uncontested Sergio Aguero for a routine tap-in.
Aguero found himself in yards of space for a number of reasons. The Arsenal defenders tried to play him offside, but Gundogan forced them to retreat once he made that clever ball to Sterling. Aguero was onside again, but Shkodran Mustafi and Laurent Koscielny had forgotten all about him, instead focusing on Sterling.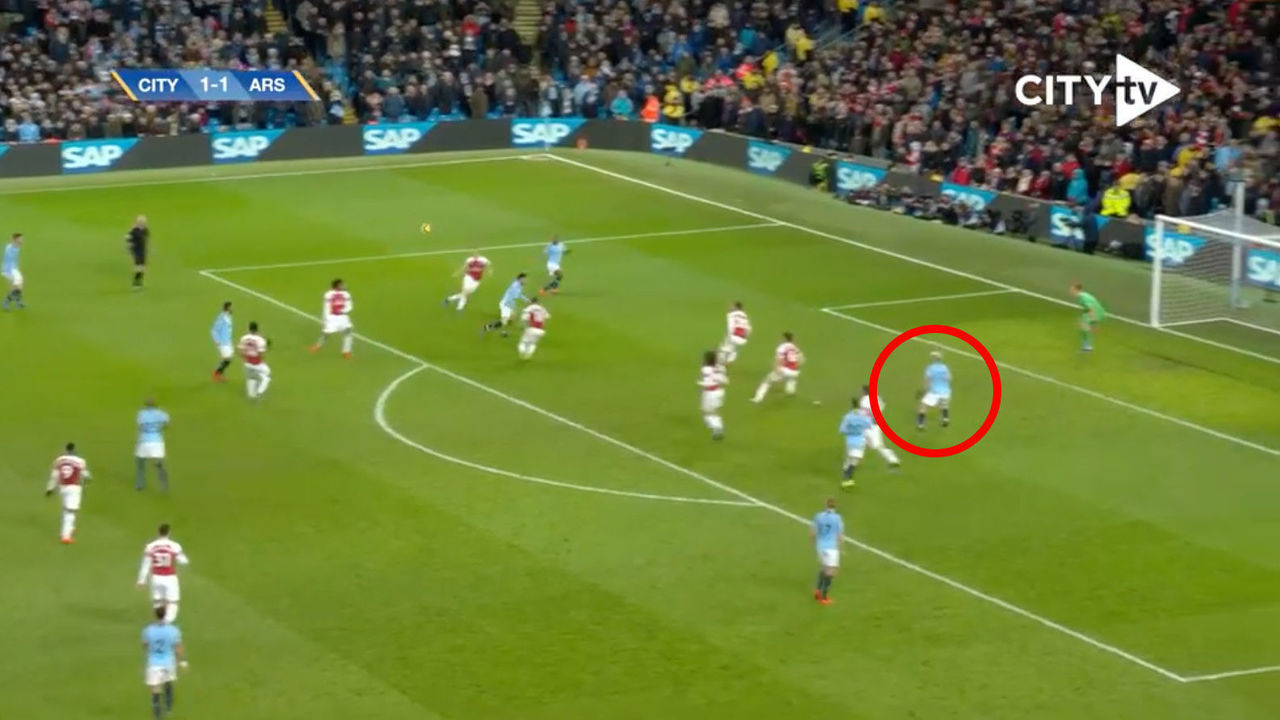 City's star striker anticipated what would happen and ended up with an easy finish.
Sterling was the architect on that day, but the roles were reversed on other occasions. One of City's protagonists in 2018-19, Sterling paired 17 Premier League goals with 10 assists, showing improvement in virtually every aspect of the game.
Finishing was a weakness up until this season. Then Guardiola asked Sterling to get into more advantageous positions, and suddenly he started scoring. Only Bayern Munich's Robert Lewandowski - another pupil of Guardiola's - scored more goals from inside the six-yard box than Sterling in the top five leagues.
One of his seven tallies from close range came early in the season against Fulham. Under pressure in his own half, Sterling kept the attack going with impressive footwork. He quickly found teammate David Silva, who played a diagonal ball to Aguero on the right.
Aguero showed how much he's improved since Guardiola arrived three years ago - he was hardly the kind of striker to get involved in the build-up play - putting his head up twice to assess his options before dashing to the byline and setting up Sterling for City's third goal of the day.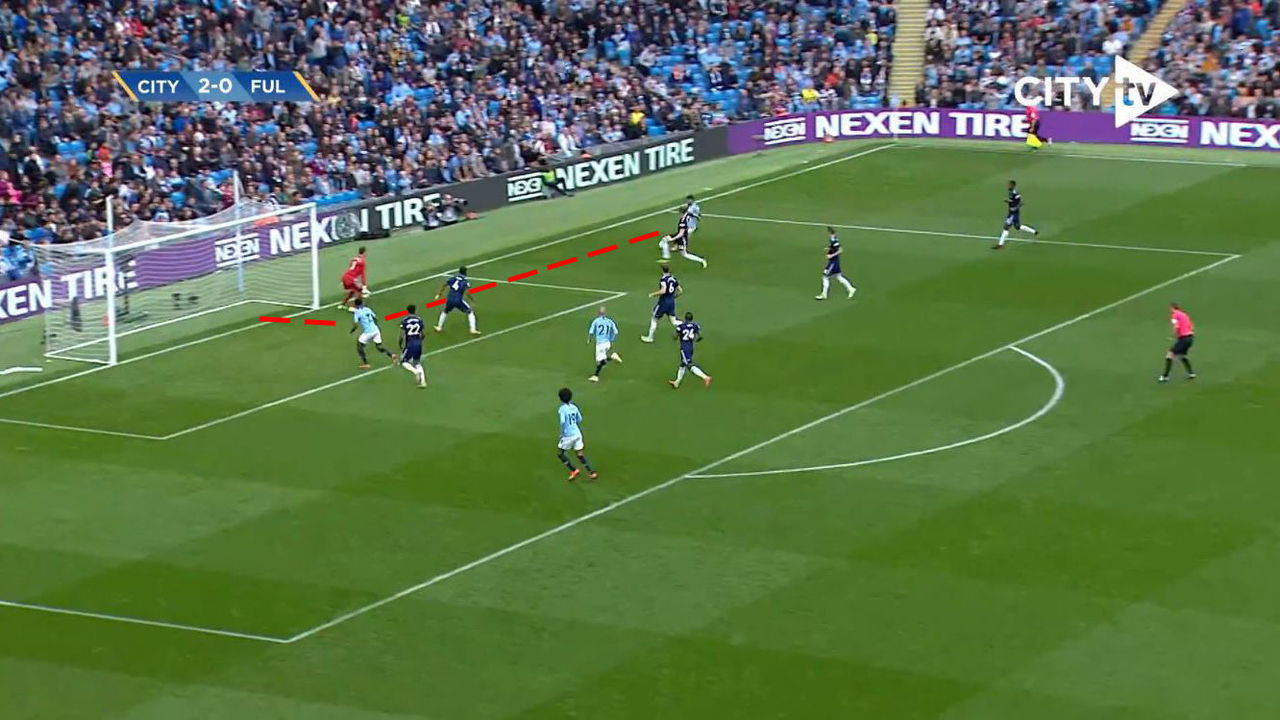 Guardiola's methods increased City's scoring percentages and put his team in positions to succeed and grow. A lot of it came down to his players' ability - Guardiola would have a tough time asking Huddersfield Town to perform like this - but the game plan worked charms thanks to his rigorous training sessions. His players were programmed to be efficient on and off the ball.
No other Premier League side created as many quality goal-scoring chances inside the six-yard box than City and no other team scored as many times from that area. The tap-in may seem unglamorous in isolation, but everything leading up to it has to be perfect.
Comments
✕
Manchester City and the art of the tap-in
  Got something to say? Leave a comment below!