Manchester City has been crowned champion of the 2017-18 Premier League season by way of Manchester United's 1-0 loss to West Bromwich Albion on Sunday, and while title celebrations will have to wait about a week as a result, you can bet City fans will have started swapping notes in fond recollection of the glorious season that was.
City's dominance seemed daunting throughout much of the campaign, and the team set a few records along the way to cement their work in league history. Here are a few stats and figures from City's impressive 2017-18 exploits:
1: City manager Pep Guardiola - who was apparently playing golf during United's blunder against West Brom - becomes the first-ever Spanish bench boss to win the Premier League title, a fact that current Newcastle United and former Liverpool coach Rafa Benitez will certainly rue. Benitez came closest to winning the title back in 2008-09, but Liverpool finished four points behind Manchester United, keeping the Spanish flag from waving proudly in his arms.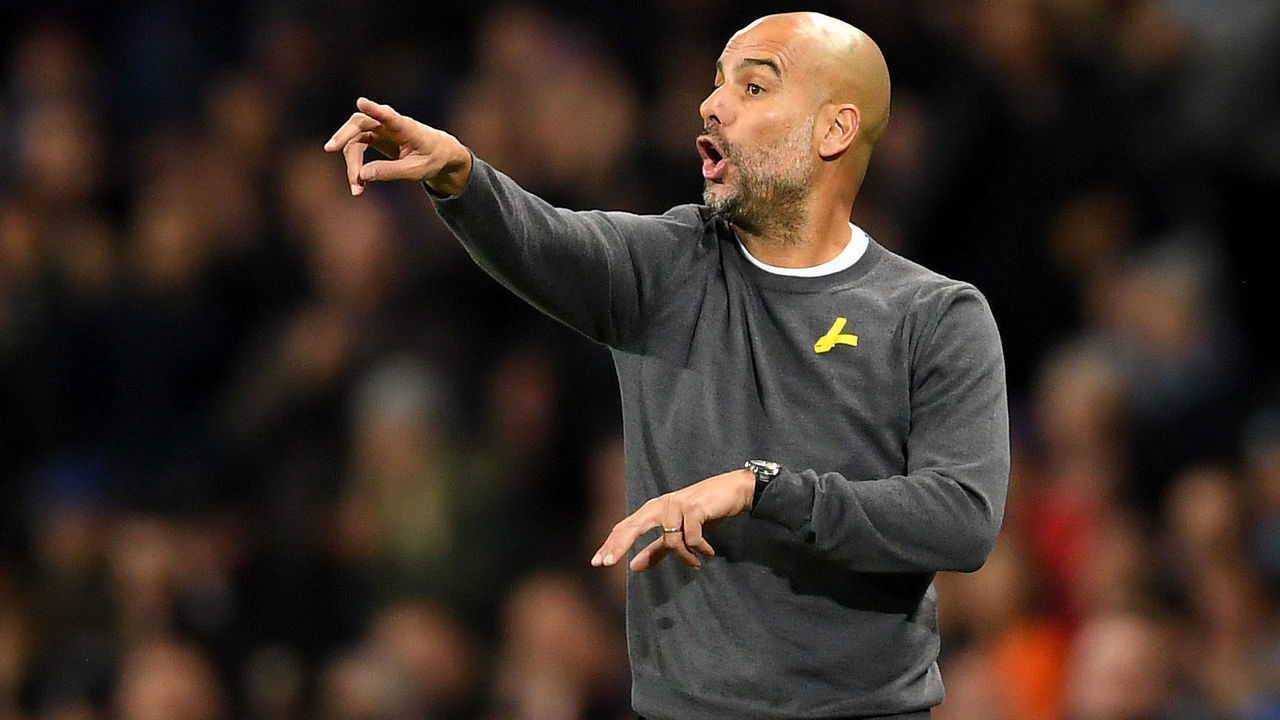 3: This is Manchester City's third Premier League title, with the first coming in the 2011-12 season, and the second in the 2013-14 campaign.
5: That's how many matches are left in Manchester City's season, making this team the joint-quickest to clinch the title alongside Manchester United (1907-08 and 2000-01) and Everton (1984-85). There's still plenty for City to play for during that time, too: three more wins would match Chelsea's 95-point record; five wins would see City become the first club to reach the 100-point tally; 11 more goals would see the team break the 103-goal league record.
11: This is how many consecutive away wins Manchester City recorded during the 2017-18 campaign, a national record in English football. The team kicked off this run with a 2-0 win over Brighton on opening day, and then saw it come to an end at 11 tilts following a 0-0 draw at Crystal Palace on New Year's Eve.
13: Manchester City set a new club record for away victories in a single season with a 3-1 win over Everton at Goodison Park on March 31, and with a win over Tottenham at Wembley a few weeks later, Guardiola's team is now just one more away win from tying Chelsea's record for most away victories in a single season, set in the 2004-05 campaign.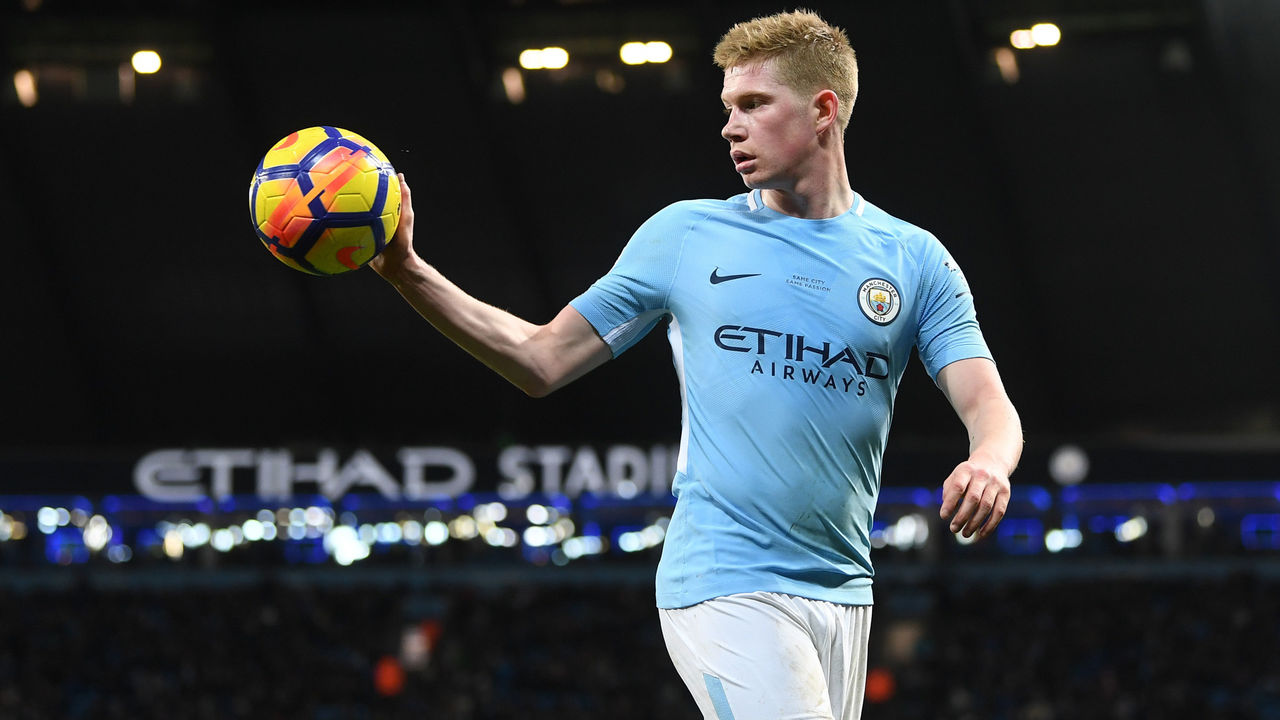 15: Midfield maestro Kevin De Bruyne, who is a strong contender for the PFA Player of the Year prize, has notched an incredible 15 assists in 33 league appearances, making him the league leader this season. Behind him? Fellow City stars Leroy Sane (12) and David Silva (11).
18: Manchester City set a new England record for consecutive league wins this season, defeating 18 opponents in a row and surpassing the 14-win mark set previously by Arsene Wenger's "Invincibles" at Arsenal. The streak began with a 2-1 win over Bournemouth on August 26, and ended with a 1-0 win over Newcastle on Dec. 27, before drawing Crystal Palace 0-0 on Dec. 31.
19: None of the 19 other teams in the Premier League could stop Manchester City entirely, as Guardiola's side became just the third team in league history to defeat every single one of their opponents on at least one occasion. City joins the 2005-06 Chelsea and 2010-11 Manchester United sides for this feat.
20: This is the number of matches Manchester City won in a row at home in all competitions, as well as the number of overall wins the team recorded in all competitions at the height of its incredible undefeated streak.
22: With a goal against Tottenham, Raheem Sterling has now notched 22 for the season, which is twice as many as he's ever scored in any of his previous seasons in all competitions. Sterling scored 11 times in both the 2014-15 and 2015-16 seasons. He is one of Guardiola's breakout stars.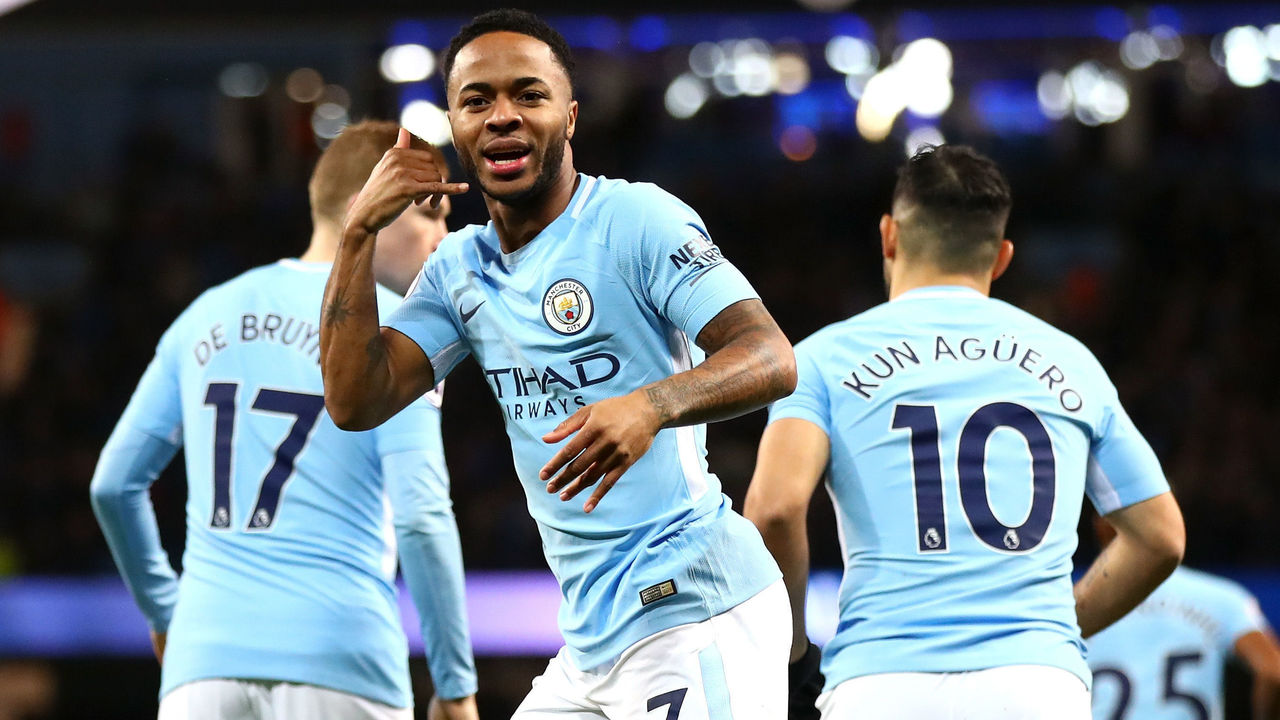 28: Manchester City's undefeated streak ran longer than its consecutive winning run, with City going unbeaten in 28 matches across all competitions in a stretch that kicked off in April of the 2016-17 season and ran all the way through to a 4-3 loss to Liverpool at Anfield on Jan. 14, 2018. Technically, the team went 30 matches undefeated in league play, but the 28-match mark is still commendable.
178: With a goal against Napoli in a 4-2 win in Champions League play, Sergio Aguero became Manchester City's all-time leading scorer, surpassing Eric Brook. Since reaching the 178-goal mark, Aguero has added to his personal tally, and now sits one goal away from the 200-goal mark at 199.
240: This is how many days Manchester City remained atop the Premier League table in the 2017-18 season, having cruised to a massive 12-point lead by the turn of the year. The team kept hold of that double-digit point dominance throughout the rest of the campaign.
902: That Manchester City won the title is impressive enough, but in a credit to the way by which Guardiola's side dominated, the team also set an Opta record for the most passes recorded in a single Premier League match, as City ran circles around Chelsea in a 1-0 win on March 4.
(Photos courtesy: Getty)