Welcome to theScore's weekly column on European football. During the club season, Anthony Lopopolo will uncover the biggest stories in the continent's top leagues.
When Ernesto Valverde became Barcelona manager, he was considered the right man for the job. Johan Cruyff liked the way Valverde interpreted the game, both as a player under the Dutchman in the late 1980s and as a coach at Espanyol two decades later. Cruyff was not alone in his assessment. Pep Guardiola recommended Valverde as a potential successor when he left the club in 2012, and according to The Guardian's Sid Lowe, Barcelona made several attempts to hire him before eventually appointing him in May 2017.
At the time, Valverde seemed to have all the answers. He had lifted budget-conscious Athletic Bilbao into the Champions League and conditioned his team to play quick, relentless football. More importantly, he had forged a strong defensive record. Barcelona had not. They needed his organizational skills.
It turns out he was too pragmatic for Barcelona. Last week, Valverde was unceremoniously fired, tossed aside by the club after winning back-to-back La Liga titles. Valverde couldn't deliver the kind of velvety football the world had come to expect from Barcelona, and he paid the price for it.
The Camp Nou had turned on the team.
Where there were once "oohs" and "aahs," there was now booing. Barcelona won matches and trophies, but they didn't stand for anything. From a political and social perspective, Barcelona always offer something more to the fans, particularly as their constituents fight for Catalan independence. But under Valverde, they lost the very prestige that inspired so much awe in their opponents.
In Valverde's place, Quique Setien, a puritan and idealist by his own admission, is tasked with restoring the pageantry that Barcelona used to have. Setien was hired not because of his impressive resume but because of the way he thinks about the game. A sort of football evangelist, he has sold his philosophy to Barcelona. He sees the sport in moral terms, and wants his players to have as much of the ball as possible. He said he will die with his ideas if he has to.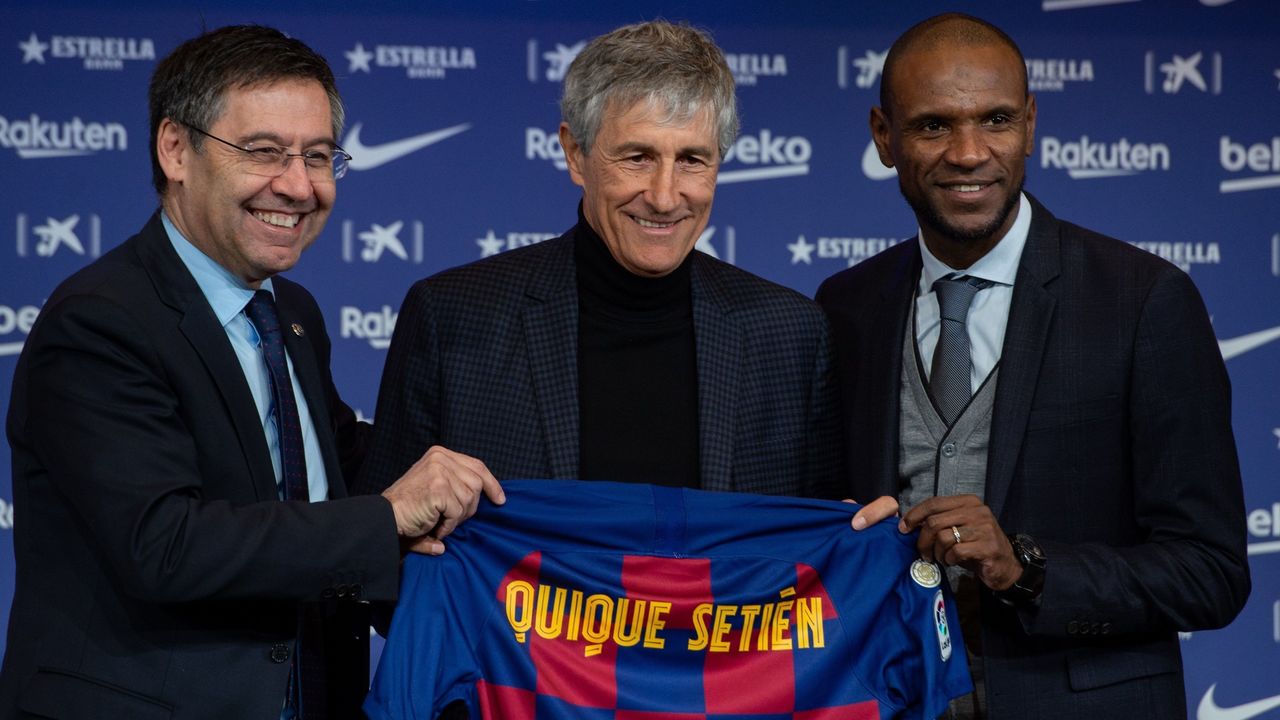 Before they settled on Setien, Barcelona searched their souls and determined they had lost a part of themselves over the last couple of years. Club president Josep Maria Bartomeu and his fellow executives didn't help the situation. They had signed players who had neither the composition nor the personality of your typical Barcelona prototypes. Worse yet, these players were among the club's best performers.
People hated it. Paulinho and Arturo Vidal came to represent everything that had gone wrong at the club, even if they had done nothing wrong. Barcelona's legacy weighed on Bartomeu and forced him to change course, likely in an attempt to win next year's presidential election.
Bartomeu may expect his team to play well now that Setien is on board, but there's no guarantee. Setien's living proof. No one can forget the 4-3 win he masterminded at the Camp Nou as coach of Real Betis, and how he summoned Cruyffian principles to do it. However, several months later, the same Betis side lost 3-0 to relegation-threatened Leganes. His philosophy turned to mush. The fans mocked him, and although he called for patience, he should've known better. Time is an increasingly finite resource for a manager.
Modern football is making it harder on romantics like Setien to implement their ideas. Results buy the time they need. And he has that for now.
If Lionel Messi hadn't scored a wonderful goal, as he's done so many times before, to secure a 1-0 win over 10-man Granada on Sunday, Barcelona's underlying numbers - 1,005 passes, 1,177 touches, and 82.6% possession - would've packed a lot less punch. The very same stats that look great today would've been used against him had Barca failed to collect three points.
But Setien wouldn't have changed either way. For better or worse, Barcelona hired someone who won't compromise style for substance.