All this time, Juventus thought they needed someone the caliber of Cristiano Ronaldo to reach the next stage of their evolution. But in two matches, Ajax showed them that another way exists.
Ajax were everything Juventus weren't in the Champions League quarterfinals, using the full length of the pitch and all 11 players to dismiss another favorite. They played with a ferociousness and collective mentality that the Bianconeri couldn't match.
Usually, it's a choice between one or the other, but Ajax managed to beat the seven-time defending Serie A champions with a combination of substance and style, a formidable one-two punch that left the Italians without breath and response. Ajax moved in quick sequences, making two or three touches in a flash and regularly ducking out of tight situations. Not even a team as defensively conscious as Juventus could track them.
Ajax didn't bother man-marking Ronaldo; they had bigger plans in mind. They had their own game to execute, and in the end, Juventus had to adapt to them.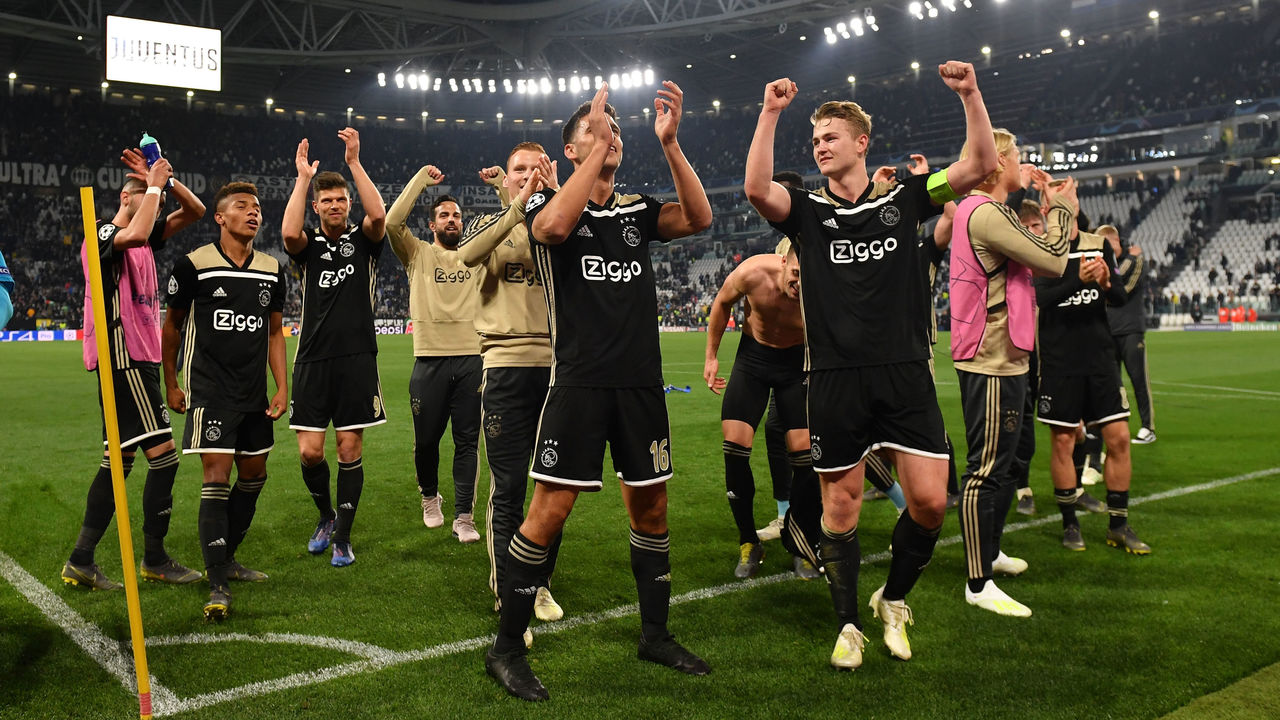 Manager Massimiliano Allegri can downplay it all he likes, but the fact is that his Juventus lacked the personality and determination of his Dutch opponents. Juventus played too much of this season with the handbrake on, and on many of those occasions, they relied on individual brilliance to get them across the line.
That didn't work in the Champions League.
Few teams win trophies playing as poorly as Juventus have this season. They're the champions of winning without playing well, but that only lasts so long.
Imagine what Juventus could achieve if they were conditioned, and more importantly, allowed to play like they did in the second leg of their last-16 encounter against Atletico Madrid. Staring down a 2-0 deficit on aggregate, Juventus threw away the shackles and embraced the challenge. They pressed like they hadn't all season and left Diego Simeone's Atletico - the team that never dies - in a heap.
But that was merely an anomaly. Juventus only played that way out of necessity, which, considering the attacking talent at the club's disposal, is a shame.
Ajax can't afford that luxury. They have quality, just not enough to sit around and wait for someone to win the match for them. So they attack in bunches, knowing they're better as a team than individuals. The end product hasn't always been there, but the commitment to their football has given them a chance to win. They wouldn't have the same success if they hoofed the ball forward in the hopes that Hakim Ziyech - the talented winger whose foolhardy shots are his only letdown - scored all the goals.
"What impresses me the most isn't the work rate or the technical ability, both of which are exceptional," Juventus legend Alessandro Del Piero said Tuesday, according to ESPN's Gabriele Marcotti. "It's the way they fill the pitch, their understanding of space and time, their tactical nous ... all at such a young age."
It's not even about playing pretty football. The important distinction to make is that Ajax understand how to attack and make an opponent vulnerable. It's about finding solutions to problems on the pitch - and that takes some creativity and cojones.
The Old Lady hardly stoked the imagination in this competition or in Serie A. They came into Tuesday's match with the third-most crosses attempted and the most long balls played in the top five European leagues. If someone didn't get on the end of those hopeful balls, nothing would happen. Ronaldo and Mario Mandzukic can't be expected to convert every single one of those passes.
Ronaldo wasn't even the problem here. He did what he could, converting his side's only two real chances against Ajax over the two-legged affair. Juventus signed him to deliver on the big stage, and that's what he did. They just didn't get the same performance from the rest of the team.
Juventus don't have to entertain the masses to be more successful, but they can't expect to progress if they continue to do the bare minimum. That's worked in Serie A because teams give them too much respect. It's a different game entirely in Europe, where 180 minutes of football can change anything. Ajax went for it - and they were the ones rewarded.