Zinedine Zidane had no choice but to prove himself again. The goodwill from winning back-to-back Champions League titles had long faded, and Real Madrid's performances in La Liga continued to disappoint. The crowd at the Santiago Bernabeu whistled at the players, and questions about Zidane's job security persisted.
The Champions League was, as ever, where Madrid took refuge. No matter how daunting the matchup with Paris Saint-Germain had seemed, Los Blancos knew they could salvage their season with another deep run in Europe's premier competition.
Related - Kovacic: Real Madrid 'is born to play in the Champions League'
And that's exactly what has happened. Over the course of Madrid's convincing 5-2 aggregate win over PSG, Cristiano Ronaldo regained confidence in front of goal, Casemiro began dominating midfield, and Marco Asensio emerged from the sidelines to make big contributions. But none of it would have happened without Zidane, whose smart tactics and intelligent use of personnel have renewed hopes of a solid finish to the campaign.
Considering Madrid's history as an attacking juggernaut and its 3-1 cushion heading into Tuesday's second leg, Zidane could've indulged supporters and played all of his superstars at the Parc des Princes. He could've lit a fire under the famous BBC triumvirate, which has rarely played together this season.
But Zidane instead dropped Gareth Bale and lined up his team in a more conservative 4-4-2 formation. It was all about protecting a lead against a side that, even without Neymar, could do damage on the wings. Kylian Mbappe and Angel Di Maria remained threats out wide, but Madrid neutralised them with two banks of four.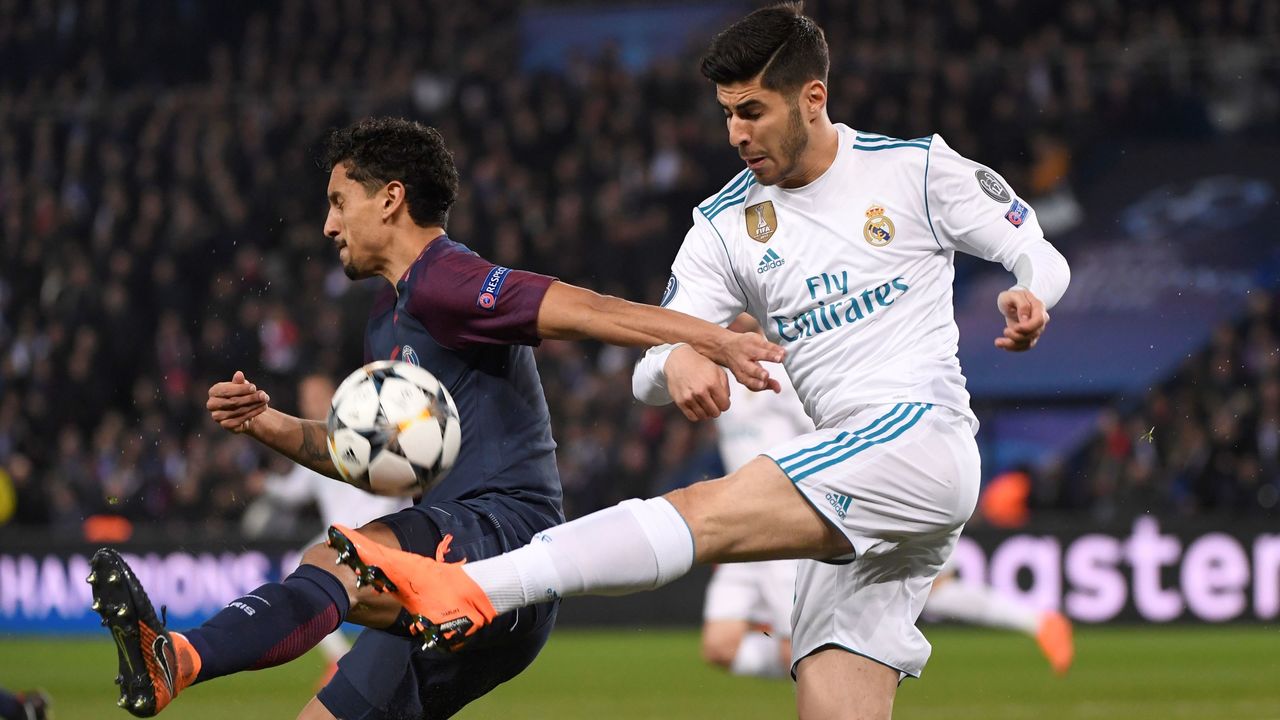 (Photo courtesy: Getty Images)
Zidane's rationale may have also come from a place of fear. Midfield controllers Toni Kroos and Luka Modric weren't available to start from the first minute, leaving Casemiro and Mateo Kovacic with a lot of work to do. That burden was eased by Asensio and Lucas Vazquez, who plugged the gaps on the left and right, respectively, to prevent PSG from bombing down the wings.
Asensio and Vazquez deserved the minutes anyway. Zidane has always rewarded Madrid's in-form players in his two-and-a-half seasons at the helm - one of the Frenchman's greatest managerial values - and Tuesday was no different.
Asensio had lost a bit of momentum since an impressive showing in August's Spanish Super Cup, but he's now started in four of Madrid's past six matches. The 22-year-old did all the work in the buildup to the visitor's opening goal: winning possession in midfield, bolting into the final third, and holding up play for just enough time to send through a defence-splitting pass. The result was a leaping header by Ronaldo, sapping any hope PSG may have harboured of a comeback.
Zidane's approach has always been at odds with the club's ethos. There's no gun-slinging, no favouritism, no bending to the will of president Florentino Perez. If anything, Madrid has changed to meet Zidane's principles, forgoing big-money moves to keep the faith in the current squad. He has backed his players, and Tuesday is further evidence that they are listening to him.
"The plan from the manager was good," captain Sergio Ramos said afterward, according to Spanish newspaper AS. "We had prepared the system based on how (PSG) could play. We kept up the high pressure and stole the ball in their half. On the wings, they left spaces, and we took advantage of it. We had the fortune in front of goal, and hopefully that lasts."
Ramos was particularly good at the back as well. He is often preceded by his reputation as a serial tackler, but his performance against PSG was noteworthy. Ramos cleared his lines and stemmed the host's movements with timely interventions.
Zidane achieved success in 2016 and 2017 with the same tactical balance.
"Zidane is the one who is there day to day and he knows who is better for each moment," Ramos added. "He is the one who knows best."