Mike Rhodes was on his way home one day in January when he got a call from Ben Askren, his old friend from Roufusport, a Milwaukee-based MMA gym.
Askren wanted to know how attached Rhodes was to Cedar Rapids, Iowa, where he lives. Rhodes, a former UFC fighter, moved back to his home state last summer to be closer to his family after living in Wisconsin for several years.
Rhodes told his longtime teammate he was quite attached, considering he works at Hard Drive Performance Center and is also in a local firefighter program. But then Askren told Rhodes why he was calling: he was going to box Jake Paul and wanted Rhodes to be part of his training camp.
"Ben said, 'Figure out what you have to do, and get it done.' And I'm like, 'OK,'" Rhodes told theScore. "And I just kind of took care of things on my end, and I've been driving up to Milwaukee and traveling all over with him for the last two and a half months getting ready for the fight."
Askren, a former UFC fighter and Olympic wrestler who retired from mixed martial arts in 2019, is scheduled to face Paul in his professional boxing debut on Saturday at a Triller Fight Club event in Atlanta. Paul rose to fame several years ago as a YouTuber and recently crossed over to the world of boxing, where he holds a 2-0 pro record against people with no prior combat sports experience.
Though Askren wasn't known for his stand-up skills during his MMA career, the 36-year-old represents a step up in competition for Paul simply because he used to be a fighter at the highest level (unlike Paul's first two opponents, fellow YouTuber Ali Eson Gib and former NBA player Nate Robinson). Askren was on the United States freestyle wrestling team at the 2008 Olympics before crossing over to MMA, where he won titles in Bellator and ONE Championship and went 19-2 overall.
With those accomplishments in mind, Rhodes struggles to wrap his head around the fact Paul is Saturday's betting favorite.
"I think it's stupid," Rhodes said. "That'd be like someone saying, 'You know what, I know this guy over here has trained and fought his whole life, but I saw this dude fight two bar fights, and now I think he can beat him.' That just doesn't make sense."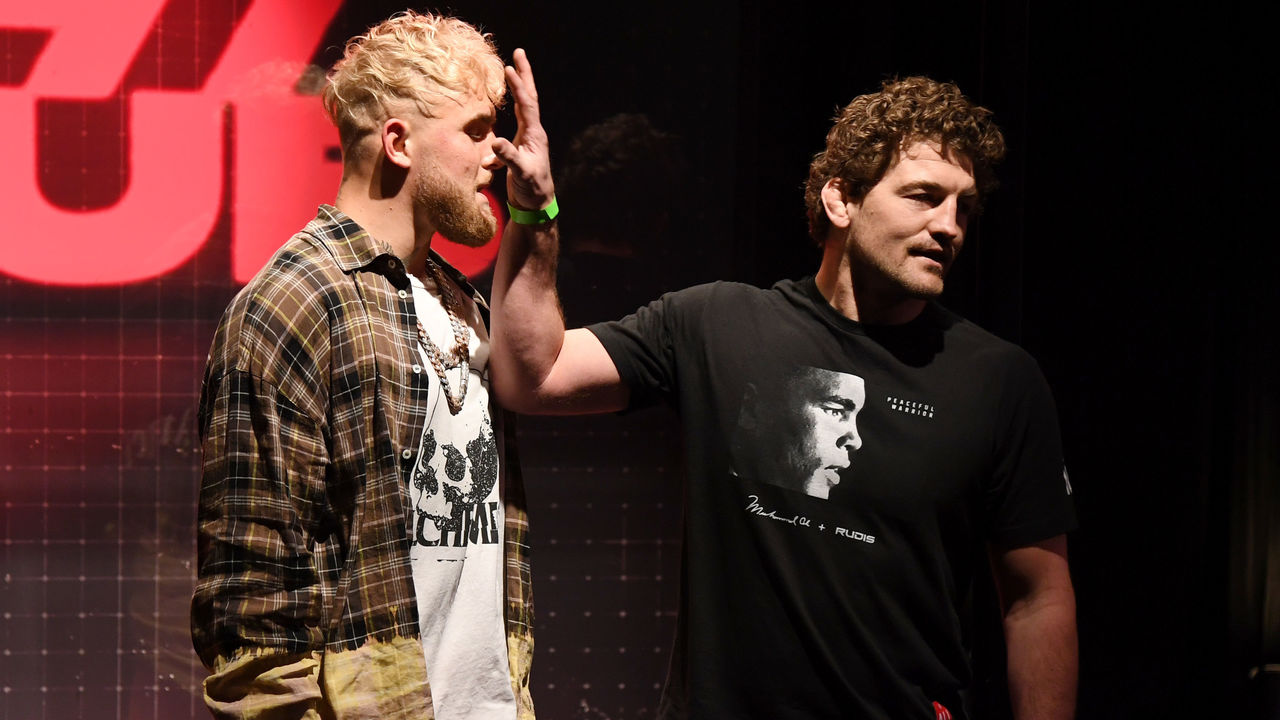 Rhodes wore many hats during Askren's training camp. At certain points, "Biggie" was the head coach, deciding with Askren what the rest of camp would look like and what his game plan for the fight would be. At other times, he was Askren's sparring partner or the guy holding pads. Sometimes he was on the sidelines, watching other coaches work with Askren. On Saturday, Rhodes will be in Askren's corner along with former UFC welterweight champion Tyron Woodley.
"I've been in the fight game long enough where if (Askren) needs me to do something, I can do it," Rhodes said. "I've just been a jack of all trades, doing it all."
In addition to Rhodes, Askren also worked with Roufusport coaches Duke Roufus and Scott Cushman, former boxing champion Cornelius Bundrage, legendary boxing trainer Freddie Roach, and his original boxing coach from Arizona.
Askren wanted to take advantage of every resource he had access to before stepping into the ring for the first time, and Rhodes is confident "Funky" prepared as best he could.
"I think we got everything out of the camp that we needed," Rhodes said. "I think we sharpened up Ben's hands. They look way faster. He's sitting down on them a little bit more. He looks stronger. He has a little bit more confidence in his punching. His movement is good. He's in really good shape. And he's mentally ready to compete."
As far as what Askren specifically did to get ready for his boxing debut, Rhodes stressed repetition - it was a lot of the same drills and training techniques, over and over and over.
"It's just heavy on the jump rope, heavy on the shadow boxing, heavy on the bag work, the pad work, the sparring, getting in his conditioning work, his ab work," Rhodes said. "It's very simple stuff. We just ramped it up.
"Ben's always been training striking. It's not like today is Day 1," he continued. "We just had to adjust the way he was punching and just get him in shape to be able to punch for the duration of the fight."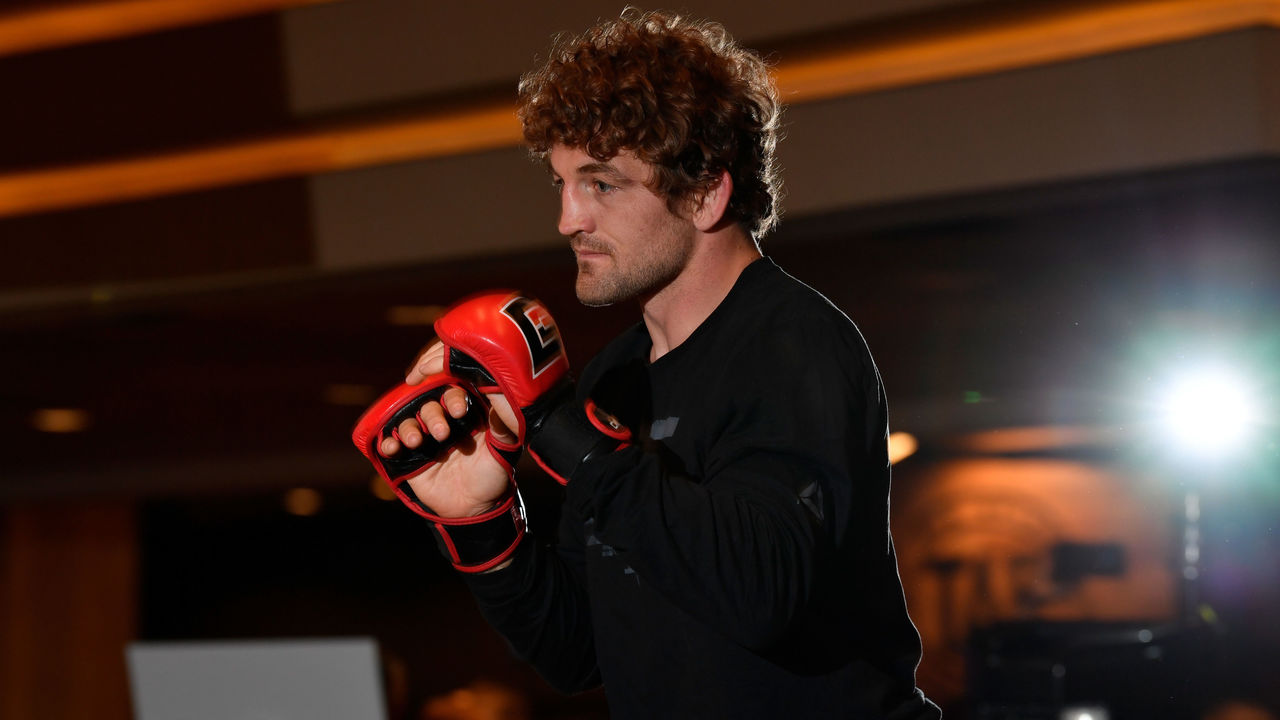 It wasn't particularly easy for Askren to transition to a boxing training camp after 10 years of focusing on his wrestling and mauling opponents on the ground in MMA. Rhodes said Askren often ended his training sessions by saying he'd find it difficult to make a career out of boxing, since the training's so repetitive and "boring."
"The task of doing all these things is actually probably a little bit better for him," Rhodes said of an MMA training camp. "He's happy that it's just a one-fight opportunity, and not a 10-year career."
Asked if there was ever a lack of motivation to train for Paul since he's a YouTube star and has only competed twice professionally, Rhodes said no. The real problem: they don't know much about Paul the boxer.
"He could be really good," Rhodes said. "He's been training. He has the money, he has the resources to be able to train all the time. ... You don't know how quickly he will grasp onto something. This could be the start of something big for him, or it goes the way I think it's going to go and we just dominate him.
"I think if we just look at the people he has fought, we could write Jake off, and that could be a mistake," Rhodes continued. "He is a big kid, he's a decent athlete it looks like, he throws hard. And from what it looks like, he's dedicated himself to trying to become whatever level of boxer he's trying to reach. ... I think (the unknowns) pushed us to train harder rather than for us to think less of Jake."
To Rhodes, it all comes back to one key factor for Askren: "He's a real fighter."
"Look at the guys he has fought," Rhodes said. "People consider (Bellator champion) Douglas Lima to be one of the better welterweights in the world. Ben had to stand with him at points in that fight, and he wasn't knocked out, he wasn't rocked, he wasn't hurt. I think people take Ben's career for granted because he was such a dominant wrestler. His striking wasn't pretty, but the thing is, it doesn't have to be pretty.
"He doesn't need to be the best striker in the world to beat Jake Paul," Rhodes said. "He just needs to be better than Jake Paul."