Byron Scott Q&A: On the Primetime Basketball League, the BIG3, and LeBron in L.A.
J Pat Carter / Getty Images Sport / Getty
No sport dominates headlines year round like basketball. Through training camps, the grind of the regular season, the playoffs, the draft, and summer leagues, the NBA is never too far out of view.
With the success the BIG3 has enjoyed in its first two years, fans now have a way to get their fix during the NBA's offseason. But there's still a gap in the weeks leading up to preseason - and that's where one league hopes to provide another option for hoop fans.
The Primetime Basketball League is a five-on-five full-court league that will feature former pros. Its inaugural season is set for June 2019. The league aims to provide players with the opportunity to not only extend their careers but also maintain the wealth they've established.
Players involved in its four-team showcase through Miami, Chicago, Los Angeles, and New York include Carlos Arroyo, Andre Barrett, Luther Head, Metta World Peace, Earl Boykins, and Darius Miles.
The league's CEO, former NBA player and coach Byron Scott, said the most important element of the league will be providing resources for life after basketball. During the Chicago launch, he told a story to a room full of players about how he only wanted to play 10 years when he entered the league, but those 10 years passed before he began assessing his post-playing career. He wants to pass on the guidance he was given, and help players position themselves to succeed off the floor.
theScore recently spoke with Scott about how the idea for the league came to be, his vision for the players involved, and some of the storylines he's looking forward to this NBA season.
How did the idea for Primetime Basketball come about?
I was approached a couple of years ago by John Askew (COO of Primetime Basketball League) and he talked about forming a league. It kind of died down. And then, I would say about seven or eight months ago, he wanted me to come to Miami to meet with some friends of his. I came down, we met, had a great time, and we talked about Primetime Basketball and how we could launch it. The synergy in the room was unbelievable. I left that next day feeling that we had something special if we could just put it all together. We were able to do all of that in a very short period of time.
We wanted to do this because we felt there was a need for a lot of players who have played in the NBA for a short period of time or for a long period of time to get an opportunity to stay here in the (U.S.), still be able to play in a very competitive league without having to go overseas and still be able to brand themselves. But also, I thought the biggest thing, for me, was to try and educate guys on trying to keep the wealth that they've gained. We want to educate guys on life after basketball. That element was the most important part for me; being a former player and seeing guys who have played in the NBA for maybe four or 10 or 12 years and then they're broke three or four years afterwards. That was something that caught my eye and my mission for Primetime Basketball is to get these guys involved in our league for three or four years, and I'm looking at this from a three-to-five-year period, where this league can really jump off and one of the players might be the new CEO of this league.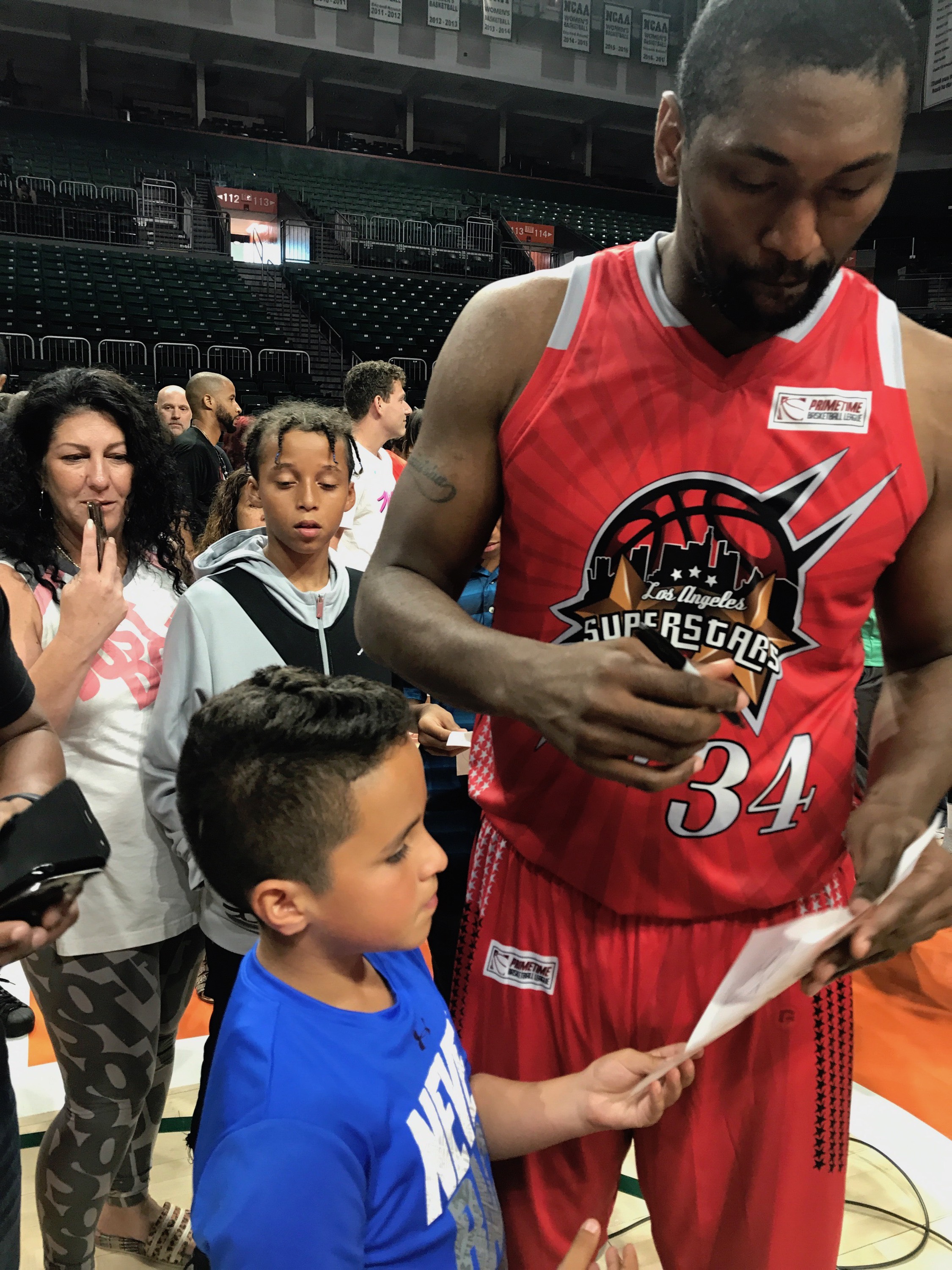 How important is this for the guys who didn't have their professional careers end like they would've wanted them to?
They've just been looking for an opportunity to play the game that they love at a high level. I think it's big for them because they are the pioneers of this league. They're going to establish if this league is going to be successful or not and it's all depending on how they go out there and play. I think they feel this is a golden opportunity for them to go out there and do what they do and have done on a regular basis, play the game that they love - but in doing that, extend their career a little bit longer as well.
Why was it important to showcase games in markets like Chicago, Miami, New York, and Los Angeles?
When you look at the markets that we have ... three of those markets are the three biggest in sports. So being able to tap into those markets is vital and if we can be successful in those three then we know we have a product that can be sustainable and successful in the long haul. Chicago is going to be big. Miami was our kickoff and we did really well. We're very excited about the way the game went. The players were very excited and we got great feedback from there. When we had our conference call, one thing I said (was) that, while that was great, don't exhale and think that it's over. You have to get back on the grind and make the next performance better. That's what we're looking at here in Chicago - to make this game better than the Miami game, then make the Los Angeles game better, and the New York game, which will probably be the last game, much better than the L.A. game.
Many will compare Primetime to the BIG3. Seeing how the BIG3 started and the first two successful years, does that give you confidence in this league being sustainable?
Absolutely. We're a new venture just like the BIG3 was a couple of years ago. First of all, I want fans to understand that we're not in competition with the BIG3. We're our own entity and our league is going to support itself, but the one thing I do know about fans is that they would love to watch basketball all year round and they will have a variety of basketball games to watch. You watch the NBA and it ends in June. There's the Summer League and then there's the BIG3. When that's over, now it's our turn. There's going to be enough basketball for everybody. What they've done in the last couple of years, obviously, for us, it's a blueprint for us in letting us know that we can be very successful as well. From the conversations that I've had with the players who played in the first game, they love that variety to be able to play in the BIG3 and/or in the Primetime Basketball League as well.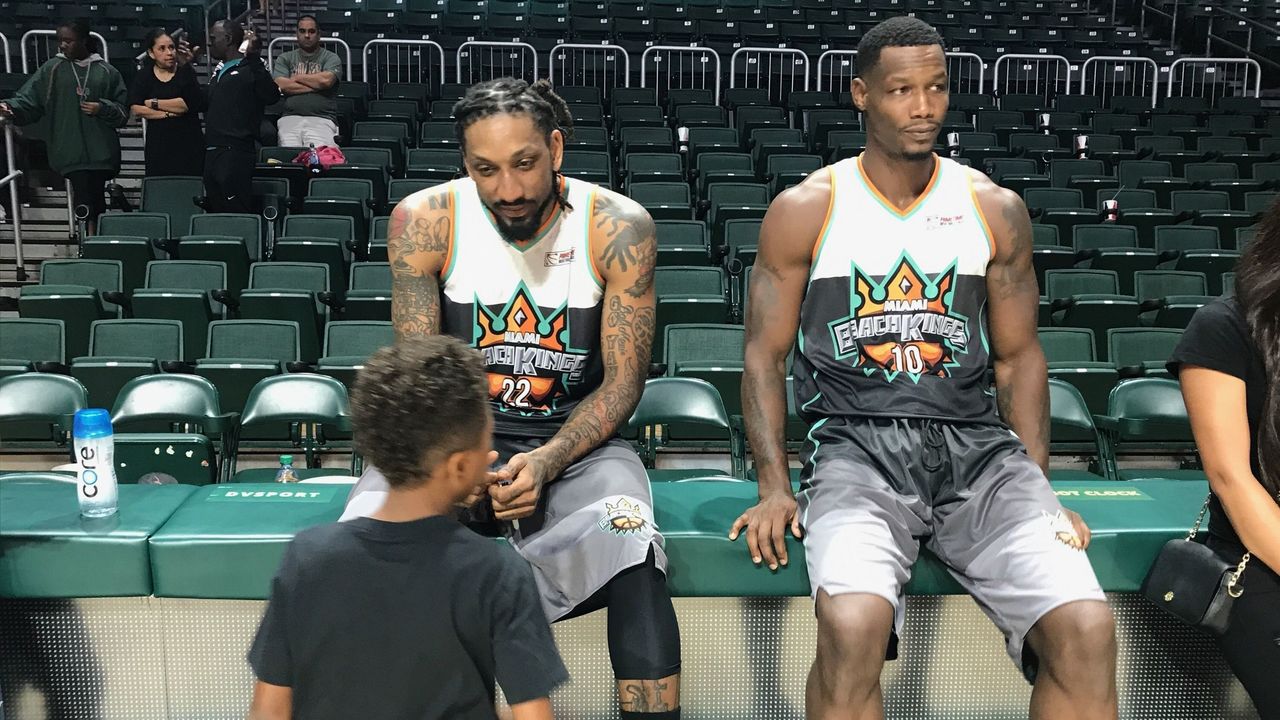 Since this is five-on-five, how confident are you in these guys getting in the shape needed to perform if they haven't been active in some time?
One thing about basketball players is you don't want to go out there and embarrass yourself. So you're going to make sure that when you have a game that you're going to get ready two weeks in advance. A prime example of that is when I talked to Metta World Peace. He said he didn't play real well in Miami and I saw him in the gym later and he told me he was getting ready for Sept. 16 (Los Angeles showcase game). That (was) two weeks away. He's getting ready for that game and that's the type of challenge that the first game brought to him and that's the type of challenges we want our players looking at when they're going into games.
As far as the NBA goes, how excited are you for the Lakers to have a buzz about them again with LeBron signing there this summer?
I'm extremely excited. I bleed purple and gold - that's my heart. I've been with that organization for so many years. Magic Johnson is a close friend of mine and I was so excited for him and Jeanie Buss. I was extremely excited for them to get the best player in basketball to come to Los Angeles. Obviously, it has given a lot of energy to Los Angeles. A lot of people are excited and you got some people that are haters. That's everywhere you go and LeBron has dealt with that his entire career. But I tell the people of Los Angeles that if you want to win, wouldn't you want the best player in the league on your team? Don't hate on LeBron James. Congratulate this man that he went there and chose that organization for probably his last stop.
Even with the last few years being some of the toughest for the team, the Lakers were still always a topic during free agency. From your time there, what makes that organization special?
I think that's the biggest thing now is Magic Johnson is running the organization. Magic can sell ice to an Eskimo. He's such a great salesman, has such a charismatic personality, and when he's in your living room, you're probably going to hang on every word that he says. And the thing about him is that when he talks, it's all from the heart.
The organization is so tight-knit and everyone that has played there is like family. Prime example, I see Magic almost two or three times a week. I play golf with James Worthy, see Michael Cooper maybe once a month, A.C. Green maybe twice a month, and I still talk to Kareem Abdul-Jabbar. If you can find another NBA team that has guys that continue to have relationships 20 years later, then you have something similar. That's the charm about the Lakers organization. That purple and gold is special and we all have a lot of pride in it. When LeBron James came, there wasn't one of us that wasn't extremely excited and happy that he was here in Los Angeles.
What's the biggest storyline you'll be following this season?
I'm excited to see If Golden State can do it again. I know a lot of people are hating on that dynasty but we can't hate on it because we had one. They're just doing what any other great team would do and they put together a great product on the floor and people are asking why would you want to go and join a team that is already winning? You want to win, so why wouldn't you? I'm excited to see what they do this year. I'm excited to see Houston because I'm a big Chris Paul fan; I love that kid like he was my own. And of course, I'm excited to see what the Lakers do. When you have the best player in the league with the young group of guys around him and the talent they displayed last season, I think the Lakers will win 50-plus games this season and I wouldn't be shocked if they're in the Western Conference finals.
(Photos courtesy: Primetime Basketball)