If you're reading this, you recognize Cesare Prandelli in the photo above. That's easy.
But who is the man with the sweet shades kneeling beside him?
If you said Enrico Castellacci, give yourself a pat on the back.
Castellacci, the head doctor for the Azzurri, has become one of the key figures for a team that has been hit hard by the injury bug both in the buildup to the tournament and during recent training sessions in Brazil.
At the current pace the team is picking up injuries, the 63-year-old will be leading the Italian press conferences in the not too distant future. The Azzurri physician was forced to discuss the condition of two new players following Monday's training session, as the ailments continue to pile up.
Fixtures/Results
Group D — June 14 — Italy 2, England 1
Group D — June 20 — Italy vs. Costa Rica
Group D — June 24 — Italy vs. Uruguay
Squad News/Rumors/Injury Report
In addition to the ongoing injury concerns surrounding both Gianluigi Buffon (ankle) and Mattia De Sciglio (hamstring), Italy will now be monitoring Daniele De Rossi and Andrea Barzagli, who sat out Monday's training session.
The midfielder is dealing with some neck pain, while Barzagli was held out in order to give him an extra day to recover from niggling aches and pains that have been hampering him since the end of his domestic season with Juventus.
And the fun doesn't stop there. Salvatore Sirigu, who was so very impressive deputizing for Buffon against England, underwent treatment at the end of the training session, which was completing in the typically searing heat.
"I had a heat flash," Sirigu said. "I was really tired this morning. I didn't sleep much last night. But I'm OK."
Team Leaders
Goals: Mario Balotelli, Claudio Marchisio – 1
Assists: Antonio Candreva, Marco Verratti – 1
Five Quick Notes
1. Who is Mario Balotelli's favorite player on the Italian national team? Why, Mario Balotelli, of course. Need proof? Here's his World Cup sticker book:
2. Italy can book a place in the knockout stage with a victory over Costa Rica.
3. Goalkeeper Salvatore Sirigu has warned his teammates not to underestimate Costa Rica, singling out Joel Campbell in particular as a player who will be a threat in Friday's match.
4. Adam Digby opines that the 1982 Italian World Cup squad would win this year's edition of the tournament.
5. Put this under the 'In Case You Missed It' file: Gabriel Paletta needs to invest in an electric razor, and stop holding out hope that his hair will magically stop disappearing from the middle of his head.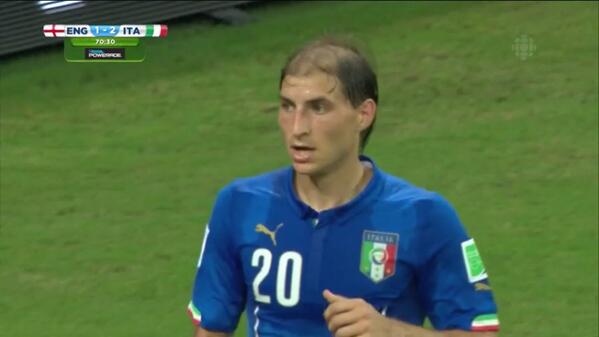 Just let it go, man.
Feature photo courtesy of Reuters